1968: Dodgers relent as players find power to precipitate change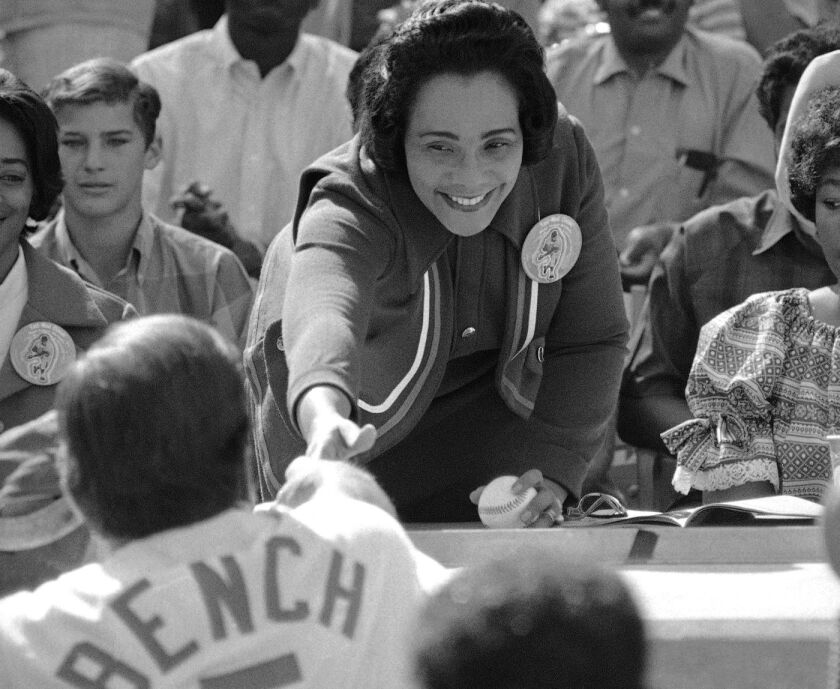 For a century, professional baseball players were regarded as entertainers: see ball, hit ball, play in whatever city you are assigned, for whatever salary you are assigned, and keep your mouth shut.
In 1968, as Americans rose to let their voices be heard, so did the ostensibly privileged subset of baseball players.
They negotiated the first collective bargaining contract in professional sports history, under which the minimum salary rose from $6,000 to $10,000, and the weekly spring training stipend was increased for the first time in 21 years. The next year, Curt Flood refused to accept a trade, the first step toward the adoption of free agency.
To this day, baseball players remain among the least likely athletes to speak up on social issues rather than economic ones, with no prominent player shouting for civil rights from the platform that LeBron James occupies today, or Muhammad Ali did in 1968.
However, the assassination of Martin Luther King Jr. 50 years ago embroiled the Dodgers in a controversy beyond the sports pages. During a time of national mourning, a nucleus of major league players made what was then considered a revolutionary assertion: The games could not go on without them.
At Dodger Stadium, despite an original plan to the contrary, the game did not go on.
1968: If you love pitching, it was your year in MLB
In this year's Major League Baseball All-Star Game, the sluggers had a field day; there were 10 home runs and the final score was 8-6.
Fifty years ago, power hitters Willie Mays and Willie McCovey were the offensive stars in the game. Mays singled, moved to second when a pick-off attempt went awry, took third on a wild pitch, and scored when McCovey grounded into a double play.
That was it. Final, 1-0.
Yes, there are good reasons 1968 was known as the Year of the Pitcher.
Here are a few more:
1968: Long before Colin Kaepernick, David Meggyesy began NFL national anthem protest
David Meggyesy couldn't bring himself to show deference to the American flag.
While every other member of the team stood at attention and followed the NFL directive on conduct during the national anthem — helmet under left arm, right hand over heart — the St. Louis Cardinals linebacker feigned a bad case of the jitters.
The burly defender, whose shaggy brown hair was a defiant departure from the flattops of his football forefathers, dropped his head, scuffed the dirt with his cleats and spit on the ground. As the familiar strains of the song filled Busch Stadium, Meggyesy waged his quiet protest.
It didn't go unnoticed.
1968: Hockey's western migration set the stage for success in L.A. and Las Vegas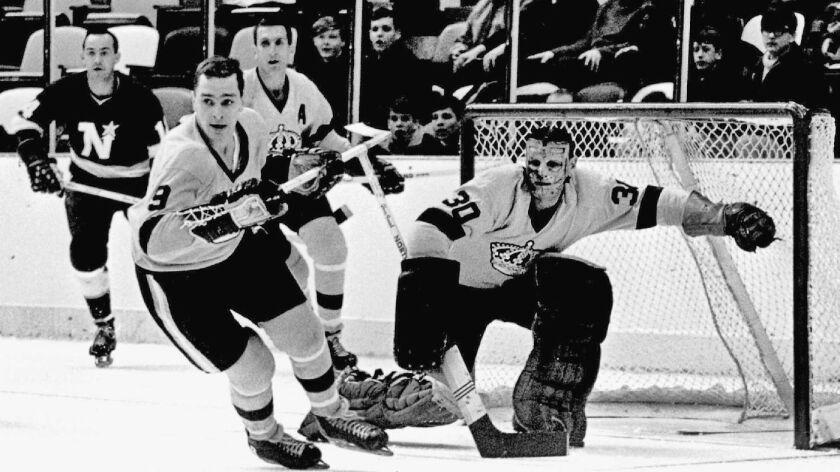 The National Hockey League hit the jackpot last season when it expanded into the least traditional market imaginable.
The speedy, spunky Vegas Golden Knights became the hottest show in a city that appreciates entertainment, getting off to a good start and proving their success wasn't a mirage when they reached the Stanley Cup Final. The NHL's 31st team was a huge hit, selling out home games and attracting so many fans to practices that fire marshals had to set admission limits.
And to think there were questions whether hockey would find a respectable audience when the league expanded beyond its Northeast base and doubled in size to 12 teams for the 1967-68 season.
That first major expansion included Los Angeles, giving the league a transcontinental presence. The Kings had a passionate fan base and endured some lean years, but their 1988 acquisition of Wayne Gretzky, the game's greatest player, transformed the West Coast into a prime hockey destination.
Gretzky ignited a boom that led to the birth of the San Jose Sharks in 1991, the then-Mighty Ducks in Anaheim in 1993 and the migration of teams to the Sunbelt. The Cup found a second home in Southern California when the Ducks won in 2007 and the Kings triumphed in 2012 and 2014.
The Kings have a home sellout streak of 289 regular-season and playoff games. And both local teams support youth programs that send streams of players to top college programs and beyond.
None of that would have happened if the NHL had stayed within its cozy confines.
1968: 'Game of the Century' changed college basketball, for better and worse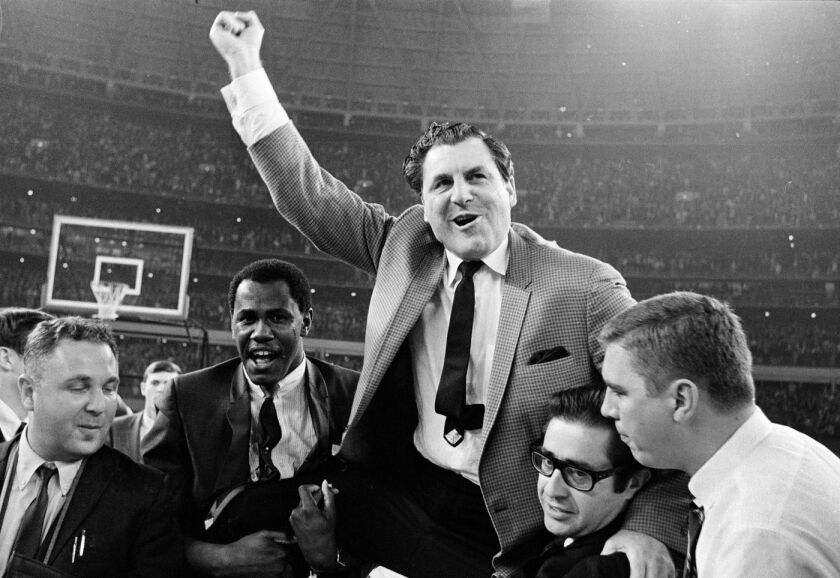 The borrowed basketball court seemed overwhelmed by the climate-controlled palace of concrete and steel.
Nicknamed the Eighth Wonder of the World, the Houston Astrodome had already hosted a president, two dozen astronauts and, more recently, a demolition derby before the court arrived in two moving vans in late January 1968.
The Space Age dome packed with foam-padded seats in a kaleidoscope of colors hadn't hosted an event quite like the showdown between UCLA and Houston.
For weeks, advertisements in Houston touted the meeting between the country's top-ranked teams as the "Game of the Century." The dome's trademark AstroTurf had been rolled up. Workers pieced together 225 sections of the 22,000-pound court on loan from the Los Angeles Sports Arena. It sat alone in the middle of the sprawling dirt floor, illuminated by more than 1,000 floodlights.
"The whole setting is so garishly spectacular, if unreal," Jeff Prugh wrote in the Los Angeles Times, "that probably not even Warner Bros. or Cecil B. DeMille could have dreamed of it."
Fifty years later, the questions surrounding the game have faded. Would Lew Alcindor, later known as Kareem Abdul-Jabbar, play for UCLA after suffering a scratched left cornea eight days earlier? Could a dome designed for baseball and football work for basketball? How many viewers would tune in for the first regular-season college basketball game broadcast nationally in prime time? Would UCLA's 47-game win streak continue?
The game transformed college basketball from a regional to national sport, opened the way for multibillion-dollar television contracts to broadcast March Madness and helped spark the long-running debate over whether athletes should share in the windfall.
1968: Highlights from a tumultuous year in sports
Jan. 1 — USC defeats Indiana 14-3 in the Rose Bowl game, capping a season in which the Trojans were awarded the national championship by all major polls.
Jan. 14 — Green Bay defeats Oakland, 33-14, in Super Bowl II, Vince Lombardi's final game as Packers' coach.
Jan. 15 — Minnesota North Stars center Bill Masterton dies as a result of head injuries suffered during a game two days earlier. He is the only player to die as a direct result of injuries suffered during an NHL game.
Jan. 20 — Led by Elvin Hayes, Houston snaps UCLA's 47-game college basketball winning streak in an event dubbed "The Game of the Century." Played at Houston's cavernous Astrodome, it marked the first nationwide broadcast of a regular-season college basketball game in prime time.
Feb. 10 — Peggy Fleming wins Olympic gold in figure skating in Grenoble, France, capping a season in which she won a fifth consecutive U.S. championship and third straight world championship.
Feb. 21 — Major League Baseball announces the season's minimum salary: $10,000.
March 23 — UCLA wins college basketball's national championship, routing Houston, 101-69, in a semifinal at the L.A. Sports Arena and defeating North Carolina, 78-55, as Lew Alcindor scores 34 points on 15-of-21 shooting.
'Standing on the shoulders of giants.' 1968: a year in sports like no other
Forty-three deaths.
The Detroit Tigers were playing for something more than a pennant as they embarked on the 1968 baseball season.
Hundreds of homes destroyed. Thousands of stores looted and burned.
That spring, the Tigers forged a championship run and became a rallying point for a populace still reeling from violent riots the previous summer.
"When this city needed treatment for its ills in the worst way," a Detroit Free Press editorial stated, "they have been the elixir that made us well again."
It was a sign of the times.
Nineteen sixty-eight stands as a year that blurred the line between sports and the real world, with athletes swept up by Vietnam War protests, political tumult and racial tensions.