Trevor Denman, now that he's free of the traffic, is ready to return to race calling at Del Mar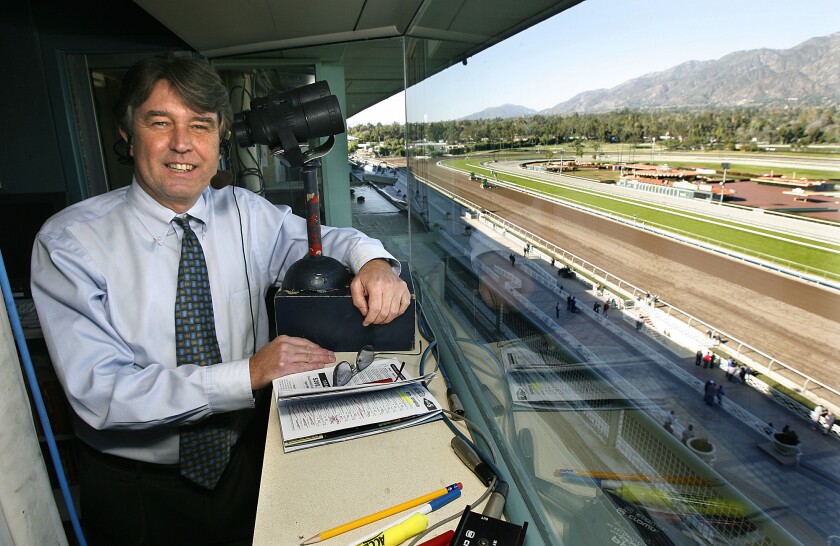 About 2 p.m. on Friday, Trevor Denman will step into the announcer's booth at Del Mar, adjust his head-worn microphone, stare into his mounted set of binoculars and do something he hasn't done in a while: Call a race.
"And away they go."
Arguably the best race caller of all time and certainly the best in the last few decades, Denman is fulfilling the "semi" part of his semi-retirement from racing by calling both Del Mar meetings. The 63-year-old South African native stunned the racing world when he announced his retirement from Santa Anita before the start of their winter-spring meeting in December.
"I'd been thinking about it, but it was actually a spontaneous decision," Denman said of his retirement from Santa Anita. "I don't think it's one of those things where you say on the 25th of November I'm going to retire. Your soul tells you when you're ready."
Denman says it was 90% a lifestyle decision.
"I've been doing this for 44 years and I knew the day would come," he said. "I knew I didn't want to do this the rest of my life. They say you have about 32,000 days on this Earth and I've already used up about 22,000 of them, so I needed to make the last 10,000 count."
The other reason for his leaving Santa Anita, which he put at 10%, was the 210 Freeway, which runs through the San Gabriel Valley past Arcadia and then 17 more miles to San Dimas, where Denman had a home.
"The killer is there is no way around it," Denman said of his former commute. "I'm sitting there in traffic and I start thinking, 'What am I doing with my life?' When you multiply it out, you are sitting in your car a couple weeks a year. Thirty years ago, that freeway was a breeze. The last five years have been terrible."
It's in stark contrast to Kellogg, Minn., where he owns a 500-acre farm in a town of 450. Denman describes himself as gentleman farmer. ("I don't get my hands dirty.") He rents out part of the land to neighbors who have their cows graze in the pasture.
He doesn't grow any crops and has no animals, especially horses, of his own because of the brutal Minnesota winters. Once a week, he does a seven-mile drive up the road to the larger city of Wabasha (population 2,500).
"Whenever I go to town, I play this game of over-under on how many cars I'll see," Denman said. "I set the number at four, but I'm thinking of changing it to three because the under keeps coming up."
These last seven-plus months away from racing have truly been away from racing.
"Once I leave the track I don't do racing at all," Denman said. "I follow two horses I have that run in South Africa and maybe some English racing. But once I break from the track, I break from it. I did not watch the [Kentucky] Derby until a few days later. I'm really into soccer and that takes precedence."
Denman said one of his favorite days in semi-retirement happened recently during the European Championship and the Copa America tournaments, when he watched soccer from 9 a.m. until midnight.
Denman has a strong connection to the fans that go to Del Mar, where he has been calling for 32 years.
"He's vital to us," said Joe Harper, president and CEO of the track. "But don't tell him I said that or he'll want more money. He's simply the best race caller I've ever heard anywhere.
"He's brought race calling to a whole new height. Trevor doesn't tell you just where they are, but what they are doing and building suspense as a race goes along. I think he's even surprised some jockeys."
Harper points out Denman's willingness to do anything, be it the Donuts at Del Mar promotion or emceeing a banquet.
"Our fans feel a special connection to him," Harper said. "The donut thing is where he's in the public. We get a couple thousand people. They don't come for the free donuts, they come to listen to Trevor."
Denman is no hurry to remove the semi from his designated retirement status.
"I could see myself going on for may be 12 more years," he said. "It's really an impossible question to answer. But people are aging much better. Seventy-five is not ancient anymore."
People expect this to be one of Denman's best years of calling. He's rested and ready.
"I'm actually a little bit nervous," Denman said. "Opening day at Del Mar is the best day on the California calendar. But being human, there has to be a little bit of nerves going into that first race. But, I'm guessing by the fourth race, I'll have my feet up reading a newspaper."
Twiiter: @jcherwa
---