Landon Donovan returns to where it all began in San Jose
Reporting from SAN JOSE —
Landon Donovan's soccer career has been highlighted by his success with the national team, which he led to three World Cups, and with the Galaxy, with whom he won four MLS Cups.
But his professional career in the U.S. started in San Jose, where he joined the Earthquakes as a teenager with a bad haircut and a bright future.
He returned to the Silicon Valley on Friday with his new club, Leon of Mexico's Liga MX, ahead of Saturday's friendly against his old club at Avaya Stadium.
"I feel like I grew up in San Jose," Donovan said. "My first four years of national soccer, real professional soccer [were here]. I fell in love with that place."
A lot has changed since Donovan left. First the Earthquakes packed up and moved to Houston, only to be replaced two seasons later by an MLS expansion team with the same name. The team also changed home fields three times, going to San Jose State, then to a tiny facility at Santa Clara University before finally getting its own handsome soccer-specific home at Avaya three years ago.
But it still felt like home when he returned.
"It's nice to be back in this city. Every time I come back I forget how much I miss it," said Donovan, who made plans to see old friends Friday night.
The Earthquakes, which had a break in their MLS schedule this week, hastily scheduled Saturday's exhibition after Donovan, 36, came out of retirement to sign with Leon in January. Donovan, who still ranks in the top eight in Earthquakes' history in goals and assists 14 years after leaving town, figures to make more history in his homecoming: After appearing in just four Leon games for a total of 37 minutes over the last two months he is expecting to make his first start for the team Saturday.
"I'll get the opportunity to play and show I can contribute," said Donovan, who signed a one-year contract worth approximately $3 million with Leon.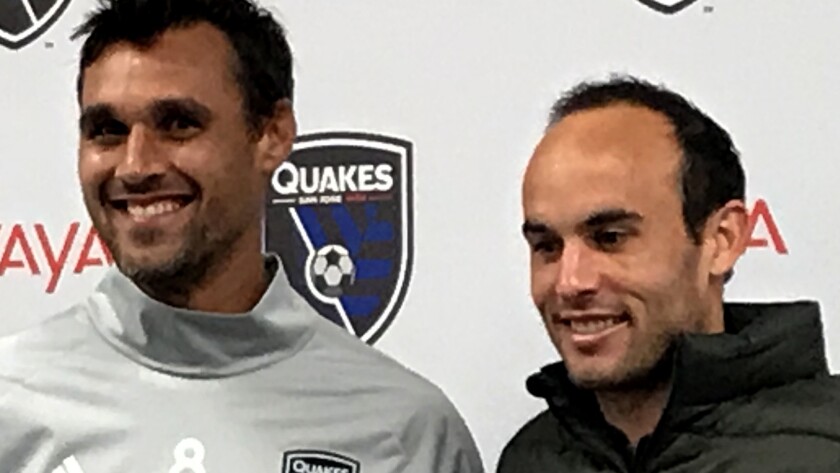 Donovan was welcomed to Avaya on Friday by Earthquakes' star Chris Wondolowski, who is closing in on Donovan's career MLS scoring record. With one goal in two games this season, Wondolowski has 135 in his 14-year career, 10 less than Donovan scored in his 15 seasons. However Donovan also scored 25 playoff goals, 24 more than Wondolowski.
"It's going to happen. It's inevitable," Donovan said of losing his record. "When you look at Wondo and his career, it's incredible."
What Wondolowski hasn't brought San Jose is a league title, something Donovan did twice. There were reminders of that part of Donovan's legacy on Friday, with a banner newly wrapped around the team's adjacent Avaya training field proclaiming it as the "home of the 2001 and 2003 MLS Cup Champions."
"This is where I grew up. It's still a part of me in a real way," Donovan said. "I feel a real connection to the people here."
---