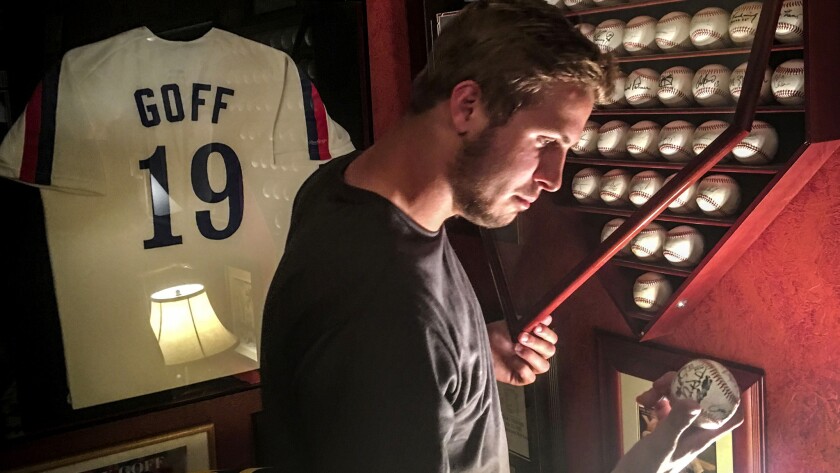 If all goes as planned, new Rams quarterback and No. 1 overall selection Jared Goff will notch his first regular-season completion at San Francisco, when Los Angeles opens its schedule against the 49ers on Monday Night Football.
That would be a fitting coincidence, because Goff's father, Jerry, was a former professional catcher who got his first hit in the majors against the San Francisco Giants on May 18, 1990. Goff's father played for Montreal at the time, later played for Pittsburgh and Houston in an MLB career that spanned seven years.
There's a funny story about that first hit, a single, which came against Giants pitcher Rick Reuschel, who was a week away from turning 41.
"I get to first base and Will Clark's like, 'Hey, that's your first hit!'" the elder Goff recalled. "We are the same age and I'm like, 'Yeah, a big day. This is my first hit.' Back then, it wasn't like a rite of passage. You get the ball and all that. But now it's like, stop the game, and everybody knows it because you have the Internet."
Regardless, the game was paused, and Clark rolled the keepsake to Goff's teammates in the visitors' dugout at Candlestick Field. Those teammates produced a pen and went to work.
"They put the wrong date on it, then crossed it out," Goff recalled with a laugh. "Then they wrote, 'A 15-hopper through the hole against no-throwing, big daddy Reuschel.' They screwed it all up."
Goff's father, who has a roomful of career mementos, didn't exhale until he learned that was a phony ball. The pranksters didn't write on the real one.
"I wish I had kept that ball they wrote on," he said.
Best to keep the Sharpies away from the Rams.
Follow Sam Farmer on Twitter: @LATimesfarmer
---