Top Nevada athletics officials support hosting Conor McGregor-Floyd Mayweather Jr. fight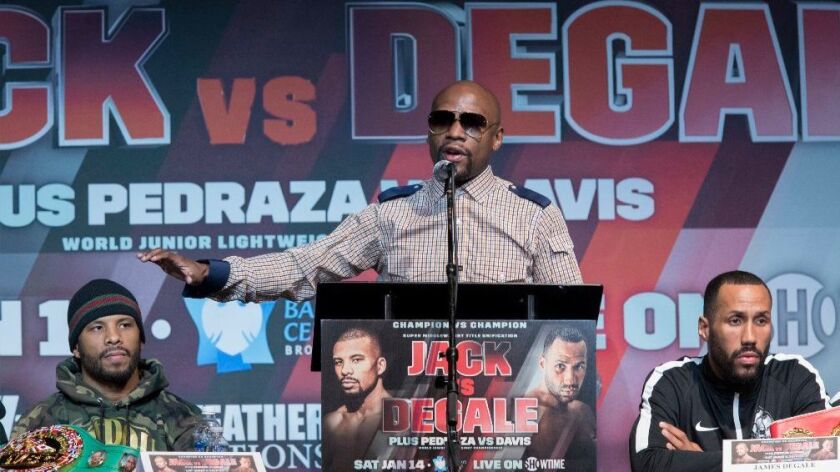 For the first time in public, Nevada State Athletic Commission executive director Bob Bennett said Tuesday that he and commission Chairman Anthony A. Marnell III support a fight between UFC lightweight champion Conor McGregor and retired, unbeaten boxing champion Floyd Mayweather Jr.
"Would the Nevada State Athletic Commission consider a boxing match between Floyd Mayweather and Conor McGregor? Of course we would," Bennett told The Times.
"And we'd definitely want the fight to be in the fight capital of the world. What commission wouldn't want the two biggest fighters in the world right now to fight in their state?"
Concerns have been expressed that Mayweather (49-0) would dominate a boxing match against McGregor, and Bennett said he'd want to review McGregor training footage and other information before formally signing off on the bout.
But having seen McGregor stand in striking position and repeatedly knock down Nate Diaz and bloody his face en route to a victory in their August rematch, Bennett respects McGregor's abilities and noted that the fighter is 12 years younger than Mayweather, who hasn't fought since September 2015.
"Conor's fight with Nate Diaz was phenomenal," Bennett said.
McGregor met with Bennett and Marnell on Tuesday in Las Vegas while asking them to reconsider his $150,000 fine and public-service assignment as a result of his throwing two loaded cans of Monster energy drink toward Diaz and his camp at their final prefight news conference in August at MGM Grand.
McGregor launched the cans after his girlfriend, Dee Devlin, was struck on the arm by a heavy roll of black tape and after Diaz, his brother Nick and others threw loaded plastic water bottles in the direction of a late-arriving McGregor and his team.
Bennett said that when Nevada was first considering disciplining McGregor, the executive director proposed a $25,000 fine and 25 hours of community service.
Instead, commissioners Pat Lundvall and Michon Martin persuaded the commission to slap McGregor with a sanction so severe, he took delight in fighting next in New York in November, suggesting he'd rather continue to fight back east than ever return to the desert.
McGregor's request for a rehearing will be considered at the Nevada commission's March 22 meeting, and will be conducted that day if approved.
"The chairman and I feel after our professional, productive meeting that excellent points were being made," Bennett said.
"Every commission wants Conor to fight in its state. We keep everyone under the guidelines of our codes and statutes. But if we've done a wrong, we need to right that wrong. The chairman and I think the penalties were too stiff."
Bennett has already reached out to inform Nate Diaz that he's entitled to a rehearing — he's already paid a $50,000 fine for his role —with some reimbursement possible if McGregor's fine is reduced.
Bennett said that as soon as McGregor pays a fine — that appears certain to be lowered — he'll be eligible immediately to gain a boxing license in the state. He's already applied to Nevada for one.
Follow Lance Pugmire on Twitter @latimespugmire
---