4 Images
International Space Station
250 Miles Above Earth
The International Space Station as seen from the space shuttle Endeavour in 2002. NASA plans to complete the station by about 2010 and hopes to operate it for research for another 10 years.
(NASA)
Soyuz at the ISS
The Soyuz TMA-4 spacecraft docks to the Zarya functional cargo block nadir port on the International Space Station.
(AFP / NASA)
Down to Business
Kuipers performs an experiment with help from Russian colleague Gennadi Padalka. The space station crew can spend less than an hour on science each day.
(Getty Images / European Space Agency)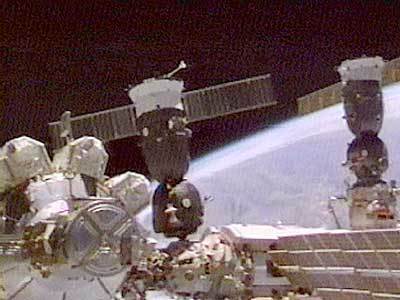 Docked Soyuz Capsules
A television camera mounted on the exterior of the International Space Station shows the two docked Soyuz capsules as the station orbits the Earth in this April view from television.
(AP / NASA TV)