Rather than Barneys, perhaps Bangkok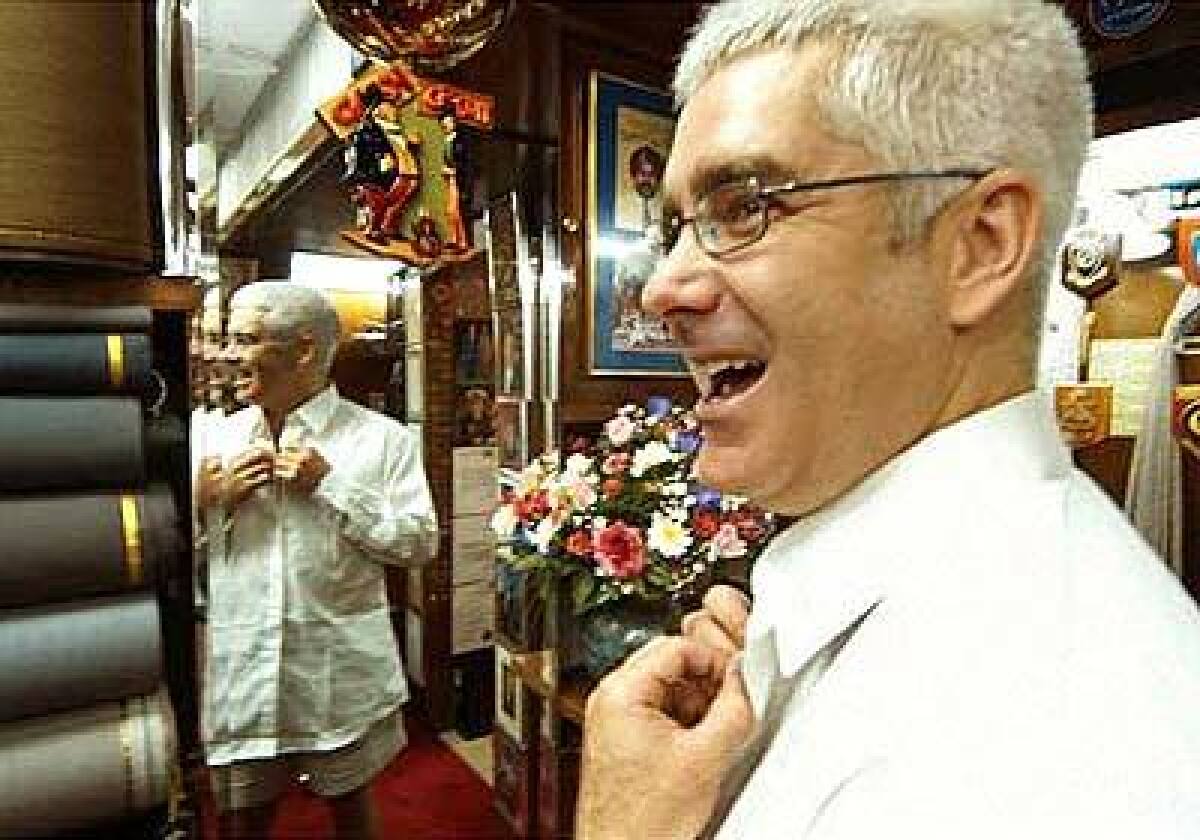 Special to The Times
It started years ago on the sultry Indonesian island of Java when I arrived without enough cool clothing. Out of desperation, I approached street-side mom-and-pop tailors in the city of Yogyakarta. They spoke no English, so I relied on rough sketches and pantomime to communicate that I wanted to turn a $2 batik sarong into a pair of loose-fitting trousers. They could copy the waistband from my Banana Republic shorts.
My goal was to get through the rest of my trip without sweltering, although at the time I felt a little like Scarlett O'Hara in "Gone With the Wind," designing an outfit from the green velvet parlor drapes that once hung at Tara. But I was so pleased with the results that I had those $10 pants copied five more times on subsequent trips to the region.
That experience, born of necessity, was my introduction to the affordable luxury of custom-made clothing from Southeast Asia, an interest I have pursued with a passion on seven trips to that part of the world during the last 14 years. Each time, I have looked forward to visiting tailors who seem to magically stitch beautiful garments in a matter of days or even hours — often for less than it would cost to buy the same things off the rack back home.
In the process, I have built a wardrobe sewn for me in Thailand, Indonesia, Singapore, Malaysia, Vietnam and Laos. Some pieces, such as my Javanese trousers, have been Western designs cut from traditional local fabrics such as silk or batik. Many more have been made of wool, cotton or linen that was available there or that I brought with me from the United States.
Cost saving is one attraction of buying clothes this way, but an even stronger motivation is being able to get exactly what I want. Because Southeast Asian tailors tend to be skilled at copying, I have learned to take prototypes from my own closet that I want replicated or updated, although it's also possible to have things made based on a photograph or on samples displayed in the store.
Two of the places I visited on a December trip to the area are known for their tailors: Bangkok, Thailand, has had a busy garment trade for years; Hoi An, Vietnam, is developing one. Intending to have clothes made in both places, I left home with half a duffel bag of prototypes, fabrics and even buttons. I returned with six linen blouses — four of them copied from a Perry Ellis original, a three-piece (skirt, pants, jacket) wool crepe suit, cashmere hip-hugger dress pants, two pairs of silk pajamas and corduroy jeans. The tab was $402, not counting the fabric I took with me, but including some that the tailors supplied. That's less than it would have cost to buy just one designer blazer in the United States.
Not surprisingly, the success of such endeavors depends on the quality of the tailor, and choosing one can be a bit tricky. Many of the shops in Bangkok, for example, look indistinguishable — cramped, unassuming places that are either clustered together or sandwiched between other stores.
One possibility is to rely on leads from locals. Although hotel concierges can also make suggestions (they got me to the mom-and-pop operation in Yogyakarta), I take them with a grain of salt. Sometimes their rave reviews are inspired by what the locals call "tea money" that has passed under the table.
I've had the best luck with recommendations from ex-pats, who tend to appreciate the tailoring more than label-conscious residents who generally prefer ready-made Western designs. In Singapore I have been a repeat customer for more than 10 years at Carvette Fashion, the shop of Alice Pwa Ah Lan. Carvette was a favorite of an American friend who once lived in Singapore.
Anticipating my visit to Bangkok and not fully trusting what I read on various travelers' websites, I contacted Julie Dolan, whose commentary on her travels in Bangkok I had heard many times on the National Public Radio show "Satellite Sisters." Dolan, who has since moved to Moscow, recommended a dressmaker for me and a shirt maker for my husband, Ken Stern.
My husband and I contacted the shops by e-mail before we left home, because we wanted to be sure they would be open around New Year's weekend, when we planned to conclude our vacation with a stop in Bangkok. Lucky we did; they replied that they would be closed for all or part of the time. With that in mind, we scheduled a five-hour layover in Bangkok earlier in our trip, on the way from southern Thailand to Laos, and hopped a taxi to both stores.
Bangkok
Our first stop was Cotton House — actually a thumbnail-sized room — in the mini-shopping plaza called Oriental Place opposite the Oriental Hotel. (If I hadn't been looking for it, I might have walked right by.) There, precisely 65 minutes after our flight landed, Khun Reed greeted us with her measuring tape around her neck. She was expecting us. The walls of her tiny shop were lined with colored silks and cottons, and bolts of wool and linen. All the women who worked there wore intricately detailed white cotton blouses that I later learned were the store's hallmark. Because I had brought most of the fabric I wanted with me, along with samples to be copied, it took Reed just 30 minutes to take my measurements and write the order. When we returned one week later, she had eight "pieces," as they are called, ready for fitting.
Getting things just right required two more days and two more fittings; fortunately we were staying at the Royal Orchid Sheraton Hotel, which was just a 10-minute walk away.
But I had ordered difficult items, including a wool suit that needed several adjustments because the fabric stretches as you work with it. Reed kept the shop open the afternoon of New Year's Eve to complete the order before the holiday. And the final products were exquisite. Because these were business clothes, I had requested finishing details that are rare, or at least extremely expensive, on off-the-rack clothing back home, such as bound buttonholes on the suit jacket and French seams on the linen blouses. If your taste runs to self-covered buttons — made out of the same fabric as the garment — these are readily available in Asia. Had I had not brought my own buttons, I would have asked to see the ones the shop planned to use. We had an equally positive experience with the shirt shop, Rajawongse, run by an Indian father and son, Jesse and Victor Gulatis, in the heart of Bangkok's garment district near the Landmark Hotel on Sukhumvit Road. "Chalk the cloth you want," said Victor, handing us a piece of yellow tailor's chalk and motioning to the nearly 100 bolts of cotton that lined one wall, arranged first by pattern, stripes, solids and tattersalls, and then by color.
Victor, who is nearly 6 feet tall and a man of some heft, looked dashing in his blue and white striped dress shirt with gold cufflinks, silk tie and black turban. My husband, whose own taste runs to Indian-style banded-collar shirts, produced a sample.
"We can improve upon that," Victor said with an air of authority. And he did. By the time we returned to Bangkok a week later the store was closed for vacation. But there was a shopping bag from Rajawongse waiting for us at our hotel. It contained seven perfectly tailored shirts in fine Egyptian cotton. They cost us $25 apiece.
Hoi An, Vietnam
In contrast with the impeccable quality and service we got in Bangkok, having clothes made in Hoi An was more a chore than a pleasure. We had been to Hoi An briefly nine years earlier and remembered it as a tranquil little town where we wanted to come back and linger.
A 16th century Japanese covered bridge and historic Chinese shop houses, with stores in the front and merchants' living quarters in the back or upstairs, have since earned Hoi An designation as a UNESCO World Heritage Site. But the sleepy village we remembered had been taken over by the rag trade. Everywhere we turned there were tailor shops and touts beckoning.
Unlike Bangkok and Singapore, where tailors depend on repeat business from tourists using their city as a transportation hub, the tailors in Hoi An treat their customers like one-timers. We suspected as much after noticing many tourists walking about town with what looked like ill-fitting new clothes.
Prices for most things were nearly as high as in large cities, no matter how hard people bargained (customary in Southeast Asia). The going rate for a wool or silk suit was about $85 ($125 for cashmere), pants were $25, and a silk blouse cost $35. Unless you insisted on natural fibers and seemed to know the difference, much of the fabric offered was blended with rayon. And the quality of the workmanship was inconsistent.
This was painfully apparent at Yaly Couture, the most upscale of the handful of tailor shops we visited in Hoi An, which had an extensive selection of gorgeous fabrics. Customers can hear the din of sewing machines upstairs where 45 tailors labor. At another location nearby, our saleswoman told us, an additional 30 tailors just do jackets. Sample items on display in the store suggested that the owners pride themselves on meticulous workmanship. But our experience there indicates that the quality of the garment you get will be as good as the tailor assigned to your project.
Four sewers worked on our small order, which took just 12 hours from conception until the first fitting. The consequence was that each of the three cotton dress shirts Ken ordered ($11 each), all based on the same sample he supplied, looked different and one was significantly better than the others.
A single round of alterations corrected the problems — sleeves too wide, cuffs too tight and a missing button — but it took time out of our vacation, and the shirts don't look good enough to wear for anything but travel or a beach cover-up. I've enjoyed two pairs of silk pajamas I had made there ($20 apiece), copied from a camisole top and drawstring pants I brought from home, but the workmanship was sloppy. Had it been better, I planned to order other items. Based on this dry run, I wasn't even tempted.
A very hip looking mother and son from Los Angeles whom we met in Hoi An came away from Yaly much more satisfied. The son had ordered a silk suit copied from a picture in a magazine, which fit perfectly on the first try and, according to his mother, stopped traffic in the store when he tried it on. But a friend of theirs who placed an order at the same time was apparently so dissatisfied with the fit, even after alterations, she refused to take the outfit.
We were happier with the final product at Thu Thuy, another shop, where I had a favorite pair of jeans copied ($28). The pants, which I ordered in the morning, were ready seven hours later and fit without alteration. But I found the sales staff surly and the shopping experience unpleasant. Among other things, the saleswoman initially objected when I asked her to put a tiny snippet of the corduroy I chose from their stock on the receipt she gave me when she took my $10 deposit. This is standard practice in Asia to avoid mix-ups, and I wanted to be sure that the pants were made of the high-quality fabric I had selected, rather than from an inferior substitute.
Louangphrabang, Laos
I contrast our struggles in Hoi An with all the fun I've had ordering clothes elsewhere in Asia. For example, last year in Louangphrabang, a charming city in northern Laos, I had an outfit made of hand-woven Lao textiles from the OckPopTok textile shop. Joanna Smith, a former fashion photographer from London who is one of the owners, designed a tight sleeveless top made of a silk
pa bieng
, a long narrow piece of cloth that resembles a large scarf and is worn for Lao ceremonies. To go with it, Smith suggested hip-hugger silk pants trimmed in the black and white pattern from the
pa bieng
. The whole ensemble, expertly tailored off the premises in the space of 48 hours, cost $125.
For me, custom-made clothes are the ultimate Southeast Asian souvenirs. The experience and memories of acquiring them add to the enjoyment each time I put them on.
*
(BEGIN TEXT OF INFOBOX)
Sampling of tailors
WHERE TO SHOP:
Carvette Fashion, 19 Tanglin Road, 03-49 Tanglin Shopping Centre, Singapore 247909; 011-65-673-46-229, e-mail: alicepwa@carvettefashion.com.
Cotton House, Oriental Place Shopping Arcade, 30/1 Charoen Krung Road, 38 Bangkok, Thailand; 011-662-266-0186, Ext. 1021, e-mail: cottonhouse100 @hotmail.com.
Rajawongse, 130 Sukhumvit Road, Bangkok, Thailand; 011-662-255-3714, https://www.dress-for-success.comv .
Thu Thuy, 60 Le Loi St., Hoi An, Vietnam; 011-84-510-861-699, https://www.hoianthuthuysilk.com .
Yaly Couture, 47 Nguyen Thai Hoc, Hoi An, Vietnam; 011-84-510-910-474, e-mail: yalyshop@dng.vnn.vn.
OckPopTok, 73-5 Ban Vat Nong, Louangphrabang, Laos; 011-856-71-253-219, https://www.ockpoptok.com .
— Deborah Jacobs
Get our L.A. Goes Out newsletter, with the week's best events, to help you explore and experience our city.
You may occasionally receive promotional content from the Los Angeles Times.