Vacationers think outside the cabana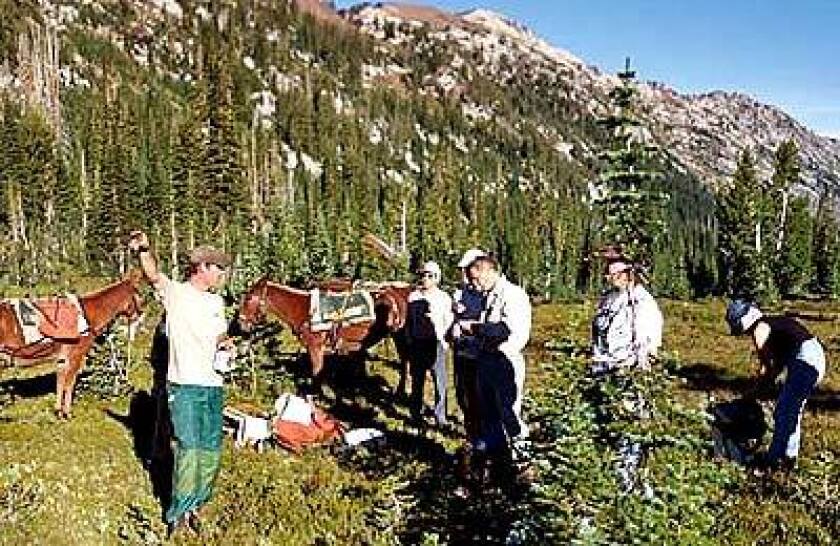 Times Staff Writer
Three weeks after the Dec. 26 earthquake and tsunami destroyed parts of southern Asia, I-to-I, which offers service-oriented vacations and programs in more than 20 countries, fielded about 1,000 calls in its Denver office from people wanting to volunteer in the disaster-stricken areas.

Its office in Britain received 4,000 calls in one day, said Cheryl Friedman, marketing manager for I-to-I. "We've had an outpouring of interest in our programs in Sri Lanka and Thailand after the tsunami," she said.

Disasters often bring out a desire in people to help in relief efforts, to make a difference. In the year after the Sept. 11, 2001, terrorist attacks, Earthwatch Institute, one of the world's largest volunteer nonprofits, placed almost 4,000 volunteers in projects worldwide, its biggest year since its founding in 1971, spokeswoman Blue Magruder said.

"People were feeling that they didn't want to do ordinary travel," she said, "that they wanted to give something back."

Although no one keeps statistics, anecdotal evidence suggests that more Americans are spending their time off teaching English in Asia, monitoring marine mammals in Brazil or working side by side with AIDS outreach workers in Africa.

"We had a record year" in 2004, said Kam Santos, a spokeswoman for Cross-Cultural Solutions, a New York-based international nonprofit that operates volunteer programs in 10 countries. Last year the organization saw a 50% increase in volunteer placements from 2003.

The usual vacation — lazing on a South Pacific beach or sightseeing in Europe — is "an out-of-touch way to travel," said Raissa Shafer of Experiential Learning International, a Denver company that arranges volunteer, work and intern programs in eight countries.

"Volunteer vacations offer [travelers] a way to make a connection with the culture they're visiting," she said.

For Sergio Pastore and his wife, Pat, an I-to-I volunteer vacation gave them an intimacy with lions and other African wildlife.

The couple spent their June vacation caring for rescued lions at the South Africa Lion Park in Johannesburg. "People [volunteer] because they get rewards," said Bill McMillon, an author of "Volunteer Vacations: Short-Term Adventures That Will Benefit You and Others." "For some of us, it is that you are learning new things."

How do you choose what to do? Ask yourself some key questions, McMillon said.

• What level of discomfort can you tolerate? Ask yourself whether you can hike 10 miles a day or whether you need a three-star hotel, McMillon said.

• How much money can you spend? "Trips can range from nothing to $5,000," he said. "With the expensive trips you are not only paying for yourself but also subsidizing the project or helping to fund the investigation."

• Can you deal with the unexpected? "If you don't want surprises, go to the beach," McMillon said.

Sergio Pastore said the worst of the unexpected was cold weather. "We weren't fully prepared for the 30-degree temperatures at night," he said.

The best? Wrestling with adolescent lions at the park. "They accepted me as a sibling," he said.

*

Organizations

Among organizations that arrange volunteer vacations:

American Friends Service Committee, 1501 Cherry St., Philadelphia, PA 19102; (215) 241-7000, https://www.afsc.org . Service, development, social justice and peace programs worldwide.

American Hiking Society, 1422 Fenwick Lane, Silver Spring, MD 20910; (301) 565-6704, https://www.americanhiking.org . Construct or rebuild footpaths, cabins and shelters in the nation's parks.

Cross-Cultural Solutions, 2 Clinton Place, New Rochelle, NY 10801; (800) 380-4777, https://www.crossculturalsolutions.org . Arranges volunteer placements in 10 countries.

Earthwatch Institute, Clock Tower Place, Suite 100, P.O. Box 75, Maynard, MA 01754; (800) 776-0188, https://www.earthwatch.org . Placements in scientific field research, education endeavors.

Experiential Learning International, P.O. Box 9282, Denver, CO 80209; (303) 321-8278, https://www.eliabroad.com . Arranges volunteer placements and internships in eight countries.

Global Volunteers, 375 E. Little Canada Road, St. Paul, MN 55117; (800) 487-1074, https://www.globalvolunteers.org . Social and teaching projects in 18 countries.

Habitat for Humanity International, 121 Habitat St., Americus, GA 31709; (800) HABITAT (422-4828), Ext. 2549, https://www.habitat.org . Globally and locally, the nonprofit builds houses for families in need.

I-to-I North America, 190 E. 9th Ave., Suite 350, Denver, CO 80203; (800) 985-4864, https://www.i-to-i.com . Conservation, community development, teaching and social projects in 23 countries.

Peace Corps, 2361 Rosecrans Ave., Suite 155, El Segundo, CA 90245; (800) 424-8580 or (310) 356-1100, https://www.peacecorps.gov . Operates a variety of service projects in 72 countries.

Sierra Club, 85 2nd St., 2nd Floor, San Francisco, CA 94105; (415) 977-5522, https://www.sierraclub.org/outings . Runs 80 nature- oriented service projects in the nation's wild areas.

Resources

International Volunteer Programs Assn., P.O. Box 18, Presque Isle, MI 49777; (989) 595-3667, https://www.volunteerinternational.org . An alliance of nonprofit, nongovernmental organizations in the Americas involved in international volunteer and internship projects.

Idealist.org, https://www.idealist.org . This service of the nonprofit Actions Without Borders lists volunteer opportunities in Africa, Asia, Australia and the Pacific, Europe, Latin America, the Caribbean, the United States and Canada.

Network for Good, https://www.networkforgood.com . An Internet site that lists volunteer opportunities in the United States and abroad.
---