The first book you'll want to get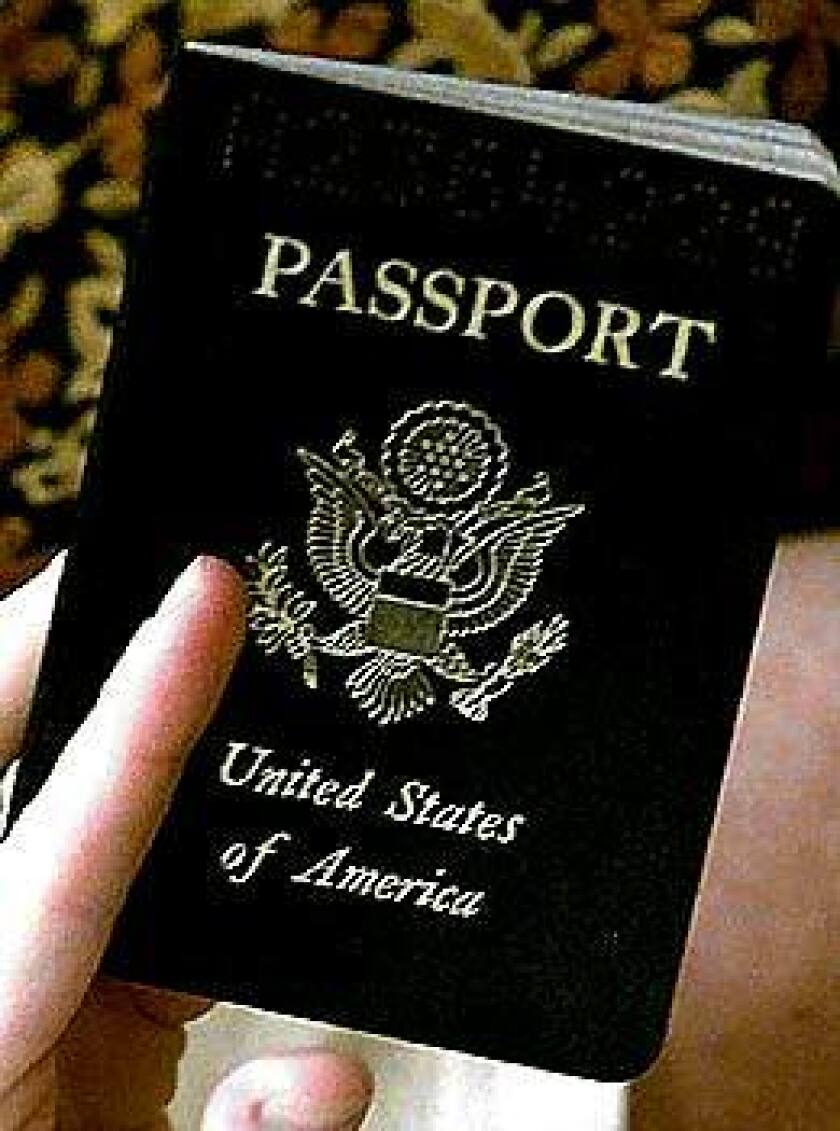 Times Staff Writer
If you're planning to go abroad in the next few months and you don't have a passport, here's my advice: Get it now.

That little booklet should be the first thing you think about, not the last, when you plan an overseas trip. That's because it usually takes up to six weeks to get one. If you also need a visa, required by many countries, tack on a couple of weeks.

Record numbers of Americans have been applying for passports. In the fiscal year that ended Sept. 30, the U.S. State Department issued a record 8,825,410 — an increase of more than 20% from the previous year.

So far the government has kept up with the crush, said Barbara Brophy, customer service manager for the Los Angeles Passport Agency. But it's prudent to allow extra time.

Now is a good time to start the process because applications typically taper off October through February, Brophy said. The peak hits in June and July.

If you're applying for the first time or your previous passport has expired and was issued more than 15 years ago or when you were younger than 16, you'll need to appear in person.

Children younger than 14 must also apply in person, whether it's for their first passport or a renewal. Ideally, both parents should appear with the child. But if only one parent can come, he or she must have a consent statement from the other parent. Under a new rule announced Nov. 1. This statement must be notarized.

*

Getting started

The easiest way to apply is to visit a "passport acceptance facility," which is most often a post office but may be a city hall or other public place. There are thousands of these across the nation. More than 400 are in Southern California alone — double the number from two years ago, Brophy said. For a list, searchable by ZIP Code, visit iafdb.travel.state.gov.

You can get application forms at a facility or download them at https://www.travel.state.gov , the website of the State Department's Bureau of Consular Affairs.

To get a passport, you'll need to prove you are a citizen, typically by presenting your previous passport or a certified birth certificate issued by a city, county or state. For a list of other acceptable documents and instructions on how to apply, visit https://www.travel.state.gov . Click on "Passports."

You'll also need proof of identity, such as a driver's license, plus two 2-inch-square passport photos. There are precise rules on image size, attire and other aspects. For details, visit the bureau's website.

For a new passport, fees total $85 for adults and $70 for children younger than 16. Renewals, which cost $55 per person, can be done by mail. For details, see the bureau's website.

If you need your passport in a hurry, you can pay an extra $60, plus overnight delivery costs, for expedited service. You should receive it in about two weeks.

If you're going abroad sooner than that, try visiting a pass- port agency office, such as the Los Angeles Passport Agency at the Federal Building, 11000 Wilshire Blvd., Suite 1000. You'll need to schedule an appointment; call the National Passport Information Center at (877) 487-2778.

The State Department website also has information on visas needed to enter other countries, but for the most accurate requirements, contact the embassy, consulate or tourist office of the nation you plan to visit. (See list on Page 6.)

Penny-pinchers take note: New biometric passports, which have extra security features, will cost $12 extra. The State Department hopes to switch to these by summer, said Kelly Shannon, spokeswoman for the Bureau of Consular Affairs.
---