The annual Consumer Electronics Show held in January in Las Vegas is a gawker's delight.
This year the health and fitness section was jammed with products that use sophisticated sensors or smart fabrics designed to fix your posture, detect sleep apnea, noninvasively estimate your blood sugar levels, even protect you from (too much) harm if you crash your motorcycle. Here are some of the most interesting available now or soon.
For the record:
2:33 p.m. Feb. 2, 2020An earlier version of this post said Pivot is FDA-approved. It is FDA-cleared.
1. CONNECTED YOGA MAT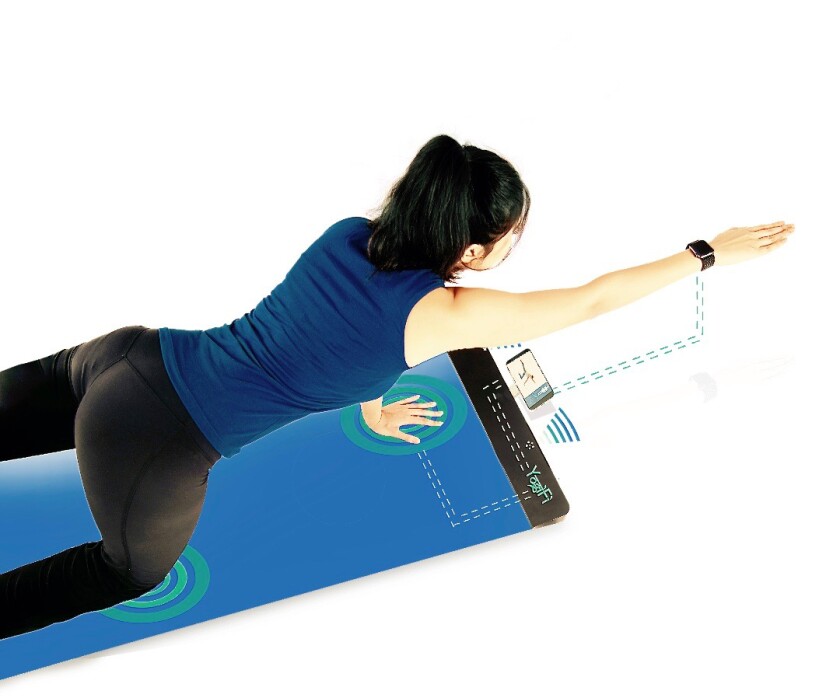 YogiFi is a mat embedded with sensors that provide step-by-step guidance and real-time feedback on your Apple Watch and Fitbit. It ended up nabbing an innovation award at the show. You can track changes in posture, strength, flexibility and balance after each session, share data with friends and even join an instructor-led session. It's available in May. $199 plus $9.99 monthly subscription, yogifi.io
2. SMOKING SOLUTION
Pivot is a smoking-cessation breath sensor allows participants to see changes in their smoking behavior in real time. It purports to be the first FDA-cleared device to measure carbon monoxide, an indicator of how much a person smokes. With the sensor and an app that includes two months of human counseling, plus two weeks of nicotine replacement, Pivot claims to have a 30% cure rate — a big improvement over the single digits of other programs. $299, pivot.co
3. CARRY YOUR GYM
Max Pro is a compact, travel-friendly portable cable gym that can deliver a full-body workout with many standard exercises, including squats, dead lift, overhead presses and rows. Just 9 pounds, it has retractable resistance cables in each end, can be mounted to the top and bottom of a door for lat-pull exercises, folds in half and fits in a 20-inch shoulder bag. The resistance can be adjusted from 10 to 300 pounds with the turn of a dial. A smartphone app logs calories burned, power, coaching and workout plans. $429, maxprofitness.com
4. INDOOR SUN
WiZ Connected's smart lighting system includes light bulbs and a remote that connect to the cloud to provide custom lighting for a room, including mimicking natural sunshine. Connected via Alexa and Google+, it can be synced with your circadian rhythm to wake you up in the morning, emit bright white sunlight in the middle of the day and transition to dim, warmer light in the afternoon, helping users calm down and prepare for sleep. WiZmote, $15; A19 bulbs two-pack $29.99, wizconnected.com
5. NON-NEEDLE GLUCOSE MONITOR
Glutrac, unlike other glucose monitors, does not require you to stick a blood-monitoring needle in your body, either via pricking your finger several times a day or wearing a small, invasive monitoring device 24-7. Instead, this watch uses a technology (not yet FDA-approved) that measures interstitial fluids (those outside your blood vessels) by scanning your index finger on an optical touch-screen sensor. It claims an accuracy rate of 90%. (The accuracy was compared favorably to other brands by a number of CES attendees at the Glutrac booth, including Type 1 and Type 2 diabetics.) $1,099. add-care.net
6. LOW-TECH BODY STRAIGHTENER
Posture Flexi is an electronics-free shoulder-chest harness that discourages slouching and reduces back pain by keeping the shoulder blades together and stretching the chest. Worn one to three hours at a time, it deepens the breath, engages the core and encourages the hallmarks of good, upright posture — ear, shoulder, hip, knee and ankle aligned vertically with an S-curvature in the spine — all without a conscious effort. $39.99, swedishposture.com (in the U.S., order through activelifeusa.com)
7. BLOOD PRESSURE MONITOR WATCH
The Charmcare H2-BP watch, pending FDA approval, uses a design that makes it the market's smallest and possibly most accurate blood pressure wearable. Like other brands, it uses an expanding wrist cuff, but the cuff expands only on one side to compress and measure one artery — the radial — rather than both it and the ulnar at once. The H2's Korean manufacturer claims that the radial artery is more stable, yielding a more accurate reading than an average of the two. Data can be viewed via a Bluetooth-connected smartphone app. $350, h2care.com
8. MOTORCYCLIST LIFESAVER
Alpinestars Tech-Air 5 is an auto-inflating vest, designed to be worn under a motorcycle jacket, that uses an argon gas canister and a motion sensor to deploy before you hit the ground in a crash. The airbag inflates in one-fortieth of a second. $699, alpinestars.com
9. STEPPER UNDER DESK
Cubii is a miniature elliptical machine for your feet that allows you to get a mild workout and burn calories while sitting on the couch or in an office chair. An advantage over similar bicycle-type devices is that your knees stay low, so it can easily be done under a desk. Includes a tracker that measure revolutions per minute, calories, distance and time. $350, Pro model; $250 Junior. A fold-up model is due in summer. mycubii.com
10. SLEEP APNEA DETECTOR
Withings ScanWatch is said to be the first smartwatch that detects sleep apnea episodes. (Several other brands use the SpO2 sensor, which measures oxygen saturation but don't count episodes.) Waterproof to 50 meters, it includes a scratch-resistant sapphire glass face and other fitness and medical smartwatch features, including medical-grade ECG, steps, GPS, notifications, irregular heartbeat alerts and altimeter. Available in the summer. Starting at $249, withings.com
11. AQUA E-BIKE
For the person who has everything, and the bank account to prove it: The Manta5 Hydrofoiler XE-1 eBike takes the electric-assist concept to your local lake or ocean when the waves are placid (or nonexistent). The sleek, New Zealand-made aluminum/carbon fiber machine uses airfoils, a waterproof battery and a 460-watt motor to hydroplane up to 12 mph. Like a land e-bike, the motor shuts off when you stop pedaling (stopping the propeller). But it won't sink. The battery charges in three hours and yields one hour of total ride time. Suitable for a range of fitness levels, it breaks down in minutes to fit in a car. $7,495. manta5.com
---