History | Staying safe | Classic spots | Hidden gems | Where to hike | Wildlife | What's new | Weird stories | How to spend a day | Earn your park badge
"You can see just about all of Los Angeles from Griffith Park," Mike Eberts wrote 24 years ago in his centennial history of the park. Thank goodness that's still true today. In L.A.'s 4,300-acre wild heart you can reflect on the city and get away from it at the same time.
Its chaparral slopes and grassy picnic areas are bounded by the L.A. River on the north and east, the Hollywood Hills on the west, and Beachwood Canyon and Los Feliz on the south. But its culture and history reach much farther.
Besides the Greek Theatre and the Griffith Observatory, the park's best-known attractions, there are camps for boys and girls, open lawns, gardens improvised by volunteers, a zoo, a museum, a vintage carousel, steam-powered trains, pony rides, a Sunday drum circle and a lone mountain lion.
On one of its golf courses 100 years ago, Babe Ruth learned that the Red Sox were selling him to the Yankees. And on the land where the zoo parking lot now sprawls, city leaders in 1946 put up 750 Quonset huts to house returning World War II veterans and their families.
Griffith Park is also where Walt Disney dreamed up Disneyland.
And it's oh-so romantic.
The park worked its magic on Ryan Gosling and Emma Stone in the 2016 film "La La Land" when they took over a bench near the observatory to sing and dance their way into (or was it out of?) love. They're not alone. People fall in love here all the time. The park routinely shows up on lists of L.A.'s best places to propose.
The COVID-19 pandemic hasn't changed the park, but it has changed how people visit. More locals than tourists can be found keeping their distance while walking on its dusty trails and paved roads, sitting on a tree-shaded bench at Fern Dell or spreading out a picnic blanket at Crystal Springs. It became a handy natural refuge when we had nowhere else to go.
Pandemic or not, Griffith Park takes you to L.A.'s urban edge and plunges you into what remains of our wilder side, if only for a few hours. Let this mini-guide send you on your way.
Why this urban park is like no other
In 1896 a Welshman named Griffith J. Griffith gave Los Angeles a huge gift: more than 3,000 acres to create a park that would be, in his words, "a resort for the rank and file, for the plain people."
"He was decades ahead of the curve," said Casey Schreiner, founder and editor of ModernHiker.com. "[He] believed that parks were a necessity, not a luxury, for cities, and that they should be free and accessible to everyone. It really put a lot of things about the park's history and future into perspective for me."
Griffith, not to be confused with film director D.W. Griffith, was a philanthropist and a felon. One drunken night seven years after donating the parkland, he shot his wife in the face. She lost an eye but lived. In 1910, after his release from San Quentin State Prison, Griffith wrote a book about parks and open space.
The park grew to more than 4,300 acres of green space, five times bigger than Central Park in New York City and just a little smaller than all eight of London's royal parks added together. The park estimates about 10 million people visit each year. So why are Angelenos seemingly unaware of the blockbuster in their backyard?
"I think it's the geography," Schreiner said. "There are very few urban city parks that are bisected by a mountain range, and the sheer size makes it impossible to see the entire park."
Schreiner, surprised to find there was no in-depth guide to the park, set out to create a "pocket visitor center" that covers what routes to hike (he details 33); how to reserve a tennis court; where you can sign up for swimming lessons; when you can visit Walt Disney's barn; which roads are best for cycling; which maps horseback riders need; how to get around the park without a car; and more.
The result is "Discovering Griffith Park, a Local's Guide," published earlier this year.
"It's easy to enjoy a few activities inside the park and not realize how much else there is to do," he said.
How to stay safe
Where to go: There are many entrances to the park, depending on where you want to go. Start exploring with a map, guidebook or a friend who knows the way around.
Social distancing: Like everywhere in L.A. County, runners, hikers, walkers, cyclists and all visitors are required to wear face coverings and stay at least six feet from others. Hikers should stick to wide fire roads rather than narrow trails where it's harder to social distance.
No groups: Griffith Park hiking groups have been a thing for decades. It's great for socializing with friends while getting a workout. During non-COVID times, local Sierra Club volunteers and Meetup groups lead free evening hikes that provide a good introduction to the terrain. However, gathering in groups is now forbidden.
Best time to go: Early morning (as early as 6 a.m.) may be the best time to avoid crowds. In the early evenings even wide trails can be crowded, and not everyone wears a face covering and keeps a safe distance. Picnic areas in the park are far apart; again, go early to snag one if you plan to spend the day. If you find a crowded trailhead or picnic area that makes you uncomfortable, choose a different spot.
Stay found: It's easy to lose your way in a place as big as Griffith Park. Trail signs take you only so far. Use a map (on your phone or a paper one) to plan your route. Then drop pins along your electronic course or use a GPS app such as Gaia to stay on track.
The classic places to go
Some of these places are closed because of the pandemic. Keep them on your bucket list for when the park reopens.
The Greek Theatre: From April to October you can catch a concert here if you prefer something more intimate than the Hollywood Bowl. Griffith himself oversaw the building of the outdoor theater that opened in 1930 (currently closed). lagreektheatre.com
Griffith Observatory: It's said that more people have gazed at the stars through the observatory's solar telescope than anywhere else on Earth. This landmark, which opened in 1935, offers great views of the heavens and the Hollywood sign. Stargazers line up outside when volunteers set up telescopes to watch an eclipse or comet. Griffith pushed for the landmark Art Deco building, which was closed in 2002 and reopened in 2006 after a $93-million renovation and underground expansion (currently closed). griffithobservatory.org
The Autry Museum of the American West: The museum focuses on what it means to be an Angeleno, a Californian and a Westerner. It's also home to the only U.S. Equity theater company focused on producing works by Native American, First Nations and Alaska Native playwrights (currently closed). theautry.org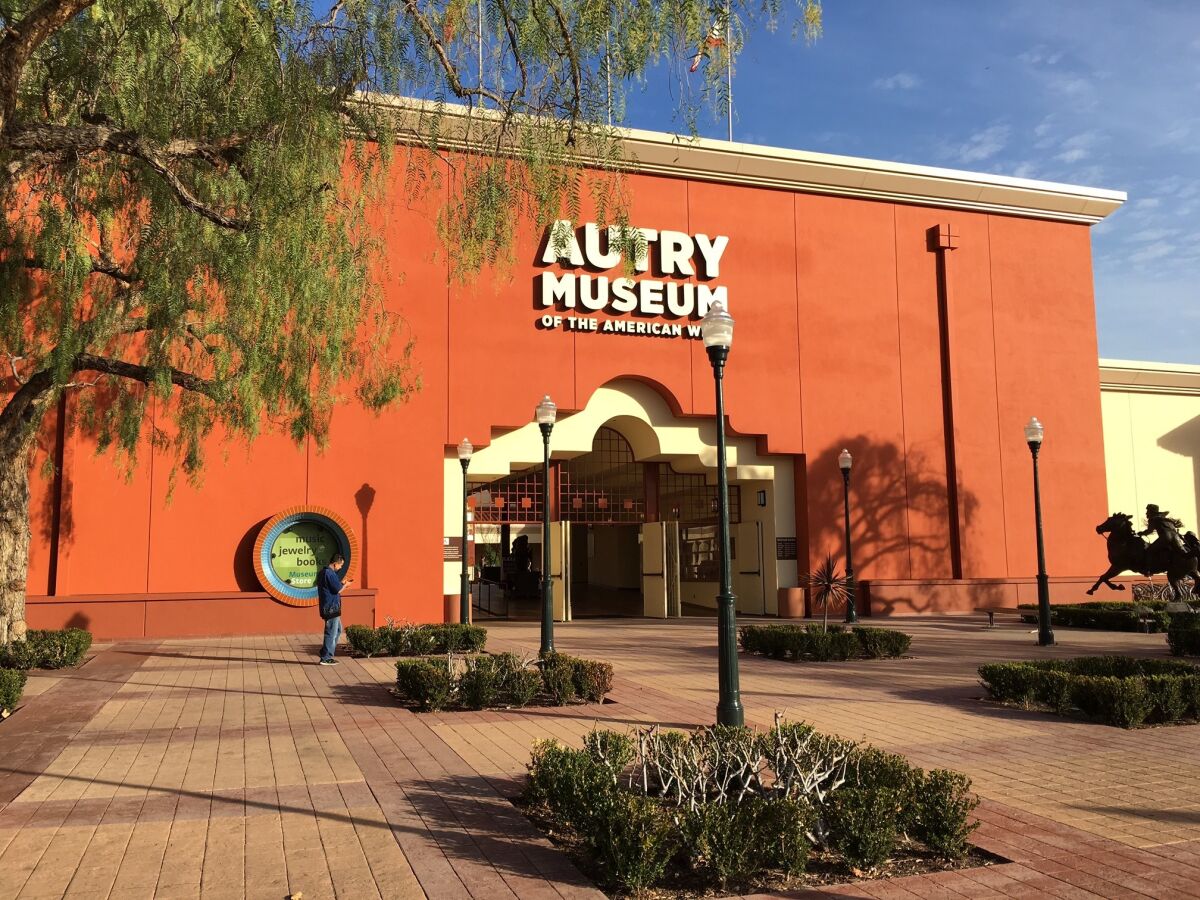 The Los Angeles Equestrian Center: The 75-acre site is devoted to all things equestrian and offers newbies and experts alike a true slice of L.A.'s horseback history. thelaec.com
Los Angeles Zoo & Botanical Gardens: The L.A. Zoo is a leading center in the restoration of the endangered California condor, which was almost extinct before being taken into captivity for a successful breeding program. It reopened to visitors at limited capacity on Aug. 26. lazoo.org
Hidden gems
Los Angeles Live Steamers Railroad Museum: Ride on a scale railroad track and visit Walt Disney's Carolwood Barn, which is open once a month. Disney built and designed scale railroads in this barn, which was later moved here from his Holmby Hills home. It's now a little museum stuffed with Disney artifacts. A hidden treasure for Disney nerds (currently closed). lalsrm.org
L.A. Breakfast Club: Join a historic, tongue-in-check secret society every Wednesday morning for singalongs, rituals, a breakfast buffet and engaging speakers. It's open to all ($20 for nonmembers), and after one visit you'll agree that the club's been making L.A. a better place since 1925 (as it claims on its website). It's in the Friendship Auditorium on Riverside Drive in Los Feliz (currently closed). labreakfastclub.com
Bronson Cave: You probably recognize it from the mid-1960s "Batman" television series, when it was the entrance to Batman's workshop and the Batmobile garage. The Bronson Cave has been seen in countless other films and TV shows — and offers a great view of the Hollywood sign.
Wisdom Tree: Is this L.A.'s most famous New-Agey tree? The single pine has become a destination for reflection on the Cahuenga Peak Trail. Hike the steep, tough trail for rewarding views, but please don't leave stacks of rocks or climb on the branches; the tree is in need of some TLC. The popular trail is currently closed.
Amir's Garden: Located near Mineral Wells in the northeast part of the park, this is one of three "volunteer gardens" in the park. It's also the only one that received official permission to create a sprawling, magical oasis of flowers and vegetation. Once you find it, you'll see why it's a gem. Spend some time to de-stress.
Bette Davis Picnic Area: Just north of the L.A. River, this huge picnic area with towering sycamore and oak trees and lovely lawns is a great place to remember the 1940s film goddess. She at one time lived near the park. This space is woefully underused, according to Schreiner, who says it's his favorite picnic area in the park.
Best hikes
Hollywood sign: Whichever way you go to get as close as possible to the sign, you'll end up behind the 50-foot letters, not in front of them. There are good photo ops of the sign from all over the park; some don't require hiking (such as the observatory parking lot). To the south, the Lake Hollywood Reservoir, technically not part of the park, offers an easy walking path and some of the best views with a fraction of the selfie-hungry crowds.
Mt. Hollywood: It's not the tallest peak in the park at 1,625 feet, but it's definitely one of the most popular. This route offers some of the best views of the city and surrounding mountains. Remember, the Hollywood sign isn't here; it's on Mt. Lee. The easiest way to find the high point is to start at the Charlie Turner Trailhead from the Griffith Observatory for a 1½-mile climb to the top.
Fern Dell: It was a favorite of TV personality Huell Howser and many others. Here you can take an easy stroll through one of the most visually interesting areas of the park. Dense tree canopy keeps it cool, which comes in handy during the summer months. It's the ideal place to hang out and picnic.
Beacon Hill: The easternmost peak of the Santa Monica Mountains once housed a beacon for the Griffith Aviation Park, one of the first airports in the area. On clear days, you have spectacular views of downtown and Silver Lake, and sometimes as far as Mt. Baldy, Mt. San Jacinto, Mt. San Gorgonio and Santiago Peak.
Skyline Trail: This ridge-line trail in the northern part of the park is traveled by equestrians more than hikers, and has killer views of the Verdugo Mountains and western San Gabriel Mountains.
Hogback Trail: One of the classic fitness routes, this heads from the Greek Theatre up a steep, shadeless trail to the top of Mt. Hollywood. You can get there from other parts of the park too if you want to add to your workout. Don't worry, there's water at the top at Dante's Garden.
Toyon Loop: Circle the Toyon Canyon Restoration Project (read: landfill) for surprisingly quiet trails and sweeping views of the north side of the park.
Creatures that live there
Red-tailed hawks: Iconic and beautiful, you'll often see these birds of prey riding thermals high above the park.
Great blue herons: This S-shaped bird has become a symbol of the revitalized L.A. River. Spot them on a walk or bike ride along the river or while kayaking through nearby Glendale Narrows (yes, you can kayak some areas of the river, a surreal and peaceful experience).
Coyotes: You might see these adaptable canines all over the park; one person said she'd even seen them drinking from water fountains in a picnic area.
Lizards: There are two common species in the park: alligator lizards, with beautiful scale patterns, which like to hang out near water; and Western fence lizards, which look like they're doing push-ups in the sun.
P-22: The king of the L.A. cats, our own celebrity bachelor mountain lion has become an important mascot for urban wildlife and biodiversity. Long may he reign. He wears a bulky radio collar and an ear tag so biologists can track his habits. Friends of Griffith Park hosts an annual P-22 day to educate people about cougars and the park.
Western toads: The frogs that gave Frogtown its name were more likely Western toads, which you may hear around arroyos and drainage basins if we have a wet winter.
Scrub jay: Highly intelligent and a bright blue, the Aphelocoma californica can remember as many as 200 locations for stored food.
Bobcats: As elusive as the larger P-22, these smaller felines roam the park.
Owls: You're bound to see the silhouette of big owls if you're hiking at dusk or later in the evening. Three types live here: great horned owl, barn owl and Western screech-owl.
Tarantulas: The mega-spiders like the park's chaparral. "They love to walk around in search of mates in early fall around sunset, but they're not poisonous to humans," said Schreiner. "Even so, just watch where you step!"
Rattlesnakes: Venomous Southern Pacific rattlesnakes do live in the park. If you encounter one on the trail, give it space and let it continue on its way.
What's new
Parkline Shuttle: This shuttle, long overdue, makes it easy to get around a large portion of the park without a car. It's free and runs on weekends for now, traveling from the observatory along the eastern side of the park and all the way up to the "railroad petting zoo" known as Travel Town (currently closed).
Bridge to North Atwater Park: The newly opened pedestrian, cyclist and equestrian bridge reaches across the L.A. River to North Atwater Park. The elegant crooked tower with radiating cables covers just 300 feet.
"Investigating Griffith Park," at the Autry Museum of the American West, is a multiphase exhibition about the park that starts with an interview with Schreiner about his guidebook. The museum is currently closed but invites people to contribute to the show by crocheting earthworms and other aspects of the park for a "yarnscape."
A new stage for Independent Shakespeare Co: It's been producing free summer performances for the last decade, and last year the company broke ground in the Old Zoo Picnic Area. Plays are on hold because of the pandemic, but the stage is a permanent venue.
Proposed gondola: The latest in a long line of eye-catching and traffic-easing ideas, this one would take tourists from Universal Studios to the top of Mt. Lee. Could this happen? It's still in the planning stages, but you never know. Here's an L.A. Times opinion piece on what a local tramway would be like. Angelenos are being asked to weigh in on four routes under consideration.
Weird and quirky stories
There are some weird stories associated with the park. The Curse of the Felizes is a long-running ghost story that Mike Eberts' and Casey Schreiner's books about the park suggest is untrue. But aren't most ghost stories? An heir to the downsized rancho is said to have put a curse on Griffith — and his lawyer died soon after.
Then there's the titillating story of Picnic Table 29, which may be an online hoax. The tricky part is finding the table, where a couple making love on it were fatally crushed by a fallen tree limb.
One day in Griffith Park
If you have just one day to explore the green heart of L.A., Schreiner suggests this itinerary. Many of these sites are closed for now. To save time, go car-free and instead use ride shares, DASH shuttles, Metro trains and the new shuttle.
Start by taking Metro B (Red) line to Hollywood and Western; walk north up Western Avenue to the Fern Dell entrance of the park.
Hike through Fern Dell and grab a snack at Trails Cafe (open 8 a.m. to 2 p.m.; closed Tuesdays and Wednesdays) before continuing to the Griffith Observatory. Catch a planetarium show and wander the exhibits, or just soak in the views from the roof when the observatory reopens.
Up for more hiking? Head to Park Center near the ranger station on Crystal Springs Drive for info on trails, or take the Parkline Shuttle on the weekends. From here, you can take a spin on the vintage merry-go-round, then hike past the Los Feliz Adobe (now the park's film office) to the new native plant garden on the De Anza National Historic Trail.
Hike north past golf courses and pop into the Autry Museum of the American West, then keep hiking west on the Main Trail to hop on a scale-model train at Los Angeles Live Steamers or explore the train-themed Travel Town. Then catch the shuttle to one of the horse stables north of the park to end your day with a sunset ride on the Skyline Trail.
"And even with all that, you're still only seeing a tiny sliver of the park," Schreiner said.
How to earn your Griffith Park badge
You can brag that you know the park and earn your Griffith Park badge when you've completed these activities and seen these sights. (OK, there's no actual badge, just a brag-worthy badge of honor in your newfound knowledge of the park.)
1. Take a hike to a high point. Complete the tough uphill trudge to the Hollywood sign or the shorter route to Mt. Hollywood for defining views of the city and the L.A. landmark. You'll get hooked on exploring the 50 or so miles of trails in the park. Bonus points: Go at night when L.A. looks sparkly.
2. See a mountain lion. P-22 is hands-down the most popular creature in the park. Fortunately, your chances of seeing him are slim to none. You can see live cougars at the L.A. Zoo or get a close-up look at a glassy-eyed stuffed one at the Park Center and Visitor Center on Crystal Springs Drive. You'll be amazed at how big the paws are.
3. Spend time in the saddle. A horseback ride in the park connects you to the old cowboy days when this was the only way to get around L.A. Don't have a horse? Sunset Ranch Hollywood on the west side of the park is happy to rent you one with a guide ($50 to $95 per person). You can hoof your way to Mt. Hollywood, day or evening, to marvel at the sun setting over the Hollywood sign. On the east side, LA Horse Rentals in Glendale also provides guided rides ($40 to $80 per person).
4. Find the mini-gardens. Over the years, a few park lovers have created little gardens within the park. They flourish still. Dante's View is a lush oasis on the way to Mt. Hollywood, with benches and piped-in water. Amir's Garden, also lovingly landscaped, takes you to the northeast corner near the Mineral Wells Picnic Area.
5. Bond with Shakespeare. This is a summer-only activity (except for this summer), which has a permanent stage near the merry-go-round. Independent Shakespeare Co. is hosting a "living room edition" of the Griffith Park Free Shakespeare Festival through Sept. 27.
6. Dine in a lion's den. Before the current zoo opened in the 1960s, Griffith Park had a cramped zoo with small cages and enclosures. The old zoo was never destroyed and instead was turned into a picnic area. You can take a 2½-mile walk around the ruins (now a favorite graffiti spot) and picnic in a former animal den.
7. Become a regular. Commit to visiting Griffith Park once a week for a year. You won't see it all, but you'll start to appreciate the views of the city and, if you're lucky, the ocean, as well as the San Fernando Valley and the San Gabriel Mountains. Bonus points: Look for former L.A. City Councilman and park lover Tom LaBonge, who's been hiking the Mt. Hollywood Trail for decades.
8. Tour a jeweled universe. Inside Griffith Observatory (currently closed) is one of the most innovative representations of the birth of the universe. "Cosmic Connection" chronicles a 13.7-million-year timeline of how the universe formed in more than 2,000 pieces of jewelry. Sounds kooky, but it works beautifully.
9. Savor the city from the roof of the observatory. If there is a quintessential vista of L.A., the place to see it is from the observatory's roof. Forget those downtown high-rises with pricey elevator rides. You can visit for free the copper-topped rotunda that has turned bright green since the observatory opened 85 years ago. Go at sunset and wait for the remarkable grid of L.A. to light up. Bonus points: Share the moment with someone you love.
10. Picnic in the park. True park lovers fire up the grills and sling their hammocks between trees; this isn't a grab-and-go sandwich affair. Families come to spend the day, celebrate birthdays and anniversaries, and have fun. Best picnic sites are in the Crystal Springs area and sites along the walkway leading to the old zoo. Bonus points: Get away from the crowds and eat your lunch at quiet Cedar Grove in the center of the park.
11. Thank the colonel. The park wouldn't exist if it weren't for the quirky, controversial, stubborn, gun-toting colonel (no, he never had an official rank) Griffith J. Griffith. Here's how the L.A. Times described the likeness that stands at the park entrance at Los Feliz Boulevard and Crystal Springs Drive: "There, in all his portly, button-straining splendor, stands Griffith in the form of a 14-foot bronze statue." Hardly anyone stops for selfies beside the man who believed in creating a park for the "plain people."
---