California Journal: Big Sur is once again coping with natural disaster and looming economic catastrophe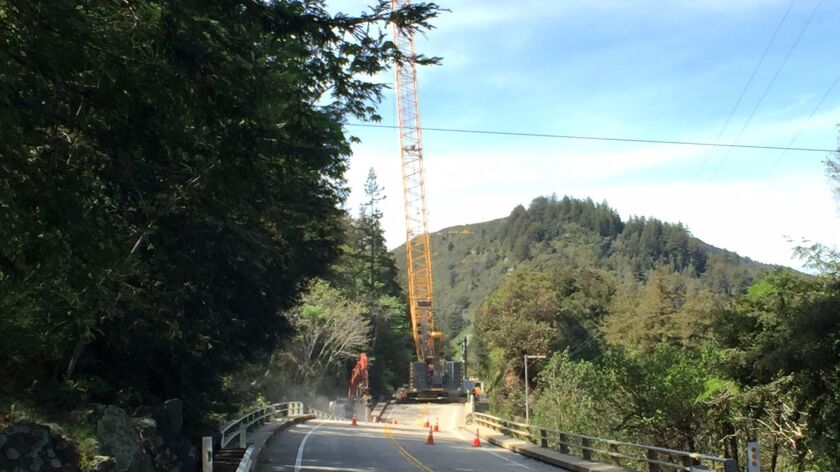 Reporting from Big Sur —
I want to tell you about how awful things have been for hundreds of people in Big Sur, trapped now for more than a month by a broken bridge to the north and various mud and rock slides to the south.
The closure of Highway 1 along a 48-mile stretch between Pfeiffer Canyon Bridge and Ragged Point has been a headache for schoolchildren and working folks, but is also shaping up as an economic disaster for the famous businesses — Nepenthe, Esalen, Ventana — that serve visitors along this storied squiggle of California coastline.

For the record:
10:30 PM, Jun. 28, 2019An earlier version of this column misspelled the last name of two Big Sur residents. It is Chappellet, not Chappelet.
But first I have to explain how crazy and wonderful it was to be all alone on Highway 1 the other day, walking down the middle of a completely empty road on a brilliant afternoon, my chin tilted at the sun. I'd flown to the Post Ranch Inn by helicopter from Monterey. The hotel, where rooms average $1,200 a night, is empty, so when the copter took off, it was just me, the purple lupine, the cranky Steller's jays and the magnificent mountains.
I started walking north. The highway was as still as a cathedral.
It's a terrible thing to confess being so happy in the midst of a crisis, but I tell you, it was glorious.
The joy I felt is exactly why people make such big trade-offs to live in Big Sur, which can be treacherous. They know that a catastrophe, whether inflicted by fire or by rain, is always just around the corner.
"I'm someone who has traveled around the world two or three different times, but this is my home and there is no place I'd rather be," said Carissa Chappellet, whose grandparents bought a nearby ranch in 1964. "The more years I put under my belt here, the more I am committed to this incredible sanctuary, this beautiful place."
I met up with Chappellet , 57, and her cousin, Heather Chappellet, 50, just south of the Pfeiffer Canyon Bridge, which buckled Feb. 15 after weeks of heavy rains. The bridge is being demolished, more slowly than planned, because a technical problem this week prevented a 6,000-pound wrecking ball from striking the span with enough force to do any damage.
East of the bridge, a trail 2 feet wide, with many switchbacks, is under construction. When completed — perhaps as early as Monday — the half-mile path will let people who live south of the bridge, including schoolchildren and working folks, to skirt the damaged highway on foot. They'll be escorted out and back in by members of the local fire brigade, during two 30-minute windows each day, one around 7 a.m. and the other around 5:30 p.m.
Those will be long days for kids, who will be on this schedule for at least a year, until the new bridge opens.
(Theoretically, once all the slides are cleared and the buckled asphalt filled, stranded residents could leave Big Sur by driving south, then east to Highway 101. It would take about four hours to get to Monterey or Carmel, hardly practical for a daily commute.)
Almost 50 children — kindergartners to high school students — have missed a month of school. A teacher from the Monterey School District has been coming in a few times a week to meet with children at the Post Ranch Inn, which has offered up one of its meeting rooms.
The Chappellets and I stood next to the trail head as a crew member from the California Conservation Corps, along with two local volunteers (including a wildlife biologist who works with condors), drilled and hammered a 60-pound wooden step into place. At least 60 locals, in rotating shifts, have been pitching in.
"People had been sneaking across every way they could think of," Carissa said. The state parks department threatened $5,000 fines for anyone caught walking around the bridge through Pfeiffer State Park.
"At that point, we said, 'Hey, that's not stopping anyone,'" Carissa said. "It just puts them on a more perilous path. So let's help the locals have a way to get to the other side."
A mile or so down the highway, I wandered into Nepenthe, a restaurant famous for its spectacular views, to chat with Kirk Gafill, 55, whose grandparents bought the place in 1947. He's lobbying CalTrans to build a temporary bridge before starting construction on the new permanent bridge, something the state transportation agency has said is probably not feasible.
"We're pushing as hard as we can to impress on them that this is a regional economic disaster, not just a Big Sur disaster," said Gafill, whose business generates about $12 million a year. "This is having a profound impact."
As we spoke on the restaurant's deck perched high above the sea, gray whales surfaced far below us, blowing sprays of water into the air.
I could have stood there all day, but I had to tear myself away to get back to the Post Ranch Inn for the flight back to Monterey. Had I missed the 3 p.m. flight, I would have been stuck in Big Sur all night.
There are worse fates than that.
Twitter: @AbcarianLAT
ALSO
You probably don't see the dredge in Marina del Rey, but it's going to make your summer better
Struggling flood victims rip San Jose officials and ask why Apple, Google and Facebook haven't helped
---
The stories shaping California
Get up to speed with our Essential California newsletter, sent six days a week.
You may occasionally receive promotional content from the Los Angeles Times.