California Journal: At the country's biggest cannabis county fair, legalization is met with a mixture of relief and fear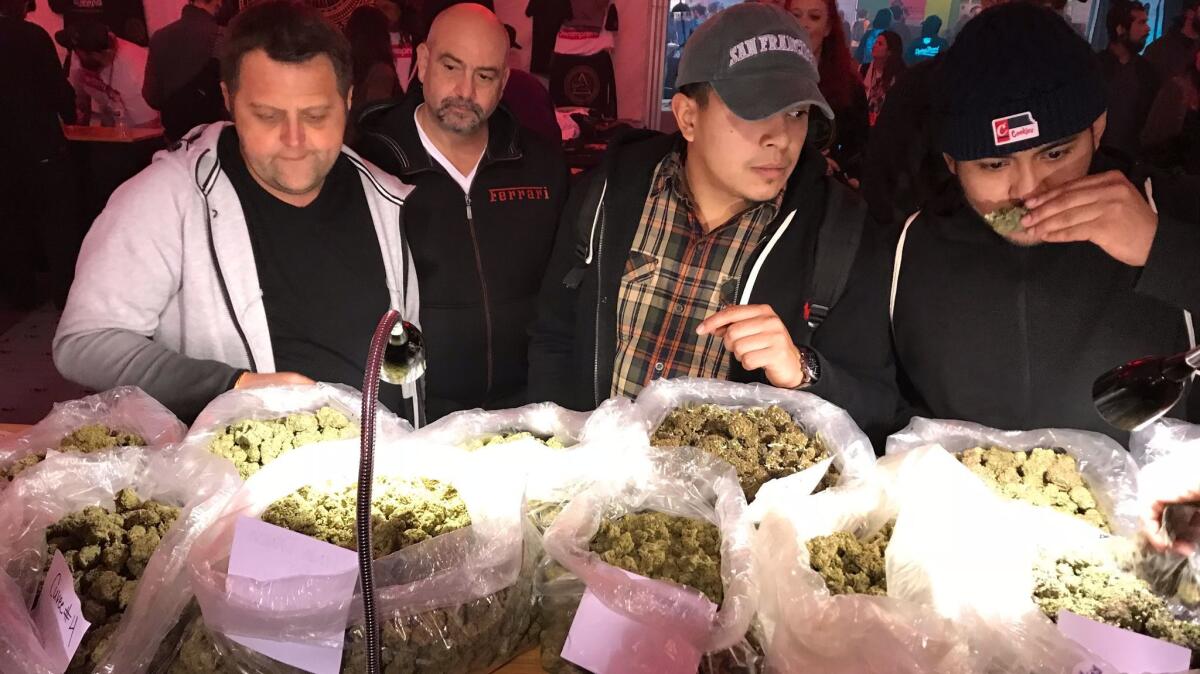 For the last 14 years, the Emerald Cup has been a raucous two-day celebration of a longstanding California outlaw culture. Over time, it has evolved from a festival in a muddy Mendocino field to a highly choreographed event, but its spirit remains intact.
Each December after the harvest, cannabis growers come down from the mountains of the Emerald Triangle to the Sonoma County Fairgrounds for a county fair-style judging of their wares.
Instead of cherry pies and blueberry jams, judges pick the best cannabis flowers, extracts, tinctures and edibles. A win at the Emerald Cup is an imprimatur of quality that can boost a business from anonymity to success. But growers do more than compete here; they come to see old friends and party, compare notes, learn about the latest in growing techniques and strains, and to buy equipment and seeds, the finest of which can cost $70 a piece.
The general public arrives by the thousands and spends two very mellow days sampling and buying various cannabis products — flowers, waxes, dabs, shatters, rosins, hash, marshmallows, fruit jellies, chocolates and brownies. They come for the food, the music, the camaraderie and, of course, to get high or, in some cases, to get higher.
Over the course of the fair, millions of dollars in cash changes hands. The fairgrounds are sprinkled with ATMs; use is so heavy that the machines occasionally break or go empty.
With legalization less than a month away, unimaginable changes are afoot in the industry. Many of the old timers who fought for cannabis during the years of prohibition, who were driven out of the cities into the mountains of the Emerald Triangle, who risked their safety and freedom to bring pot to consumers and patients, are going to get left behind as cannabis comes out of the shadows into a tightly regulated, legal market.
Some people are going to get rich, and some people are going to get crushed. Already, new growing techniques have led to a supply glut. Big growers are making big plays. In the last year or so, the per-pound price of cannabis has plunged from $1,500 a pound to as low as $500.
"The old-school guys up in the mountains, growing their 250 pounds, a lot of them are not going to make the transition very well," said cannabis entrepreneur Tim Blake, who founded the Emerald Cup in a field near his home in the hills of Mendocino County. "They don't grow enough, the prices aren't high enough, they don't want to go through the permit process. It's really a tragedy in the sense that a lot of the people that built the industry and pushed for legalization are going to get left behind."
If you came of age in the 1960s or '70s, when pot was the symbol of the burgeoning counterculture, and President Nixon launched the war on drugs as a cynical political tool aimed at vilifying the anti-war movement, it's a little bit hard to wrap your brain around the idea that we are entering the era of full-on legalization.
(Yes, the feds still list it as an illegal Schedule 1 narcotic, but they will eventually catch up with reality.)
On Sunday afternoon, I sat through most of a panel discussion called "What to Expect on Jan. 2, 2018" in which state officials discussed their new bureaucracies, categories of licenses and permitting processes. Lori Ajax, the state's first cannabis czar, heads the California Bureau of Cannabis Control; the Public Health Department has a Manufactured Cannabis Safety Branch to oversee extractions, infusions, packaging and labeling; the Department of Food and Agriculture will oversee cultivation licensing; and the Department of Tax and Administration will implement the collection of sales, excise and cultivation taxes.
It gave me a headache. (Especially compared to a lively Saturday lecture in which, among other things, I learned about a new anti-pot scare called "scromiting," in which heavy users are said to experience a malady that causes them to scream and vomit at the same time. )
But growers and other cannabis entrepreneurs who filled the hall sat rapt. To stay on the right side of the law, they will have to master the intricacies of a complicated and costly new system. In time, many people believe that sales in California cannabis industry will rival those in the state's wine industry.
On Sunday afternoon, I bumped into Mendocino grower Swami Chaitanya, a Laytonville-area grower who is passionate about the benefits of cannabis and equally skeptical about legalization, which he supported, but it imposes all kinds of rules on cannabis growers that don't apply to any other sort of farmer.
(Cannabis growers, for example, are not allowed to own guns, which explained the presence here of a Garberville company called Top Shelf K9 Protection, which sells sleek, highly trained Belgian malinois guard dogs for $20,000 to $45,000 each.)
"Cannabis is more illegal now than when it was illegal!" Chaitanya said. "They can get you on a million different things."
Two months ago, the Sonoma County Fairgrounds was headquarters of a massive firefighting operation. The wine country fires that ravaged parts of Santa Rosa destroyed thousands of structures and killed more than 40 people. The area reeked of smoke and destruction, very much like what Southern Californians have experienced in the last two weeks.
I can't tell you what a pleasure it was to walk into the fairgrounds this time and be hit with the acrid, skunky smell of burning weed, to see clouds of cannabis smoke floating into the sunny sky instead of columns of black wildfire smoke, and to see thousands of people meandering happily through the halls of vendors, grins on almost all their faces.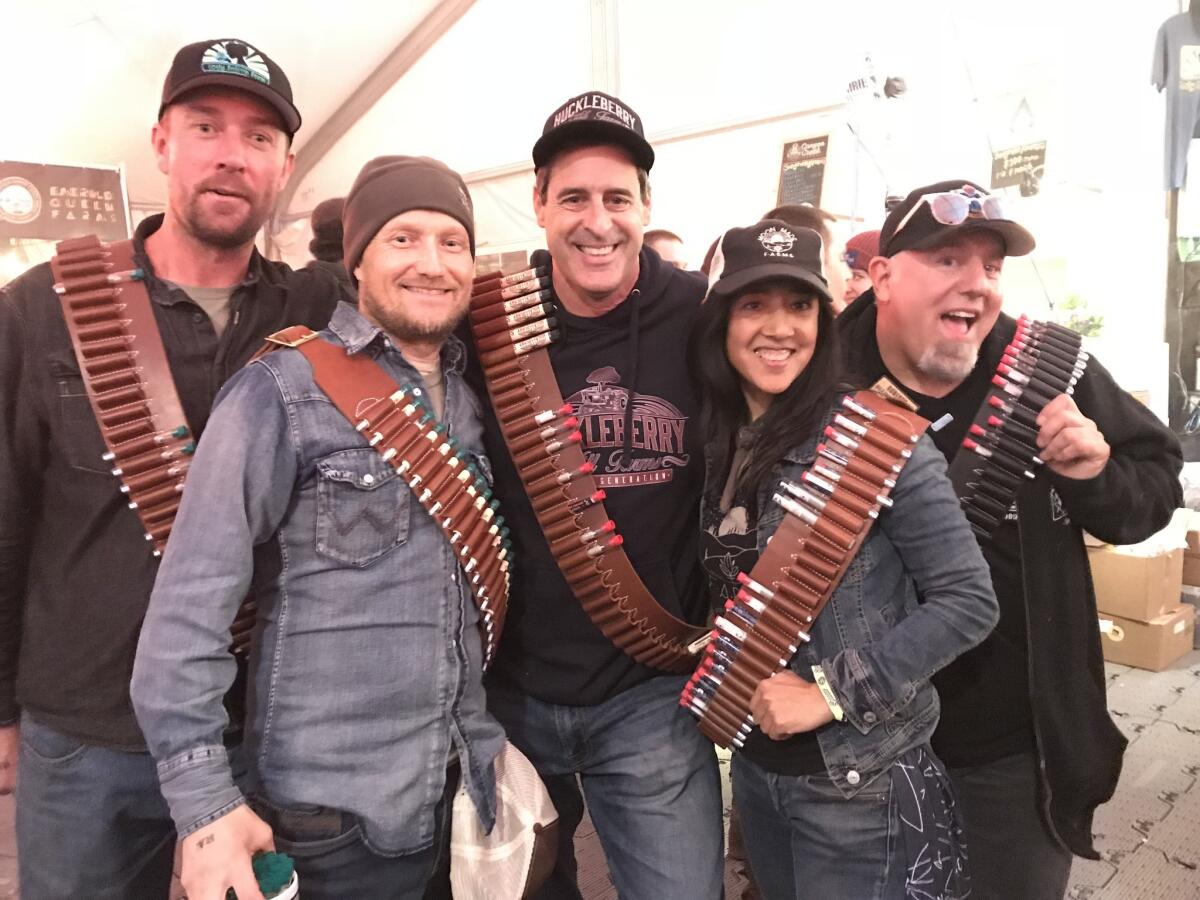 Twitter: @AbcarianLAT
ALSO
Mesmerized by the terrible beauty of the flames, waiting for the Santa Anas to do their worst
A veteran pot farmer mourns the passing of a more paranoid, more profitable way of life
Sign up for Essential California for news, features and recommendations from the L.A. Times and beyond in your inbox six days a week.
You may occasionally receive promotional content from the Los Angeles Times.