Some pot-growers fear a big business takeover if it becomes legal. Not these two
Reporting from Laytonville, CA —
As soon as I began paying attention to marijuana last year, I started bumping into the guy in the white robes and the flowing beard.
There he was last fall, chatting up people at the New West cannabis conference in San Francisco. Here he was at the annual Sonoma County cannabis confab known as the Emerald Cup.
In Ft. Bragg, I spotted him on the sidewalk outside a Mendocino County Board of Supervisors meeting.
A few weeks ago, I saw him again at a State of Marijuana conference aboard the Queen Mary in Long Beach, where he delivered a stirring defense of imbibing pot the old-fashioned way, by smoking a joint.
That's when I decided to introduce myself. Turns out, he is a charming, erudite 73-year-old Mendocino County cannabis grower. A Phi Beta Kappa graduate of Wesleyan University who was raised Unitarian, he left the East Coast for San Francisco during the Summer of Love. His name was William Allen Winans.
Then, in 1998, on the banks of the Ganges River, he underwent a Hindu religious initiation. Leaving his old identity behind, he became Swami Chaitanya, which is how he is known in cannabis circles up and down the state, and beyond.
In 2003, he and his 61-year-old wife, Nikki Lastreto, a former newspaper and TV journalist, bought 190 acres off the beaten path in northern Mendocino County, about a four-hour drive north of San Francisco. Here, in Bell Springs, they grow pure, organic cannabis that is sought after by Bay Area medical marijuana patients.
Unlike many of their small farmer colleagues who fear that legalization will depress prices or drive them out of business altogether, Chaitanya and Lastreto are full-throated supporters of Proposition 64, which will not only usher in an era of regulations and licensing, but also will give existing small growers a five-year head start before licenses for larger grows are granted.
"The big-business argument is totally phony," Chaitanya said. "In Humboldt County, there are some five- and six-acre grows already. And instead of people getting wiped out, the small guys are making a pretty decent living."
Chaitanya and Lastreto know the key to survival is the very thing that has been anathema to so many who have worked for so long in the legal shadows: branding.
::
If you want to survive, you've got to be growing something close to the quality of the best cigars. We have to become the Cuban cigars of pot.
— Mendocino County cannabis grower Swami Chaitanya
Mendocino growers wholeheartedly believe their pot is the best in the world. I'm sure this is true for growers in Humboldt and Trinity counties, part of the famous Emerald Triangle.
But Mendo really does have a claim to fame. As Chaitanya noted, each year Mendocino County growers account for about a quarter of the 400 or so buds entered into blind competition at the Emerald Cup, and walk away with three-quarters of the awards. (He and Lastreto don't compete; they are judges.)
"Mass market pot is going to come from greenhouses in places like Fresno," said Chaitanya. "That stuff will supply the vape pens. But if you want to survive in Mendocino County, you've got to be growing something close to the quality of the best cigars. We have to become the Cuban cigars of pot."
While many growers sell their wares in bags to dispensaries, which package the buds, Chaitanya and Lastreto have begun packing their organic, hand-trimmed buds in distinctive jars of violet colored UV-resistant glass. Their label has a drawing of Chaitanya's instantly recognizable face, long beard and red forehead dot. The brand name? Swami Select.
They sell to Harborside, one of the largest and most well-known dispensaries in the state, and to Flow Kana, a distributor that specializes in sun-grown cannabis from a handful of organic family farms.
"The jars sell out like crazy," Lastreto said.
Swami Select also has a robust digital presence, with a website, an Instagram account, a You Tube series called "Smokin' with Swami" and of course, his highly visible presence at cannabis industry events.
"One thing we've thought about with the branding," Chaitanya said, "is that you have to repeat your message across many platforms."
::
Driving the bumpy dirt road to their remote Turtle Creek Ranch proved a jaw-rattling experience. But what a reward, I thought, when the road suddenly gave way to a flat, grassy meadow ringed by immense trees. A sprawling home was tucked against a stand of immense Douglas firs.
Chaitanya and Lastreto welcomed me into their living room, where we talked for a while, before Chaitanya invited me outside to see his harvest.
We navigated our rain-soaked way to the barn, where dozens of plants, pulled whole from the earth, hung upside-down in pitch blackness. This protects the buds from potentially damaging light exposure as they slowly dry. In the corner sat a small Hindu shrine.
Chaitanya fiddled with an expensive dehumidifier he'd just purchased. It had been pouring for two days; moisture, which brings mold and mildew, is the enemy. When the sun came out again, he said, he would spend time among his 25 unharvested plants with a leaf blower, keeping the buds dry.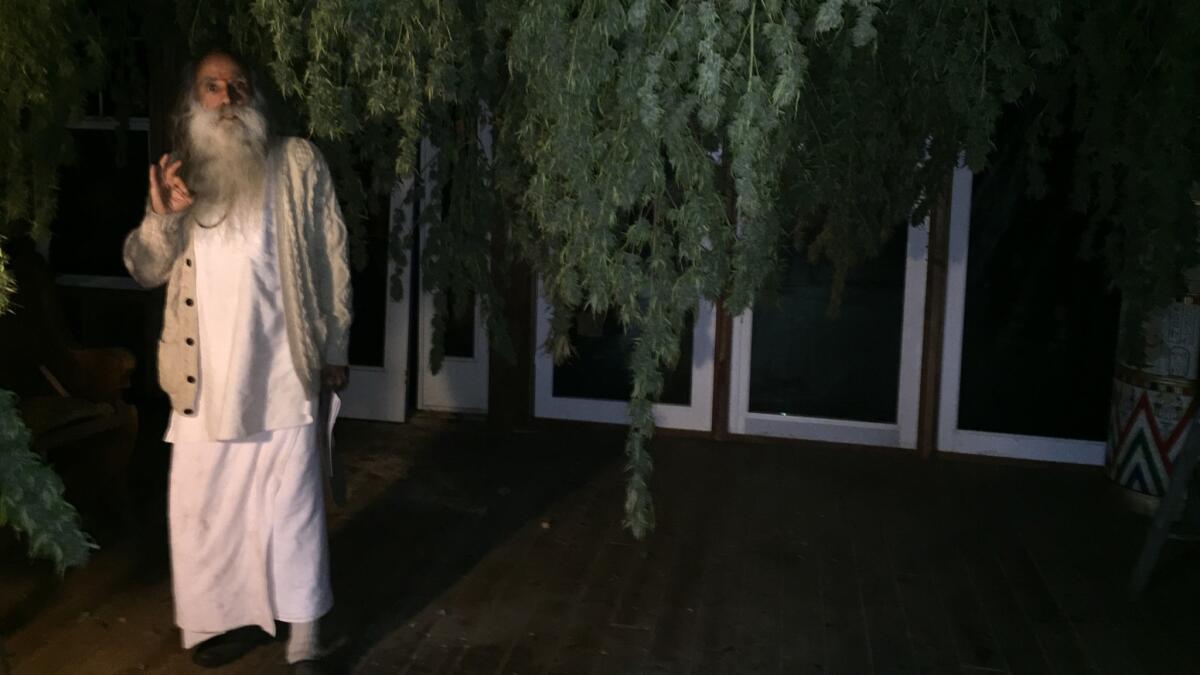 Regulations signed into law last year by Gov. Jerry Brown will eventually require that medical cannabis undergo mandatory testing for contaminants like molds and pesticides. Proposition 64, which legalizes pot for recreational use by adults, imposes the same requirement.
If voters approve the measure in November, Lastreto envisions many consumers who will be inspired to try cannabis for the first time (or for the first time since college), and who will want to be reassured that the product they are buying is pure, and that it bears the characteristics of its region.
In the same way consumers like to know about the wine they are buying, she and Chaitanya hope, they also will want to know about the provenance of their pot.
To that end, they are part of the Mendocino Appellations Project, a consortium of growers, which hopes to finalize its proposal for 11 distinct growing zones next year.
"Nobody thinks about the farmer," Lastreto said. "Most people want to get high, or they want to get their medicine. When you go to the grocery store for peas and carrots, you are not thinking about the farmer who grew them, right? We are trying to change that."
Twitter: @AbcarianLAT
ALSO
These 76-year-old twins have grown pot for decades. Here's why they oppose legalization
With pot on the ballot, an expert answers questions on stoned driving, Mexican cartels and more