California Journal: A 4-car pileup could have been tragic. Instead, it brought an unlikely group of Angelenos together
The moment of impact was more disorienting than terrifying. Oh damn, I thought, someone just crashed into me. Very quickly, I took an inventory: My limbs were intact. The air bag did not explode in my face. My car was wrecked, but yep, I was still alive.
On Friday about 10 p.m., I collided with an unlikely group of Angelenos, people I probably never would have met under any normal circumstance. Catastrophe, even a minor one, has a way of doing that. And even though the situation was fraught, I came away marveling that no matter where we come from, or who we are, kindness and empathy always trump suspicion and fear.
I had been sitting at a red light on Venice Boulevard, driving home from dinner at a friend's house when a white Honda plowed into the back of my old BMW sedan. My car was violently propelled into the car in front of me, which in turn hit another car.
Brennan Milligan, a 28-year-old sports marketing manager for Red Bull, was pedaling in the bike lane. After the Honda smacked into me, it hit him. He bounced off the hood and landed on his feet. With a look of real concern, he leaned into my window and urged me to pull around the corner onto Superior Avenue to get off the busy street. He attributed his quick reflexes and lack of injury to his lifelong skateboard skills.
"I'm used to falling," he said.
The driver who smashed into us had taken off. She'd peeled right, up a side street. I never even saw her, but thanks to Milligan and a good Samaritan, she didn't get far.
We got out of our cars to sort things out.
Turned out that my car hit one owned by Riaz Akakhil of Panorama City, an Uber driver with two passengers in his backseat, including Alessia Morelli, a physical therapist. Akakhil was born in Pakistan. Morelli is originally from Italy.
Akakhil's 2017 Honda Accord was pushed into Sujith Sreekumar's 2014 Lexus sedan. Sreekumar, a first-generation American whose parents are from India, is a 21-year-old Cal State Northridge senior.
I'm old enough to be his mother, but I felt an immediate kinship with him. I grew up on that campus; it was where my father taught American literature for many years.
Sreekumar said he was on his way to meet cousins at First Friday, a monthly event on Venice's uber-cool Abbot Kinney Boulevard.
After the crash, half a dozen of his cousins arrived at the scene in three different cars. At one point, I looked over and they were all sitting on a planter eating burritos.
"I told my cousin it was going to be a long night, so he brought food," Sreekumar told me.
I mentioned that I was especially bummed because I had just paid off my car note the day before. He groaned in sympathy and touched my arm. He told me that he wants to go to law school, and manages the recreation center and pools at Cal State Northridge.
I told him the Cal State Northridge pool was the moment of my greatest childhood humiliation, when, at 10, I was too scared to jump off the high dive and climbed back down the ladder instead. I have no idea why I was compelled to share that, except it pleased me to have the Cal State Northridge connection in common with this total stranger.
Two tow trucks materialized out of the mist. The drivers spoke Spanish to each other.
All told, there were six of us whose cars, and evenings, were wrecked.
It was a completely unexpected, bizarrely festive, and uniquely Los Angeles moment. I figured people were probably thirsty, so I passed out bottles of water from my trunk. "My cousins wanted to tell you thank you for the water," Sreekumar told me later.
"Dude," said Milligan, when I reached him by phone Monday. "That was so crazy."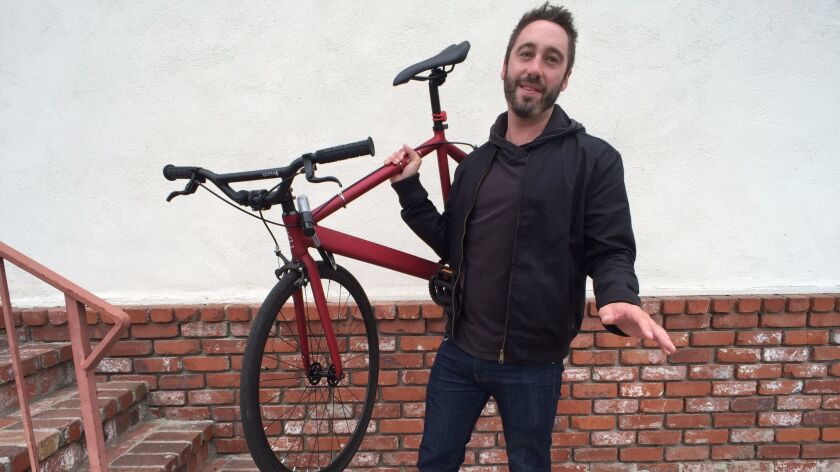 Milligan filled me in on what had happened after the crash. A driver in a silver SUV saw it, and watched the driver of the white Honda speed away. He gave chase and photographed her license plate. Milligan, who had seen the damage to the Honda's front end, realized the driver would not get far, and hopped on his bike to find her.
He caught up with her a few blocks away, and under the circumstances, this guy's persuasive skills were impressive.
He said he told the driver: "If you want to minimize what happened, you are going to have to come back. No one was hurt, no one is mad, just come back.'"
She did not return to the accident scene, but she called a friend, who came to us with the woman's driver's license, her proof of insurance and profuse apologies.
About an hour after the crash, a couple of black-and-white SUV's from the L.A. Police Department's West Traffic Division pulled up.
Officer Joel Twycross took my information. I told him I'd just gotten back from vacation in Italy the day before, and he told me about his favorite European vacations with friends. When I asked him how tow truck drivers had shown up so quickly, he told me they listen to police scanners, and unfortunately, some are unscrupulous.
"Your car gets towed," he said, "and you never see it again."
Twycross told me investigators would track down the Honda driver, and probably knock on her door.
I'd love to write her a letter and tell her that despite the many thousands of dollars of damage she inflicted, not to mention the minor injuries and major hassles of dealing with insurance companies, she is one very lucky young lady.
Only by God's grace — and his superb skateboard skills — did Milligan walk away without a scratch.
I'm not saying a four-car pileup is a great experience — far from it. But I came away from the crash feeling pretty good about this crazy, diverse city we call home.
Get more of Robin Abcarian's work and follow her on Twitter @AbcarianLAT
ALSO
Goodbye side boob, hello butt cheek: Reflections on the new female erogenous zone
Meet the Malibu lawyer who is upending California's political system, one town at a time
---