Column: In Ramona, she expected supporters of Duncan Hunter and President Trump. What she found was more nuanced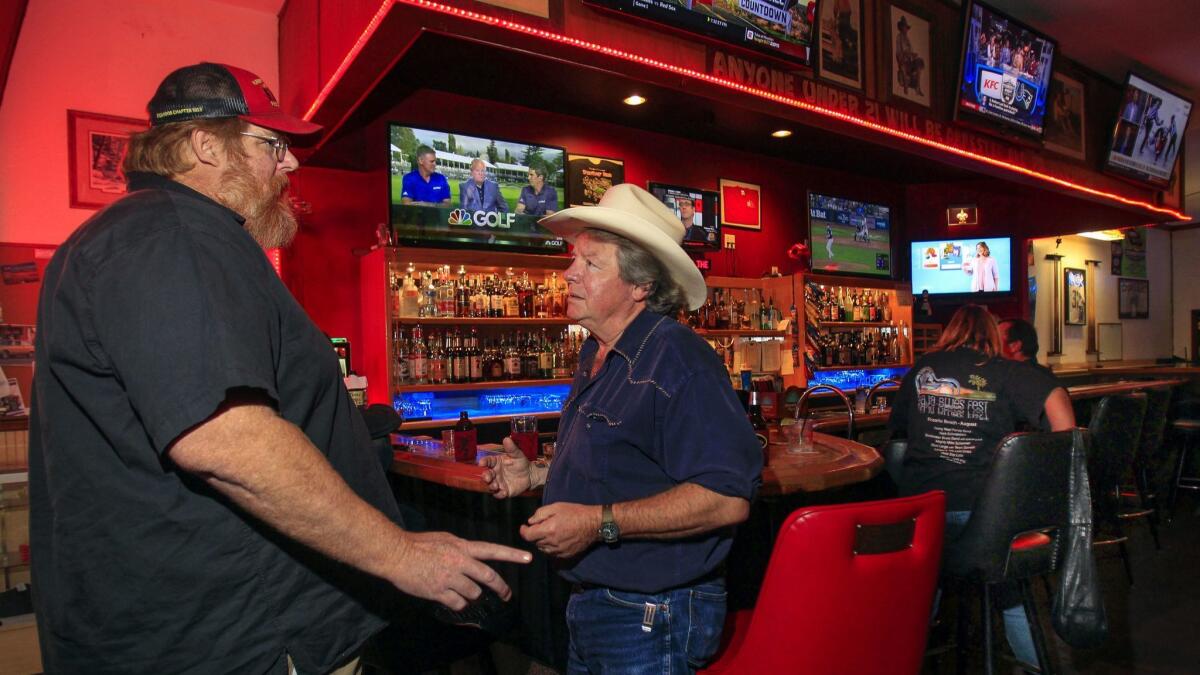 Reporting from Ramona, Calif. —
How conservative is Ramona, Calif.?
At the Turkey Inn, the town's oldest watering hole, there's a portrait of President Trump in a place of honor above the cash register. "We're just a good, down-home blue-collar bar," bartender Erin Smidt said. "Lots of vets and military, and lots of people mad at the NFL for not airing the national anthem."
Across town, at the VFW post, there's a Jane Fonda target on the men's urinal.
A couple of years ago, Isis Fuller Figure Fashion, a women's clothing boutique in downtown Ramona, closed its doors after locals harassed its owners over the name. The shopkeepers, an English mother and daughter, had named the store after the Egyptian goddess.
So yeah, Ramona's pretty conservative. But not everyone is happy with the status quo in this little town 36 miles from San Diego that is part of the state's 50th Congressional District, a GOP stronghold in northeast San Diego County.
The Republican incumbent, Rep. Duncan Hunter of Alpine, and his wife face federal charges that they stole campaign funds for personal expenses, including a family trip to Italy and airfare for their rabbit. (Hunter, whose father held the seat before him, has called the charges a "witch hunt" and said his wife handled their finances. The Hunters have pleaded not guilty.)
Polls show a very tight race. In fact, Hunter's Democratic opponent, Ammar Campa-Najjar, is doing so well that Hunter has gone full birther, falsely accusing Campa-Najjar of being a "radical" Muslim and "Islamist" who is trying to "infiltrate" the government.
The other day, I spent some time in Ramona. Why, given the indictment, is the race even a contest? Would voters really rather be represented by someone accused of felonies than a Democrat? Do their feelings about Trump come into play here?
::
Pete Beauregard, 69, a Vietnam War veteran, former bull rider, stuntman and Democratic activist, kindly agreed to show me around. He fits in everywhere. "I look like this district," he told me. "I look like a redneck."
True, he is white, with a ruddy complexion. When we meet, he is wearing a denim shirt, jeans and a white hat with a band made from the skin of a red rattlesnake he shot himself.
He was a Bernie Sanders delegate in 2016, wants the federal government to establish a Cabinet-level Department of Peace and admits with a grin that he is an avid hunter of doves.
Beauregard, an environmentalist who built Southern California's first certified Passive House (which means it has met stringent energy-efficiency standards), squired me in his Tesla, which is festooned on each side with white stars, red and blue stripes and the phrase "Country Before Party."
He is a big supporter of Campa-Najjar and thinks it's possible, just maybe, that the Democrat will eke out a win next month.
"I think people around here are starting to understand this thing of entitlement," Beauregard said. "When someone thinks they are entitled to get into a job because their father had it, and then they don't do diddly squat. But there's also the view that Duncan is their hometown boy, and that he's getting persecuted."
::
Our first stop was the Turkey Inn. A smattering of patrons sat at the bar, sipping $1.25 beers. A couple of guys played pool. A Rolling Stones song was blaring.
Larry "Meat" Miller, 42, a bearish former Marine who was born and raised in Ramona, said he's a political independent. He was offended by Hunter's anti-Muslim attack on Campa-Najjar, a Christian who has been deeply involved in his church for many years.
"I'm like, come on," Miller said. "I've had Muslim friends. The fear-mongering is something. It's really turned me off."
Bob Murphy, 64, a newly retired automotive fasteners and tools salesman, was on his way out the door when I stopped him to talk.
"I try to avoid political discussions here," said Murphy, a Democrat. "I live two blocks away. That's why I come here, so I don't have to drive. But I have a good friend who is Mexican American and he won't come in here anymore because of the Trump picture."
Dennis, a 60-year-old contractor who would not divulge his last name no matter how much I cajoled, is an independent voter and Trump fan. He seems willing to give Hunter a pass, even though, as he put it, "I don't like dynasties."
"I think politics makes people dishonest," he said. "Ammar, I guarantee it, if he gets elected, he'll do the same [stuff]. They all do it."
::
A couple of miles away, Beauregard and I pulled into the parking lot of VFW Post 3783. It's a low-slung unadorned building with an almost temporary feel.
"In here," Beauregard joked, "we're going to find the worst of the worst."
Red, white and blue bunting hung over the bar. In the middle of the room was a makeshift shrine to those who have died at war. It was a chair and a place setting, with a slice of lemon on the plate, to represent the bitterness of absence. The comforting smell of pasta wafted through the room; the post puts out lunch every day for hungry vets.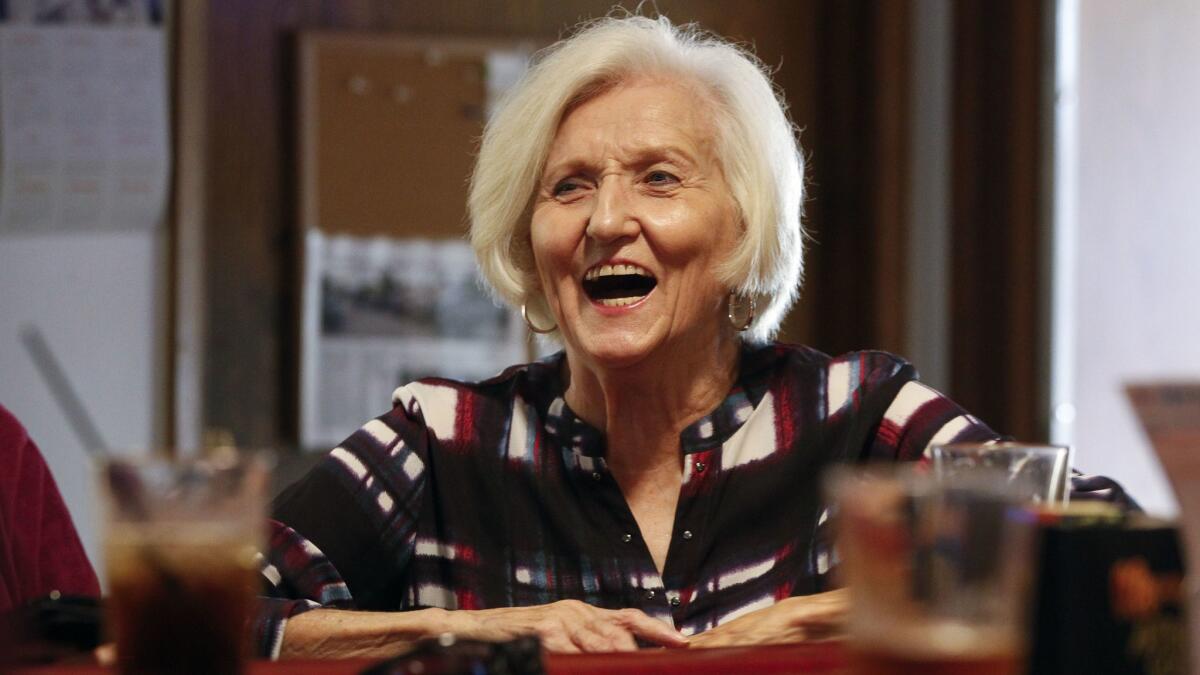 Carole Littlefield, 77, a Democrat who plans to vote for Campa-Najjar, was nursing a beer at the bar. She does not like Trump and is dismissive of Hunter. "He blamed his wife for the whole thing!" she said.
Sitting next to her, Army vet Stephen Shaw, 50, said he is a Democrat who has voted for Hunter before — mainly because Hunter served in the Marines. But the indictment, he said, has him wanting to know more about Campa-Najjar. "I want to see what he stands for," Shaw told me. Trump, he said, "is a piece of garbage."
Andy Mandichak, 64, had just finished his shift as a volunteer bartender and was having a beer at the other end of the bar.
A retired postal carrier and Vietnam-era Navy vet, Mandichak voted for Hillary Clinton in 2016 and plans to vote for Campa-Najjar. "A lot of the people who come in here say they don't believe Duncan is guilty," he said. "I mean, really? It's a 42-page indictment. The evidence is there." (Actually, the indictment runs 47 pages.)
::
I found only two people at the VFW post who described themselves as unalloyed Hunter fans. Both are Republicans; one dislikes Trump and the other loves him.
Jean Priester-Mudd, 69, is a widow whose husband died in December. He had been a prisoner of war in Vietnam, and for years she drove him from their home in Julian to the Veterans Affairs hospital in La Jolla, about an hour and a half away. Trump's dismissal of the late Sen. John McCain's imprisonment in Vietnam turned her off. But she loves Hunter.
"Duncan Hunter was instrumental in bringing medical treatment to our veterans up in Julian," she said. "There's a new clinic up there for vets, so veterans don't have to go all the way to La Jolla."
Even if Hunter were convicted, she said, her opinion of him would not change. "It really doesn't matter to me," she said. "He really helped us."
Sitting next to Priester-Mudd was an 89-year-old Army vet named Dick Bradshaw, who cannot find a thing to dislike about Trump or Hunter.
"Duncan Hunter," he said, "is my favorite man. And I think Trump is doing wonderful. What's not to like?"
He is unfazed by Hunter's looming trial.
"From what I read in the newspaper," Bradshaw said, "his wife was in charge of the money. He went on a vacation or two, but she spent all the money."
I had gone to Ramona expecting to find gung-ho supporters of Hunter and Trump. But the conversations I had were much more nuanced than I expected.
Seems like things are starting to change in the 50th.
Twitter: @AbcarianLAT
Get our Essential Politics newsletter
The latest news, analysis and insights from our politics team.
You may occasionally receive promotional content from the Los Angeles Times.