Rep. Duncan Hunter's indictment opens door for Democrats in Trump country
Republican Dale Weidenthaler shook his head in disgust Wednesday when the conversation turned to Rep. Duncan Hunter.
The retired police officer has long distrusted the GOP congressman but voted for him anyway. Now that Hunter has been indicted on campaign corruption charges, Weidenthaler, 61, expects to skip the House race rather than vote for his Democratic rival.
"Where there's smoke, there's fire, and there's just too much smoke," said Weidenthaler, who was sipping a Red Bull on a morning visit to a Temecula grocery store.
The Alpine congressman's indictment Tuesday has suddenly turned this safe Republican House seat into a competitive race in a midterm election that was already looking grim for the GOP.
It threatens to depress Republican turnout in this largely rural district in San Diego and Riverside counties. The party now has to spend resources on a contest that GOP leaders would have normally ignored.
With Democrats across the nation already portraying President Trump's Republican Party as a swamp of corruption, the charges against Hunter came the same day that Trump's former personal lawyer Michael Cohen pleaded guilty to eight felonies and his onetime campaign chairman Paul Manafort was convicted of bank fraud and other crimes.
Two weeks earlier, a New York Republican, Rep. Chris Collins, was indicted on charges of insider trading. Collins was the first House member to endorse Trump for president; Hunter was the second.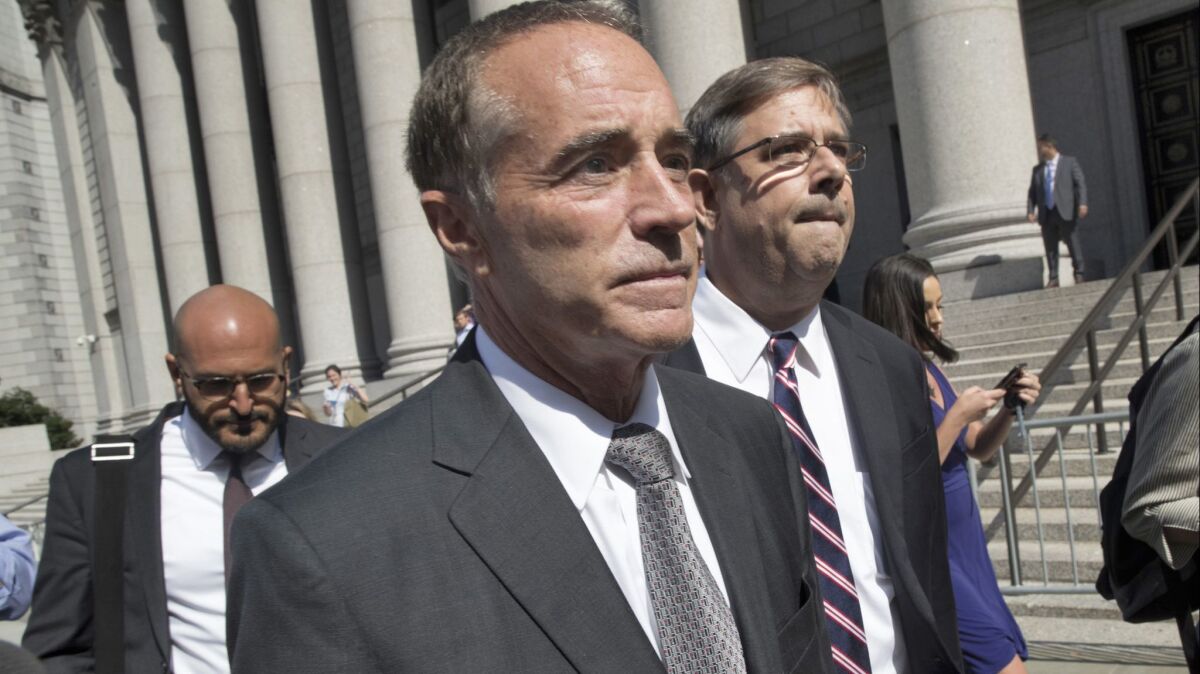 "The district immediately becomes more winnable when you have an incumbent who is as compromised as Duncan Hunter," said Katie Merrill, a Democratic strategist whose political action committee, Fight Back California, has been spending to influence targeted House races in the state.
The group is now considering adding Hunter's district to its list. "The one comment you hear from voters everywhere is that everyone in Washington, from the White House to Congress, is corrupt," Merrill said. "So this is top of mind for voters."
Some Republicans fear the worst. Kevin Spillane, a veteran GOP consultant based in San Diego County, said the criminal charges against Hunter "make it more likely than not that he loses."
He recalled the case of U.S. Rep. William J. Jefferson, an entrenched incumbent in strongly Democratic New Orleans, getting ousted by a GOP challenger in 2008 after his indictment in a bribery scandal. Jefferson was renowned for storing illicit cash in his freezer.
Hunter, a five-term congressman, was expected to coast to reelection. Republicans outnumber Democrats in the district, 42% to 27%.
But the federal prosecution has put the seat in play. The indictment alleges that Hunter and his wife, Margaret, misused more than $250,000 in campaign funds for vacations, a plane ticket for their rabbit, dental work, theater tickets, golf outings, home utility bills and other personal expenses.
The couple falsely reported clothing purchases as golf balls for "wounded warriors," the government charged, and Hunter allegedly made disparaging remarks about the Navy, which could sap support among the district's many veterans.
Bill Carrick, a Democratic strategist running Sen. Dianne Feinstein's bid for reelection, said two U.S. Senate races in as many years with no Republican on the ballot means GOP voters are growing accustomed to skipping some races.
Still, the 50th Congressional District is among the most strongly Republican in California, defying the state's overall shift toward the Democratic Party over the last two decades. When Hunter was indicted, the Cook Political Report moved the race from "solid Republican" to "lean Republican," stopping short of declaring it a toss-up.
Craig Puma, the owner of the Bank, a Mexican restaurant and bar on the rustic tourist stretch of Old Town Temecula, chalked up Hunter's alleged misdeeds to "stupidity."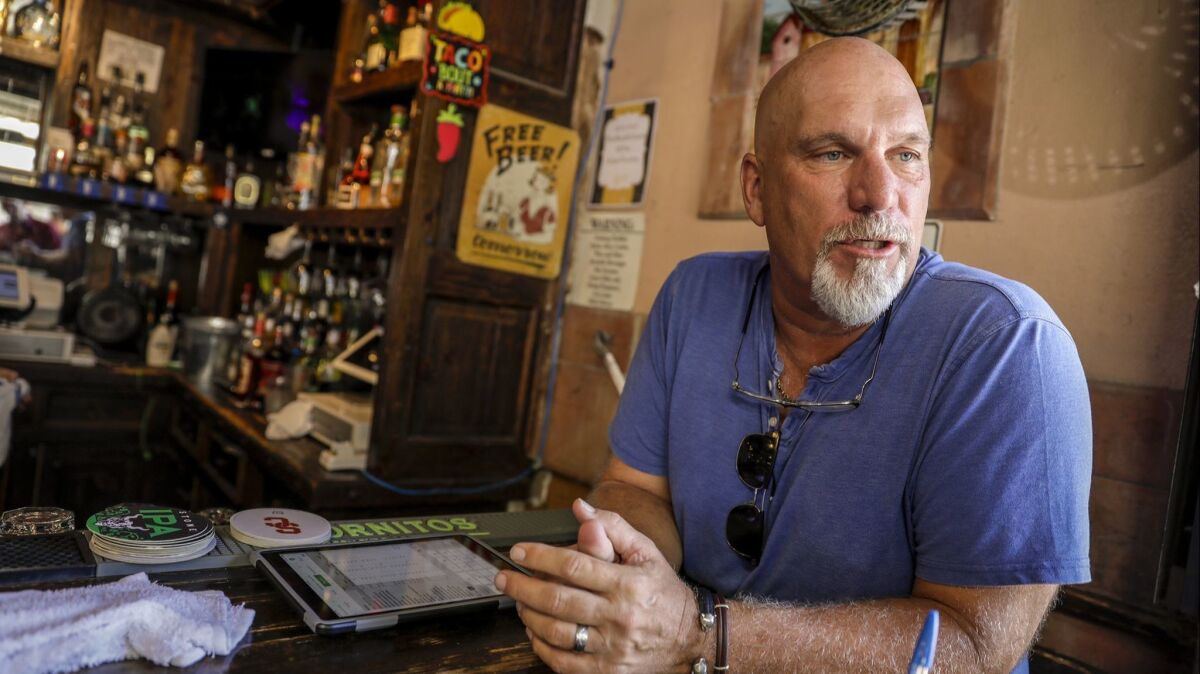 "If the only choice is between Duncan Hunter and a Democrat, I'd vote for Duncan Hunter," said Puma, 53. "I'd never vote for a Democrat. I don't believe in their philosophy."
John Dadian, a political consultant who has worked in the area for decades, said the Hunter name was gold among local Republicans. The congressman's father, Duncan Hunter, weathered a political maelstrom of his own when he was a member of the House in the early 1990s.
He wrote more than 400 bad checks that came to light in the House bank overdraft scandal. An investigation cleared him of any criminal wrongdoing.
Later, his protege Randy "Duke" Cunningham resigned from a neighboring House district in disgrace after pleading guilty to federal bribery charges in 2005.
The younger Hunter's Democratic challenger, Ammar Campa-Najjar, has a host of vulnerabilities, starting with his work for President Obama's reelection campaign. Republican Mitt Romney trounced Obama in the district, 60% to 38%.
Campa-Najjar has embraced single-payer government-funded healthcare and a cap-and-trade system for curbing air pollution. In the primary, he defeated fellow Democrat Josh Butner, a former Navy SEAL with potential appeal to a large contingent of voters with military ties.
"It's easy for the Republicans to disqualify him," says GOP strategist John Thomas. "What makes it annoying is that the party has to spend some money protecting Duncan Hunter."
Erin Griffin, a 43-year-old Republican who lives in Temecula, has voted for Hunter and was grateful that his staff gave her family a tour of the Capitol last month. But she's concerned criminal charges might affect Hunter's ability to do his job. (House Speaker Paul D. Ryan announced Tuesday that Hunter would be stripped of his committee assignments pending the outcome of the case.)
Nonetheless, the stay-at-home mother of three said outside a local supermarket, "I have a hard time supporting a Democrat."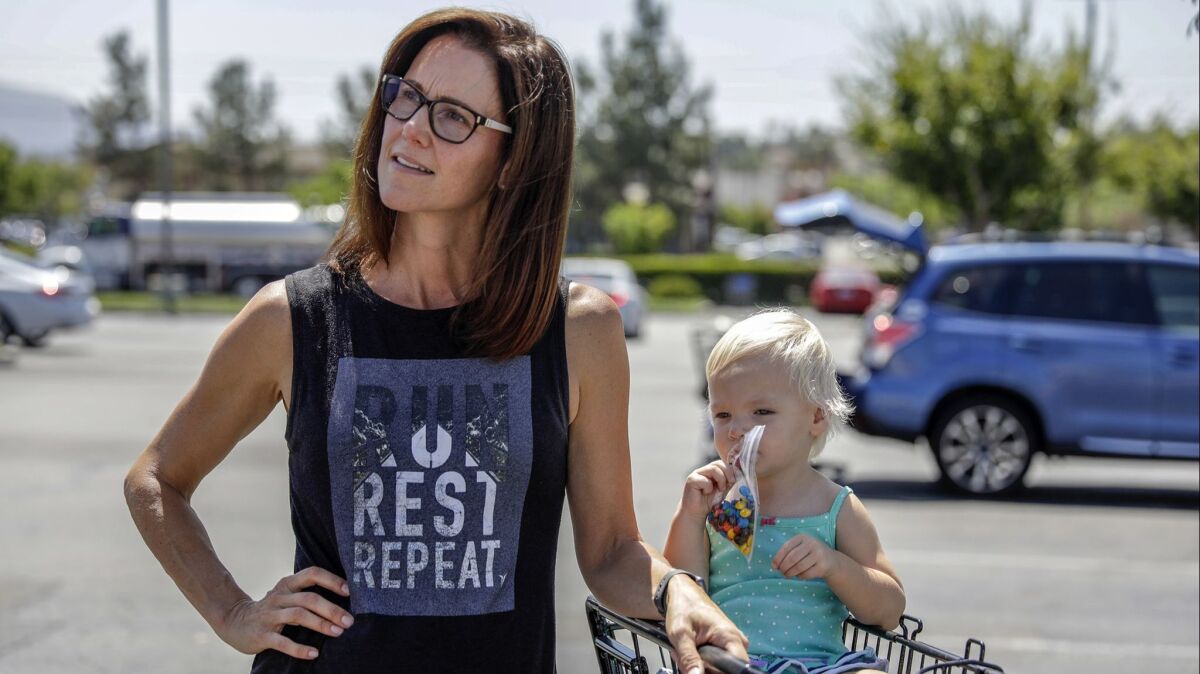 Coverage of California politics »
Twitter: @cmaiduc
Twitter: @finneganLAT
---
Life is stressful. Our weekly mental wellness newsletter can help.
You may occasionally receive promotional content from the Los Angeles Times.