Recall effort of judge in Stanford rape case gains steam and political allies
In the hallway of a San Jose courthouse, a group of attorneys gathered recently to chat after a civil lawsuit hearing. Soon, their talk turned to the Stanford rape case and the recall effort against Santa Clara County Superior Court Judge Aaron Persky, who sentenced Brock Turner, an elite swimmer convicted of three felonies, to six months in jail and three years' probation.
Among the attorneys in the hallway that day (all of whom were women), there was an instant, and spirited, split about the recall. Some felt the judge, who had accepted the probation department's recommendation, acted correctly. Others said the judge — also a former Stanford athlete — could not see past his own biases to hand down a just sentence.
Regardless of her opinion on the verdict, though, each lawyer seemed a little queasy about the recall, which is being led by Stanford law professor Michele Dauber, a longtime campus sexual assault activist and a friend of Turner's victim and her family.
Juror slams judge in Stanford rape case, calls sentence 'a mockery' amid recall push »
Recalling a judge is something that should make voters squeamish. An independent judiciary is a cornerstone of our justice system, and judges must be free to exercise discretion. Yet there is a reason judges stand for reelection every six years; our state Constitution makes them accountable to the voters. Judges, even the most brilliant ones, bring their own world views and biases to the bench. Sometimes they screw up, spectacularly.
Does one bad decision mean a good judge deserves to be fired?
::
I was honestly surprised at how angry I got this week when I re-read the judge's comments at Turner's June 2 sentencing. I'd already been wrenched by the victim's statement, and offended by Turner's father's description of a grotesque assault on an unconscious victim as "20 minutes of action."
I hadn't focused so much on Persky's remarks until Dauber, who was in Los Angeles recently, described it as a "kid-glove scenario."
"There was no moment like you see on TV where the sentence is about to be pronounced and the defendant stands up and the judge expresses the moral outrage of the community, and says, 'Young man, you have done a terrible thing,'" Dauber told me. "There should have been some speech, but it never happened."
I was dubious, so I read the transcript. She was right.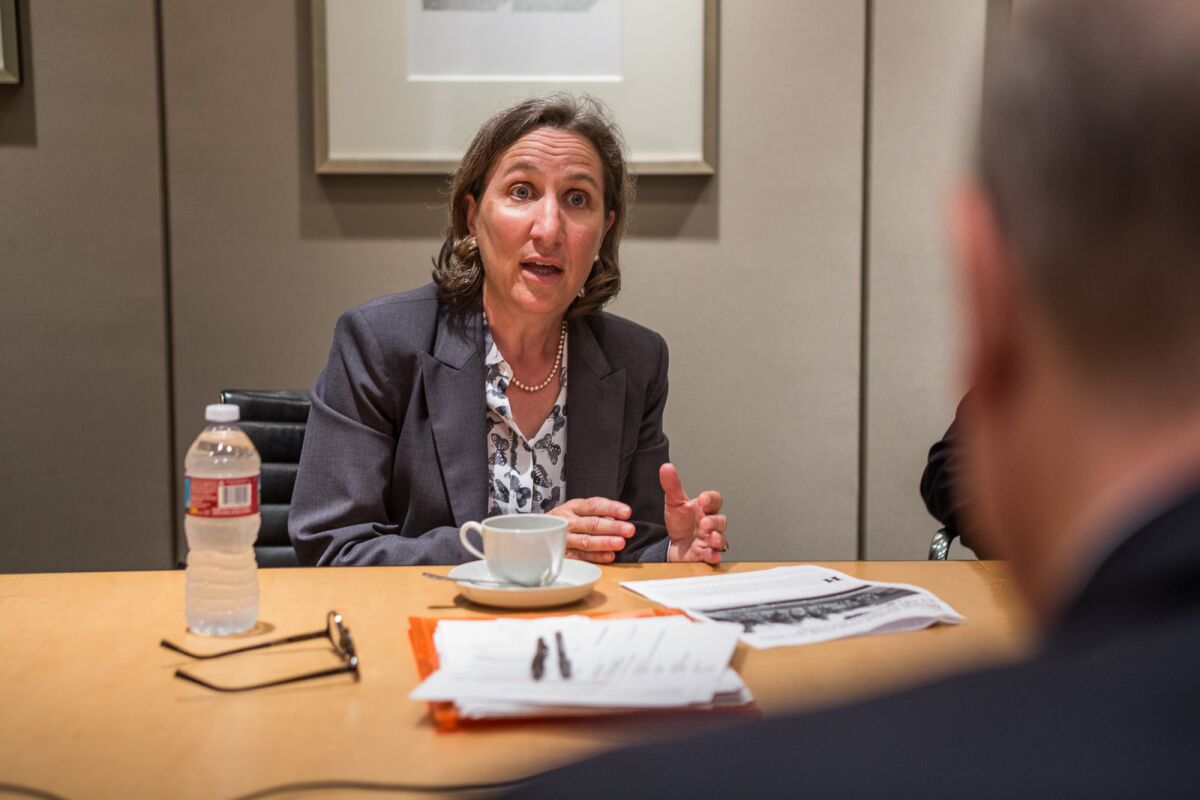 Persky never did sternly address the defendant. Instead, he quoted from the victim's letter. He acknowledged that Turner's actions, the publicity around the case and the trial had "poisoned" the lives of the victim and her family.
But he wondered: "Is state prison for this defendant an antidote to this poison?"
One of Turner's crimes — assault with intent to commit rape — can be considered a violent felony. Probation is not an option for this crime, unless the judge finds the case "unusual" enough to allow it.
What made this case "unusual," Persky decided, were some of the very things that would lead someone to attend Stanford in the first place: No previous criminal record, hard work, good character, youth. Also, Persky said, Turner was inebriated, a mitigating factor in the assault.
The tautology of the judge's logic was not lost on Dauber.
"The problem is that it describes every other rape defendant at Stanford and other universities in California," she said. "They are all young, they are all intoxicated for the most part, and they are all high-achieving. What that essentially says is there will not be a case coming out of Stanford University for which prison is ever appropriate."
::
The groundswell of anger that began in early June when the victim's 12-page letter went viral has not subsided. In an open letter to the judge, a disappointed member of the predominantly male jury called the sentence "ridiculously lenient." There were news reports that jurors were refusing to sit in Persky's court. Petitions flew around the Internet.
Santa Clara County Dist. Atty. Jeffrey Rosen removed Persky from a case involving a male nurse who was accused of sexually assaulting an anesthetized female patient. He also called upon the state Legislature to mandate a three-year prison sentence for anyone convicted of sexually assaulting an unconscious or intoxicated person.
Two Democratic state lawmakers introduced a bill that would broaden the state's definition of rape to include penetration of any kind without consent. (Turner's crime was not technically "rape," as he used his fingers to penetrate his victim, a distinction without a difference for many of us.)
Feminist groups like the National Organization for Women and the Feminist Majority have signed on to the recall. "We are working with our supporters to mobilize in support, including raising funds, for the campaign," said Katherine Spillar of the Feminist Majority. "We are just getting started."
High-profile political consultants John Shallman and Joe Trippi have volunteered to work on the campaign, as has pollster Paul Maslin. Because of California's complex recall rules, the campaign will not be able to start gathering signatures in Santa Clara County until next April. The measure would appear on the ballot in November 2017.
See the most-read stories this hour »
The judge, who has not spoken publicly, is not without supporters. Eighteen retired Santa Clara County judges circulated a letter defending him. And 53 of Stanford Law School's newest grads wrote an open letter to Dauber, fretting that the recall evoked an "ugly chapter" of California history, when three of the state's high court justices were recalled in 1986 over their refusal to support the death penalty.
At the moment, public opinion is not on Persky's side. Late last month, a poll of registered Santa Clara County voters found that 66% of respondents said they would vote to recall him. Perhaps more tellingly, 77% said a black or brown defendant would have received a harsher sentence.
They may be right.
In March, Persky presided over the case of a 32-year-old man accused of sexually assaulting his female roommate. As first reported by the Guardian, there were many parallels to the Brock Turner case. Except this defendant apologized for his crime and pleaded guilty.
Oh, and of course, he didn't go to Stanford and was not an elite athlete. He was a Salvadoran immigrant.
Persky signed off on a three-year prison sentence.
Turner, meanwhile, is scheduled to be released from county jail on Sept. 2.
robin.abcarian@latimes.com @AbcarianLAT
ALSO
Stanford rape sentence unusually light, legal experts say
Recall of judge in Stanford rape case poses 'threat to judicial independence,' lawyers say
Former Stanford swimmer blames 'party culture and risk-taking behavior' for sex assault
---