What the Free Speech Movement wrought -- it may surprise you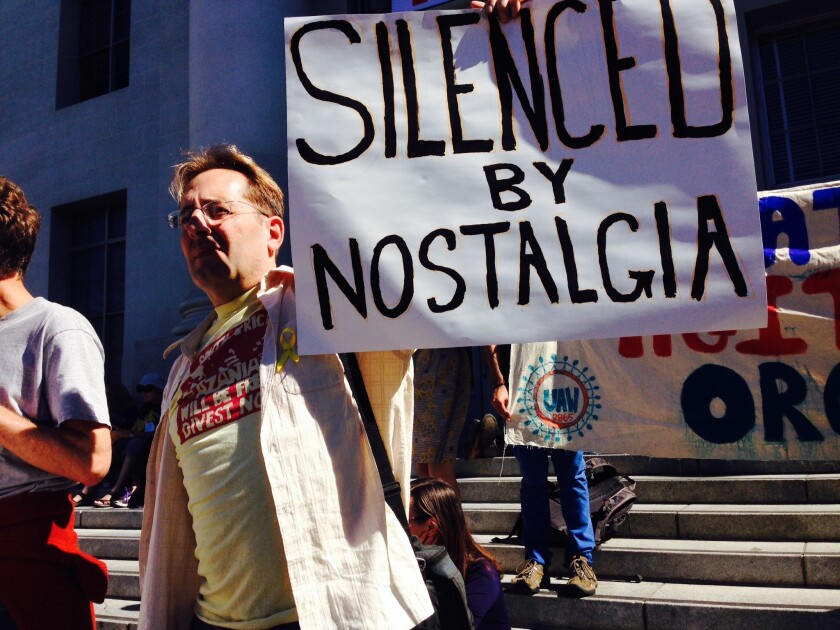 Reporting from BERKELEY —
As a crowd gathered on Sproul Plaza to celebrate the 50th anniversary of the Free Speech Movement, I noticed some kids hanging cutouts of blue Twitter birds from an old oak tree in front of Sproul Hall, the UC Berkeley administration building.
Seriously? A corporate sponsor for one of the most politically meaningful acts that ever took place on a college campus? Mario Savio stood on top of a police car in 1964 for this?
Thankfully, this was not a 21st-century sellout. Social Slice, a student group working with the UC Berkeley public affairs office, was trying to generate social media attention for the noon rally last week. "It was our team's idea," 20-year-old Cal junior Megha Mehdiratta assured me. In real time, Social Slice printed out tweets with the hashtag #FSM50 and pinned them to a clothesline for easy reading.
The old-meets-new tech mashup was actually kind of nice; you didn't have to bury your head in your iPhone to see what folks were saying about the wildly successful protests that altered the balance of power between universities and students, and ushered in a whole new way of, you know, like, being.
To step onto the Berkeley campus is always, just a little bit, to step back in time. All these years later, the political and social upheavals of the '60s hang over the place like a fine Bay mist that never fully burns away.
I don't mean that in a negative way at all. The Free Speech Movement midwifed some remarkable American moments.
Ronald Reagan's political career, for instance. The anti-war movement. America's second wave of feminism. The whole idea of a counterculture, really. And even, some believe, the American culinary revolution helped to fruition by a Berkeley student whose love of simple French food evolved into the iconic Chez Panisse.
And no, I'm not tripping.
Reagan, a B-list actor and pitchman for General Electric, won an unexpected victory for California governor in 1966, vowing to "clean up the mess at Berkeley."
Students who put their academic careers on the line for the principle of free speech were embolded, and emboldened others, to oppose the Vietnam War a few years later.
The dismissive way progressive and radical women were treated by their male counterparts helped inspire the feminist movement. "We were considered accessories, basically there to do all the organizing work -- running off leaflets -- the [scut] work," said attorney Anne Butterfield Weills, 72, a longtime Bay Area progressive activist who spoke at a post-rally panel discussion called "50 Years of Organizing." "We didn't like this auxiliary role as second-class citizens."
As for the relationship between mesclun and the movement, "I would say very emphatically, no Free Speech Movement, no Chez Panisse," said David Lance Goines, the celebrated Berkeley artist who has produced distinctive anniversary posters for Chez Panisse for four decades.
Goines, 69, was among the first students arrested for trespassing during the first free speech sit-ins. He spent four months in jail, got kicked out of Berkeley and never went back. "It was the best thing that ever happened to me," he said, sitting on the steps of Sproul Hall last Wednesday. "I was so heading in the wrong direction. I was going to become a professor of classics, for God's sake!"
Instead, he began making political posters and leaflets, and fell in love with a fellow student, Alice Waters, who was just beginning to formulate a new approach to simple cooking with fresh ingredients. "Had we not won such a decisive victory with the Free Speech Movement, I don't think we would have had the courage to do what we did later," Goines said. "We just went out there and we could do anything."
Waters, for her part, has always said she was deeply influenced by Savio. "I absorbed his idealism and his conviction that people are more than cogs in the machine," she wrote in the 2011 memoir "Forty Years of Chez Panisse: The Power of Gathering." "He made me believe that my generation could unite to bring about a new world, that we could stop feeling alienated and competitive and instead join together in a righteous cause."
There are visible links to that past all over town. Telegraph Avenue sidewalk vendors still do a brisk business in tie-dyed T-shirts, incense and dangly jewelry. When the Hotel Durant, a local landmark, recently remodeled, it installed bedside lamps in the shape of glass bongs and posters from 1967's classic "The Graduate." Just to be silly, I guess, someone mounted a half-burned bra of suspicious vintage on a wall off the hotel lobby.
Less frivolously, the campus undergraduate library has the Mario Savio Free Speech Movement Café, where one wall is papered with an enormous blow-up of the famous photo showing Savio on the roof of a police cruiser in the middle of Sproul Plaza, surrounded by the thousands of students who refused to move because their free speech rights were being trampled.
In the back seat of that car, not visible in the photo, a young man named Jack Weinberg was under arrest, having violated the university's ban on "outside" political advocacy. His sin? Passing out literature about the Congress for Racial Equality at the height of the civil rights movement. Students were not having it. Within months, the Academic Senate voted to support the students. (An editorial in this newspaper accused professors of yielding to "the crudest form of intimidation and pressure.")
For students, though, the victory was profound. "I enjoyed that day so much, it kept me going the rest of my life," said 67-year-old Jack Radey, charged as a juvenile when he was arrested as a 17-year-old freshman.
Many students were arrested that season, many served short stints in jail. Some, such as Goines, were kicked out of school, never to return. When Savio reapplied for admission to Berkeley in 1966, state Supt. of Public Instruction Max Rafferty said the UC regents should submit to "group therapy" if they allowed him back in. His application was rejected, and Savio, who was hounded by the FBI for a decade, did not graduate from San Francisco State until 1983. When he died of a heart attack at age 53 in 1996, he was working as a lecturer at Sonoma State, without tenure. "He one of the most brilliant minds of his generation," his biographer Robert Cohen told me. But he'd never earned a doctorate.
These days, the university has more than made peace with its past. It has embraced the Free Speech Movement, both for its educational value and as a PR tool. Various FSM celebrations are taking place all year. At orientation, incoming students listen to Savio's most famous speech: "There is a time when the operation of the machine becomes so odious, makes you so sick at heart, that you can't take part; and you've got to put your bodies upon the gears and upon the wheels, upon the levers, upon all the apparatus and you've got to make it stop."
"Activism is in our DNA," declares the university's FSM webpage.
That claim doesn't sit entirely well with former students such as Steve Masover, 55, a veteran of the 1980s Campaign Against Apartheid. Amid signs that declared "Silenced by debt" and "Silenced by wage slavery," his sign last week read "Silenced by nostalgia."
"Treating the FSM anniversary as an occasion for nostalgic remembrance silences the many, pressing current issues about which today's students, faculty, staff and community members are actively concerned," he told me later.
The day's speakers, original FSM participants, pointedly avoided dwelling on the past.
"This is not a nostalgia moment," said Oakland attorney Walter Riley. "We have to remember the connection between Ferguson and the streets of Oakland and Berkeley."
"We must have free education," said veteran union activist Dolores Huerta, 84. "If Cuba can do it, so can we!"
"As you're brushing those dentures," said Jackie Goldberg, 69, a Berkeley student leader who went on to a stellar political career, "say 'I will not be cynical today.' It is never hopeless as long as you resist."
Weinberg, for his part, threw out the speech he'd prepared, and spoke instead about the pro-democracy protests convulsing Hong Kong.
"A week ago, if somebody would have asked me what was the most important student protest movement of the last 50 years," the 74-year-old environmentalist said, "I would have confidently said the Berkeley Free Speech Movement. But that was a week ago. On Monday and Tuesday, we were upstaged."
If there was any wistfulness in his voice, I couldn't detect it.
Please follow me on Twitter: @robinabcarian
---
For reporting and exclusive analysis from bureau chief John Myers, get our California Politics newsletter.
You may occasionally receive promotional content from the Los Angeles Times.