Behind the story: Learning the tales and triumphs of acid attack survivors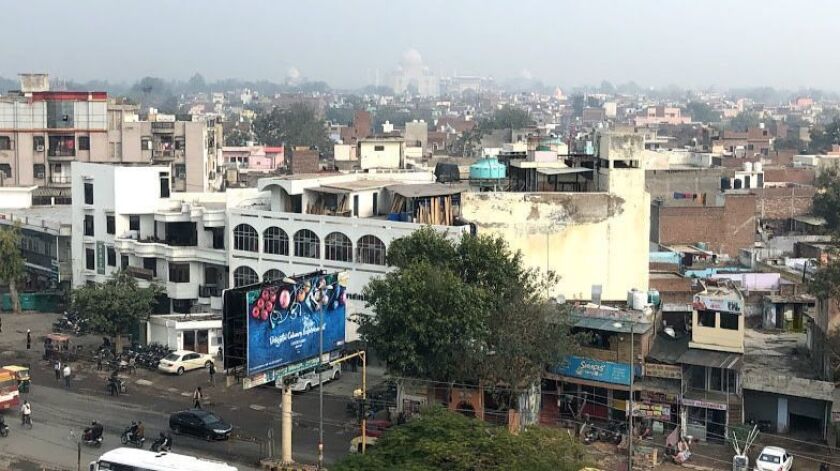 Reporting from AGRA, India —
Through the haze outside our hotel room window, I spotted the white domes and spires of the Taj Mahal, the sight that draws most people, including myself, to Agra.
But below, just across the street from our hotel, was another tourist attraction: Sheroes' Hangout, a cafe staffed by survivors of acid attacks.
This year, my parents and I flew to India for a family wedding and some sightseeing. I have been traveling to India to visit my grandparents every other year for as long as I can remember, yet neither my father nor I had ever seen India's most famous landmark, so we put Agra on our to-visit list.
On the four-hour drive from Jaipur, I started scrolling on my phone, looking up what to do in Agra other than visiting the Taj Mahal. I soon came across reviews of Sheroes, a project created to help acid attack survivors earn money and not feel ashamed of the way they look.
I'm embarrassed to say that I had never heard about acid attacks. I quickly learned that in India they are often a form of domestic violence.
The reviews of Sheroes on TripAdvisor were stunning, unlike any online comments I had ever seen. A Canadian tourist said she took her two children to the cafe last fall because she "wanted to show them the good and the bad of the countries we see."
"When we walked in, I wanted to cry. It is very sad and heartbreaking," she wrote. "I am so happy we made the time to visit here."
A woman from Britain wrote: "Agra, home of the Taj Mahal, The Agra Fort and The Sheroes Hangout … I just feel so lucky to have met the sheroes."
We had to go. I wasn't sure if I would write about the cafe yet, but I could not leave Agra without seeing it.
When we arrived in Agra, we discovered our hotel was across the street from the cafe. So the following afternoon, after visiting the Taj Mahal, we darted across the busy road to Sheroes.
The cafe was small but colorful, covered in murals and paper art. The space used to be bigger, the staff told us, but the front half was recently demolished because of a road-widening project.
My parents and I sat at a table in the back and a waitress handed us menus.
Her name was Shabnam. The skin around her mouth was wrinkled, where acid had burned her. Her forehead and nose were unusually smooth from reconstructive surgery. She was quiet but friendly.
We ordered coffee and a plate of vegetables fritters known as pakoras. My mom had been searching for green chile pakoras the entire trip and asked Shabnam if any would be included alongside the more traditional potato and cauliflower fritters.
Shabnam sympathetically told my mom that no, green chiles weren't typically part of the assortment. She walked to the kitchen to place our order.
The following day I would return to interview several of the women who work at the cafe. But on this first visit, I looked around silently as they rang up orders and walked food to tables, comfortable in their own skin, chatting with each other and with tourists.
When Shabnam brought us our drinks, her eyes passed from my mother to me, and back again. She asked if we were mother and daughter. She seemed pleased with our answer.
I would eventually learn that Shabnam came to Sheroes after her boss at a garment factory threw acid on her after she rebuffed his advances. She has a daughter too and works at Sheroes to support her.
Acid attacks are an incredibly cruel form of violence, intended to maim and embarrass women. That cruelty is often compounded when survivors are ostracized because of their scarred appearance. Sheroes tries to save them from this one-two punch.
Tourists flock to the Taj Mahal each year to marvel at the fact that this exquisite structure, its symmetrical, marbled domes unlike anything else in the world, has existed for close to 400 years.
People come to Sheroes for similar reasons, I realized: to admire the strength and beauty of these women, who were confronted with the worst parts of humanity yet still remain standing.
When Shabnam returned with our food, she set down the plate of pakoras with a smile. There in the middle was a fritter longer than all the rest, a deep-fried green chile.
---
The stories shaping California
Get up to speed with our Essential California newsletter, sent six days a week.
You may occasionally receive promotional content from the Los Angeles Times.