Column: Comfort, dignity, security; seniors extol virtues of low-rent housing while thousands of others wait in long line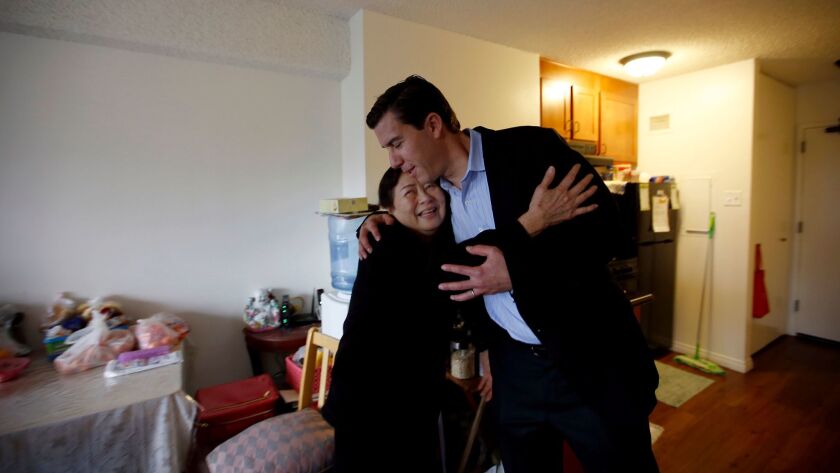 If you're getting on in years and your income is flat but your expenses are not, finding an affordable home in Southern California may require a small miracle.
"It feels like I'm rich," 67-year-old Zenaida Jose declared in a studio apartment that, in her mind, is a magnificent palace.
The Wilshire Towers, subsidized affordable housing for seniors, rise near the intersection of Wilshire and Normandie in Koreatown. I'd never heard of the place until I wrote about another senior high-rise, in Westwood, where elderly residents have been told to relocate during a lengthy renovation.
Many of the Westwooders, some of them with walkers and wheelchairs, decided they'd rather fight than deal with the physical and emotional trauma of a move. Their attorneys are trying to negotiate a way for them to stay put while the building is updated.
The owners of Wilshire Towers, I learned, are completing a similar renovation but managed to avoid booting everyone out of the building. The residents are grateful to Thomas Safran & Associates for that, and the ones I spoke to are thrilled with the wall-to-wall upgrades in the 283 rooms and all the common areas.
But more than that, they're happy to have beaten the odds in a region where thousands are on waiting lists for existing affordable senior housing. With many new properties, you literally have to win a lottery to get in.
Jordan Pynes, president of Safran, said the company has built 3,000 affordable housing units in the last 11 years, mostly for seniors, and bought the Wilshire property in 2015.
"When we open a new property, we'll have thousands of applicants for every unit available," said Pynes.
Wilshire Towers is a Section 8 building. Low-income tenants pay a little less than $300 monthly — one-third of their Social Security income — on rent. Market rates in the heart of Koreatown run much, much higher. But the project pencils out for Safran because a tax credit is available when you develop affordable housing, and Pynes said the company's mission is to do good along with doing well.
At the moment, 286 applicants are trying to get into Wilshire Towers. The waiting list is closed because it'll take years to work through it. This is common in Southern California. I checked other senior housing websites with notices that no new applications are being taken, and people in the industry told me the housing shortage is nothing short of a crisis.
Jose, who lived in an apartment across the street from Wilshire Towers, was on a waiting list for three years.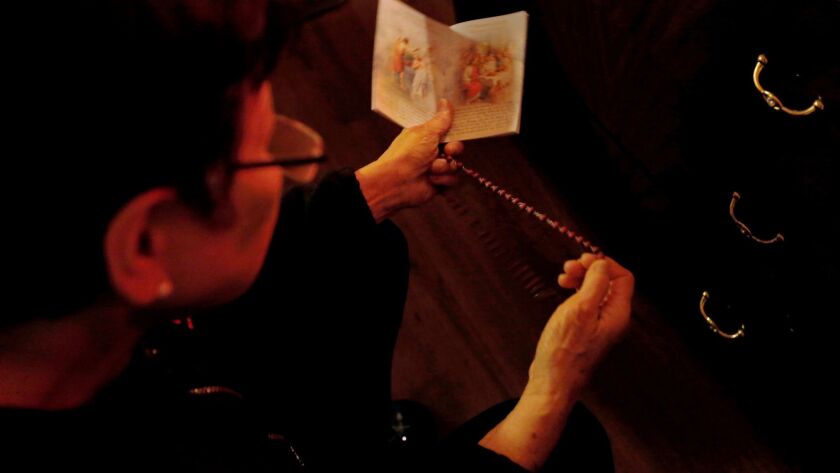 "One of my dreams was to live in this building," said Jose, who drew blood at a hospital, but the pay wasn't great and neither was her health. She had diabetes, arthritis, high blood pressure. She'd taken two falls.
Her rent inched up every year, and the $540 she paid for a studio swallowed nearly half her monthly take-home. She did all her food shopping at a 99-cent store.
In retirement, she had two options, neither ideal. The first was to see if she could squeeze into a relative's home.
"Otherwise," she said, "I'd live on the street."
Every evening, at meal time, Jose says the rosary in her dream home, and through the window, she can see the apartment she was priced out of.
Alma Hammond, a 79-year-old Air Force veteran, said she felt just as lucky when she landed at Wilshire Towers in 1999. It was one of those "right place at the right time" stories, she told me. She worked at the church next door and got hit with a series of health problems, including breast cancer, which made her commute to the Valley all the tougher. The church owned Wilshire Towers at the time and the minister managed to get her an apartment.
If she hits the lottery, Hammond said, maybe she could buy her own house. But "I hear through the grapevine that houses can cost 800-some thousand dollars in the Los Angeles area." So forget that.
"This is really all I need," she said.
While I spoke to Hammond and Jose, a man sat nearby at a computer. He suddenly turned and offered that his story was "somewhat different."
Mr. Lee, 70, was reluctant to share his full name but happy to pull up a chair. He said he landed in Los Angeles from Seoul in 1978, became naturalized in 1983, raised two sons with his now-divorced wife, and had his own furniture store for many years. One son became a doctor; the other went into law enforcement.
When business was good, Mr. Lee rented rooms in Koreatown homes over a span of two decades, paying between $300 and $550 a month. When business wasn't good, he lived in a storage area in his furniture store. That's where he was the last several years, after losing a lung to cancer.
"I couldn't work hard enough to make enough money," said Mr. Lee, who did not tell his family about his circumstances. He didn't want to impose.
For his bedding, he laid a sheet of wood on the floor, topped it with a rug and slept under an electric blanket. He had a toilet but no hot water, and says he showered at the nearby 24-Hour Fitness.
On two occasions, he sold and delivered furniture to residents of Wilshire Towers and decided he liked the place. He filled out an application, as he had at about 20 other places, and continued sleeping in the store. It wasn't that tough, he said, because he'd grown up sleeping on the floor.
"I waited almost three years, then somebody called me and I moved right in," said Mr. Lee.
He took me along on one of his twice-daily strolls through the neighborhood — he's trying to build his lung strength — and insisted on buying Korean cookies for me and photographer Francine Orr.
With a look of concern, Mr. Lee shared a thought. People might read this column, he said, and see an immigrant taking advantage of subsidized housing.
I reminded him that he worked for years, paid taxes, helped build the safety net and raised two sons who are now contributing.
Looking after elders is what a civil society does, and there's more work to be done.
Get more of Steve Lopez's work and follow him on Twitter @LATstevelopez
ALSO
California's bullet train is hurtling toward a multibillion-dollar overrun, a confidential federal report warns
After 'pretty extraordinary' snowfall, Sierra Nevada braces for another battering from atmospheric river
Protests at UC Davis lead to canceling of speech by Breitbart's Milo Yiannopoulos
---
Must-read stories from the L.A. Times
Get the day's top news with our Today's Headlines newsletter, sent every weekday morning.
You may occasionally receive promotional content from the Los Angeles Times.