Column: Donald Trump vs. Steve Lopez: The Twitter 'war' is on!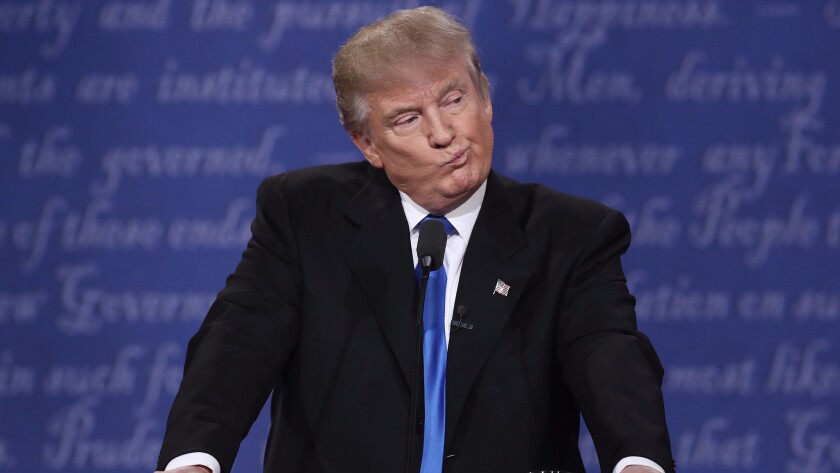 Three weeks into the Donald Trump presidency, I get the feeling I'm just not Tweeting enough.
I don't know how he finds the time, with so many important things to worry about.
But he does.
I'm inspired.
I'm motivated.
I want to be more like him.
Hey, @realDonaldTrump, if you get a minute, take a look at my practice tweets here and let me know how I'm doing. Am I ready to go bigly?
Steve Lopez @LATstevelopez 10h
Tossing. Turning. Should I defend Arnold Schwarzenegger? @realDonaldTrump slams him as lousy California governor and "Apprentice" host. Shouldn't a POTUS have something better to do with his time?
Steve Lopez @LATstevelopez 9h
Wide awake in middle of night like POTUS. Watching Fox. Tweeting not reading. Where's my family? I have the most readers. I have long fingers. No manhood issues here. I GUARANTEE it.
Steve Lopez @LATstevelopez 8.5h
Wondering how @realDonaldTrump investigation is going re millions of illegals who left their jobs unnoticed, registered without papers, and voted for Hillary. OFF HIS ROCKER? California wager. If Trump is right, I'll move to Mexico. If I'm right, he moves to Moscow.
Steve Lopez @LATstevelopez 8h
Breaking news! Trump Rancho Palos Verdes golf course slides into ocean. Illegal immigrant employees rescue golfers from teeth of great white sharks. Mexican heroes! (Fake news?) Hard to say in era of alternative facts. Three golfers still missing at this hour.
Steve Lopez @LATstevelopez 7h
Amazing. TiVo this, California. @oreillyfactor tells @realDonaldTrump, "Putin's a killer." @realDonaldTrump says, "There are a lot of killers. You think our country's so innocent?"
How'd this guy get elected? Must have been rigged by a foreign power.
Steve Lopez @LATstevelopez 6.5h
Could not believe my eyes/ears. Just replayed @oreillyfactor. Yes. @realDonaldTrump could be the Manchurian candidate. IN TANK FOR RUSSIA!
Steve Lopez @LATstevelopez 6h
RE @realDonaldTrump bromance with Putin, Putin must have photos. You know it! @realDonaldTrump hates California. Loves Russia? Doesn't POTUS know we are all commies? DUHHHH!
Steve Lopez @LATstevelopez 5.5h
POTUS ridiculed Seattle judge for rejecting @realDonaldTrump travel ban, says he'll prevail. Guess what, @realDonaldTrump. US gov has something called judicial branch. Look into it. And Seattle JUDGE IS REPUBLICAN!!!
Steve Lopez @LATstevelopez 5h
Hey, California. You see this? @realDonaldTrump says he's coming after us. Told Fox News @oreillyfactor we are "out of control." He thinks this is news? Whatever. Hey, @MotorMouth, let us know when our cheaper healthcare and bigger salaries kick in.
Steve Lopez @LATstevelopez 4h
Tweeter of Free World POTUS @realDonaldTrump told @oreillyfactor he will "defund" California over sanctuary cities. Questionable authority there (see my man @LATimesSkelton column), and what happened to all that squawking about state's rights? Maybe Californians should skip paying federal taxes, like @realDonaldTrump. And that bad hombre BRAGGED about it!
Steve Lopez @LATstevelopez 3h
How about a travel ban on taxpayer-funded Air Force One vacations in Mar-a-Lago after just two weeks of work. @realDonaldTrump lazy a little bit? Un-Be-Leeeeeeev-able!
Steve Lopez @LATstevelopez 2h
Will @realDonaldTrump de-fund UC Berkeley? Stiff California? Let's deport Cali's undocumented immigrants to tossup states. Must have bigger illegal voter turnout in 2020 to MAKE ESTADOS UNIDOS GREAT AGAIN!
Steve Lopez @LATstevelopez 1min
Just noticed @realDonaldTrump, Tweeter of Free World, has not tweeted for 24 minutes. Does he have the stamina for the job?
Get more of Steve Lopez's work and follow him on Twitter @LATstevelopez
ALSO
Here's everything Donald Trump has tweeted since he became president
How do you say 'lowlife' in another language? Trump's tweets lose much in translation
Analysis: Trump's Twitter falsehoods fire up his base, provoke opponents and distract from larger issues
---
Get breaking news, investigations, analysis and more signature journalism from the Los Angeles Times in your inbox.
You may occasionally receive promotional content from the Los Angeles Times.