Funeral for L.A. County's unclaimed dead remembers the forgotten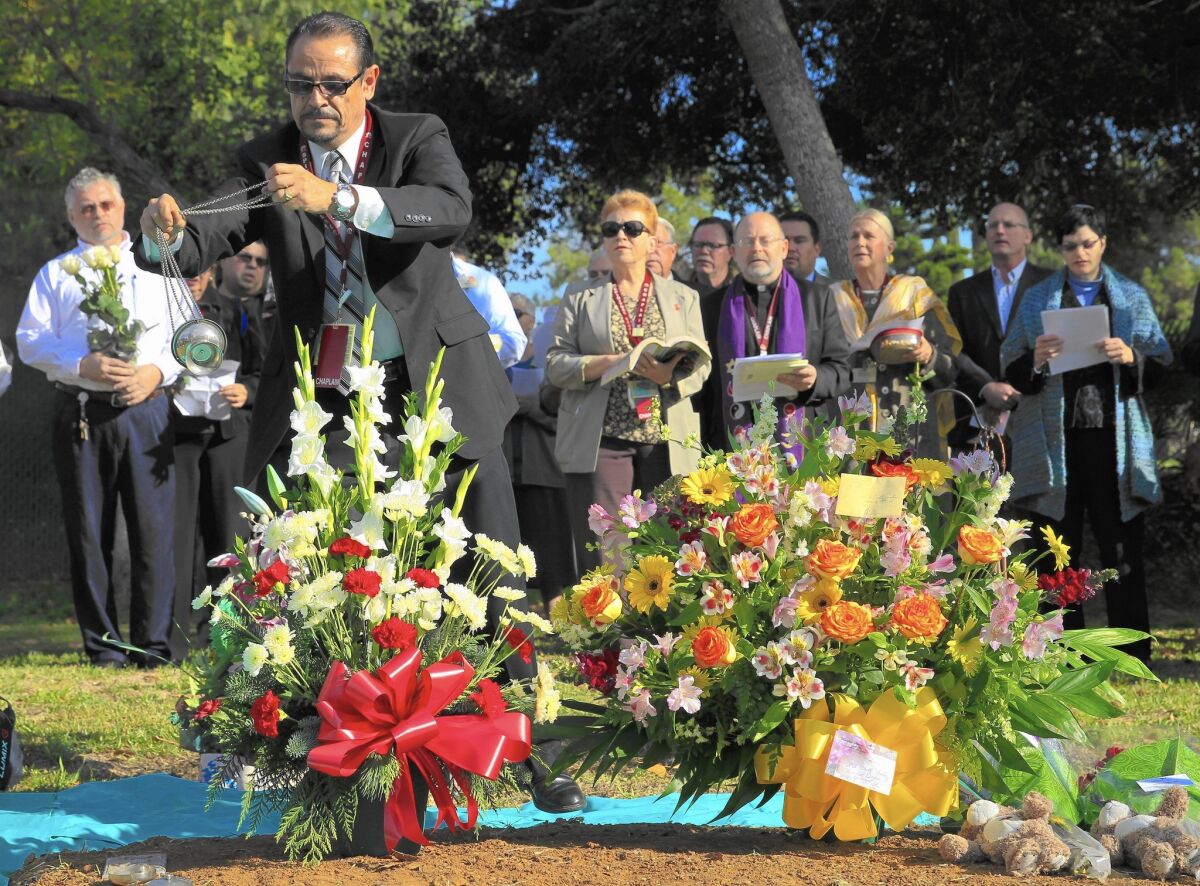 Teddy bears and flowers marked the grave. A cellist played a somber tune, softly and quietly. Religious leaders prayed with the crowd.
Unlike most funerals, the ceremony at the county cemetery in Boyle Heights on Wednesday honored 1,489 unclaimed people who were cremated in 2011.
They were left unclaimed at the Los Angeles County Cemetery, their families unable to make arrangements, whether for financial or personal reasons.
------------
FOR THE RECORD:
Unclaimed dead: In the Dec. 11 California section, an article about L.A. county's mass burial ceremony for unclaimed dead identified a View Park-Windsor Hills woman who came to the ceremony to pay her respects as Rachel Hall. Her name is Rachel Howzell Hall.
------------
In past years, the service has mainly been attended by a small group of media and county staff. L.A. County Supervisor Don Knabe, a regular attendee, said this year's ceremony attracted the largest turnout in recent memory.
Knabe said the county works hard to identify remains and find next of kin, but ultimately it's important to bury those left unclaimed in a dignified way.
"It's always difficult for us to imagine that someone is unclaimed," he said. "But we celebrate them and their life."
Chaplains from the county said Christian and Jewish prayers. The Lord's Prayer was said in English, Spanish, Korean and a language from the Fiji Islands. A reverend did a Hindu chant. Some religious leaders read poems by Maya Angelou.
In previous years, the names were largely unknown by the public. The names of those left unclaimed are kept in handwritten ledgers at the cemetery.
The Times digitized those records and published a database in November.
According to county records, there are at least 842 men in the group. There are also 431 women, 137 babies and two children. The county also buries ashes of people left at the coroner or local mortuaries.
One person not buried in this group is John R. Wheelock, who collapsed on an Amtrak train at L.A.'s Union Station in June 2011.
County officials secured his ashes after a Times inquiry in October, expecting someone to claim him.
After reading about Wheelock's situation in a November article, Stephen Hook, a Los Angeles dentist, realized he was reading about his old high school bandmate.
He got on Facebook and alerted other people from Pacific High School's class of '64 in San Bernardino. They contacted Wheelock's son, Aaron.
After his father's death, Aaron Wheelock, who lives in Idaho, said he wasn't able to afford the cost of traveling to Los Angeles to claim the ashes.
Wheelock's old classmates, along with members of the Train Mountain Railroad Museum, a hobbyist model railroad in Oregon, offered to help. Wheelock was a member of a club dedicated to expanding Train Mountain. Friends recalled how he'd clean brush from the rails and even ride his own miniature engine on its 36 miles of track.
The plan now is to scatter Wheelock's ashes at Train Mountain, his son said.
"I'm ecstatic that I can bring Dad home and finally lay him to rest where he wants to be," he said.
Rachel Howzell Hall, 44 of View Park-Windsor Hills, said she came to Wednesday's ceremony to pay her respects. A Los Angeles native, she had always heard about the ceremony, but this was the first year she attended.
"People think of Los Angeles — we're always on the freeway, people don't care about each other — so to see such care, it's an incredible experience," she said.
Am Demessie, 64, of Pasadena, works for the county in a welfare-to-work program. He said he felt a special connection to those being buried because he has committed his life to working with the less fortunate.
"Maybe as a county or individual, maybe we failed these guys to give them food, to give them shelter, to give them medical care," Demessie said. "The least we can do is, when they pass away, to honor them."
Lawrencia Colding read about the service in The Times and drove two hours from Long Beach to attend. Her mother-in-law died on Saturday.
"It was just the contrast of how many people were so loving and there for her and then coming to this where there were so many that just didn't have anyone," she said.
Colding wiped tears from her face during the ceremony.
"People deserve for someone to cry over them," she said.
taylor.goldenstein@latimes.com
---
The stories shaping California
Get up to speed with our Essential California newsletter, sent six days a week.
You may occasionally receive promotional content from the Los Angeles Times.