Conservative group threatens UC Berkeley over Ann Coulter appearance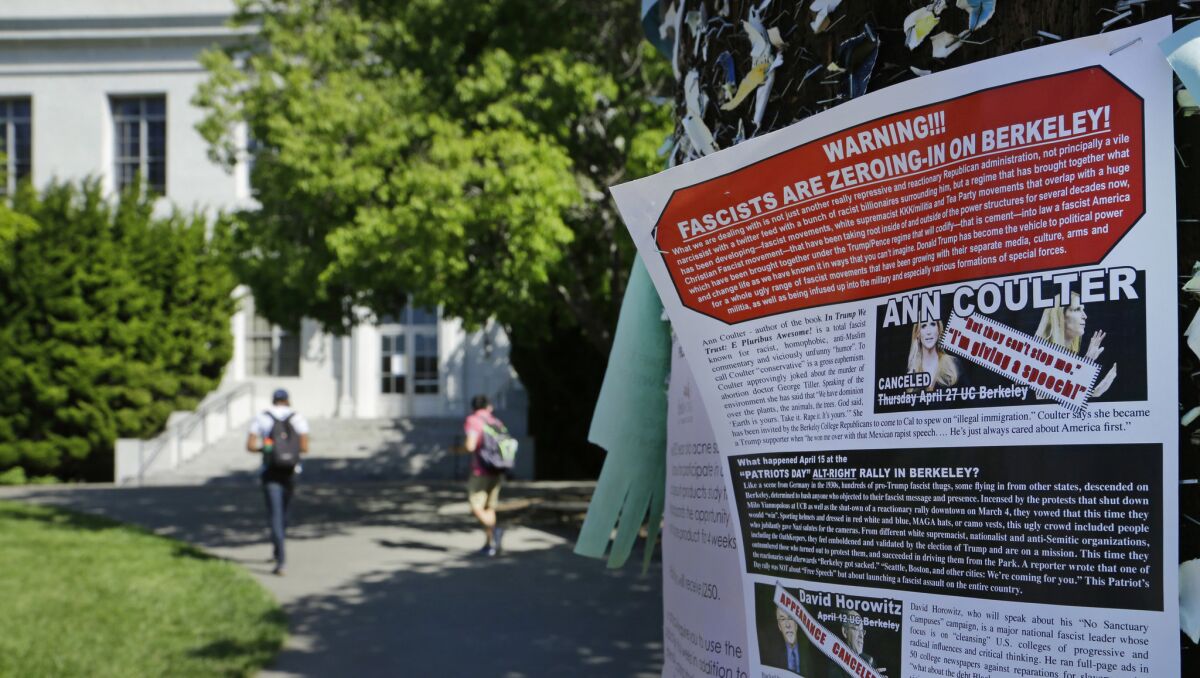 A conservative group on Friday threatened to take legal action against UC Berkeley if student sponsors are not allowed to pick the date and location for an appearance by commentator Ann Coulter.
Coulter had been scheduled to speak on the demonstration-weary campus on April 27, but Berkeley officials refused permission, citing safety concerns. Amid public criticism, the administration on Thursday agreed to set the event for May 2, at midday, in a science hall away from the central campus.
"The university's actions violate fundamental principles of free speech, equal protection and due process guaranteed by the United States Constitution," a letter from lawyers representing the conservative outreach group Young America's Foundation warned.
It called Berkeley's offer "transparently insincere" — noting that the new date falls during "dead week," a time when most students are studying for final exams.
"UC Berkeley may not censor speech its administrators plainly disfavor, simply because a potential mob shares the administrators' distaste," the letter said.
In response, Berkeley answered that it does not have a "protectable" venue available on April 27 and raised concern about Coulter's "disregard" for what police believe is required to keep her appearance safe.
"The Constitution permits the university to take such steps to protect public safety while facilitating expressive activities, and that is exactly what we are doing," officials said in a prepared statement.
Coulter, who had been invited to speak about immigration, used her Twitter account Thursday to declare she would speak at Berkeley on April 27, "as I was invited to do and have a contract to do."
Although the student groups hosting her appearance are the Berkeley College Republicans and BridgeCal, the contracted sponsor for the event is Young America's Foundation.
Berkeley spokesman Dan Mogulof said administrators learned of Coulter's planned arrival only after that contract was signed, preventing an assessment of how to avoid a replay of the violence that disrupted a scheduled Milo Yiannopoulos appearance at Berkeley on Feb. 1.
Large crowds swarmed the campus where the right-wing provocateur was to appear, and masked demonstrators in black garb tore down police barricades, smashed windows and set off explosives.
Since then, the university town has witnessed two demonstrations held by alt-right organizations that led to violent clashes.
"We were disappointed we couldn't make an event work," Mogulof said. "We believe it is important to expose our students to a diverse array of perspectives. … [They] can't be educated in an echo chamber."
For updates and more, follow @paigestjohn.
ALSO
Head of California's $64-billion bullet train project is stepping down
FBI offers $25,000 reward to help solve eco-terror arson case
Garcetti proposes boosting spending to reduce L.A. traffic deaths, but advocates are pushing for more
---
The stories shaping California
Get up to speed with our Essential California newsletter, sent six days a week.
You may occasionally receive promotional content from the Los Angeles Times.