Endangered bighorn sheep share a controversial lush life on the greens at La Quinta's desert golf courses
Reporting from LA QUINTA, Calif. —
This is a sunbaked oasis of walled and gated neighborhoods, chic boutique hotels and verdant golf courses at the base of the rugged Santa Rosa Mountains.
So officials were caught off guard by a divisive controversy that erupted in 2012 after large numbers of federally endangered Peninsular bighorn rams, ewes and lambs started venturing down the mountains to drink from water hazards and browse on the lush greens of golf courses.
Among them is the SilverRock Resort, which is city-owned and the site of a proposed $420-million development project designed to rev up the local economy in this Riverside County community.
No one blames the bighorns for being attracted to all those manicured lawns. But the Center for Biological Diversity and the Sierra Club recently filed a notice of intent to sue the U.S. Fish and Wildlife Service, the Coachella Valley Conservation Commission, the California Department of Fish and Wildlife and the city of La Quinta for failing to implement the barrier fencing requirements of a conservation plan designed to protect the endangered bighorns.
The Coachella Valley Multiple Species Conservation Plan requires that fences be installed within two years if bighorns roam onto urban places where they are subject to injury, or even death, from vehicle strikes, drowning in canals and swimming pools, eating toxic plants, exposure to respiratory diseases and ingestion of intestinal parasites present in watered lawns.
"How could it be that a wealthy capital of gated communities is balking at putting up relatively inexpensive fences to save these magnificent animals?" Ileene Anderson, a spokeswoman for the Center for Biological Diversity, said. "All this obstinance by officials, agencies and golf club managers is heartbreaking."
Since 2012, at least 12 bighorns have died in La Quinta: One was hit by a passing motor vehicle, four drowned in a canal, one died after eating oleander leaves on the grounds of PGA West, and six lambs perished after contracting respiratory diseases, said Aimee Byard, a biologist and associate director of the nonprofit Bighorn Institute.
Reports of Peninsular bighorns feasting on residential gardens and fairways, breaking sliding glass doors and running through traffic are soaring in this city of about 38,475 residents with an average income of $93,000, officials said.
Peninsular bighorns are mountain acrobats with soft, rubbery feet and spiraling horns that live in colonies scattered across the desert slopes of Pacific Coast mountain ranges in San Diego, Riverside and Imperial Counties.
Their population plummeted from 1,171 to a mere 276 by 1996. Their numbers have increased to about 950 since their inclusion on the federal endangered species list in 1998.
The notice from the conservation groups gave the agencies, La Quinta and county planning officials a few months to install about 9 miles of fencing along portions of SilverRock and three privately owned golf courses: the Quarry, the Tradition and PGA West.
The La Quinta City Council approved a plan on Dec. 20 to install a fence 2 miles long and 8 feet high at SilverRock by February to avoid a federal court battle that could derail its proposed 525-acre development that would include a luxury hotel, condominiums, a spa and a conference center.
La Quinta Mayor Linda Evans, who said she opposes barrier fencing because "it would deprive bighorns of food and water," said the city had no choice. "The city and the developer were very concerned," she said. "And rightly so, because that property is envisioned as a revenue source to ensure our future."
Katie Barrows, director of environmental resources for the Coachella Valley Association of Governments, predicted a rough road ahead trying to persuade the other golf courses to put up barrier fences.
"We've got a long way to go on that," she said. "But we have to come up with a solution because we keep having bighorns coming into town and getting sick or killed."
Officials at the Tradition, the Quarry and PGA West declined to comment.
The dispute hinges on a concern that barrier fences could destroy the ambience of sagebrush and steep slopes rising up from the fairways, and violate private property rights to reject the structures. Beyond that, bighorns are adored by golfers, golf club managers say, and benefit from the abundance of nourishment.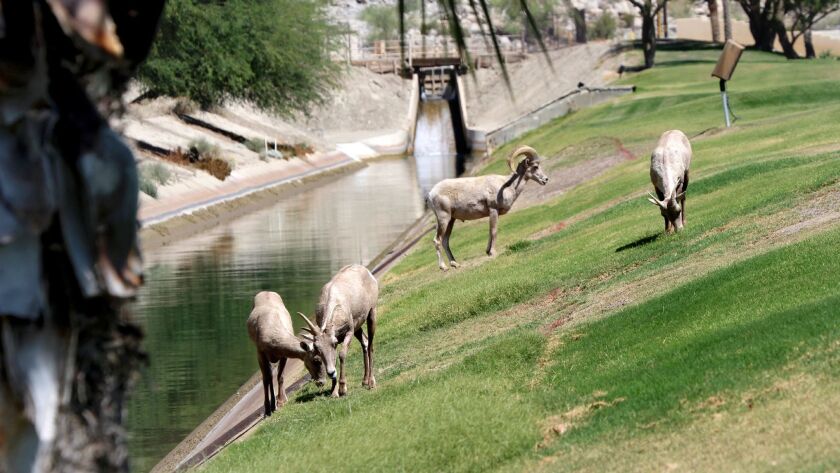 In an interview in his office on a rocky outcropping, Randy Duncan, general manager at SilverRock, smiled and said, "Golfers love these guys. Two weeks ago, we had 50 bighorns on the property happily eating and drinking."
Rams have been seen bucking horns during mating season. However, "to my knowledge," Duncan said, "no one has ever hit a bighorn with a golf ball."
The Bighorn Institute's Byard bristles at that kind of talk. "It's shocking," she said. "Bighorns survived for thousands of years without golf courses. But in recent years, many have died on and near them, and those deaths were preventable."
"These animals are also fully protected by state and federal law," she said. "So my big question is this: Why aren't there any legal repercussions?"
Jane Hendron, a spokeswoman for the U.S. Fish and Wildlife Service, said, "Our preferred method is to work cooperatively with land owners."
The city of Rancho Mirage, nestled in the Santa Rosas a few miles northwest of La Quinta, and property owners installed an 8-mile barrier fence in 2002 that has reduced bighorn mortality in that urban area to zero.
ALSO
This forecasting tool aims to keep ships and blue whales from colliding
Obama adds six sites to California Coastal National Monument
Kevin Starr, author of California histories and former state librarian, dies at 76
---
The stories shaping California
Get up to speed with our Essential California newsletter, sent six days a week.
You may occasionally receive promotional content from the Los Angeles Times.