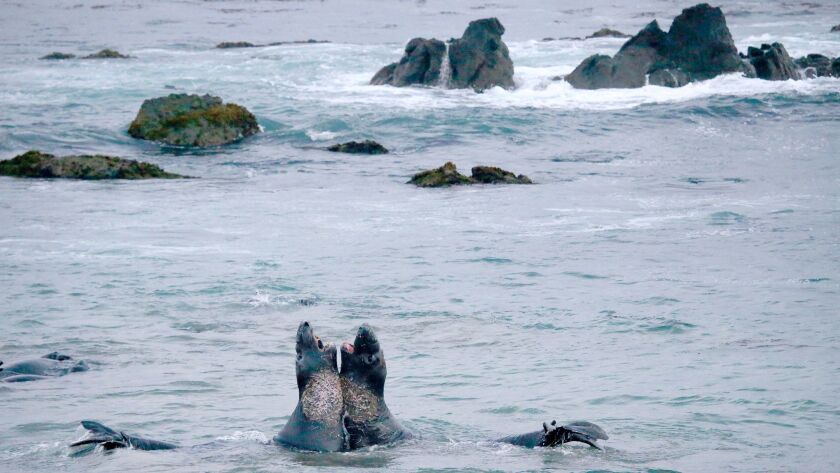 President Obama on Thursday added six areas to the California Coastal National Monument, including a prized parcel on the Santa Cruz County coast and some small islands off the coast of Orange County.
All of the sites, totaling 6,230 acres, are currently managed by the U.S. Bureau of Land Management. The monument designation adds another layer of protection by closing the areas to new development, such as gas and oil drilling.
The 5,785-acre Cotoni-Coast Dairies parcel extends from the slopes of the Santa Cruz Mountains to terraces overlooking the Pacific Ocean. The land includes Native American archaeological sites, wetlands, coastal prairie grasslands and stands of coast redwoods.
Owned for more than a century by a farming operation, the land was threatened by development before conservation groups bought the property in 1998 with private and state funding. About 400 acres were donated to California for a state park in 2006, and most of the rest of the land was transferred to the BLM in 2014.
Three of the other new monument sites are in Humboldt County: Trinidad Head, Waluplh-Lighthouse Ranch and about 400 acres of Lost Coast Headlands south of Eureka.
Another site, Piedras Blancas, is in San Luis Obispo County. The Orange County site consists of a series of offshore rocks, pinnacles and small islands used by seabirds and seals.
Obama also added 48,000 acres to the Cascade-Siskiyou National Monument in southwestern Oregon and Northern California. Known for its biodiversity, the monument was established in 2000.
Obama has used his executive powers under the 1906 Antiquities Act to designate a number of new national monuments in the West, angering some GOP members of Congress.
But members of California's congressional delegation had long sought Thursday's designations, which Obama made in the final days of his presidency.
John Laird, secretary of the California Natural Resources Agency, issued a statement welcoming the designations, noting that many of the parcels were next to "iconic state-protected lands."
Twitter: @boxall
ALSO
Call it the Southern California drought. Rain and snow end Northern California water woes
Criticized over a delay on Exide, regulators move to clean homes with the worst lead contamination
LAPD's watchdog rolls out smartphone app to share more information with public
---