2 dead, 6 injured in separate crashes fleeing Border Patrol agents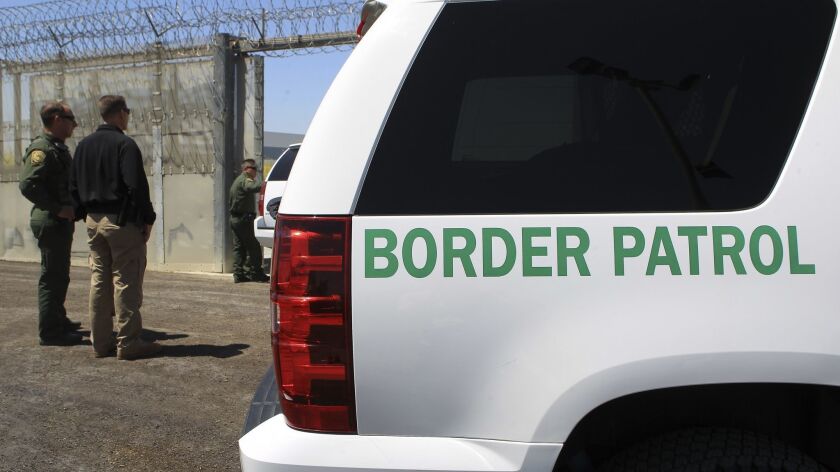 San Diego Union-Tribune
Reporting from OTAY MESA —
Two men were killed and a woman was critically injured Tuesday evening when their vehicle crashed into a semi truck and careened down an embankment while fleeing from a Border Patrol agent in Otay Mesa, authorities said.
The crash happened just before 6:20 p.m. near Otay Mesa Road and Sanyo Avenue, according to the California Highway Patrol.
It was the second crash Tuesday evening involving Border Patrol agents chasing vehicles. The first happened about an hour earlier in Boulevard, when a minivan fleeing Border Patrol agents rolled over, injuring all five occupants.
The 23-year-old San Diego woman driving the van was taken into Border Patrol custody, as were the four Mexican men who were lying in the back passenger area without seat belts when the van struck a fence and a pole and then rolled, CHP Officer Travis Garrow said.
The Boulevard chase began around 5 p.m. when Border Patrol agents "observed four people load into a blue minivan near Boulevard in a suspected human smuggling event," according to a statement from Jason Bell, a special operations supervisor with the Border Patrol San Diego Sector.
Agents attempted to stop the Mazda MPV minivan "for possible immigration-related violations," Garrow said in a statement, but the driver refused to pull over. The minivan led Border Patrol agents on several rural roads before striking a large concrete dip in a roadway and losing control, authorities said.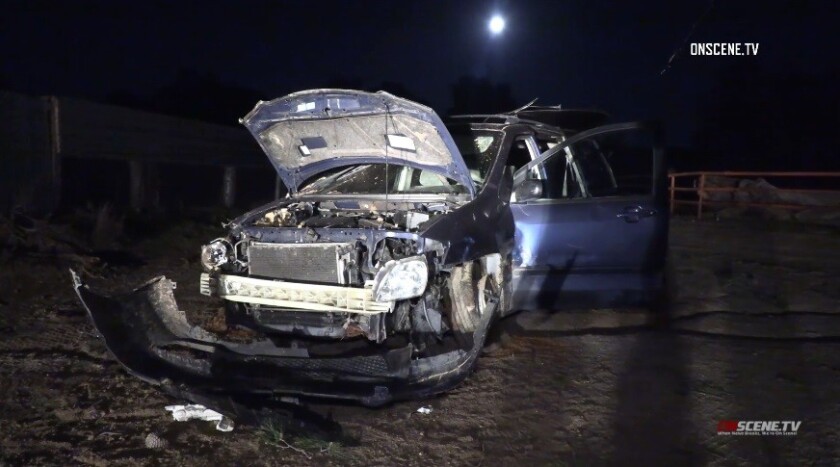 In the Otay Mesa crash, Border Patrol agents spotted a white sedan picking up a man and woman suspected of being undocumented immigrants, Bell said.
When an agent tried to stop the car, the driver refused to pull over and sped away, at one point running a red light, Border Patrol Agent Justin Castrejon said, according to City News Service.
"We're hearing from [some of] the agents here of speeds in excess of 100 mph," Castrejon said.
The car ultimately turned south onto Sanyo Avenue, "where it collided with a semi truck," Bell said in a statement.
"Agents arriving on scene immediately evaluated the occupants, two of whom showed no signs of life," Bell said. "The third occupant was injured."
Castrejon said the man driving and the man who'd been spotted getting in the car both died. The woman was airlifted to a hospital in critical condition.
Their names were not released Tuesday night.
San Diego police were leading the investigation, but the Border Patrol was "fully cooperating with investigators," Bell said.
Riggins writes for the San Diego Union-Tribune.
---
The stories shaping California
Get up to speed with our Essential California newsletter, sent six days a week.
You may occasionally receive promotional content from the Los Angeles Times.