After the Montecito mudslides, a search for belongings and two children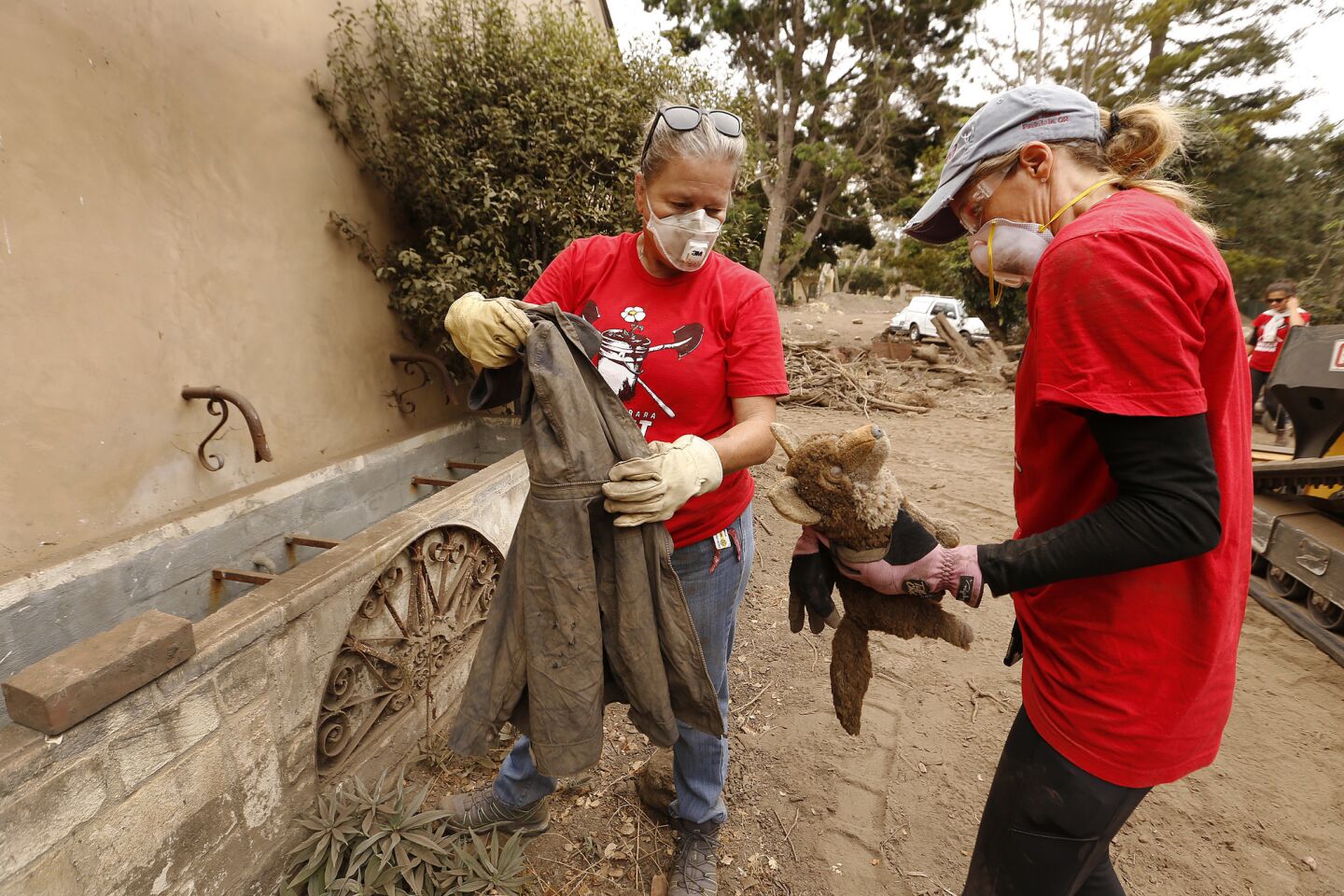 Andrea Pighetti, left, and Sherri Ball, right, who lost her home in the Jan. 9, 2018, Montecito mudslide, sort through items found in debris piles as volunteers with the Santa Barbara Bucket Brigade search through piles of dirt for manmade objects and the two young victims, Lydia Sutthithepa, 2, and John "Jack" Cantin, 17.
(Al Seib / Los Angeles Times)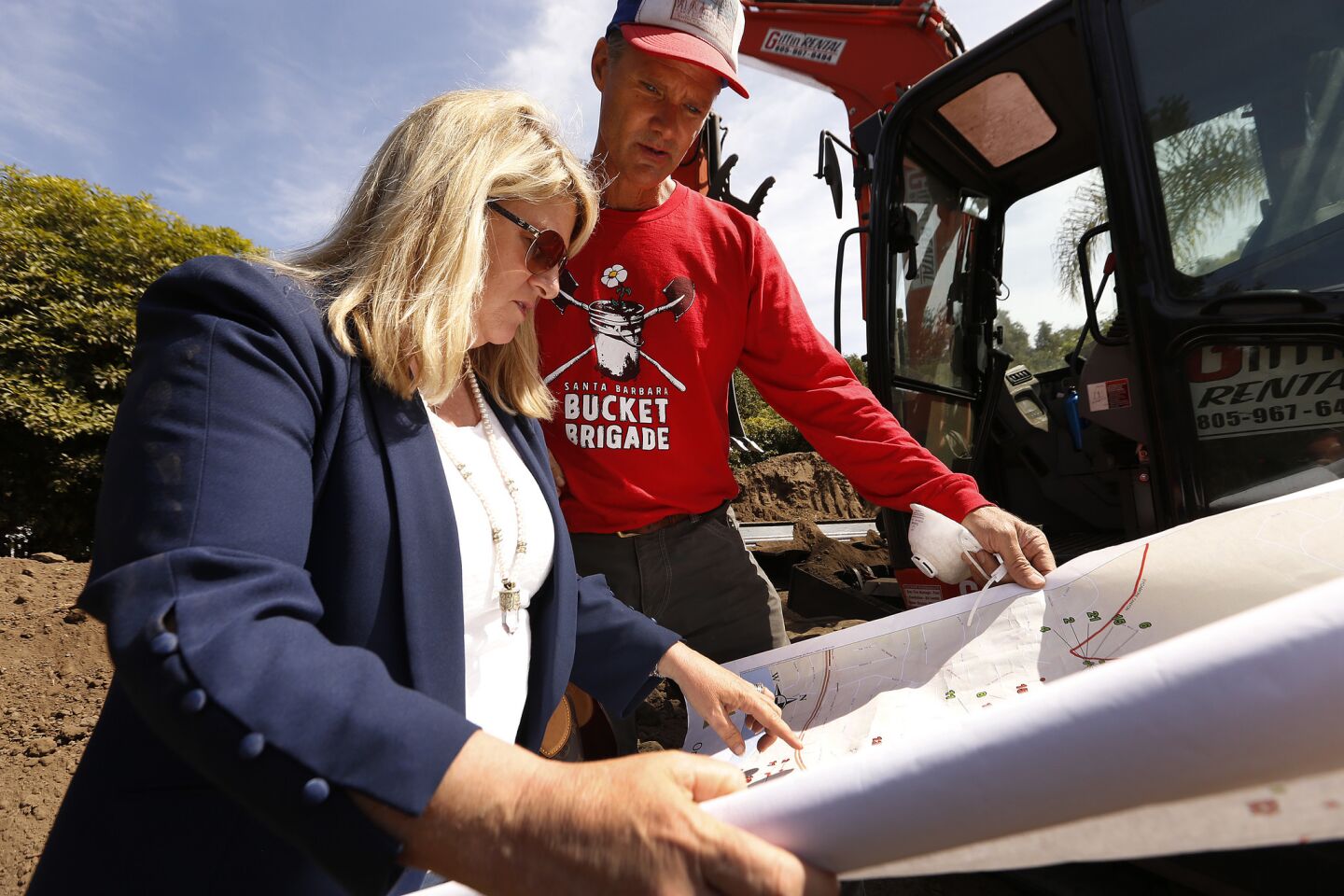 John Abraham Powell "Abe," co-founder and executive director of the Santa Barbara Bucket Brigade, looks at a map marking the location of victims with Kimberly Cantin, whose husband, David Cantin, was killed in the Montecito mudslide on Jan. 9, 2018. Her son, John "Jack" Cantin, 17, is presumed dead because his body has never been found.
(Al Seib / Los Angeles Times)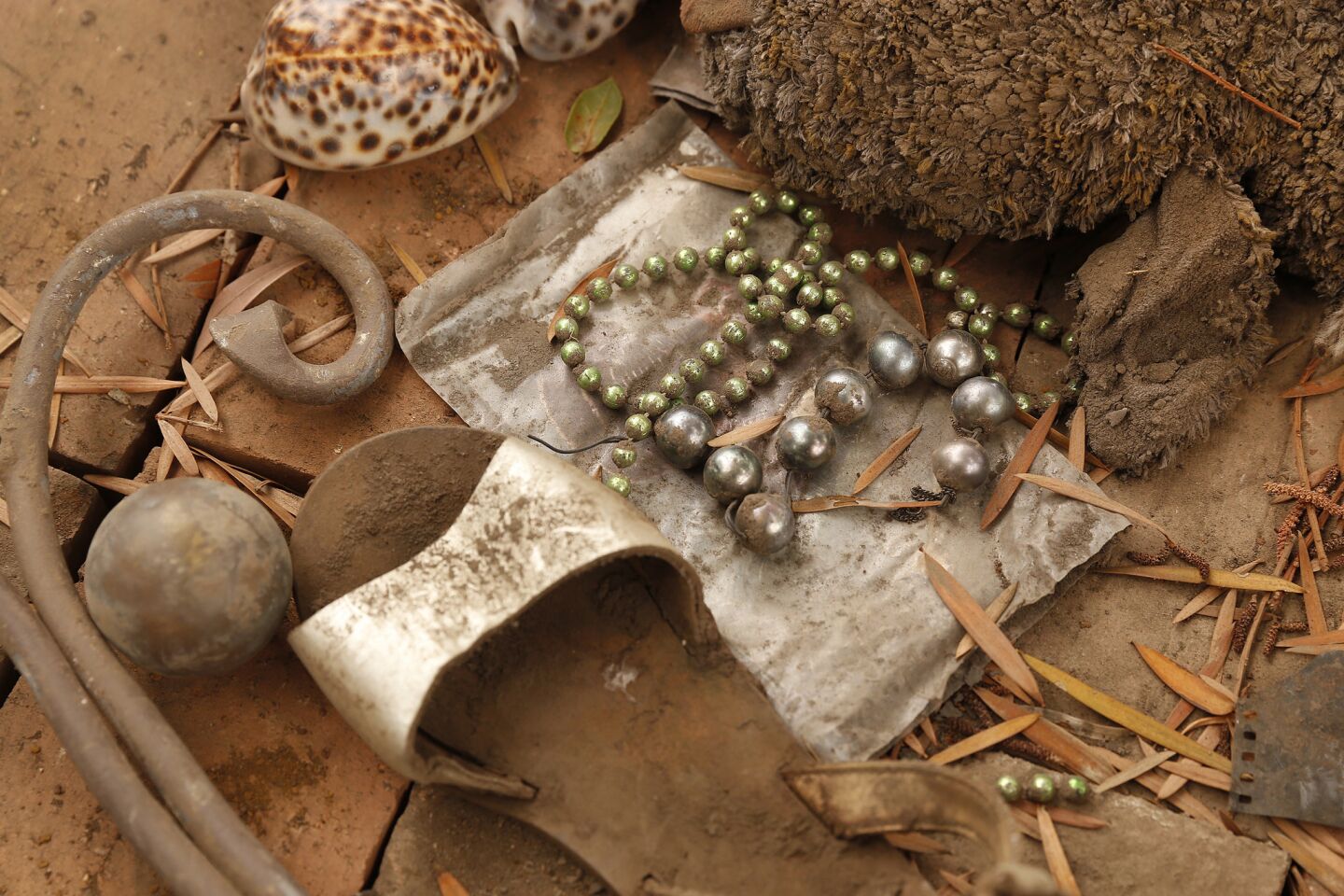 Personal items recovered from piles of debris by volunteers with the Santa Barbara Bucket Brigade as they sort through debris at homes damaged in the Jan. 9, 2018 mudslide.
(Al Seib / Los Angeles Times)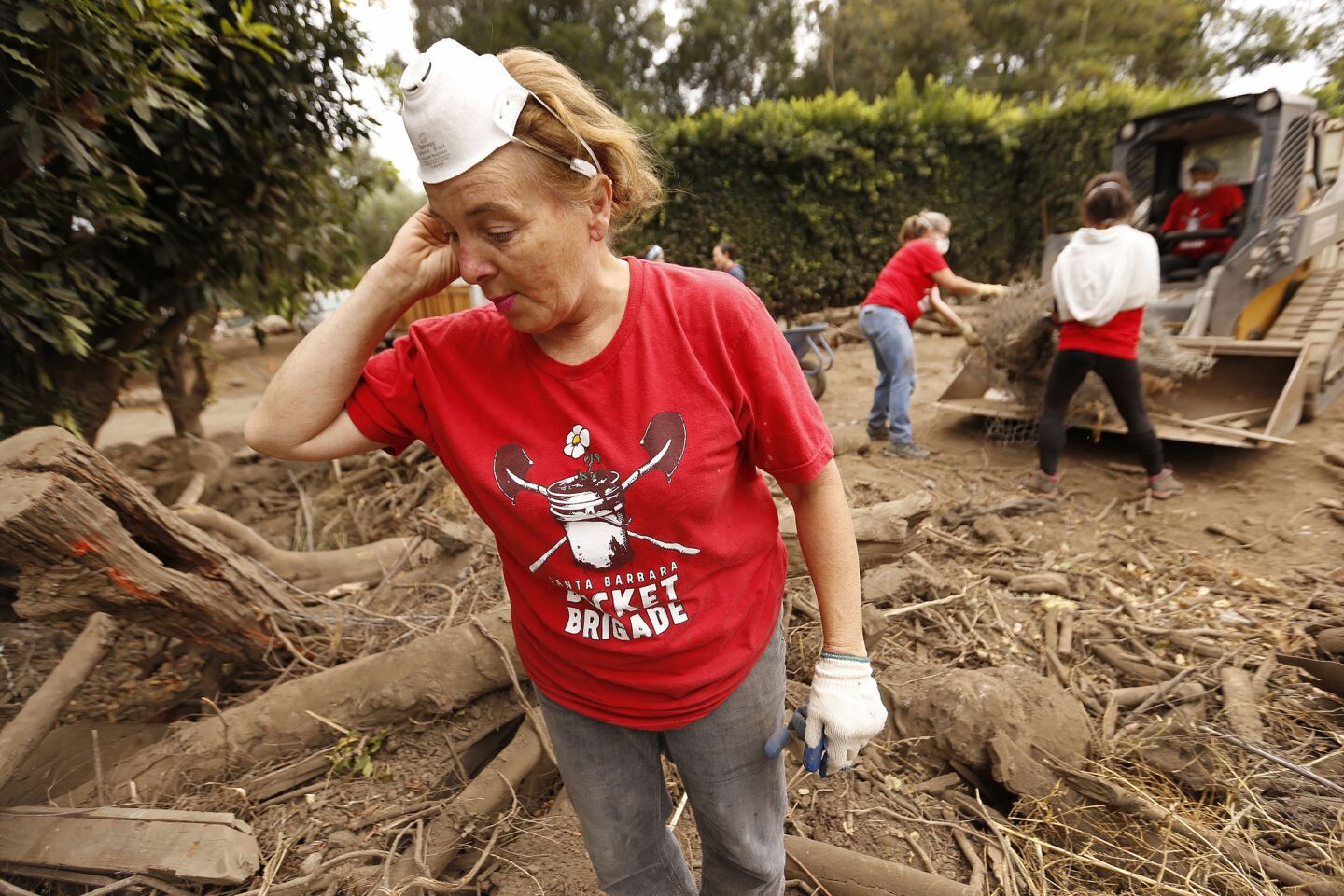 Jennifer Stafford takes off her protective mask for a breath as she volunteers with the Santa Barbara Bucket Brigade searching through debris at a home damaged in the Jan. 9, 2018, mudslide.
(Al Seib / Los Angeles Times)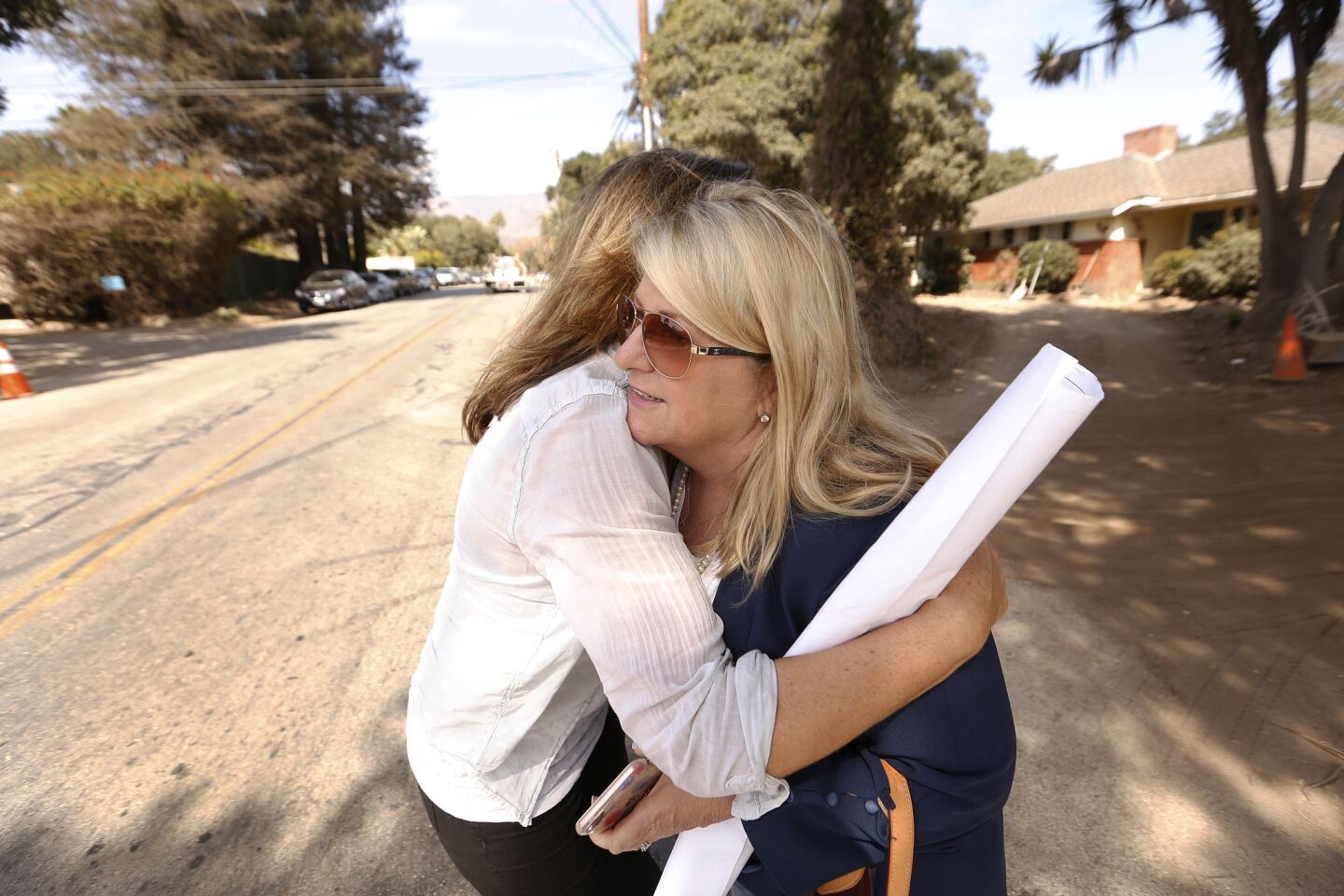 Kimberly Cantin, right, whose husband David Cantin was killed in the Montecito mudslide of Jan. 9, 2018, hugs neighbor Noelle Strogoff in Montecito. Cantin's daughter Lauren was injured in the slide, and her son John is presumed dead.
(Al Seib / Los Angeles Times)
John Abraham Powell "Abe," co-founder and executive director of the Santa Barbara Bucket Brigade, demonstrates where new soil is covering original soil at the location of a home severely damaged in the Montecito mudslide.
(Al Seib / Los Angeles Times)
Montecito resident and Santa Barbara Bucket Brigade volunteer Marco Farrell shows the screen grab of the rain cell over the Santa Ynez Mountains behind Montecito that poured rain onto the slopes denuded by the Thomas fire, triggering a devastating mudslide.
(Al Seib / Los Angeles Times)
A house sits among boulders and mud along Glen Oaks Drive in Montecito after the mudslide.
(Wally Skalij / Los Angeles Times)
The 101 Freeway through Montecito was shut down after the devastating mudslide.
(Al Seib / Los Angeles Times)
Reporting from MONTECITO, Calif. —
Hope can be plucked from a heap of dirt with gentle hands.
A gold-rimmed teacup with a chip in its pedestal. A pink vest knitted for a niece. A canvas book bag carrying a bracelet and a headband.
Once as brown as the angry earth that barreled down the hillsides of Montecito, hundreds of possessions like these have been restored and returned to eager arms.
Much of the salvaging is done by the Santa Barbara Bucket Brigade, a group of volunteers that formed after the deadly mudslides in January to help neighbors dig sludge out of their homes.
Finding relics soon became their specialty, and then, an obligation. The tiniest of trinkets mean everything these days.
Now, the group searches for the invaluable. A girl of 2, with doe eyes — Lydia Sutthithepa — and Jack Cantin, a 17-year-old Eagle Scout. Both missing since the storm.
Their fathers died that day. Their mothers pass by the remaining mounds of rubble, wondering if they serve as graves for their children.
If there is peace of mind somewhere in all this churned-up soil, the Bucket Brigade feels a duty to find it.
***
Jan. 9 began with a barrage of ruthless rain. Boulders rolled, tree trunks snapped like twigs. The mud was merciless, choking homes and burying people.
Survivors had stories that left wounds.
The mother who clung to a mattress and her two boys as they were swept onto a roof.
Another who clasped her daughter's hand, only to feel it slip away.
A man pinned against a fence who screamed his girlfriend's name for hours. Her body would be found a mile away.
Twenty-one lives were lost.
The scope of wreckage was incomprehensible. More than 125 residences destroyed, 300 damaged. Mud had overwhelmed the community, and insurance companies were balking.
Word got around that a man with three kids and a sick wife couldn't get a damage quote until he rid his home of thousands of pounds of mud weighing down his floors.
That's when Abe Powell, founder of a solar energy company and volunteer fireman, got sick of feeling powerless.
"That's it, we're digging him out," the father of two told his wife, Jessica, at the dinner table. Their own house had gone unscathed. They called up friends. Within days, 60 people showed up with shovels and buckets.
Turned out, manual labor was enlightening.
"You come out here to help, you stand in the mud and you smell it and your first shovelful weighs like a million pounds," Powell, 49, said.
"Then you totally get it. You go, 'Wow, I really understand what happened here and the magnitude of what it's going to take to fix this. These people are screwed.'"
Neighbors watched in awe as buckets were passed down a line. Helping seemed so doable: Grab a shovel.
Powell's credit cards paid to rent excavators, buy wheelbarrows and storage containers and feed volunteers. He hired a professional conservator to repair photo albums, artwork and documents and leased a giant freezer to rid everything of mold.
Eventually, Powell put his day job aside, applied for nonprofit status and took a large pay cut to become the Bucket Brigade's only employee.
Some days he led crews of more than 400. Others, only two. No one expected the majority of them would be women. The smaller sizes of the group's signature red T-shirts quickly ran out.
Initially, the mud was so deep that you needed boards to walk across it. If you faltered, your boots would sink and get stuck.
"We would work days on one room, because you couldn't get a machine in there so all that dirt had to come out wheelbarrow by wheelbarrow," said Carol Bartoli, a retired chef and caterer who lives in Santa Barbara.
Bartoli is 74 years old, 5 feet tall and about 100 pounds. Two knee replacements, two back surgeries and she is swift and lithe, climbing up dirt piles and combing through debris. She has rarely missed a day.
"I didn't know really that I was capable of doing this," she said. "I just committed and want to see it through to the end."
Regulars know the routine. The excavator scoops up dirt and then "waterfalls" it gently into a new pile. Volunteers sort out possessions, garbage, lumber, rocks — combing through the dirt so it can be hauled away and used elsewhere.
Everyone mentions the bonds that now connect them. They crack jokes and laugh and praise good finds, like photos, birth certificates, stuffed animals.
But the work fatigues. And it can drain.
"We all have our moments — there are still tears out here, eight months later," said Denise Walden Cooper, 54, who owns a skin-care business in Santa Barbara. "Every new work site will kind of take you back, like, what the hell happened here?"
One day, Montecito resident Perm Taylor showed up to watch. She had lost her home along with her husband, son and two grandchildren. Lydia, the missing 2-year-old, was one of them.
Taylor stared at the piles of dirt. Finally, a volunteer approached. The grandmother crumpled against her and sobbed.
***
The missing exist in an abstract world that can encourage optimism.
Maybe they're still alive.
But when you've seen sycamore trees crash down around you, when your home has splintered into scraps, when you wake two football fields away from your living room with gashes in your side — when weeks and months have unfolded with no sign of a tiny girl or a teenage boy, you stop thinking like that.
Drone video: Follow the path of January's Montecito mudslide from the mountains to the sea. (Video by Brian van der Brug/Los Angeles Times)
What you want most is to lay the bodies to rest with respect.
"I have hope they'll find pieces of him — I don't think they'll find all of him," Kim Cantin says. "There was too much broken glass."
It is Wednesday and the 52-year-old is referring to her son as she drives down Olive Mill Road. She points out the window with an arm that bears a V-shaped scar.
"I want to check these debris piles," she says. "I think Jack could be right over here."
Cantin, the director of marketing for a medical company, is authoritative when discussing gruesome realities.
She is like this, she says, because she has to be.
Discovered bleeding in a heap of debris, she spent three weeks in the hospital. Her husband, Dave, a revered Scoutmaster, was found dead on the beach. Her 15-year-old daughter, Lauren, nearly suffocated in mud.
Since then, Cantin has requested cadaver dogs from authorities, requested permission from property owners to scour the premises, offered her DNA when a torso with a head washed ashore and rallied friends to search for a boy who not long ago had taken it upon himself to renovate an elementary school's shoddy basketball courts.
"I've had to put on my executive hat to deal with this, to get my objective, which is to find my son," says Cantin. "Once I find him, I think I will crumble."
She has an inkling that Jack's body is not far from where their cottage with French doors used to stand. If she's wrong, and her son was carried out to sea, she can live with that. The Pacific Ocean is a decent final resting place.
Locating the Bucket Brigade in a backyard where the beeping of construction equipment punctuates the air, Cantin strides up to what today is a group of four, including Powell.
In her hand is a large map that depicts where bodies were found in relation to their homes. She pulls Powell aside and shows him where they should look next. He nods.
"My saving grace has been this community," Cantin says. "I've seen so much human kindness."
She gestures to Ann Burgard, who has just exited the yellow skid-steer.
"Ann's working hard, hard to find my boy," Cantin says.
Burgard, a 53-year-old contractor by trade and a perennial volunteer, is known around here for finding a tattered cosmetic bag with wedding rings that a woman had been longing for.
The story of the jewelry's return was passed around, and friends and strangers celebrated the good fortune. It was, they said, an auspicious symbol. Hope.
The stories shaping California
Get up to speed with our Essential California newsletter, sent six days a week.
You may occasionally receive promotional content from the Los Angeles Times.