As anti-fur sentiment grows, California's oldest trappers are calling it quits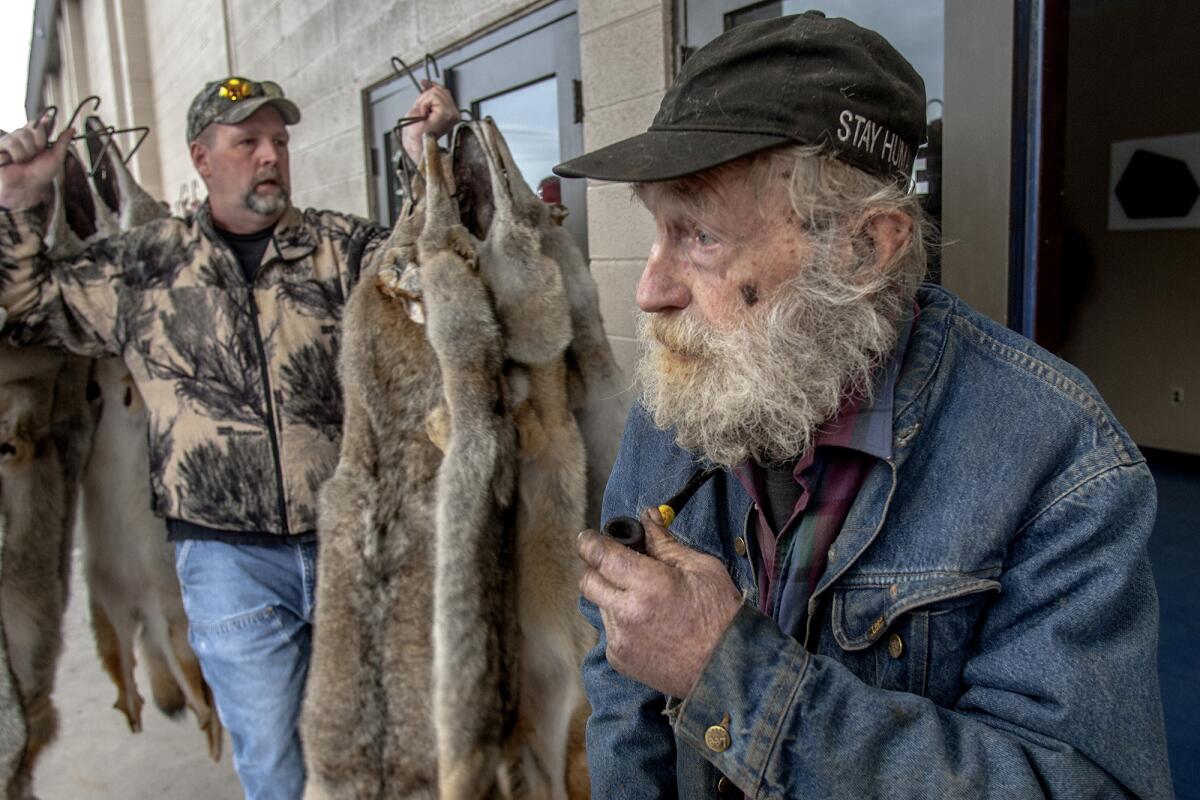 After a lifetime spent trapping animals in California's western Sierra Nevada, Tim Wion traveled to Oregon recently to make one big, final sale at the annual Klamath Falls fur auction.
Unlike his fellow woodsmen, however, Wion wasn't hawking the luxuriant pelts of wolves, bobcats, otters, coyotes, foxes and muskrat. Instead, the 75-year-old was selling off the many foothold traps and fur-stretchers that once provided him a livelihood.

For the record:
11:40 a.m. April 2, 2019This article states that Los Angeles will begin enforcing its fur ban next year. The city's ban takes effect Jan. 1, 2021.
"I've got no use for them," Wion told a reporter. "Trapping is dead in California."
Wion hoped to sell the heavy, rust-flecked devices for $2 each — a steep discount from the $20 he said he paid "back in the glory days, when I trapped 2,000 muskrat a year for 15 consecutive years."
While commercial trapping was once a noble trade that opened the San Francisco Bay Area to international commerce even before the 1848 Gold Rush, its heyday has long since passed.
Today, the few Californians who still make their living by harvesting mammal fur are given to brooding as animal protectionists and mainstream environmental groups place increasing pressure on authorities to outlaw the practice.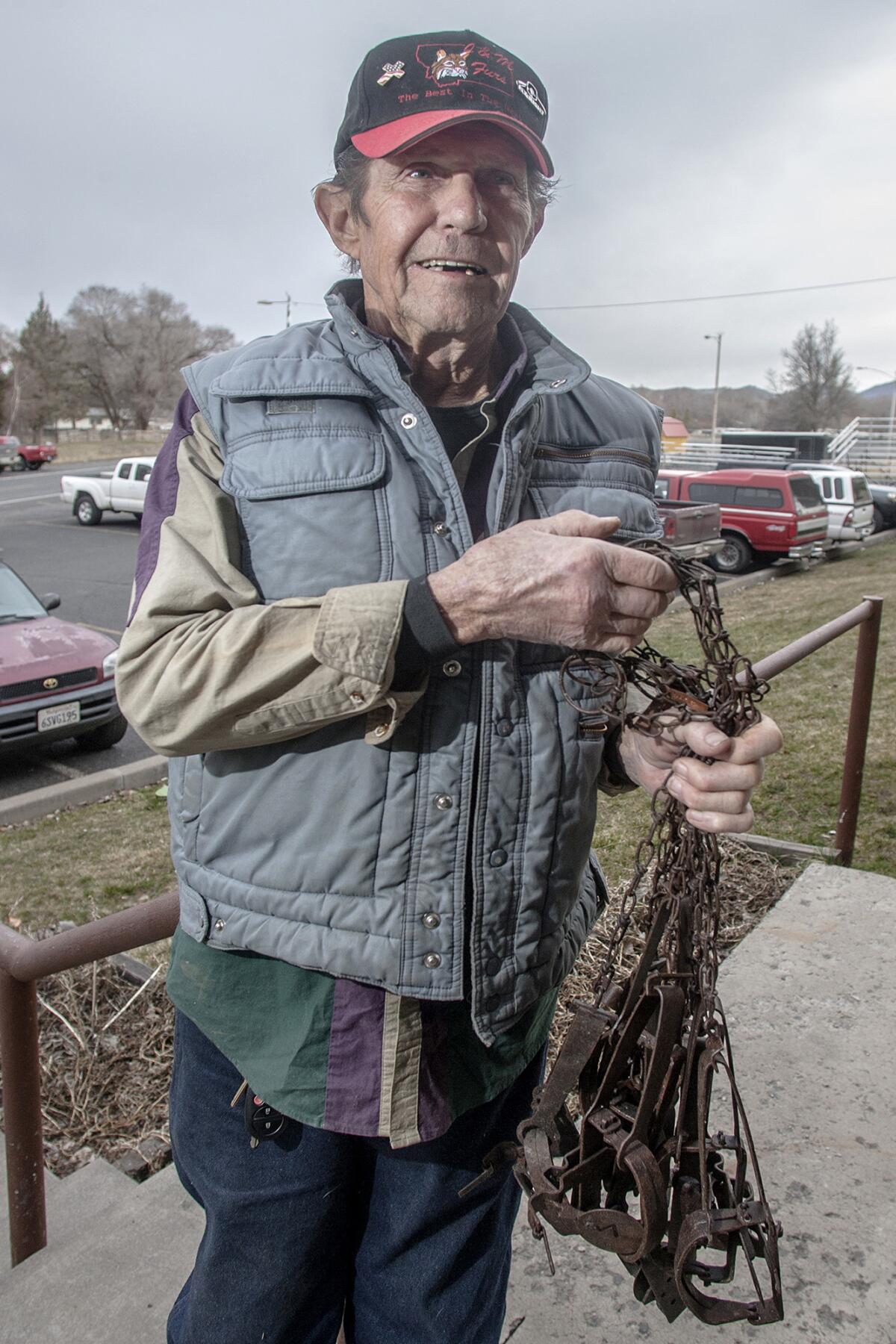 Trappers are anachronistic, animal rights advocates say, and their snares maim pets and subject wildlife to horrific suffering.
"Medieval torturers were skilled at what they did — that doesn't mean we should honor them for their talents," said Brendan Cummings, senior counsel at the Center for Biological Diversity, which led a successful earlier campaign to prohibit bobcat trapping statewide. "Today, we appreciate wildlife alive rather than something to see tortured for a few dollars of private gain."
That kind of talk rankles Reid Aiton, president of the National Trappers Assn.'s California chapter, but he said he's long past the point of arguing.
"My association is not fighting back because trapping is a dead horse in California," Aiton said, "and there isn't a dad gum thing we can do about it."
This has been a particularly rough year for members of Aiton's organization.
A San Francisco ban on fur sales took effect in January, while two bills in the state Legislature seek to ban trapping for commercial purposes and outlaw the sale of fur products statewide. At the same time, a coalition of animal rights activists called Direct Action Everywhere is stepping up demonstrations at fashion shows and department stores.
The city of Los Angeles will begin enforcing its own ban on fur sales next year.
"I've been on the front lines of this battle since the 1990s," Aiton said. "But there will be no fighting this time. I'm 77 and … my health won't allow me to fight one more minute."
"They won. We lost," Aiton said.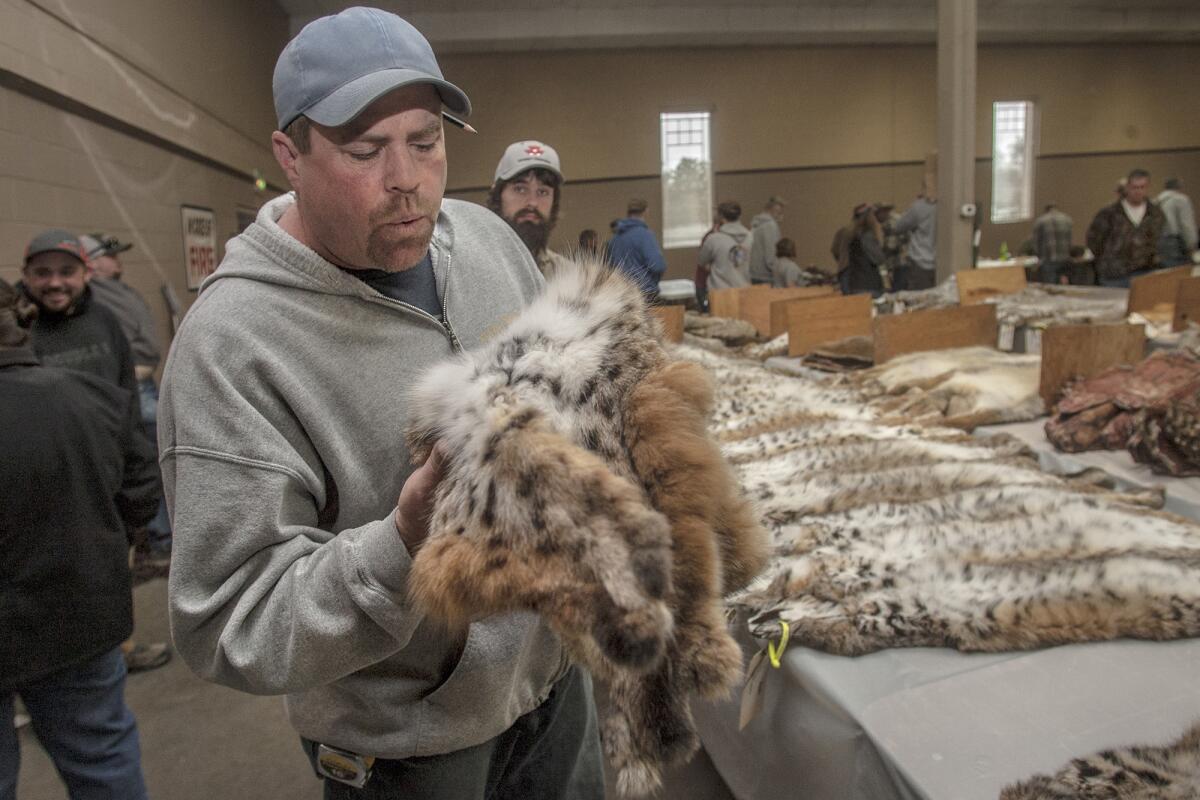 One of the bills slated for a final vote this summer was introduced by Assemblywoman Lorena Gonzalez (D-San Diego), who argues that there are so few active trappers in the state that their license fees no longer cover the expense of regulating the industry.
A total of 68 trappers reported killing 1,568 animals statewide in 2017, according to the most recent data available from the California Department of Fish and Wildlife. Among the 10 species reported taken were coyote, gray fox, beaver, badger and mink.
The revenue received by the Department of Fish and Wildlife for the sale of their trapping licenses was $15,544 and $709 for the sale of fur dealer licenses, officials said. Many of those trapping licenses were held by pest control companies.
Historically, even before California's population ballooned to about 40 million people, fur trapping played a significant role in the extirpation of wolves and wolverines and the severe declines of sea otters, fishers, martens, beavers and other fur-bearing species.
It's that history, in part, that informs the second bill, which was introduced this year by Assemblywoman Laura Friedman (D-Glendale). The proposal would ban all sales of fur and fur products including, but not limited to, "handbags, shoes, slippers, hats, earmuffs, scarves, shawls, gloves, jewelry, and keychains … made in whole or in part of fur."
Opponents of the anti-fur bills include Noelle Cremers, a lobbyist for the California Farm Bureau Federation. She argues that their approval would carry significant economic consequences for the agriculture industry.
"In a historical partnership, we have members who allow trappers on their property to manage wildlife," she said, "which prevents the need to seek special depredation permits from wildlife authorities."
If these bills become law, she said, "pest control businesses will be charging farmers a pretty penny for their services."
Meanwhile in Klamath Falls, a city of 42,000 people nestled on the eastern slope of Oregon's Cascade Mountains, the plight of California fur trappers seemed a world away.
Most of the pelts on sale were purchased by buyers who supply the international fashion industry and markets in China, Russia and Europe, where they are used to make winter hats and coats, said Don Nichols, 78, a spokesman for the event. About 100 trappers a day attended the event, he said.
"What's happening in California is too bad," Nichols said. "We see the problem there as a movement of people who regard wild animals as almost human-like."
Trapping advocate Nick Catrina, who runs a pest control business in Stockton, offers a less politically correct reason for trapping's demise in the Golden State.
"Animal rights activists are terrorist groups, mostly led by lesbians, who destroy property and burn down animal research facilities for their cause," Catrina said. "And progressives, in their march toward communism, are trying to ban trapping. They'll get rid of hunting too after they take over the government of the United States."
None of them, he insisted, understood life in the wild.
"They've never seen the terrible things that happen in nature. They don't know that the sound of a human baby crying drives a coyote crazy with killing instinct," he said.
But for all that bravado and lore, pelt harvesting has been losing support at the California ballot box for decades. In 1990, voters outlawed the hunting of mountain lions. In 1998, voters banned the use of steel-jawed traps. Bobcat trapping was prohibited for recreational and commercial purposes statewide in 2015.
Today, trappers who were taught the secrets of their trade before their teens by older friends and relatives are feeling isolated.
"Old trappers are dying off," Aiton said, "and not being replaced by younger ones."
Milton Brownell, 80, a co-founder of the California Trappers Assn., agrees.
He said he plans to donate his 4,000 traps to people in places where the practice still thrives. Other trappers had shipped their tools to the Trap History Museum in Galloway, Ohio. Wion sold his roughly 100 traps at the fur market in less than two days.
Wion set his first trap at age 9, along a stream in Sutter County. Countless frosty winter days and nights alone on the trap line followed, along with thousands of muskrat, raccoon, beavers and foxes entangled in his snares.
He ended their misery with a low-velocity hollow-point .22 round aimed just behind a shoulder. "A shot like that won't exit the other side of the animal," he said, "and spoil the fur with a bullet hole and blood."
He realized that trapping was in trouble in California when, he said, "I ran out of world — the places I used to trap were covered with new homes and tough laws."
But it remains an obsession he can't seem to shake. Wion keeps a cage trap baited with cat food just outside the front door of his home.
"I catch raccoons, skunks and opossums with it," he said. "Then I take them to the edge of a nearby creek and turn them loose.
"I say, 'Goodbye,' and watch them run away."
Sign up for Essential California for news, features and recommendations from the L.A. Times and beyond in your inbox six days a week.
You may occasionally receive promotional content from the Los Angeles Times.