New L.A. street database to guide cleanup efforts
Ryan Murray, left, tosses trash over a fence as a team of volunteers cleans up a vacant lot on Kingsley Drive in East Hollywood in May 2015 in a monthly meet-up organized by the East Hollywood Neighborhood Council.
(Brian van der Brug / Los Angeles Times)
A team of volunteers cleans up Kingsley Street in East Hollywood in May 2015.
(Brian van der Brug / Los Angeles Times)
Volunteers scoop piles of trash during a monthly cleanup organized by the East Hollywood Neighborhood Council in 2015.
(Brian van der Brug / Los Angeles Times)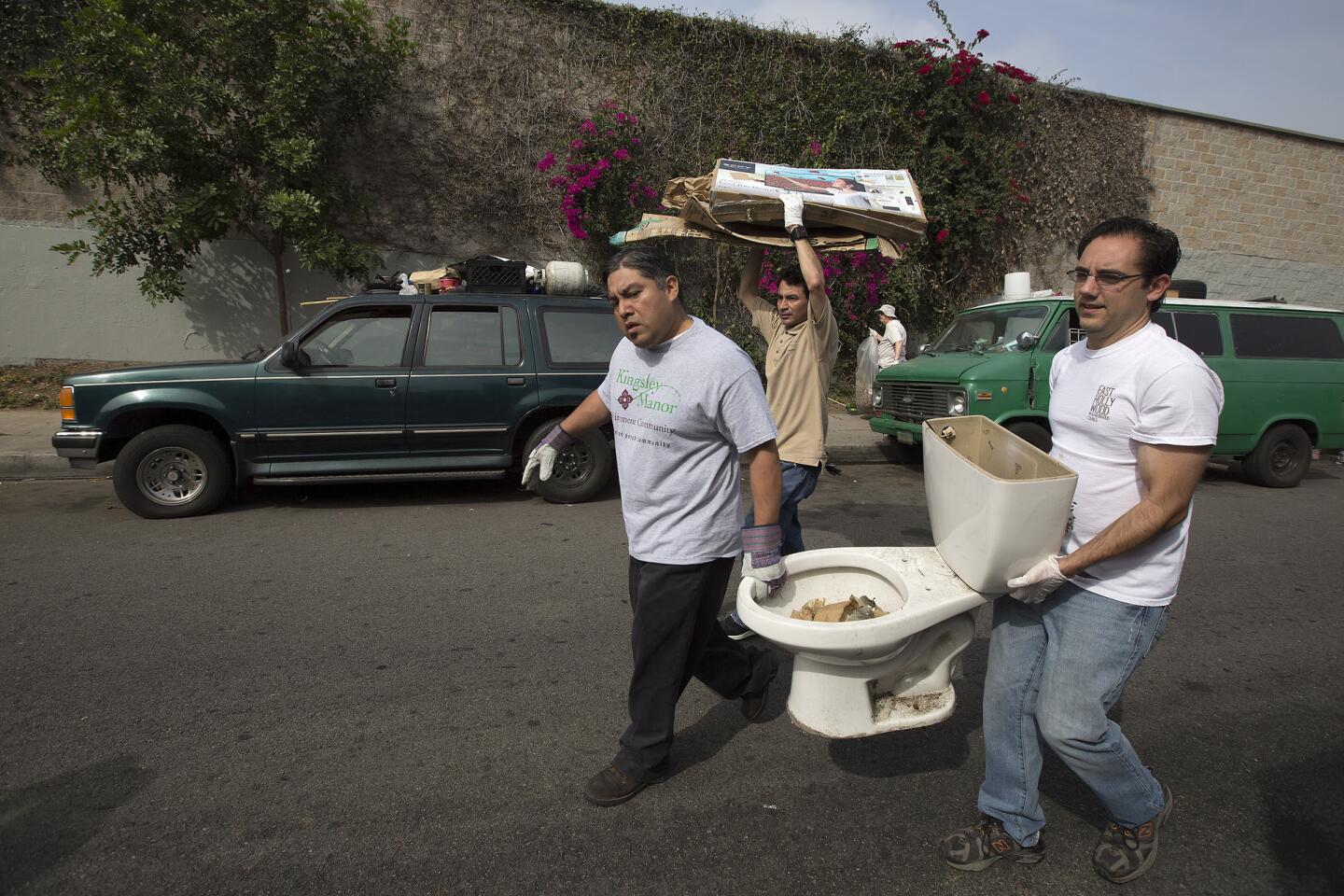 Volunteers carry a discarded toilet and litter collected in a monthly cleanup in East Hollywood in May 2015.
(Brian van der Brug / Los Angeles Times)
City sanitation workers Erik Scott, left, and Cesar Galvez clean illegally dumped trash from an alley in the Green Meadows neighborhood of South Los Angeles in May 2015.
(Irfan Khan / Los Angeles Times)
Volunteers collect debris from an alley at 101st Street and San Pedro in South Los Angeles in July 2014.
(Genaro Molina / Los Angeles Times)
Angie Roman with the FixLA Coalition climbs over trash in an alley at 101st Street and San Pedro during a cleanup in South Los Angeles in July 2014.
(Genaro Molina / Los Angeles Times)
LAPD Officers Junior Nua, left, Art Ashcraft and Shawn Crabbe pick up trash in an alley in South L.A. during a cleanup drive in November 2013.
(Al Seib / Los Angeles Times)
Pedestrians walk past a pile of trash left on Gladys Avenue between 5th and 7th streets in downtown Los Angeles before a sweep by city cleanup crews in June 2012.
(Mark Boster / Los Angeles Times)
A new database measuring garbage on more than 9,100 miles of Los Angeles streets and alleys shows poorer areas of the city see more illegal dumping and litter than affluent ones.
City officials on Friday released details on the far-reaching study, which is designed to help guide the city sanitation bureau to prioritize the grimiest areas and send clean-up crews there.
More than 370 miles of roads and alleys in L.A. — or 4% of all city blocks — were found to be so dirty that they require immediate cleanup, according to the rating system released by the city Friday. An additional 42% of road miles need some form of service.
A little more than half of the dirtiest streets are in Central, East and South L.A. But pockets of filth were found across the city, including east San Fernando Valley, Venice and Wilmington, the analysis found.
Officials aim to clean all the dirtiest locations by 2018, a spokeswoman for LA Sanitation said.
"Prior to this, we had no data to really look [at] to intelligently deploy resources," said Leo Martinez, who oversees solid resource operations for the bureau. "This has given us an incredible amount of knowledge."
A Times data analysis last year found that cleanup of illegal dumping in many poor areas of L.A. lagged behind wealthier neighborhoods.
The findings of the database are not surprising for residents in some working-class neighborhoods, who say that dealing with street trash is a frustrating part of everyday life. Some expressed disappointment about the city's inability to clean up streets.
Last week in Boyle Heights, two city inspectors drove through an alley near Soto and 1st streets where bags of trash, concrete rubble, soiled rugs, shoes and television sets had piled up for months, said neighbor Juan Rangle.
"It looks terrible," he said.
The alley flunked its cleanliness test, said Isaak Flores, one of the inspectors.
Another resident, Eusebio Hidalgo, said he has reported the alley to the city's 311 hotline. Even when city crews cleaned it, new piles of trash would appear — sometimes the next day, he said.
The city's database shows that alleyways accounted for a quarter of the dirtiest areas in the city.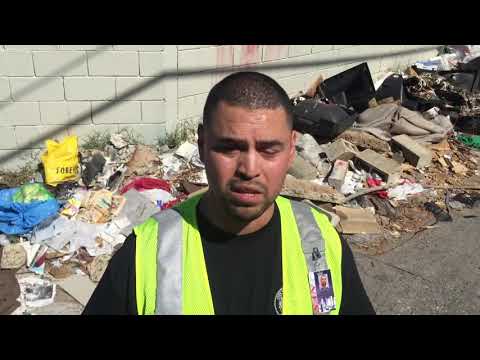 The Los Angeles Bureau of Sanitation will use a data-driven rating system to prioritize the grimiest areas of the city and deploy cleanup efforts there.
On Friday, Councilman Curren Price said his South Los Angeles district has seen all forms of dumping in alleys, including abandoned boats and a cow skull.
Beginning last summer, 10 sanitation inspectors visited every street and alley in L.A. to document cleanliness conditions. They recorded observations on illegal dumping, bulky items, homeless encampments, loose litter and overgrown vegetation, and uploaded photographs from smartphones to a central database.
Based on their assessment, each block received a score of 1, 2 or 3, with 3 being a failing grade.
Cities such as New York, San Francisco and Philadelphia have used street-rating systems for years. Based on photographic sampling of streets and sidewalks, street-cleanliness measurements in New York improved to more than a 90% acceptable rating in 2014, compared with 53% in 1980, according to a city report.
L.A.'s system is unique because it is based on a complete catalog of all city streets, instead of a sampling, Martinez said. Each block will be inspected every three months, he said. City crews are also using GPS tracking of trucks and recording dash camera footage to supplement street ratings.
Due to the sheer size of L.A., which has the largest municipal street network in the country, the city needed to conduct a comprehensive assessment, Martinez said.
Sanitation officials said they modeled CleanStat after the data-centric crime tracking system at the Los Angeles Police Department known as CompStat.
They will hold monthly CleanStat meetings to discuss street conditions and cleanup strategies with representatives from city council offices and community groups. Representatives from the Los Angeles Police Department and the city attorney's office will also be on hand to give input on enforcement efforts, LA Sanitation Director Enrique Zaldivar said.
After The Times' data analysis showed lagging trash cleanups in poor areas, Mayor Eric Garcetti launched an internal investigation into service at LA Sanitation and later ordered agency officials to clear a backlog of tens of thousands of outstanding illegal-dumping requests. The backlog was cleared by November, according to the sanitation bureau.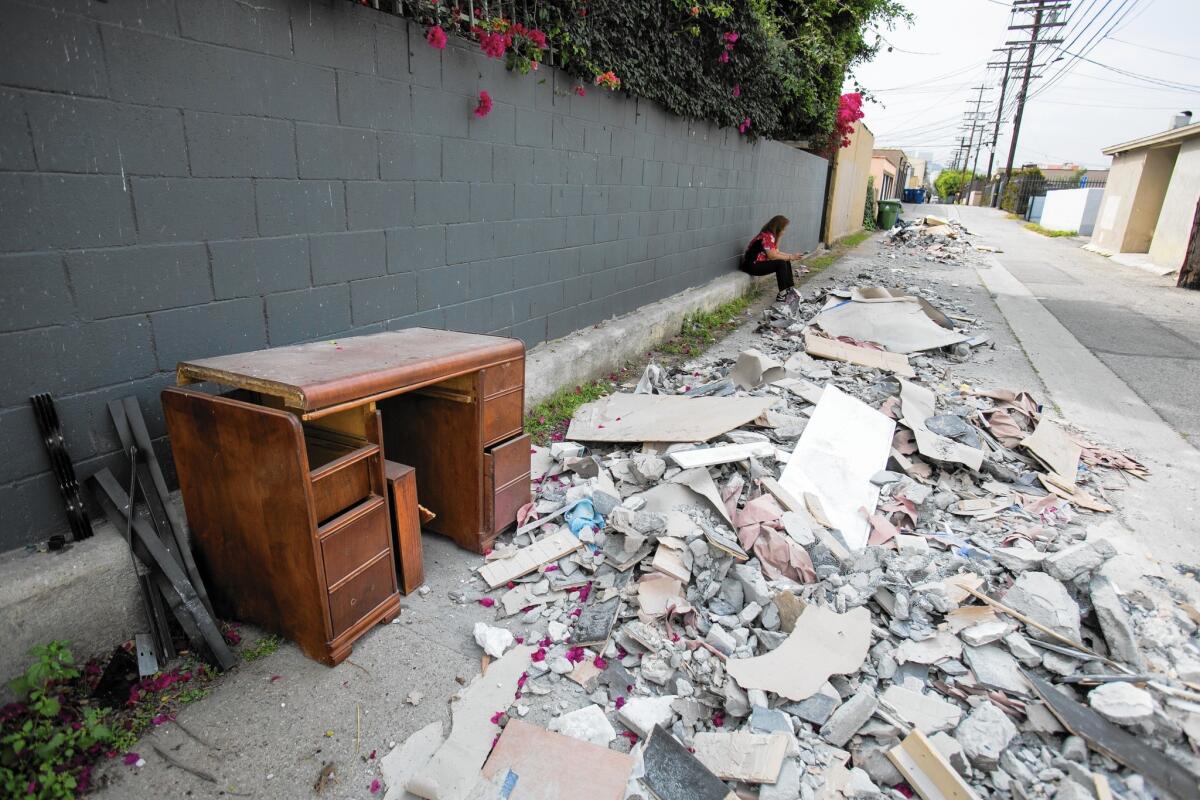 On Friday, Garcetti said the new data confirm that a majority of city streets are clean.
"But that isn't good enough if you live on or near a street in need of urgent service," Garcetti said in a statement. "This data will help us identify trends so that we can anticipate services before they are even requested."
Public Works Commissioner Heather Repenning said the new system would produce a "more equitable deployment of resources so that we are really making an impact on communities that have need."
The database, which cost $805,000 to develop and allows residents to look up conditions of their streets, is part of a larger effort by the city. The City Council approved $9 million for cleanup of illegal dumping this fiscal year.
Last year, Garcetti ordered the sanitation agency to install 5,000 new trash cans over a four-year period after a city report found that L.A. lagged far behind other large cities. The city has installed 300 new receptacles so far this fiscal year, a sanitation spokeswoman said.
ALSO
Cal State and faculty union agree to 10.5% salary raise over three years
Meet the man bringing a controversial basketball court to Runyon Canyon Park
California is now allowing women to get birth control pills without a doctor's prescription
Sign up for Essential California for news, features and recommendations from the L.A. Times and beyond in your inbox six days a week.
You may occasionally receive promotional content from the Los Angeles Times.