Florence Henderson, 'The Brady Bunch' mom, dies at 82
Top row: Christopher Knight (Peter), Barry Williams (Greg), Ann B. Davis (Alice); middle row: Eve Plumb (Jan), Florence Henderson (Carol), Robert Reed (Mike), Maureen McCormick (Marcia); bottom row: Susan Olsen (Cindy), Mike Lookinland (Bobby).
(ABC Photo Archives / Getty Images)
Florence Henderson played Carol on the TV show "The Brady Bunch."
(ABC Photo Archives / Getty Images)
Actress Florence Henderson, shown at an event in 2012.
(Kirk McKoy / Los Angeles Times)
Actress Florence Henderson of "The Brady Bunch," photographed in 2010.
(Jay L. Clendenin / Los Angeles Times)
Alex Trebek, left, and Florence Henderson arrive at the 2015 Daytime Creative Arts Emmy Awards at the Universal Hilton in Universal City, Calif.
(Rich Fury / Associated Press)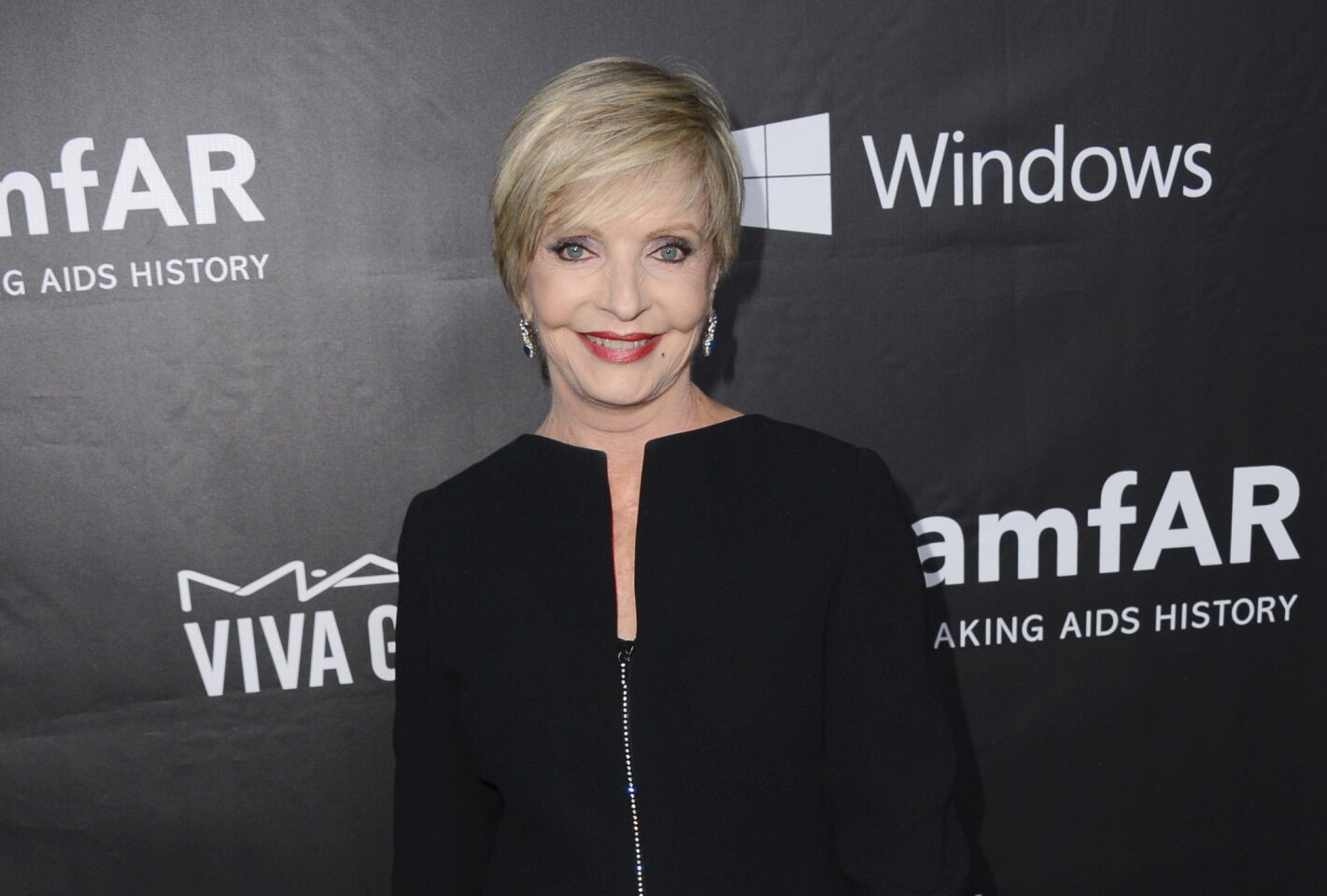 Florence Henderson arrives at the 2014 amfAR Inspiration Gala at Milk Studios in Los Angeles.
(Jordan Strauss / Associated Press)
Florence Henderson arrives for a dinner hosted by Secretary of State John F. Kerry in Washington, D.C., in 2013.
(Ron Sachs / EPA)
Asha Blake, center, juggles plums to the amusement of Jodi Applegate, left, and Florence Henderson during a 1999 photo session.
(Martin Lederhandler / Associated Press)
Florence Henderson, whose portrayal of Carol Brady on "The Brady Bunch" created an idealized mother figure for an entire generation, died Thursday. She was 82.
Henderson died from heart failure about 7:30 p.m. while surrounded by her four children, her longtime manager and publicist, Kayla Pressman, said.
"The Brady Bunch" ran from 1969 to 1974. But the sitcom about a blended family of three girls and three boys growing up under one roof in Los Angeles became a cultural icon, the subject of countless sequels, movies, plays, books, satires, spoofs and memes. Its 1970s fashion has been celebrated and mocked. The Studio City home that served as the exterior for the Brady home has become something of a landmark.
And to many, Henderson's perennially upbeat, smiling Carol Brady was the center of the show, cheerfully mothering her brood in an era when divorce was becoming more common.
Henderson later marveled at the influence of the show and how it changed the lives of the cast. "We had to have security guards with us. Fans were hanging on our doors. We couldn't go out by ourselves. We were like the Beatles," she told the Associated Press.
While Henderson continued to act regularly after the series ended, she said to much of the world, she always was going to be Carol Brady. In a 2010 interview with The Times, Henderson said she still was overwhelmed by the interest in the show.
"I get so much mail from Russia, Poland and from all parts of the world, it's astounding," she said.
Pressman, who had worked with Henderson for 43 years — starting as her personal assistant — said the actress was "the most vibrant, beautiful inside and out person I've ever known in my entire life. We just never left each other. She was so wonderful to be with, and she was most loyal."
Fidelity proved to be one of Henderson's trademarks, she said, adding that the actress stayed with the same business manager from the time she was 18 until he died and then worked with his son. Henderson also had the same agent for more than 30 years. "She keeps long relationships," Pressman said. "I can't say enough about the remarkable person she is."
Henderson was a well-known nightclub entertainer performing in Texas when she was asked to audition for the role that would change her life.
Hoping to jet into Los Angeles, have a screen test for "Brady Bunch" creator Sherwood Schwartz and then get back in time for the evening's shows in Texas, Henderson was delayed by L.A. traffic and rushed onto the Paramount lot two hours late, frantically looking for a makeup artist to get her ready for the test. Finally, she found someone with a few spare minutes — on the set of "Star Trek."
"I was sitting in a makeup chair between William Shatner, Leonard Nimoy and like six or eight space monsters. None of them had any idea who I was or made any attempt to be friendly, which really bugged me," she recalled in TV son Barry Williams' 1992 memoir, "Growing Up Brady."
Bothered by what she believed to be a shoddy makeup job, Henderson joked through the screen test about how bad she looked, and Schwartz, impressed with her comic timing, gave her the role.
"Maybe I should thank that terrible makeup man because in a way, his botch job helped me get the part," she said in the book.
Henderson's work as Carol Brady on the series, which ran from 1969 to 1974, and her slyly sexy chemistry with co-star Robert Reed made the show thrive. The pair helped broaden acceptance of blended families. Carol, a single mother of three daughters, was married to Mike Brady, a single father of three sons.
Born in 1934 on Valentine's Day, in Dale, Ind., Henderson was the youngest of 10 children of a homemaker and a tobacco sharecropper.
She later joked in a 2010 interview with The Times that she came out of the womb singing. By age 2, she knew 50 songs by heart.
"I don't remember ever not singing," she says. "My mother loved music, and she taught me songs, country music, spirituals. I would sing for people and pass the hat when I was 4."
She began her show business career at 17, when she attended New York's American Academy of Dramatic Arts. Henderson left the school after her first year because she got a job in the chorus of the Broadway musical "Wish You Were Here," directed by Josh Logan. She segued from the chorus to the lead role in the final national touring company of Rodgers and Hammerstein's "Oklahoma!"
Logan remembered her from "Wish You Were Here" and cast her in the lead role of the 1954 musical "Fanny" with Ezio Pinza and Walter Slezak.
She appeared in other Broadway musicals, including Noel Coward's final musical effort, 1963's "The Girl Who Came to Supper." From 1959 to 1960, she was the "Today Girl" on the "Today" show, presenting weather and light news stories. Later, she was the first female guest host of "The Tonight Show Starring Johnny Carson" in the 1970s.
After her years on "The Brady Bunch," Henderson became a commercial spokeswoman and co-produced "Country Kitchen," a Nashville Network series.
Besides her Brady clan, Henderson had children of her own. In the 2010 Times interview, she said she still kept up regularly with members of her TV family.
"When I was in New York, I spent time with Eve Plumb [who played Jan]. I am always in touch with Susan Olsen [Cindy], the youngest, and Chris Knight [Peter]."
Friends and fans marked her passing on Twitter. The actress who played daughter Marcia on the show, Maureen McCormick, said: "You are in my heart forever Florence."
Henderson was also known as an advocate for gay rights. The actor who played her husband on the "Brady Bunch," Robert Reed, was gay and suffered from AIDS when he died of cancer in 1992.
Henderson said in a 2014 interview with Gay Star News that if the show were being made today, she hoped the Mike Brady character would be openly gay.
"At the time that we actually did the show, they wouldn't have addressed that," she said. "But if the show were on today, I think it would definitely be addressed. After all, their father was gay."
Susan King and Todd VanDerWerff contributed to this report.
For more Southern California news, follow me on Twitter: @newsterrier.
ALSO
Paul Sylbert, Oscar-winning production designer for 'Heaven Can Wait,' dies at 88
Ralph Branca, Brooklyn Dodgers pitcher who gave up 'the shot heard round the world,' dead at 90
Los Angeles music writer, proto-punker and sharp dresser Don Waller has died
---
UPDATES:
1:26 p.m: This article was updated with information about Henderson's gay-rights activism.
8 a.m. Nov. 25: This story was updated with more details, context.
11:35 p.m.: This article was updated with staff reporting.
10:40 p.m.: This article was updated with background information on Henderson's career.
This article was originally published at 10:05 p.m. Nov. 26.
---
The stories shaping California
Get up to speed with our Essential California newsletter, sent six days a week.
You may occasionally receive promotional content from the Los Angeles Times.