San Diego is struggling with a huge hepatitis A outbreak. Is it coming to L.A.?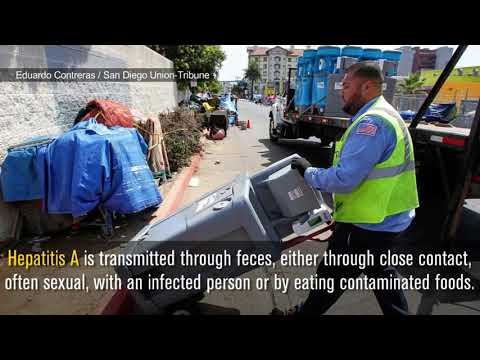 In an effort to combat a deadly hepatitis A outbreak, San Diego will begin washing streets in downtown. (Sept. 18, 2017) (Sign up for our free video newsletter here http://bit.ly/2n6VKPR)
Health officials in San Diego have scrambled for months to contain an outbreak of hepatitis A — vaccinating more than 19,000 people, putting up posters at bus stations and distributing hand sanitizer and cleansing wipes.
Despite those efforts, 16 people have died of the highly contagious virus in San Diego County and hundreds have become ill in what officials say is the nation's second-largest outbreak of hepatitis A in decades.
Earlier this month, San Diego officials declared a public health emergency.
Though Los Angeles has so far escaped an outbreak, public health officials are hoping to head off a similar emergency. They say the virus could easily spread to Los Angeles because of its proximity to San Diego and the region's large homeless population.
San Diego opens downtown restrooms amid hepatitis A crisis »
"We know it's getting worse in San Diego, so we're really ramping up," said Cristin Mondy, the county's area health officer for a region that includes downtown Los Angeles.
In their efforts to get their outbreak under control, San Diego health officials have adopted a technique from L.A. that they hope will stop cases from spreading locally: washing the streets with bleach.
"They didn't have any outbreaks. We did. So we were like, 'What's going on there?' " said San Diego County public health officer Dr. Wilma Wooten. "That's what we wanted to replicate here."
Several hundred infected in San Diego
Hepatitis A is transmitted through feces, either through close contact, often sexual, with an infected person or by eating contaminated foods. The virus can cause liver damage or even death, especially for people who already have other liver diseases, such as hepatitis B or C.
San Diego health officials first identified an outbreak in March but traced the first case back to November.
Since November, 421 people in San Diego County have been infected with the virus, including the 16 who died, health officials said. Typically there are only two or three cases of hepatitis A per month in the county. The majority of those infected in the ongoing outbreak were either homeless or illicit-drug users, with cases concentrated in downtown San Diego and the cities of El Cajon, Santee and La Mesa, Wooten said.
A related outbreak began in Santa Cruz County as well this year, where 69 people have been infected by the same strain of hepatitis A so far, she said. Though hepatitis A is often contracted through contaminated food, the strain circulating in San Diego and Santa Cruz isn't associated with food, but instead seems to be spreading from person to person, she said.
"We know that the numbers are going to increase, and they've been increasing since we first identified the outbreak," Wooten said.
Since the spring, San Diego officials have put together a command center that meets once a week to map strategy. They investigate every case to find out who else might have been exposed and give them medicines. They sent out an alert Friday to try to locate anyone who might have caught the virus from an infected patient at a restaurant in Pacific Beach.
Workers have also visited homeless encampments and riverbeds to vaccinate thousands of people. Earlier this month they installed 40 hand-washing stations in areas of the city of San Diego with high homeless populations.
Unsanitary conditions make it more likely for hepatitis A to spread. A common way for the virus to be transmitted is when an infected person uses the bathroom and doesn't wash their hands, experts say.
San Diego outbreak
began in Nov. 2016
421 people infected
292 hospitalized
16 died
patients ages range from 5 to 87
65% of cases in homeless or illicit drug users, or both
68% of cases were men

Sources: San Diego County Health and Human Services Department
Wooten said that over the summer she looked into ways that other health departments manage disease risk, especially those with big homeless populations. That's when she learned that L.A. not only washes streets with water, but sanitizes them with bleach.
On Monday, San Diego crews began cleaning streets with a bleach solution, she said.
"We know that individuals here are ill, they're on the streets, and there's fecal material on the streets," Wooten said. "Sanitation is going to help that."
County health officials and city leaders will visit L.A. next week to see the practice firsthand, she said.
Gonzalo Barriga of the Los Angeles Department of Public Works said the protocol, known as Operation Healthy Streets, began after the city was cited in 2012 for multiple health hazards on skid row.
Now, city workers regularly clean sections of sidewalk in the neighborhood, with each street getting washed every two weeks, he said. Inspectors ask homeless people to remove their belongings from an area. Then they spray a bleach solution on any biohazards or waste on the street, such as feces or syringes, and dispose of them, said Barriga, who oversees the inspectors.
Then they wash the streets with water, followed by misting with a liquid that's about 10% bleach, he said.
Los Angeles could be the next region hit
Cleaning the streets is especially important because health workers have been struggling to get people vaccinated against hepatitis A, Mondy said. Typically only children and people at high risk are vaccinated for hepatitis A, but the county is now recommending vaccines for all homeless people as well as illicit-drug users.
Cases of hepatitis in the United States have hit historic lows since a vaccine was introduced in 1995. Since then, there's been only one outbreak bigger than San Diego's, in which more than 900 people were infected after eating contaminated green onions served at a restaurant in Pennsylvania in 2003.
In Los Angeles County, 55 people have been diagnosed with hepatitis A since November, which is in line with the average case numbers for previous years, according to data from the health department. Five of the people infected lived in either San Diego or Santa Cruz counties when they were exposed, officials say.
Mondy said many people she approaches about getting a hepatitis shot don't feel a sense of urgency because there's no outbreak in L.A. So far county health officials have given out 1,000 vaccines, but they're considering offering restaurant gift cards as an incentive to get more people to get inoculated.
Mondy said officials are targeting soup kitchens and clinics near Union Station and the downtown Greyhound bus station, because that's where people are likely to arrive from San Diego.
"We're trying our best to prevent this outbreak from happening," she said. "We can see that there's potential based on what's going on in San Diego and Santa Cruz, so we're making sure that our population is protected."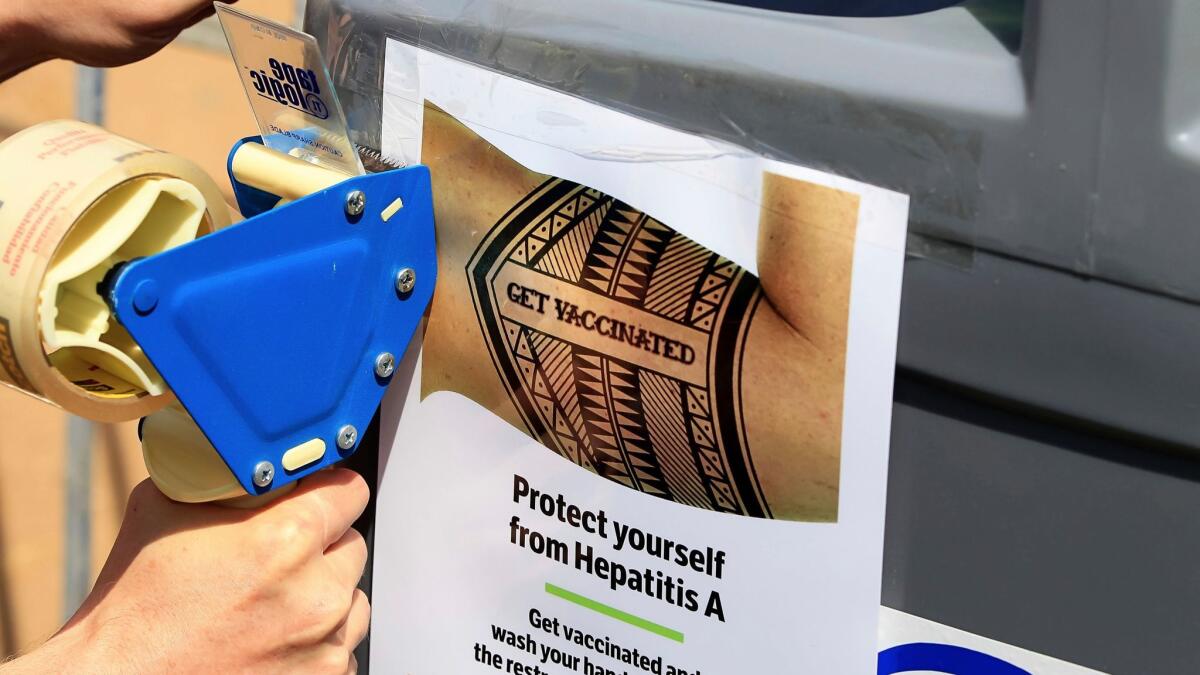 soumya.karlamangla@latimes.com
Twitter: @skarlamangla
ALSO
In San Diego, hundreds line up for hepatitis A vaccinations after deadly outbreak may have hit restaurants
Death toll from San Diego hepatitis outbreak rises to 16, with 292 people hospitalized
Medi-Cal programs to the state: Can we stop printing and mailing directories the size of phone books?
Knocking on doors, climbing through fences: How L.A. County's health investigators are out trying to stop syphilis
Sign up for Essential California for news, features and recommendations from the L.A. Times and beyond in your inbox six days a week.
You may occasionally receive promotional content from the Los Angeles Times.