In San Diego, hundreds line up for hepatitis A vaccinations after deadly outbreak may have hit restaurants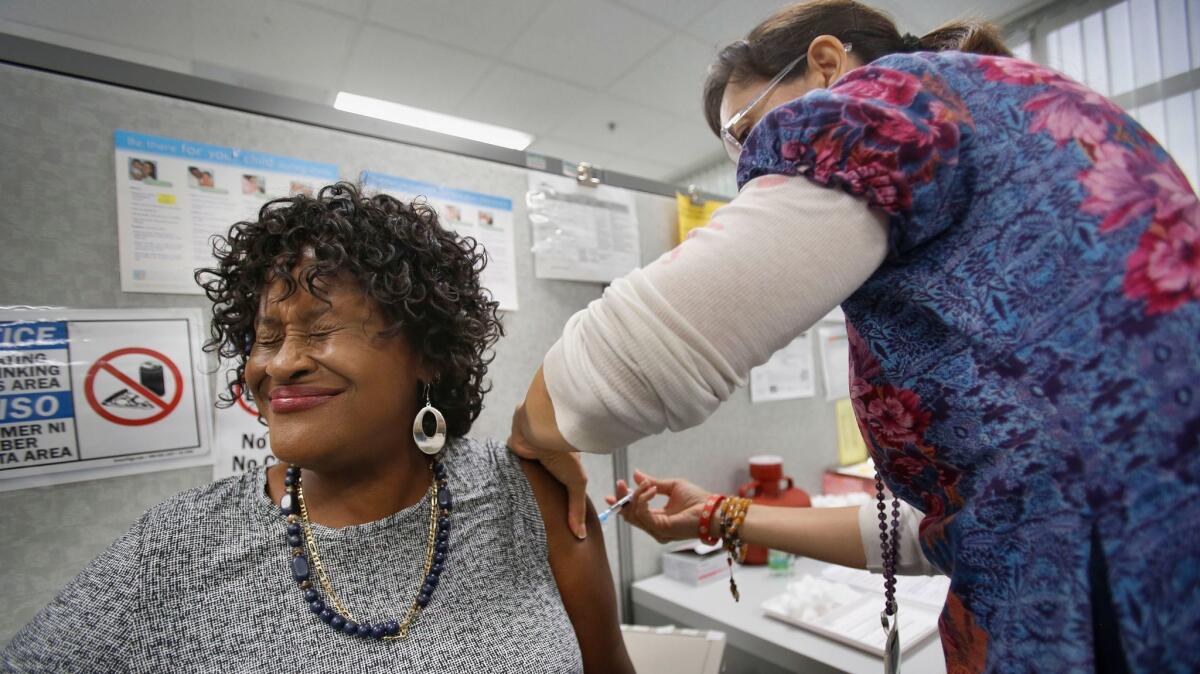 After news that San Diego's deadly hepatitis A outbreak may have infiltrated the food service industry, more than 200 people this weekend lined up for vaccinations as restaurants reinforced their health safety measures.
"All eyes are on San Diego," Steve Zolezzi, president of the Food & Beverage Assn. of San Diego, said of the outbreak, one of the nation's largest in decades, which prompted county officials to declare a local public health emergency earlier this month.
Miguel Valle, a 65-year-old resident of East San Diego, was one of dozens who lined up early to get a free vaccination at the county's North Central Public Health Center on Saturday, many of them fearful they may have been exposed at a Pacific Beach restaurant.
"I've got things to do this morning but I wanted to get this taken care of, get some peace of mind," said Valle.
On Friday, San Diego County health officials advised the public that anyone who ate or drank at the oceanfront World Famous restaurant on seven specific dates and times may have been exposed to a person with the hepatitis A virus.
Valle and nine of his friends ate appetizers at the restaurant on Aug. 28, one of the dates on the list.
"I'm a little angry because I have to go through this, but I'm not faulting the restaurant," said Valle. "It's better to be safe than sorry."
Keith Knight, 52, of Pacific Beach agreed: "It's easier to be vaccinated than to be treated."
By the time the health center closed at 2 p.m., 225 people had received inoculations.
"We're in the midst of an outbreak and anybody who comes here who wants to get the shot, even if they didn't eat at the restaurant, we're going ahead and giving them the shot," said Dr. Eric McDonald, director of the county's epidemiology and immunization services branch.
Erik Berkley, general manager at World Famous, said Saturday it has not been confirmed if the person connected to the restaurant does in fact have hepatitis A. He would not say if the person is an employee "because I want to protect that person as much as I can."
"What we do know is, the individual in question, that person's spouse was confirmed to have the virus," Berkley said.
World Famous shut its doors Tuesday after being notified of possible exposure. Berkley said county health inspections found no evidence of hepatitis contamination, but the restaurant, in an abundance of caution, hired a private hazardous materials company to perform a deep cleaning.
World Famous reopened Wednesday and a slow but steady of stream of customers showed up Saturday.
Business "has been off a little bit, which is natural I think in this scenario, but the community's been wonderful and there's been a lot of support for us," Berkley said.
The latest development added another level of anxiety in a health crisis that has put an increasing number of San Diego-area residents on edge.
The outbreak of hepatitis A, a liver infection caused by a virus that is highly contagious, has killed at least 16 people in the area and at least 421 cases have been detected, leading to 292 people being hospitalized.
Nikolewski writes for the San Diego Union-Tribune.
ALSO
Homeless man beaten with skateboard in 'unprovoked' attack is placed on life support, San Diego police say
Will the Southland wind up holding much of the $17-billion bill for the delta water tunnels?
A Whittier businessman is a suspect in 3 execution-style slayings in L.A. and Las Vegas, police say
Sign up for Essential California for news, features and recommendations from the L.A. Times and beyond in your inbox six days a week.
You may occasionally receive promotional content from the Los Angeles Times.