L.A. city, county will expand homeless outreach on skid row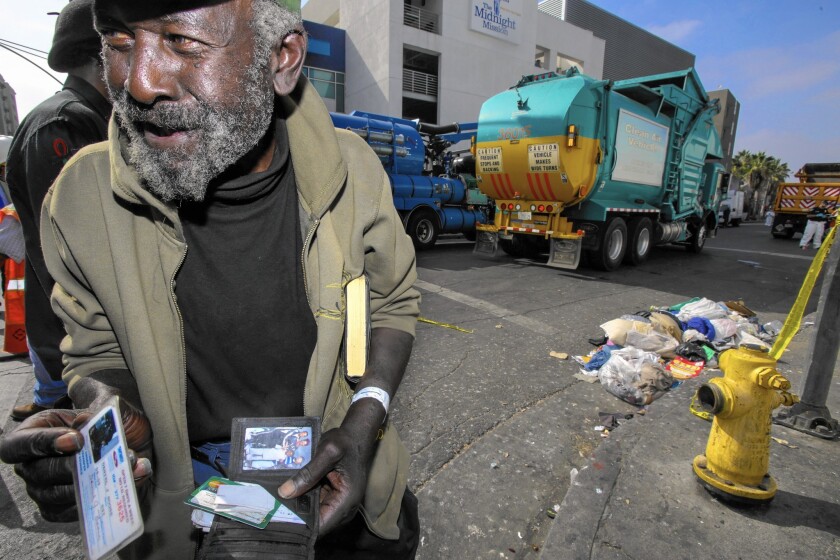 Los Angeles city and county are combining to expand homeless outreach teams on skid row, with a goal of cutting the area's long-entrenched population by 25% this year, officials said Tuesday.
City Councilman Jose Huizar filed a motion asking that $200,000 of his discretionary funds go to hiring a logistical manager to set up four six-person teams of mental health, medical and substance abuse professionals operating in the streets five days a week.
County Supervisors Mark Ridley-Thomas and Hilda Solis are each contributing $100,000 to pay for clinical oversight of the teams, which will provide treatment, housing assistance and other services, a Ridley-Thomas spokeswoman said.
"We're so behind in addressing this," Huizar said.
Interested in the stories shaping California? Sign up for the free Essential California newsletter >>
The outreach teams began every-other-month visits to skid row a year ago, but were quickly overwhelmed by the downtown area's swelling homeless population, the most concentrated in the U.S, said Marc Trotz, director of the county's Housing for Health program. Four months ago the teams began weekly forays, but it still wasn't enough, he said.
"There's a lot of disconnected outreach going on that in no way matches the need," Trotz said. Los Angeles police counted 1,900 homeless people on skid row in June, approaching a record for the 50-block district.
Trotz said the total budget for the expansion, including in-kind personnel support from county departments, approaches $3 million and is expected to grow, as the county considers additional services, including sober centers, an outreach hub, enhanced recuperative care programs and transitional housing.
Organizers hope to launch the expansion by the end of September, he said.
"We do hope skid row looks very different in six months, in a year," Huizar said.
The outreach expansion comes as Mayor Eric Garcetti prepares to release a "battle plan" for ending homelessness in the city. The plan includes $1.35 million to further expand outreach teams in hard-hit neighborhoods, including skid row, Garcetti spokeswoman Connie Llanos said in an email Tuesday.
Critics said expanding outreach will have little value unless the city and county fund more housing for indigent people.
"The city doesn't need GPS to find homeless people," said Mark Rosenbaum, director of Opportunity Under Law Initiative at Public Counsel, a Los Angeles-based pro bono law firm.
"If there's no housing at the end, they could have 200 outreach workers, and they're not going to take people off the streets," said Rosenbaum, who has represented homeless people in legal cases.
The city has about 13,000 permanent supportive housing units, with 80% occupied as of January, according to the Los Angeles Homeless Services Authority.
While Trotz agrees that more housing is needed, his program has placed nearly 1,000 homeless people in apartments on skid row, in South Los Angeles, the San Fernando Valley and the Antelope Valley, he said.
"Clearly the biggest resource is housing," Trotz said. "But it actually does take a fair amount of consistent work to get people off the street, get them the care they need, into interim housing and track them and make sure they move into permanent housing."
Huizar said the city is also considering increasing its homeless resources, adding shelter space and interim housing. He represents much of downtown including skid row and sits on the council's new homelessness committee.
"This is not the solution to end homelessness, but it's one of many tools," Huizar said.
Twitter: @geholland
MORE ON HOMELESSNESS
L.A. councilman takes aim at tiny houses on wheels
L.A. County has its most accurate count yet of its homeless population
Justice Department asks judge to block enforcement of homeless camping ban
---
For reporting and exclusive analysis from bureau chief John Myers, get our California Politics newsletter.
You may occasionally receive promotional content from the Los Angeles Times.