Archivist of the Korean American experience says goodbye to print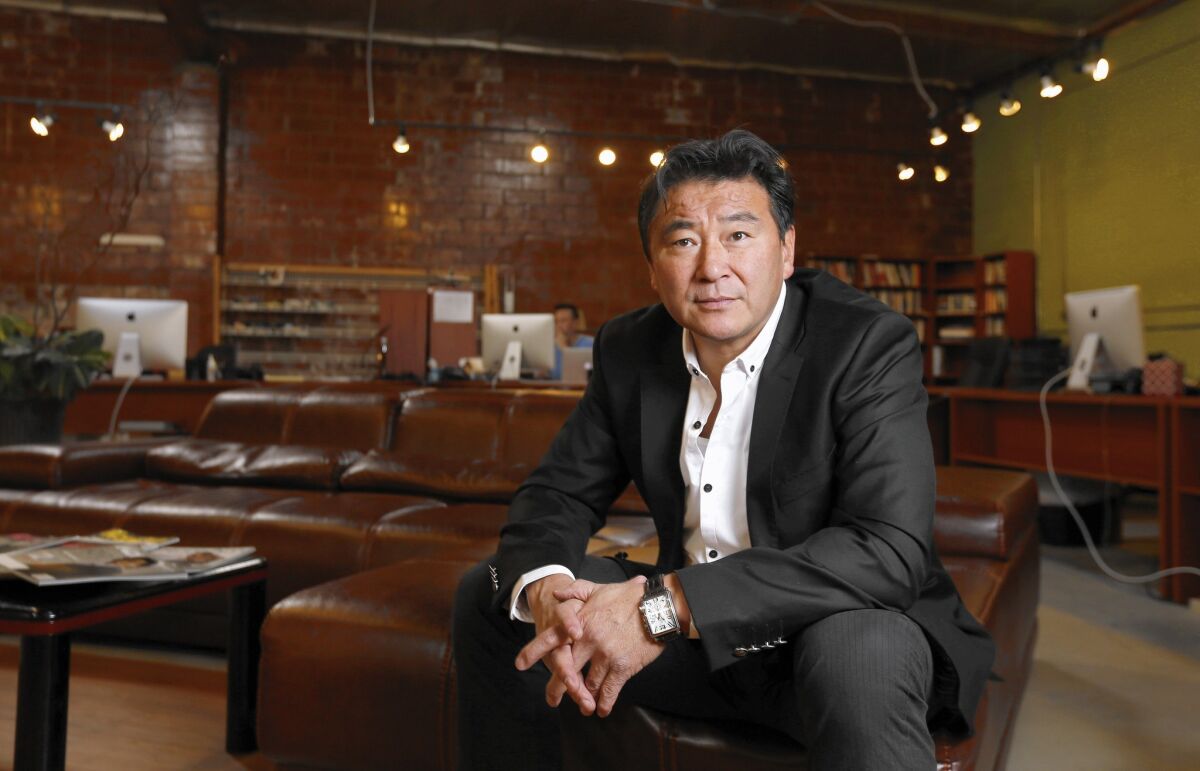 In a sense, it's like James Ryu is back where he was 25 years ago.
In the Gardena warehouse offices of KoreAm Journal, the English-language Korean American magazine he started in 1990, it's down to Ryu and an assistant mailing back subscription checks.
It was a skeletal operation in its first days too, when Ryu himself developed photos in the darkroom, ran the postage machine and hand-delivered issues to local restaurants.
In the intervening years, as the magazine blossomed, second-generation Korean Americans cinched Emmys, won golf and football championships and rose to political office. Korean Americans have shaken up the culinary and pop culture scene and have recovered from, if not forgotten, being hated and having their businesses looted and burned to the ground in the L.A. riots in 1992.
KoreAm charted and encouraged that coming of age in its pages, first as a news tabloid, then as a glossy magazine that almost always featured a Korean American on the cover at a time when Korean Americans were seldom found elsewhere on newsstands.
It continued to eke out an existence even as other English-language Asian American outlets went out of print one by one – A. Magazine, Yolk, AsianWeek.
This month, KoreAm published its final issue. It was acquired last year by London Trust Media, a virtual private network and entertainment company with no other publishing or media component, and the new owners laid off all remaining staff members this summer.
KoreAm and its sister publication, women's lifestyle magazine Audrey, will continue in some online format, but Ryu has yet to figure out what that is. Ryu, who will stay on as publisher, says it will likely be shareable videos and interviews rather than the long-form writing and in-depth profiles KoreAm was known for. Stephanie Lee, wife of London Trust Media's founder, is joining him as co-publisher.
"We knew it was just a matter of time," Ryu said.
The publication, which was printing 10,000 copies with up to 7,000 paying subscribers, had been losing money for some time, Ryu said. Advertisers preferred Korean-language publications, thinking English-speaking second-generation Korean Americans would be captured by their mainstream media product pitches.
"We got lost in the mix," he said. "We don't get ad dollars from either side."
The challenge is not unique to the Asian American community. Tu Ciudad, an English-language magazine targeting second- and third-generation Latinos published by the parent company of Los Angeles Magazine, lasted less than four years before folding in 2008.
The folding of KoreAm as a magazine comes at a time when second-generation Korean and Asian Americans are more visible than ever.
In 2015 alone, Los Angeles elected its first Korean American city councilman, two Asian American sitcoms debuted on network television and a K-pop (Korean pop) convention in Los Angeles drew a crowd of more than 50,000 to Staples Center.
The ratings and measurement firm Nielsen released a report earlier this year finding that the rapidly growing Asian American buying power was projected to reach $1 trillion by 2018.
Popular blogger Phil Yu says he feels the growing demand for content about and for Asian Americans. He gets a half-million page views a month on his Angry Asian Man blog, which he started 15 years ago as a place to air his thoughts. It now occupies him full time.
Yu said he's received e-mails from Asian American teens who say they're one of the few Asians in their school and that reading the blog makes them feel connected to others around the country.
That isn't unlike how Yu felt when he first came across KoreAm in its early days, he recalled.
"I was clearly in their demographic," he said.
When he started the publication, Ryu was creating something his younger self would have wanted while growing up in remote parts of Ohio and Oregon, where there were few Asian or Korean Americans.
At the end of its first year, Ryu wrote to readers that KoreAm was "serving the needs of our community by communicating between the Korean- and English-speaking Korean Americans."
It was only in hindsight, going through the trove of past issues to put together the last, retrospective edition, that he realized KoreAm's role was "archiving the history" of the Korean American experience, Ryu said.
Comedian Margaret Cho is among the people whose careers the magazine has chronicled.
Cho wrote in an e-mail that at one time, it seemed almost every issue of the magazine mentioned her at least once.
"KoreAm has always made me feel validated, that my experience of being Asian American existed, and my image could finally be reflected back in the mirror of its pages," she wrote.
Julie Ha, who worked for KoreAm for a decade as editor-in-chief, contributing editor and writer, said she had been grieving that "KoreAm as we know it has died."
"But I know that there are many people who still feel the need for a distinctly Korean American voice," Ha wrote in an e-mail. "There's still so much of our journey to explore and document."
ALSO
Even for the active, a long sit shortens life and erodes health
UCLA turned into corn meal by Nebraska in Foster Farms Bowl
1,200-acre brush fire north of Ventura is 60% contained; evacuation orders lifted
The stories shaping California
Get up to speed with our Essential California newsletter, sent six days a week.
You may occasionally receive promotional content from the Los Angeles Times.