Overall crime is up in L.A. for the second straight year, LAPD reports
The Los Angeles Police Department's decision to flood the city's deadliest neighborhoods with more officers has managed to slow the pace of killings and shootings in recent months.
But the department still faces a continuing rise in assaults, robberies and property offenses, marking the city's second straight midyear increase in overall crime.
LAPD Chief Charlie Beck and Mayor Eric Garcetti acknowledged the problem at a news conference Friday, saying they are making progress in high-crime areas but can't indefinitely focus on only those neighborhoods.
"It robs too many resources from too much of our city," Beck said. "My job is very much about triage."
The jump in overall crime comes at a crucial moment. Residents across the city are both frustrated and alarmed by the uptick. Police and others are keeping a wary eye on the weeks ahead, worried that August will be as bloody as it was last year.
The difficulty driving down crime presents a potential political challenge to Garcetti as well, coming as the mayor seeks another term in office and continues his rise on the national stage. Next week, he is scheduled to speak at the Democratic National Convention.
"Public safety is the No. 1 issue for cities and mayors," said Fernando Guerra, who heads the Center for the Study of Los Angeles at Loyola Marymount University. Still, he said, surveys conducted by Guerra's research center show that public perceptions of safety have remained positive over the past three years, which bodes well for Garcetti's re-election campaign next year.
Through July 16, overall crime rose 6.3% across the city compared with the same period last year, LAPD records show. Property crime was up 3.8% and violent offenses climbed by 15.9%.
Violent crime was led by a 19.2% jump in aggravated assaults and a 16.8% increase in robberies. Police reported the same number of homicides as last year — 142. Across the city, 586 people have been shot — one fewer than during the same period in 2015.
Officials have pointed to a variety of factors they say have contributed to the jump in crime: more gang violence, a rising homeless population and Proposition 47, the 2014 law that reduced some drug possession and property crimes from felonies to misdemeanors.
The local rise continues last year's trend across California. Statewide, violent offenses jumped 10% and property offenses 8% compared with 2014, according to the attorney general's office.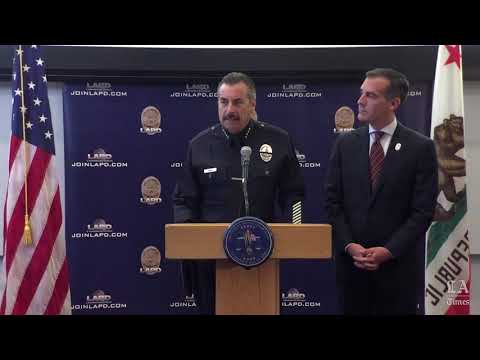 LADP Chief Charlie Beck talks about how his department has had to adjust to deal with climbing crime statistics.
The Los Angeles County Sheriff's Department also reported increases this year, with an 8.4% rise in violent crimes and a 6.8% increase in property crime through the end of June. LAPD officials have stressed that despite the rise in crime in recent years, Los Angeles is still a safer city than it was decades ago.
LAPD brass have spent more than a year trying to drive the numbers down, doubling the number of specially trained Metropolitan Division officers to suppress crime in hot spots and increasing intervention efforts to prevent gang violence. Garcetti said he felt increased urgency in late March, when a daily crime report showed a 32.7% rise in killings across the city.
"We saw things spiraling out of control," he said. "I said, 'Look, we are doing things that I believe will pay off over time, but we've got to do something more radical right now.'"
The LAPD created a command center focused on the four South L.A. divisions that accounted for nearly half of the city's killings and shootings: 77th Street, Southeast, Southwest and Newton. The command center, staffed around-the-clock by LAPD brass, allowed police to more quickly move officers and other resources across the divisions to prevent retaliatory attacks and try to stop other crimes before they occurred.
More Metro officers were moved in. The division's officers pulled nearly 300 guns off the streets in recent months, Beck said. Motorcycle cops also flooded the streets, helping investigators track down vehicles used in robberies or other crimes.
Those efforts started to have an effect, Beck said.
Shootings, which had spiked earlier this year, started to drop. Killings steadily fell. In early June, the city went a weekend without a homicide and no one was shot in two LAPD bureaus. It was, Beck told police commissioners, "the first time in my memory that this has occurred."
But crime continued to climb in other areas, such as the LAPD's Hollenbeck Division, which covers Eastside communities like Boyle Heights and El Sereno. Fifty-seven people have been shot there this year, more than double the number during the same period in 2015.
There, the violence is driven by smaller, younger offshoots of gangs trying to carve out territory or make a name for themselves, said Deputy Chief Robert Arcos. With key resources — such as Metro officers — primarily going toward South L.A., Arcos said he's had to find other ways to address the crime surge on the Eastside. He's said he's had to be creative in pulling cops from other areas in his bureau to help out.
"I have to look wherever I can to peel away from the other divisions to send to Hollenbeck," he said.
Arcos said he's heard tough questions from some residents alarmed by the crime in their neighborhoods. "What about us?" they ask.
Terry Cano, 43, who lives in Boyle Heights, said the increasing violence in her neighborhood has made her afraid for her family, including her 11-year-old boy.
"Before I was comfortable walking to the store with my son. Now I don't feel safe doing that anymore," Cano said. "There are too many shootings going on. I can't take that risk with my son's life."
Other neighborhoods have seen more progress.
LAPD's Central Division — which includes parts of downtown, skid row and Chinatown — led the city in both violent and property crime increases in 2015.
So far this year, the division performed best among the department's 21 divisions on violent crime, reporting a 2% drop while posting a small uptick in property crime. It was the only division with a drop in violent crime.
Howard Leslie, a Central Division captain, said his command staff closely tracks daily crime updates, which has helped to deploy officers to areas most in need of policing. He has also tripled the number of foot patrols in high-crime areas downtown since he arrived at the division in March.
Leslie's goal is for officers to walk the same routes each day, which he says leads to more tips about criminals. The approach, he said, has contributed to the division making 9% more arrests for serious crimes this year than during the same period in 2015. Those foot patrols also improve downtown residents' perceptions about crime.
"I can statistically tell you that you're safer, but if you don't feel safer it doesn't make a difference," Leslie said. "People who see officers walking down the street every day can feel safer."
But the coming weeks will be a key test for the LAPD as police work to prevent the same bloodshed that plagued the city last year. Thirty-nine people were killed in homicides last August, the most during that month since 2007.
"Last year's August was horrendous," Beck said. "That's Chicago numbers, that's not L.A. numbers. I don't want those kind of numbers to be replicated."
Click here for a Spanish version of this story
For more crime news, follow us on Twitter: @bposton and @katemather
ALSO
Homeless man charged with sexually assaulting 4 women in West L.A. and Santa Monica
Shooting of unarmed white teenager has racially diverse Fresno trying to make sense of Black Lives Matter
Porterville police dog dies after patrol car's air conditioning shuts down
---
UPDATES:
11:25 a.m.: This article was updated with comments from Mayor Eric Garcetti and LAPD Chief Charlie Beck at their press conference.
This article was originally published at 5 a.m.
Sign up for Essential California for news, features and recommendations from the L.A. Times and beyond in your inbox six days a week.
You may occasionally receive promotional content from the Los Angeles Times.