In Ventura County, a new sheriff comes to town on the heels of a mass killing and raging wildfires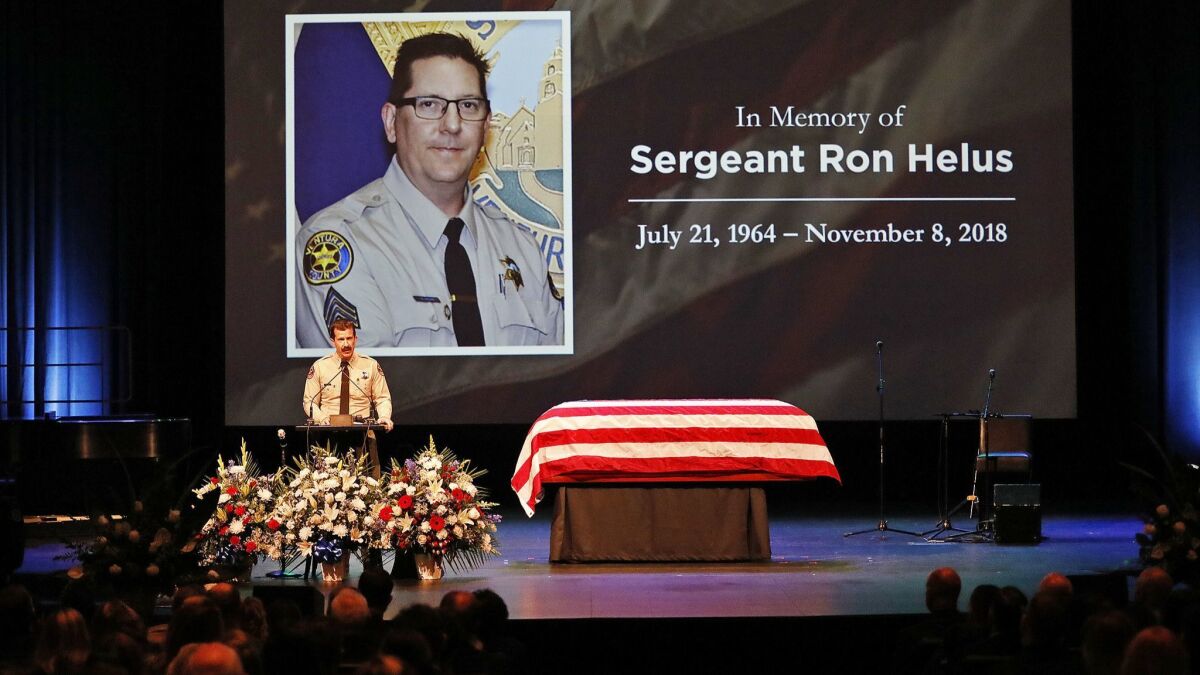 If everything had gone as planned, William Ayub's swearing-in ceremony as Ventura County's new sheriff would have been equal parts solemnity and wishes for the future.
Outgoing Sheriff Geoff Dean would have had a retirement party, drinks, laughter, reminiscing.
Ayub, whose family fled Lebanon in the '30s and later settled in Ventura, had spent more than three decades in law enforcement before deciding to run for sheriff. He faced no formal opposition and won the election to replace Dean in June with 98% of the vote.
At a meeting of the county's Board of Supervisors on Nov. 6, Ayub declared: "I'm excited to work at making this organization stronger and the community safer and more resilient to all the challenges that we have on the horizon."
Thirty-six hours after the board unanimously voted to approve his appointment to sheriff to fill the remainder of Dean's term, Ayub was called to the Borderline Bar and Grill for a mass shooting in progress. He arrived about 40 minutes after the first shots were fired by Ian Long, who killed 12 people, including a sheriff's sergeant.
Just as that tragedy was coming into focus, two fires blazed through Ventura County.
Ayub took over as top cop in the midst of chaos.
"At the stroke of midnight, I became the sheriff," he said. "I certainly visualized it much different."
Soon after learning that Sgt. Ron Helus had been shot, Ayub headed to Los Robles Regional Medical Center, where doctors were furiously working on the deputy. For half an hour, Ayub and a major crimes detective — both in a state of shock — waited in the ER, before receiving the news that Helus had died.
Dean told Ayub that they would tell Helus' wife, Karen, together.
As Dean and Ayub raced toward her Moorpark home, she arrived at the hospital with her son. They had heard Helus' call sign, 4-Sam-3, over the police scanner and knew it was serious. Dean called Ayub and told him to turn around and head back to the hospital. There, Dean broke the news to Helus' family, with Ayub by his side.
As the sheriff's office began planning services for the deputy, the Hill fire and Woolsey fires broke out on Nov. 8. Ayub had slept only a couple of hours before heading to a fire command post in Thousand Oaks.
That night, he slept another couple of hours before receiving a notice of major evacuations in Oak Park. The community needed help. He arrived around 4 a.m. and saw chunks of burning material flying through the air into neighborhoods. Fires seemed to erupt everywhere.
At one point, in those chaotic few days, Ayub saw a lawn on fire next to the home of a family who had evacuated. He picked up a hose to put out the fire, before hearing someone yell, "Behind you." As he turned around, he saw the lawn behind him was on fire too.
At midnight on Nov. 10, as Ayub tried to get another few hours of sleep, he quietly became chief law enforcement officer of Ventura County. He reminded himself of what he'd told everybody when he campaigned: that he was ready for the job, that he was the guy.
"You better be the guy," he thought.
Later that morning, he sent an email to the sheriff's office.
"Never in my wildest imagination did I think my term would begin during a massive investigation into what is arguably one of the most horrific crimes in our county's history, while battling two major ... wildfires, and while mourning the heart-wrenching loss of one of our own," he said.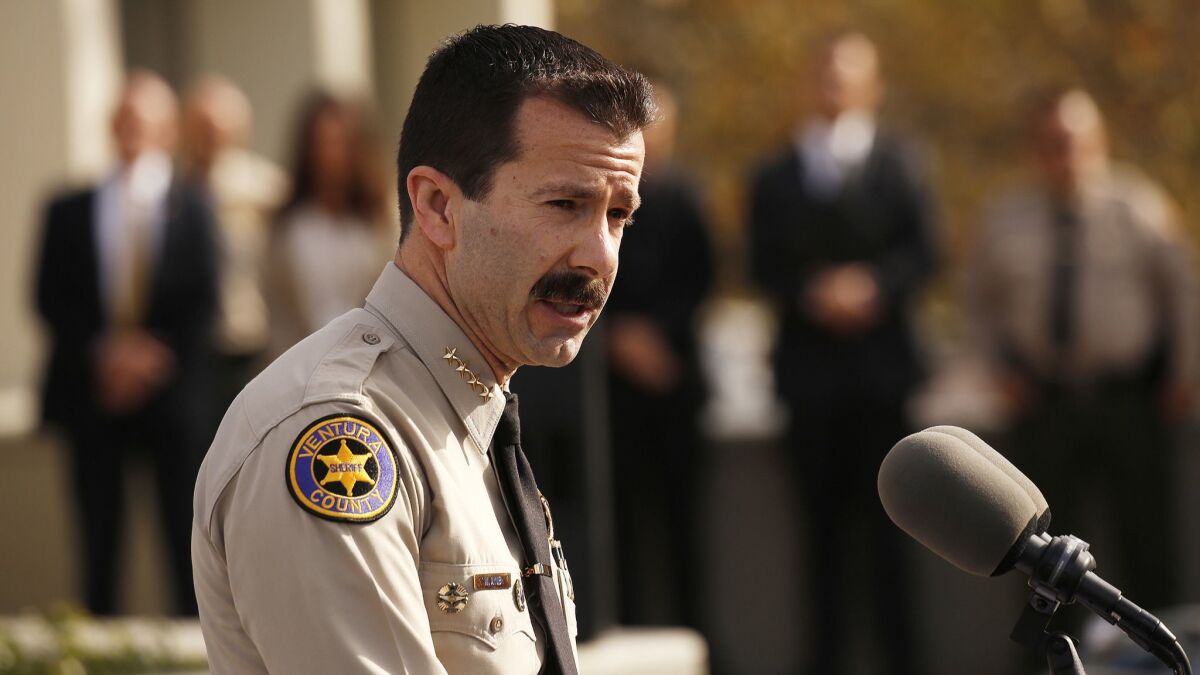 A month after the Borderline mass shooting, Ayub had to relay the news that the shot that killed Helus was fired from a CHP officer's gun. That bullet punctured Helus' heart.
It was a tragic twist in an investigation that has yet to yield much information about why Helus and 11 others died that night.
Since becoming sheriff, Ayub has focused on healing the agency. A picture of Helus hangs near the top of a small tree in the same building that houses the sheriff's office in Ventura, along with photos of 12 other fallen officers.
In the corner of his office is a replica of the hero Maximus' armor from the movie "Gladiator," a reminder to himself of a man of principle.
Over the past few weeks, Ayub has been in contact with legislators about keeping guns out of the hands of the mentally ill. The 51-year-old is also preparing for big shifts in the agency as about 90% of command staff are eligible to retire in the next year.
"The ultimate goal for me is to leave this agency better positioned, stronger, more resilient," Ayub said. "That goal hasn't changed at all; it's just been diverted slightly."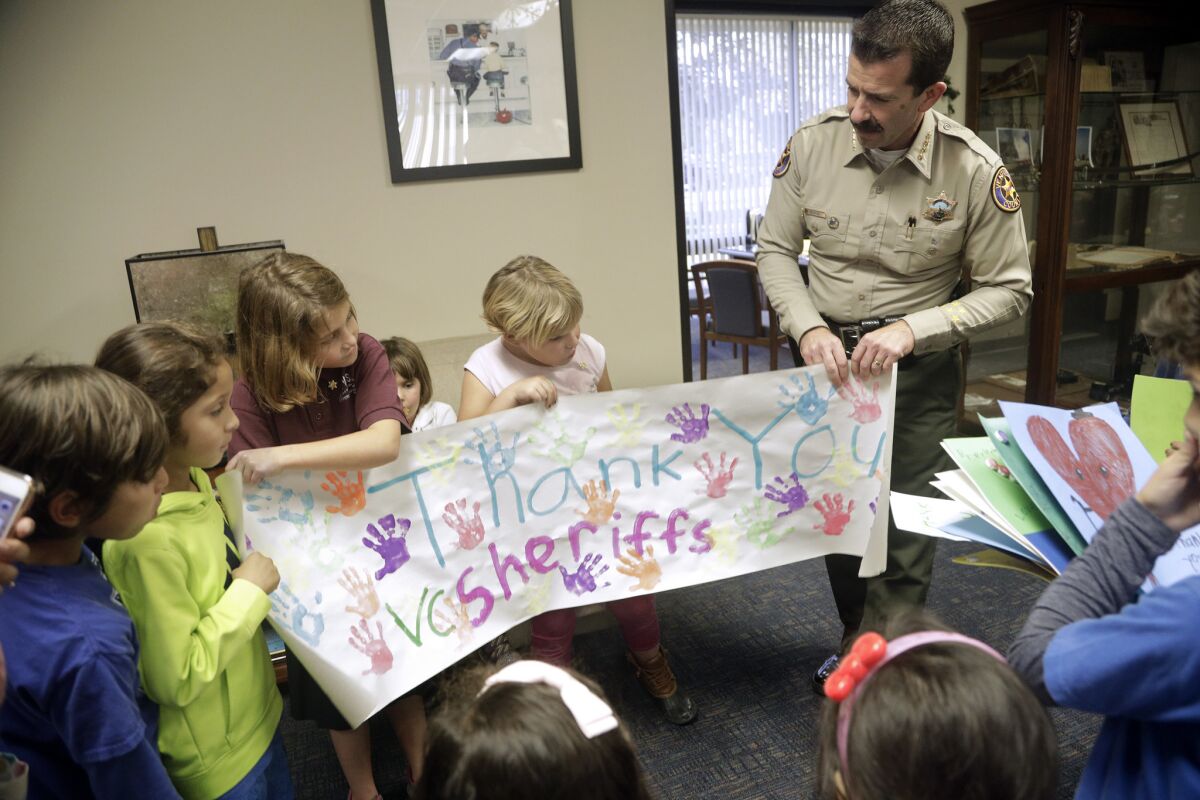 A couple of weeks ago, Ayub and hundreds of others attended Dean's rescheduled retirement party in a hangar at the Camarillo Airport. Dean had worried the retirement party, celebrating his 41 years in law enforcement, was too close to the tragic events.
"We have to get back to normal at some point," Ayub told him. "These last few days didn't define your service or your career. Your behavior during the last few days did."
When Dean spoke, he mentioned the officers who died during his tenure, including Helus. At the end, he spoke about the new sheriff.
"He stepped up and he's served the community well," Dean said.
A swearing-in ceremony for Ayub and his executive team was scheduled for Nov. 14, but it didn't happen. It hasn't been rescheduled.
That moment has passed.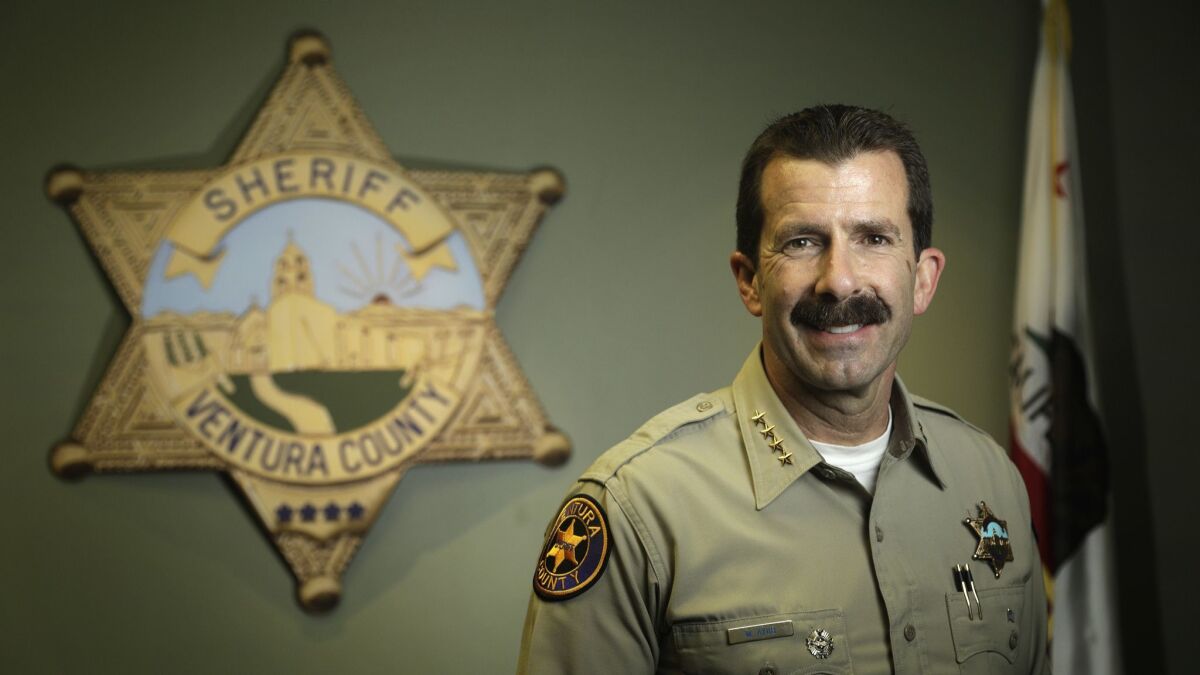 For more California news, follow @brittny_mejia
The stories shaping California
Get up to speed with our Essential California newsletter, sent six days a week.
You may occasionally receive promotional content from the Los Angeles Times.