Tailed by controversy from New York to L.A., this Cookie Monster lives far from Sesame Street
The man who would be the Cookie Monster circled the parking lot in a beat-up, maroon van.
Inside, a pair of red and black boxers hung from the grab handle. A toothbrush and tube of toothpaste were stashed in the glove box. But his prized possession was stuffed in a large plastic bag: the furry blue costume of the iconic Sesame Street character.
Adam Sandler — his legal name, but no relation to the comic actor — slipped the outfit over a sweat-drenched blue T-shirt before putting on the head with the famously googly eyes.
Then he got to work, playing Pied Piper for children going in and out of the Los Angeles Zoo and, hopefully, persuading their parents to slip a few dollars his way.
In a city where people dress as characters — from Spider-Man to Chewbacca — for tips, Sandler's Cookie Monster is far from singular. Nor is it unusual when they make waves for dubious reasons — like full-on brawls on the Hollywood Walk of Fame. (We're looking at you, Mr. Incredible and Batgirl.)
But none of the other costumed characters is likely to carry a weight greater than Sandler. The 52-year-old has been dubbed a serial troublemaker from New York to San Francisco, and now L.A. He has been caught on video making anti-Semitic rants, got caught up in an extortion case involving the Girl Scouts and was accused of threatening to beat up another Cookie Monster.
All of this has made him one notorious faux Muppet.
"Just here in the last six months, we've had quite a few problems with him," said L.A. police Det. Jeana Franco. "This guy is like a national nuisance."
See the most-read stories this hour >>
Sandler — born Danny Mark Sandler in Ashland, Ore. — denied threatening the other Cookie Monster and said businesses along Hillhurst Avenue were lying about his behavior and that Los Feliz residents provoked incidents. He added that the kids at the zoo love him.
"I tamed my behavior down since I've been at the zoo, since New York," Sandler said. "This is a good place for me to be, because I'm only impacting one business. If I go to Santa Monica or something, it impacts 50 businesses. So it's better that I'm here. And it's calmer, no one is harassing me."
The Los Angeles Police Department has gotten complaints from residents, businesses and from the fellow Cookie Monster. Because Sandler has not committed a felony, he has not been arrested, police said.
For the zoo, Sandler presents a conundrum. Outside, Sandler has told attendees not to shop at zoo stores because a Muslim group owns them, according to some complaints.
Because Sandler stands in a designated free speech area, he has the legal right to be there, April Spurlock, a spokeswoman for the zoo, said.
"If you want to follow the law, his speech is constitutionally protected," said Eugene Volokh, a UCLA 1st Amendment law professor. "If he threatens another person or if he does anything else illegal, he can certainly be prosecuted for that. But he needs to be prosecuted for the constitutionally unprotected material, not anything that's constitutionally protected."
Zoo staff monitors Sandler's behavior and makes security officers aware if he is out of the free speech area or if his behavior is harassing or inappropriate, Spurlock said. The zoo has received a total of 67 formal complaints, in person and over social media, about Sandler since last year, she said.
"The general thought was that Adam Sandler was scary, disruptive, made people feel unsafe, and was a poor reflection on the zoo," Spurlock said in an email.
On July 13, another Cookie Monster alleges, Sandler threatened to beat him up for stealing his business.
Out of costume, Sandler has also drawn the ire of Los Feliz residents and businesses who accuse him of making anti-Semitic remarks and of being aggressive toward passersby.
On Nextdoor, an online social network for neighborhoods, an April post about Sandler — the "Threatening man living in red van on Finley" — garnered more than 300 comments.
"Spotted this guy on Sunday yelling anti-Semitic stuff at random people and yelling at diners on the porch at Alcove not to eat there because the restaurant had poisoned a small child and bribed congressmen to cover it up," one user commented.
A manager at a business on Hillhurst said that Sandler has screamed at customers, made anti-Semitic comments, threatened him and spit in his face.
"I'm scared," said Frankie Tirado, who said he has filed a battery report. "I would like to see him get some kind of help. I don't think he belongs out on the street … no one wants to hear the Cookie Monster say he's going to kill their family."
The L.A. city attorney's office filed one count of battery against Sandler on Wednesday for the alleged incident involving Tirado, according to a representative.
On a recent afternoon, Sandler posed for photos outside the zoo. The following day, he refused to confirm that he was Sandler, but addressed questions related to his criminal history and said the press does not like him.
Department of Motor Vehicle records show the van that he drives is registered to an Adam Sandler.
He repeatedly walked away after answering questions, only to return a few minutes later to continue speaking, answering questions through the Cookie Monster head.
"I'm very fragile, I need my income right now," he said pleadingly. "Please don't take this from me … I have nowhere to go from here."
Sandler added that he is Jewish and is not anti-Semitic.
In 2012, Sandler — who previously dressed as Elmo — was caught by more than one video camera shouting anti-Semitic and xenophobic remarks in New York City.
When he spoke to the New York Times that year, he said he had previously traveled to Cambodia and started a pornographic website called "Welcome to the Rape Camp."
A 1999 Associated Press article named Sandler and referred to him as the website's creator. He told the New York Times that he had been deported from Cambodia.
Sandler was arrested in September of 2012 for resisting arrest and disorderly conduct, according to the NYPD, after screaming and yelling in a public place, "causing annoyance and alarm."
He was indicted in 2013 for allegedly attempting to extort money from the Girl Scouts of the USA and stalking an employee.
According to court documents, in June 2007 the Girl Scouts hired Sandler through a temporary employment agency to work on a short-term computer programming project, according to a New York County district attorney's office news release. His work on the project ended in November 2008.
Beginning in July 2012, he reportedly began sending harassing emails to his former supervisor at the Girl Scouts, according to the district attorney's office.
He later demanded a $2-million cash settlement or yearly lifetime income from the Girl Scouts and threatened to publicize false allegations about the organization if it did not comply, according to New York prosecutors.
On Oct. 9, 2013, Sandler pleaded guilty to attempted grand larceny in the second degree and stalking in the third degree. He was sentenced to a year in jail and a protective order against him was filed.
In San Francisco in 2014, Sandler was charged with threatening a business owner. On the same complaint he was charged with three public nuisance counts, according to Karen Catalona, a deputy district attorney who was working as a neighborhood prosecutor at the time.
Ultimately, Sandler pleaded guilty to being a public nuisance and was placed on probation for five years, Catalona said. A related order prohibits him from being in Fisherman's Wharf, Union Square and the Embarcadero — including all the piers along the Embarcadero — for five years.
"I think when people hear … 'the guy in the Elmo suit' it sounds like a joke," Catalona said. "But when you actually look at how he's making people feel and you look at his history, it's disturbing. It's not funny."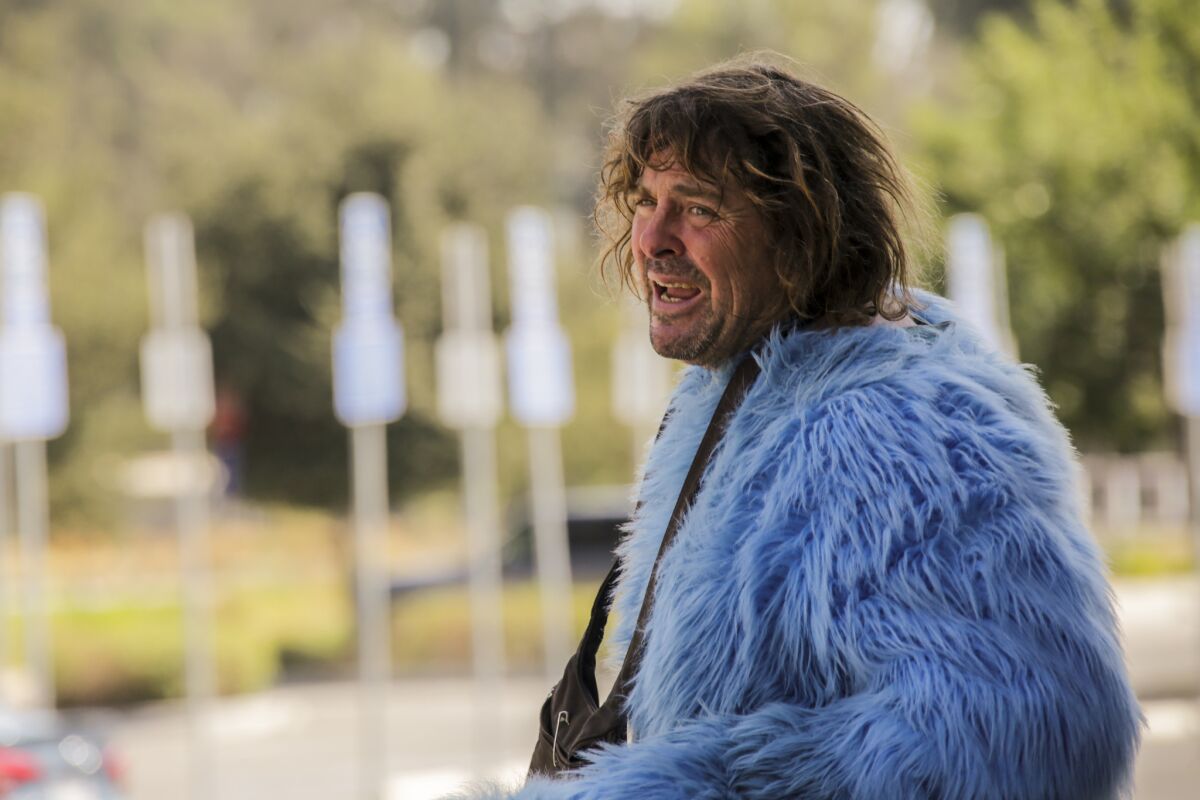 Sandler's father, Allan Sandler, declined to talk at length about his son when reached by phone in Oregon recently.
"If you're looking if he's ever been violent, or anything like that, no, he's never been," Allan Sandler said. "All I can tell you — he's my son, he's a good kid."
Before getting on a bus on a recent afternoon, a group of schoolchildren spotted Sandler waiting outside the zoo.
"Cookie Monster!" they shouted, as they ran to embrace the costumed character. They ran their hands over the blue costume, the front of which was held together by safety pins. Some sat on his leg to pose for photos, heedless of the notoriety in the grownup world surrounding the man behind the fuzzy, blue mask.
For more California news, follow @brittny_mejia
ALSO
Manson follower denied parole for 1969 murder of musician
Strong storm to soak Northern California this weekend, forecasters say
70-year-old ice cream vendor's family says he was violently robbed in North Hollywood
The stories shaping California
Get up to speed with our Essential California newsletter, sent six days a week.
You may occasionally receive promotional content from the Los Angeles Times.