Long Beach hospital on active earthquake fault set to close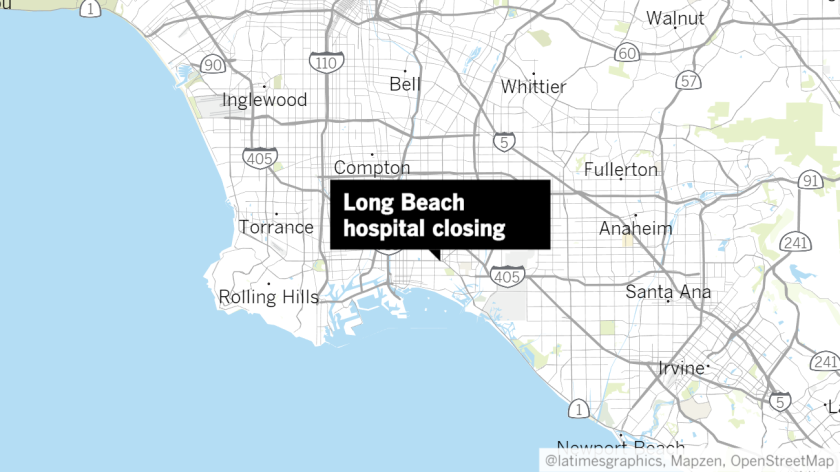 Community Medical Center Long Beach will close within four months after a report revealed the facility sits on an active earthquake fault, hospital officials said Monday.
Officials said in November the hospital would not meet state seismic regulations that will become effective next June because of the fault zone under the 94-year-old structure.
Running the hospital has since become increasingly difficult because staff members have started leaving, officials say.
On Monday, officials from MemorialCare, which runs the hospital, submitted a 120-day lease termination notice with the city of Long Beach, which owns the land and the facility.
"This is a difficult announcement," hospital Chief Executive John Bishop said in a statement. "We did not take this decision lightly, and we are committed to doing everything we can to ease the transition for affected employees, physicians and our patients."
Hospital spokeswoman Richelle Steele said the lease ends July 3, but the hospital could close earlier if it loses more resources. Hospital staff numbers have dropped from around 370 before last year's announcement to 284, she said.
Steele said that roughly 80 staff members will move to other parts of the MemorialCare system, which also operates Long Beach Medical Center and Miller Children's & Women's Hospital Long Beach.
City officials said they were talking to other hospital operators to try to keep the facility open. They said they were also looking into state legislation that could delay the implementation of the new seismic guidelines to give the hospital more time to comply.
"Community Hospital is a critical asset to our community," Long Beach Mayor Robert Garcia said in a statement. "While we are disappointed to hear the news of Memorial giving formal notice, the city's efforts to find solutions and opportunities will continue."
The Newport-Inglewood/Rose Canyon fault system runs through the northeast corner of the hospital at 1720 Termino Ave., according to a map of the California Geological Survey published in 2010.
The fault stretches from Beverly Hills to downtown San Diego, and last had a major rupture in 1933, when a magnitude 6.4 earthquake killed more than 100 people.
Bishop said hospital administrators looked into keeping the hospital open, but learned it would require demolishing large portions and leave only 20 patient beds, down from the current 158.
When they assessed the area's healthcare needs, they found that the hospital handles only 10% of the Long Beach region's emergency room visits. They also found that the seven nearby hospitals typically have only half of their beds filled; on an average day, there are 800 beds available.
"We recognize the needs of the Long Beach Fire Department to manage emergency health services and are committed to continue working hand-in-hand with the Fire Department to alleviate the impact on emergency departments as Long Beach Medical Center, St. Mary Medical Center and College Medical Center continue expanding their emergency services," Bishop said.
Community Medical Center Long Beach opened in 1924 after a campaign to raise $369,000 to build a facility on the city's east side, according to the hospital's website. But the hospital has fallen on hard times in recent years.
In 2000, its then-owner, Catholic Healthcare West, shut it down because of multimillion-dollar losses. A group of volunteers raised funds to reopen it a year later as a smaller hospital owned by the city. MemorialCare health system took control in 2011.
soumya.karlamangla@latimes.com
Twitter: @skarlamangla
---
For reporting and exclusive analysis from bureau chief John Myers, get our California Politics newsletter.
You may occasionally receive promotional content from the Los Angeles Times.