Border fence meets a wall of skepticism in Tijuana, where residents say U.S.-Mexico ties transcend any physical barriers
Reporting from Tijuana —
After weeks of testing, the eight prototypes for President Trump's "big, beautiful" wall will share center stage on Tuesday with Trump during his first presidential visit to California.
As Trump inspects the prototypes and poses for photos along the border east of San Diego, he'll be just yards away from a Tijuana slum where people have formulated their own ideas about them.
The 30-foot structures — built with varying mixes of concrete and steel tubes — draw residents, tourists and even Tijuana police officers who pose for selfies in the Rancho Escondido neighborhood. They climb atop piles of rubber tires or tiptoe on dirt mounds for a peek over the 7-foot border fence into the testing site.
The towering wall segments will offer Trump a powerful platform as he pushes to secure $25 billion for border security.
Frankie Contreras, 45, who has lived in the neighborhood for decades, said he prefers the symbolism of another imposing piece of infrastructure that will be hard to miss when the presidential entourage shows up: overhead power lines.
They link power plants in Tijuana and San Diego. Along with a nearby underground natural gas pipeline, they provide energy for millions of people in both countries. To residents like Contreras, those are the kind of ties between the U.S. and Mexico that transcend any wall.
"We need each other no matter what happens," he said.
Trump is not expected to announce which of the prototypes will be used, but he may express a preference.
Either way, the visit is expected to generate demonstrations on both sides of the border. Security has been heightened with authorities in Tijuana and San Diego working together to safeguard the area.
Whichever wall is selected, it will not likely be erected in California, where barriers already line most of the border and where replacements, planned for this year, have different designs. The wall, according to the most recent proposed budget of the U.S. Customs and Border Protection, is slated for the Texas border with Mexico.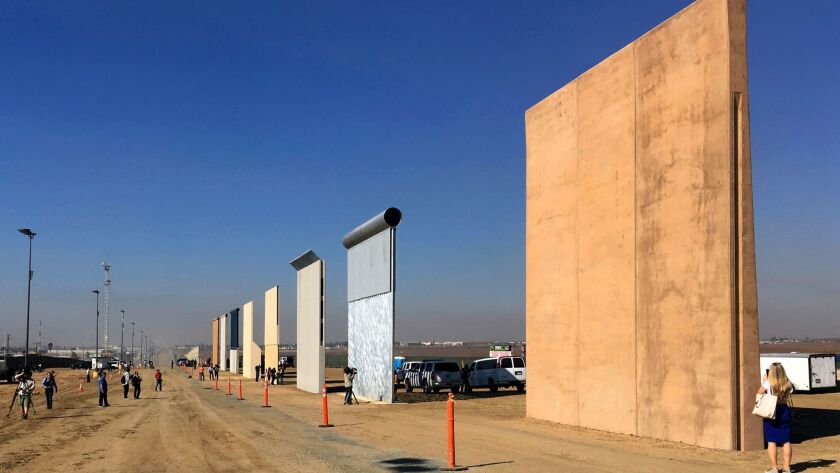 Federal authorities chose to build the prototypes in San Diego in part because of the region's easy access for teams of agents that have been testing each of the walls.
They have been assaulting the prototypes, using jackhammers, blow torches, ropes and other tools that test the walls' capacity to repel intruders.
From Rancho Escondido, the efforts seem misspent.
Border barriers have been part of the scenery here for years. There are two fences, bolstered by cameras and lighting that make the area among the most heavily fortified along the border.
Although Trump often portrays the border as chaotic and porous, the San Diego-Tijuana border was largely tamed long ago — and has become a model for effective border enforcement.
The double fencing lines most of the 14-mile border from the Pacific Ocean to Otay Mountain. Apprehensions of illegal crossers have dropped for years, and most smuggling organizations have moved to other, more remote areas.
Tijuana is among Mexico's most dangerous cities, but there is relatively little spillover violence. San Diego is among this country's safest biggest cities, with 34 homicides last year. Tijuana had 1,780.
The region does remain vulnerable to drug smuggling, but most of the illicit cargo is funneled through the region's two ports of entry, inside hidden compartments of vehicles.
A wall won't do anything to stop that, said Marco Zamora, a U.S. citizen who has lived in Rancho Escondido for 20 years. Zamora crosses the border for work every day and said customs inspectors seem demoralized and overworked.
"They're not checking much these days," he said. "They don't seem very energized."
From Zamora's two-story house, the border is a two-block stretch of deeply rutted dirt roads lined with shanties and junkyards. Roosters wake the neighborhood, and ice cream vendors push their carts around garbage piles and stolen cars stripped clean of doors and seats.
But Trump's vision, they say, is excessive, not so much an enforcement tool as a symbol of hostility toward Mexico.
Jesus Martinez, a U.S. citizen from Bakersfield who was visiting the area last week to scout warehouse locations for his furniture business, said the size of the wall prototypes were overwhelming.
He voted for Trump, but said he disagreed on the necessity of the wall. "He's not very diplomatic," Martinez said after studying the barriers through a hole in the existing border fence.
Some residents, long familiar with the tactics of smugglers, have been doing their own armchair analyses of the wall prototypes. The steel could be cut through with blow torches within 15 minutes, some said. Though a solid concrete wall would present more challenges, it would allow smugglers to operate without being seen by border agents.
And then there are always tunnels. A warehouse district just a few miles west is the busiest tunneling area on the border.
"Chapo is the one who showed us how to get across, just go under," said Contreras, referring to Joaquin "El Chapo" Guzman, the drug cartel crime boss, currently in custody in the U.S., who is said to have built numerous drug tunnels.
Barriers weren't the only infrastructure built along this stretch of the frontier. Over the years, utility companies linked up power plants in Tijuana and San Diego, running electrical wires slung from giant towers and a natural gas pipeline.
In a debate so dominated by symbols, to many of Rancho Escondido's residents the image of two countries working to heat and light homes will always be the more potent one.
"You can build a wall to the heavens," said Gilberto Alvarez, 42, "but Mexico and the U.S. will always be joined together."
Twitter: @richmarosi
---
Life is stressful. Our weekly mental wellness newsletter can help.
You may occasionally receive promotional content from the Los Angeles Times.