Destructive fire has Ojai in its sights as powerful winds return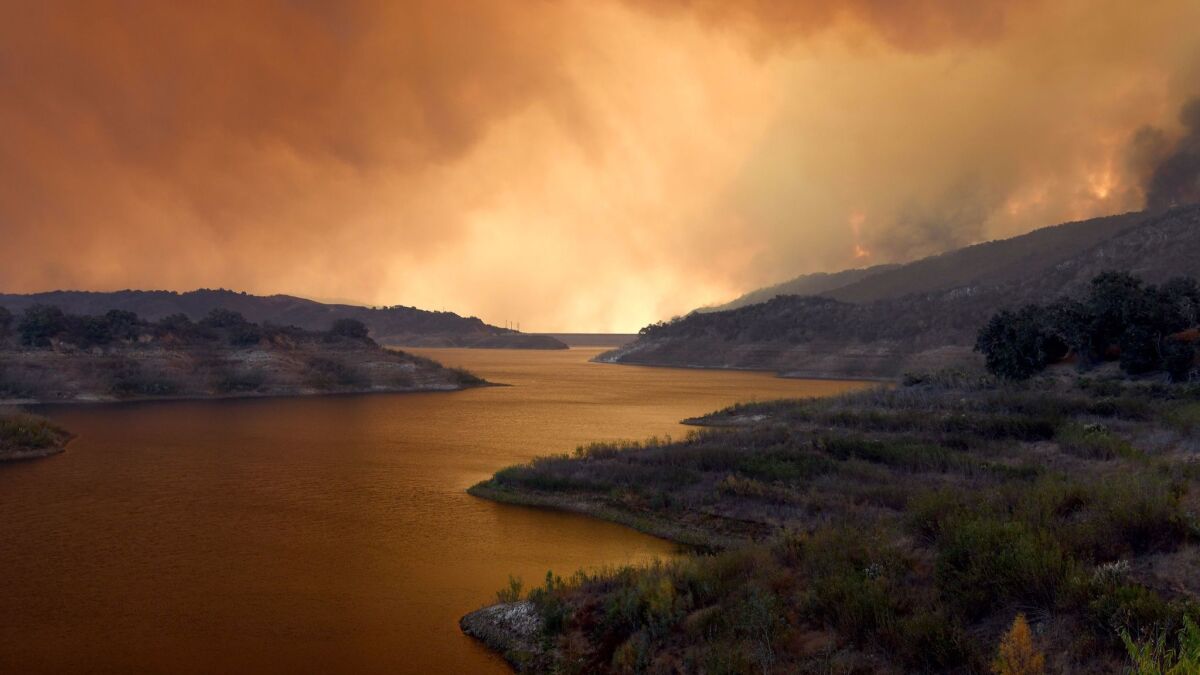 Reporting from Ojai —
The people who pressed into the fire station in downtown Ojai were scared and hoping for reassurance. From the street corners of this picturesque valley town, they could see flames marching along the mountain ridge to the north. Firetrucks rumbled by wine tasting rooms, meditation retreats and spas toward a second wall of fire moving in from the south and east.
One citizen after another approached the station's front counter Wednesday with a version of the same question: Is Ojai going to burn?
And one by one they received the same disconcerting reply: We just don't know.
On the third day of the Thomas fire's rampage across Ventura County, Ojai, the bucolic community long beloved by spiritual seekers, health enthusiasts and celebrities, was in the crosshairs of the massive blaze.
Cal Fire rushed heavy equipment and crews to the southeast part of the Ojai Valley in a bid to protect the town of about 7,000 from the devastation that befell other areas. The fire, which began near Thomas Aquinas College on Monday, destroyed communities in Ventura, Santa Paula and elsewhere, consuming more than 150 structures. About 50,000 people have been evacuated throughout Ventura County.
The 65,500-acre fire continued burning from the Pacific Ocean to the inland mountains Wednesday, with its northern edge coursing northeast from Ventura along a 20-mile front that extended along the southern border of the Ojai Valley.
"The fire is here and wrapped around the community," said Shane Lauderdale, a Cal Fire branch director as he huddled with other officials in a downtown parking lot.
Santa Ana winds, which have driven the devastating wildfires across Southern California, were somewhat weaker Wednesday. But they were expected to ramp up after midnight Thursday and reach "extreme" speeds of up to 70 mph. Such winds can expand fires by miles in a matter of minutes and were of great concern to fire officials preparing to defend Ojai.
At a morning briefing for firefighters, officials emphasized the importance of keeping the fire's northern boundary from reaching Ojai. Cal Fire Operations Chief Mark Higgins urged crews to extinguish even the smallest smoldering areas.
"Don't pass that bush on fire," Higgins said. "Get in there, get dirty and work hard."
Looking over a map of the Ojai Valley spread over the hood of a crew vehicle as ash fell around him, Lauderdale said crews were cutting fire lines on the outskirts of town and moving heavy equipment into place in anticipation of a wind-whipped surge of fire Thursday.
"We're taking advantage of the current calm to concentrate resources along a defensive line," he said. "We're going to get a lot more work done today."
Fire has damaged Ojai and its surrounding region in the past, including a 1917 blazes that burned the town. But authorities and citizens said this year's wine country fires, which left 44 dead and entire suburban neighborhoods in rubble, intensified fears.
"Until we have fog drifting in from the west and light rain, we won't feel like this thing is behind us," said City Manager Steve McClary.
Eastern portions of the valley were under mandatory evacuation orders. In town, there were no evacuation orders in effect, but many residents and business owners were leaving voluntarily.
The town, known for its Spanish architecture and distinctive bell tower, was covered in a dusting of ash Wednesday. "Closed" signs hung in windows of boutiques, restaurants and bed-and-breakfasts. The Ojai Valley Inn, a nationally renowned resort and the site of celebrity weddings, was among the businesses shuttered.
"I've been telling people, 'If you can get your loved ones and valuables to a safe place, you should,' " McClary said. "That's a tough answer to give. I wish I could be more specific. But this is no time for false promises."
On Wednesday morning, Doug LaBarre, 70, was among many residents who bellied up to the counter of a downtown fire station with an urgent question for Capt. Paul Berrera.
"The city itself is not threatened, right?" LaBarre asked. "My 95-year-old father lives in my guest house. So are we safe?"
"All I can tell you," Berrera said with a sympathetic smile, "is this: To ensure your father's safety, prepare to leave if necessary."
The fire transformed some of the features visitors and residents love most about Ojai, including its sense of isolation, into dangers. The only ways in and out of town are two-lane country roads.
The blaze also made its treasured oak trees — the remnants of an ancient oak forest — into weapons. The powerful winds knocked over many of the enormous trees and there were fears that falling ash could start fires in their sprawling branches.
At daybreak, Juan Hernandez, 32, stood on the trunk of a toppled oak for a better view of flames kicking up on the ridgelines just north of town.
"This tree was huge and strong," he said, shaking his head. "But it was no match for those winds."
Long known as a spiritual hub, Ojai is home to numerous retreat centers, meditation houses and campuses for new age movements. Many closed temporarily or limited their hours.
At Meditation Mount in the Upper Ojai Valley, the fire burned one building and damaged the group's gardens, according to the organizations Facebook page. Meditation Mount announced the fire damage on its Facebook page and showed a photo from last year of their idyllic campus, asking followers: "Hold *this* Mount in your heart as you cultivate love and compassion."
Ojai Retreat, a bed-and-breakfast with a spiritual bent on a hilltop near downtown Ojai, was untouched by the fire, but founder Ulrich Brugger, 73, briefly evacuated, only to return late Tuesday. He said Wednesday that he was cautiously open.
Brugger came to Ojai from Switzerland nearly three decades ago after meeting Jiddu Krishnamurti, a new age philosopher who taught there. He said the spirituality that seems imbued in the town has also equipped him to respond to such a potential catastrophe.
"One thing I learned from Krishnamurti: don't be attached to anything, including property. That's not the main thing."
Times staff writers Sahagun and Hamilton reported from Ojai; Ryan from Los Angeles. Times staff writers Doug Smith and Sarah Parvini contributed to this report.
Twitter:
---
The stories shaping California
Get up to speed with our Essential California newsletter, sent six days a week.
You may occasionally receive promotional content from the Los Angeles Times.