West Nile virus has killed 8 Californians this year. In parts of L.A. County, the risk is especially high
Julie Shepherd ended up in the hospital earlier this month after her neighbor found her on the floor of her West Covina home, unable to move.
Shepherd, 84, was paralyzed and had lost the ability to speak. Doctors diagnosed her illness as West Nile virus.
Humans contract the virus through a mosquito bite. There's no vaccine or cure for the disease, so Shepherd's family could only wait to see if she recovered on her own.
"Other than treating the symptoms, there's no treatment," said Halie Griffin, Shepherd's granddaughter. "[The doctors] told us that within 10 to 15 days either you'll see improvement, or you won't."
Shepherd was unable to fight off the virus and died Monday.
West Nile virus has killed three people in Los Angeles County this year. It's the deadliest mosquito-borne disease in California. Though most people with West Nile virus don't have symptoms, a small number experience brain damage that can be permanent or fatal.
L.A. County officials are warning residents to take precautions to prevent mosquito bites, especially since West Nile cases tend to be highest in September.
"Everybody needs to be concerned," said Dr. Benjamin Schwartz, deputy director of the L.A. County public health department's acute communicable disease program. "This is really the peak season for West Nile in Los Angeles County."
Communities across L.A. County are home to people who've contracted the virus as well as the mosquitoes that transmit it.
But residents of Los Feliz, Glendale, Atwater Village and the San Fernando Valley are in particular danger this year, experts say, because so many cases have been reported in those areas.
"If there's one case in a city, it's very likely there will be additional cases in that city in the next month," Schwartz said.
174 Californians infected this year, eight dead
West Nile virus comes to California every year but often gets less attention than newer diseases, like Zika, in part because it's been such a constant threat. There have been cases of West Nile, which originated in Africa, in the state every year for the last 15 years.
West Nile virus lives in birds, and mosquitoes become infected when they bite those birds. Humans contract the illness when bitten by those mosquitoes.
Nationwide, people typically begin falling sick in the summer as mosquito populations boom and decrease in the winter when mosquitoes stop breeding. West Nile has been diagnosed in 48 states this year, according to the U.S. Centers for Disease Control and Prevention.
In California, 174 people have been found to have West Nile virus this year, including eight who have died, according to state data released Friday. By the end of last year's West Nile season, 442 people had fallen sick and 19 had died.
Most people who get West Nile don't have any symptoms or suffer for a few days from a fever, vomiting or a rash. But one out of every 150 people develops serious problems, including swelling of the brain or meningitis, vision loss, coma or paralysis that can last several weeks — or become permanent.
People 50 and older or whose immune systems are compromised are most likely to suffer from these severe consequences, but every year a few younger people also experience them, Schwartz said.
Shepherd developed this severe form of West Nile, called neuroinvasive disease.
Griffin said her grandmother was an active 84-year-old who lived alone in a house in West Covina. She'd never had a heart attack, stroke or cancer. She took tai chi and water aerobics classes every week.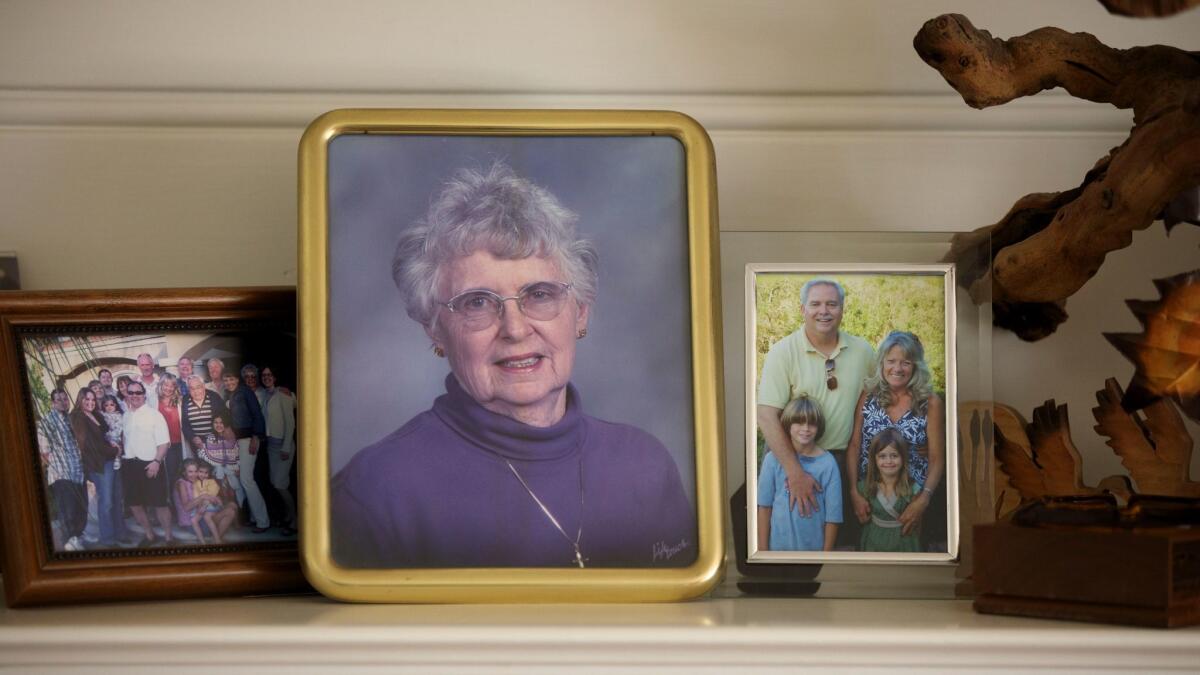 Two weeks before she was hospitalized, she complained of being tired, Griffin said, but her family didn't think much of it.
"'Grandma, you're 84 years old, feel free to take a nap in the afternoon," Griffin, 37, remembered saying.
But then Shepherd stopped answering her phone. When her family couldn't reach her, they asked a neighbor to enter the house, where she found Shepherd lying on the floor, disoriented.
Hours later, Shepherd was unable to move at all and seemed as though she couldn't recognize people, Griffin said. Tests came back positive for West Nile.
Shepherd had a garden in her backyard, which could have bred mosquitoes. Health officials have also found mosquitoes that tested positive for West Nile virus at a park near her house.
'People don't understand how prevalent it is'
Every year there are mosquitoes in every city in the San Gabriel Valley carrying West Nile virus, said Jason Farned, operations manager for the San Gabriel Valley Mosquito & Vector Control District.
Griffin said that since her grandmother fell ill, she's been talking to friends and neighbors about West Nile. Many people have never heard of it, or don't know it can be fatal, she said.
"It's definitely not a new thing, but for some reason people don't understand how prevalent it is," she said. "I didn't until it happened to my grandma."
Officials say that though 80 West Nile cases have been reported in L.A. County this year, the real number is probably in the thousands, since most people exhibit no symptoms and thus don't go to a doctor to get tested.
Where in L.A. County is the highest risk?
Health officials say that cities where people have already fallen sick are most likely to have more cases in the coming months, Schwartz said.
West Nile cases have been reported in the San Gabriel Valley, Antelope Valley, the Pomona area, Torrance, the San Fernando Valley, Glendale and Los Feliz.
Experts recommend wearing insect repellent when outside, especially at dawn and dusk when the mosquitoes that spread West Nile are most active.
Homeowners also should clear out standing water from flower pots or fountains, which can breed mosquitoes, and make sure check their pool pumps are working so there isn't stagnant water in which insects can breed.
On Wednesday, mosquito control workers visited homes in downtown Glendale and in Los Feliz to spread the word about the increased risk of West Nile there, said Levy Sun, spokesman for the Greater Los Angeles Vector Control District, which oversees insect control in those regions.
Testing shows that there are abnormally high numbers of mosquitoes carrying West Nile in Glendale, Los Feliz, Atwater Village and Elysian Valley, he said.
"It may seem silly to some people to worry about mosquito bites," Sun said. "But no one forgets when they or a family member becomes sick with West Nile virus."
To read the article in Spanish, click here
soumya.karlamangla@latimes.com
Twitter: @skarlamangla
Health officials declare hepatitis A outbreak in L.A. County
Knocking on doors, climbing through fences: How L.A. County's health investigators are out trying to stop syphilis
There's an unforeseen benefit to California's physician-assisted death law
Sign up for Essential California for news, features and recommendations from the L.A. Times and beyond in your inbox six days a week.
You may occasionally receive promotional content from the Los Angeles Times.