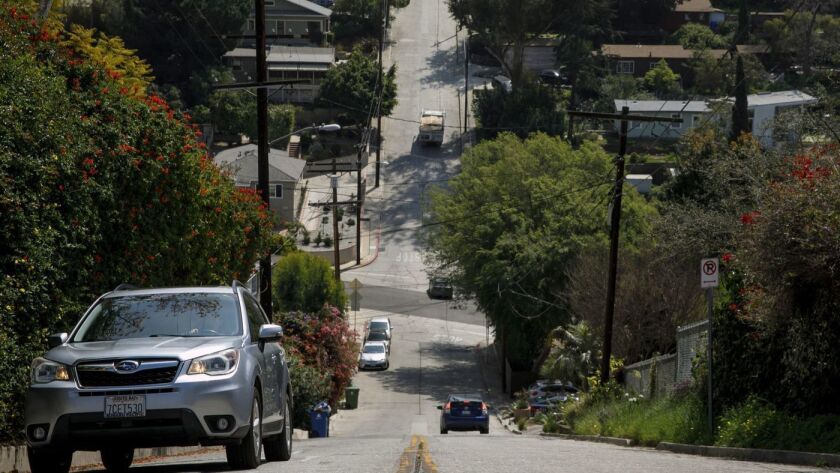 Like a lot of us, L.A. City Councilman Paul Krekorian uses the navigation app Waze to get where he's going. But all he wants from the app is general information, not a turn-by-turn escort who zigzags him through residential neighborhoods.
"I use it every morning before I leave for work," said Krekorian, who lives in the San Fernando Valley and commutes to City Hall downtown. "Should I take the 5 or the 101? What I don't do is find which winding streets to take through Silver Lake."
If it sounds as if Krekorian has a bit of an issue with app-diverted drivers plowing through residential neighborhoods, he does.
"The use of apps to save 90 seconds of travel time not only is destroying the qualify of life in neighborhoods all over, but also endangering public safety," said Krekorian.
On Tuesday, the councilman introduced a motion calling for the city's transportation department to explore ways to reduce the negative effects of the use of navigation apps. Krekorian introduced a similar motion three years ago, but it hit a bottleneck, so he's hoping his latest effort will have a little more velocity.
Krekorian also called for the city attorney's office to analyze whether the app companies share liability for damages in accidents caused by their users.
And he asked the City Council to request that the app companies make their representatives available to work with city officials to reduce problems associated with the apps.
When he tried this three years ago, Krekorian said, "I was mocked online for being a Luddite and getting in the way of a whiz-bang new way of mapping."
Krekorian said he recognizes the apps are a fact of life but he just wants to see that along with the obvious benefits, all possible steps are taken to minimize the negative effects.
"Couldn't they have a modest algorithm modification so that you don't route cars onto substandard streets unless it achieves X percentage time savings?" he asked. "To run cars through small streets in Elysian Park or Studio City or somewhere else, where people can't get into or out of their driveway for an hour, only to save the driver a minute seems like an unreasonable trade-off."
Krekorian reached out to me after my column last week about troubles on ridiculously steep Baxter Street in Echo Park. Neighbors there complain that traffic on the narrow road has increased dramatically in the app-navigation age. Panicked first-time visitors who can't handle the incline have crashed into walls and other cars, especially in wet weather.
Possible remedies proposed by the Los Angeles Department of Transportation include restricting rush-hour turns onto Baxter Street and making it one way. A public hearing last Wednesday was inconclusive, but Councilman Mitch O'Farrell's office is working with the department to schedule another.
When I contacted Waze this week for a response to all of this, I didn't get a warm reception. By text message, I was scolded by a spokesperson for not contacting Waze earlier, and she claimed my column on Baxter was both inaccurate and unfair.
That was primarily unvarnished blather, but she made one fair point. I had quoted a Baxter Street resident who said he'd written a letter to Waze asking if Baxter could be removed as a safe route during wet weather, but the response was no. The Waze spokesman insisted that did not happen.
I checked back with the resident, who clarified that rather than a letter, the communication was made via Waze's online suggestion box, and there was no reply.
Waze also beat me up for not telling readers there are ways to leave reports of traffic hazards or other concerns on the app itself, to alert drivers and Waze, which can modify the algorithm if necessary.
Question: Are people supposed to do this while negotiating a route they're not familiar with, as they're late for work and trying to figure out why they just lost the audio on the Waze app and whether they just missed a turn or hit a garbage can while looking at the app?
Or right after that?
MEMO TO WAZE:
Baxter Street is steeper than a ski jump. Now that you know, can you steer cars clear of it?
I wouldn't bet on it, based on a statement another Waze spokesperson sent me.
"While Angelenos have questioned the gradient of the hill on Baxter Street, the city has placed a public road there, which means it should be considered usable within Waze to permit residents to navigate home, to assist in emergency response, and more. Should local government choose to make a change, we will of course update our maps," the statement said.
So one Waze flack spanks me for not telling readers to post safety concerns on the app while another Waze flack tells me Baxter is a public street so don't expect them to do anything about it on their own.
And by the way, a city transportation spokesman told me "we've been unsuccessful in the past" in trying to remove quiet residential streets from navigation app options.
Flack No. 2 told me Waze, working with L.A. and other cities through an information-sharing program, has helped relieve congestion by as much as 20%.
Have these people been to L.A.?
I'd like to see the evidence of a 20% reduction in congestion.
Waze says it has also helped reduce the number of collisions while helping cities address "their toughest transportation challenges."
The statement continued:
"The company has a meaningful relationship with, and cares deeply for, Wazers and the communities it serves."
Thank God I didn't go into PR, especially in tech, where I'd be no good at trying to defend masters of the universe. Like Mark Zuckerberg, for instance. But at least the Facebook chief borrowed a necktie and went before Congress to pretend he's sorry for his role in tech run amok.
Like I said, I use a navigation app and there's no question it has saved me a lot of time and frustration.
And the real problem, obviously, isn't Waze, which is owned by Google. It's us. Too many people in too many cars going to too many places. And none of us wanting to waste another minute, let alone take the bus.
But there's also no question that navigation apps divert traffic onto once-tranquil streets that were not designed for the volume of traffic they're getting.
I don't think Councilman Krekorian is asking for too much in calling for a study on how to better balance the costs and benefits. And I'm hoping that this time around, City Hall takes the matter more seriously and drives a harder bargain.
Get more of Steve Lopez's work and follow him on Twitter @LATstevelopez
---