Column: 'Does everything have to be a Starbucks?' A quirky L.A. landmark fights to survive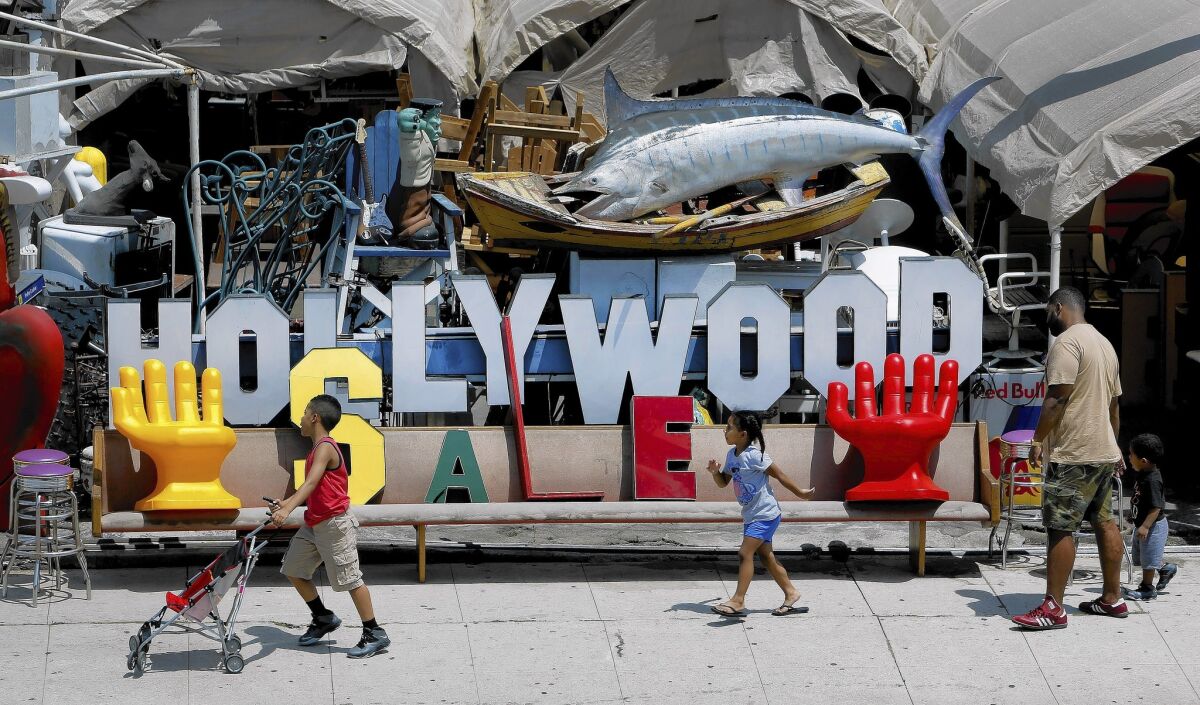 Nick Metropolis went to court Monday with $6,000 in his pocket and everything on the line.
Namely, his one-of-a-kind collectibles corral on South La Brea Avenue. His only source of income. And his long-running love affair with clients ranging from A-list celebs to treasure-hunting vagrants.
It was a lousy time for Metropolis' eviction hearing to come up, because Monday was also his 18th wedding anniversary. His wife, Rita, was at the store, nervously awaiting the verdict on their livelihood as her husband tried to buy a little more time.
A customer came in and spotted a piece he had to have, so Rita dialed Nick's cell.
"How much for the Buddha fountain?" she asked her man.
Two hundred dollars, said Nick.
Sold.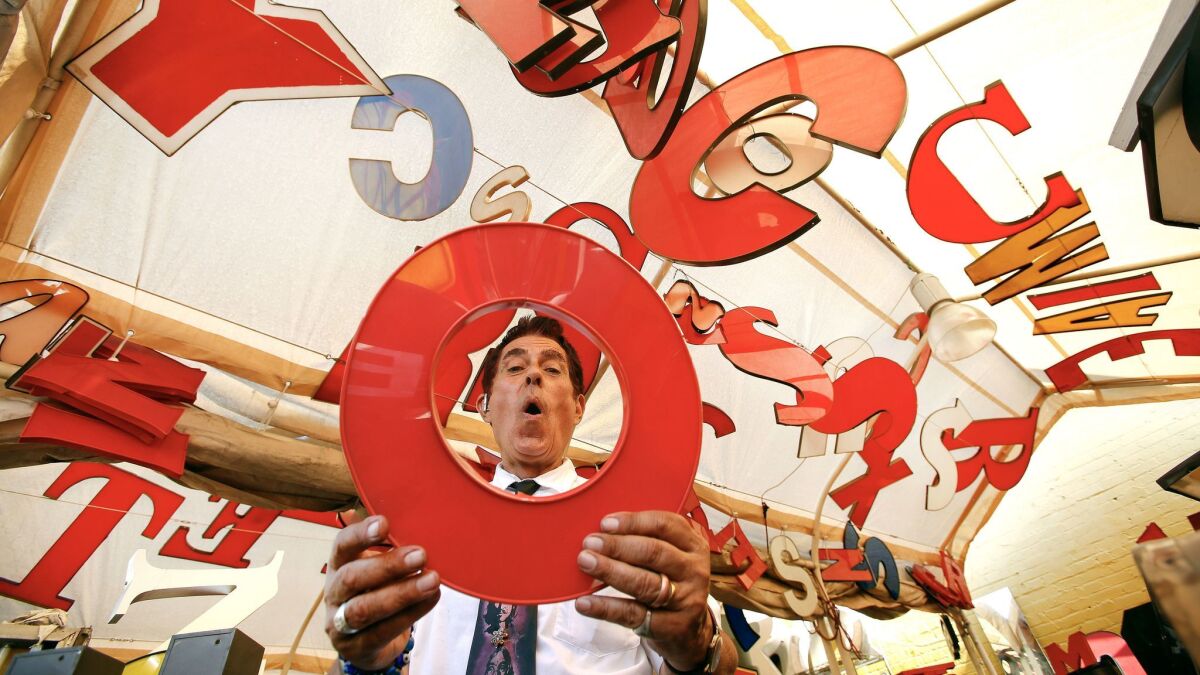 A reminder of a different L.A.
Every day in Los Angeles, there's a tornado. It spins over the city, vacuuming up statues, bowling pins, ornaments, Hollywood sign replicas, patio furniture, movie posters, vintage telephones, school lockers, mannequins, ashtrays, albums you never heard of and the occasional Buddha fountain.
When the spinning stops, a fantastic assortment of rejected goods are deposited at 100 S. La Brea, home of a 26-year-old museum of second chances — an enterprise closed in on all sides by rising rents and luxury retail.
To some, the corner emporium is a borderline junkyard. To others, it's a refreshing throwback to a time of funkier mid-city commerce — those good old days before modern living became impossible without dog boutiques and overpriced, chic nonessentials for home and hearth.
The name of the owner and the store are the same, as my colleague Nita Lelyveld wrote three years ago in a feature on Nick Metropolis, now 71. Even back then, keeping the doors open required nonstop hustle and the unexpected arrival of a rare Elvis bust or a Hollywood set designer with an urgent need for a broken couch, a pinball machine or a reasonable facsimile of Colonel Sanders.
The rent is $16,000 a month, Metropolis told me when I dropped by over the weekend, and the kindhearted rabbi who owned the property used to give him a few breaks, as Metropolis tells the story. But then came a string of bad luck.
A burglar made off with some of Nick's most valuable Marilyn, Beatles and Elvis collectibles. Then the rabbi died, and a property management company was stricter about overdue rent. And then came the relentless rains, which damaged some goods — half the shop is open-air — and washed away shoppers.
'Does everything have to be a Starbucks?'
So how much does he owe?
"A lot," said Metropolis, who wore a lion and tiger necktie and had stuffed an impressive number of pens, pencils and notepads into his shirt pocket.
Joanna Friedman, a shop neighbor, started a GoFundMe page for Metropolis but said the money was not exactly pouring in. Some neighbors think of the place as an eyesore, she said, and Metropolis himself told me he has to do a better job of organizing and cleaning up. But to Friedman, the store is not just about things. It's about the vibe, the spectrum of people drawn to the place, and the way the owner treats them.
"Does everything have to be a Starbucks?" she asked.
If he could pull together $6,000 by Monday morning, Metropolis told me, he was hoping the judge would agree to a payment plan of $4,000 a week, plus $1,000 back payment, until his debt was buried. And if he missed a single payment, he said, that's it.
But the son of Greek immigrants has always found a way to survive, ever since he came west from New York in the 1960s to make it in the music business — he liked Dylan and he dressed like the Beatles. When the music didn't go so well, he tried a little acting, then landed on the stage he was meant for all along.
As bargain hunters and curiosity seekers streamed in on Sunday, Metropolis wore five rings and six bracelets he bought from a homeless woman named Alice, who once tried to sell him a microwave oven with no door. Miley Cyrus happened to be shopping for a Hollywood sign at the time and gave Alice $200, according to Metropolis.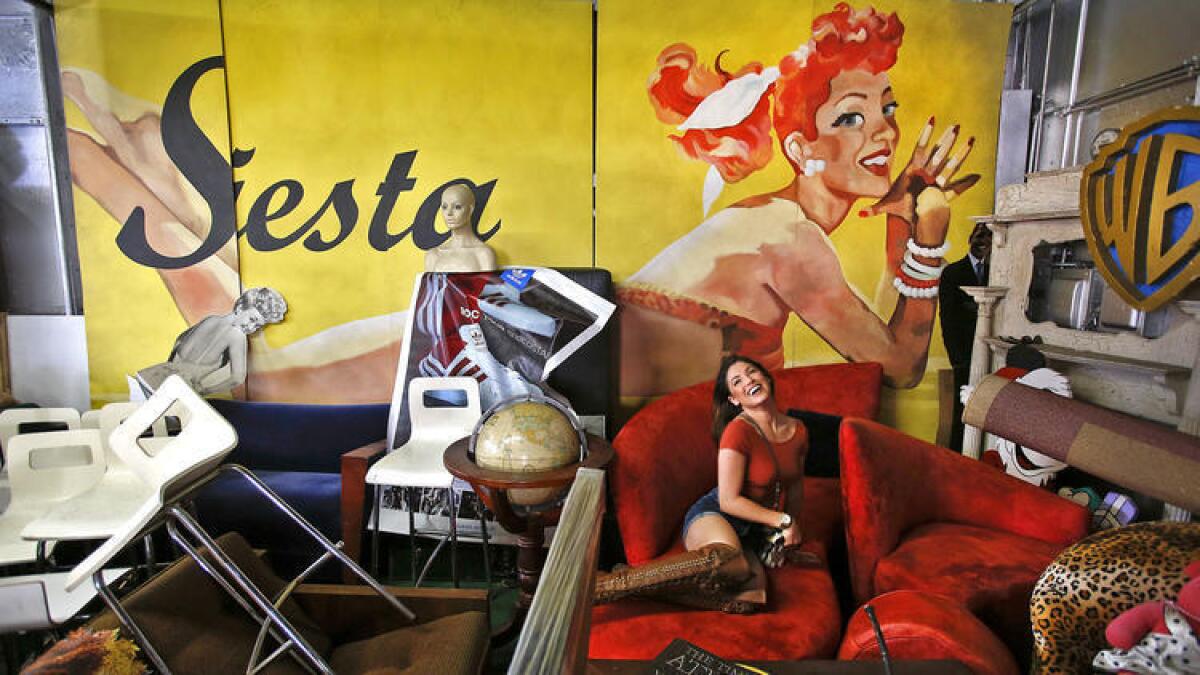 The daily haggle continues
"Do you see why I say I'm in a Fellini movie every day?" he asked as four UC Irvine students lugged a mannequin with a missing hand to the checkout stand. They said their plan was to dress it up, just to make their apartment look hip.
"Are you buying him or renting him?" Metropolis asked the students.
They were buying, and the price was $150. When the students balked, Metropolis came down to $80, telling them he paid $75.
Still no deal. The missing hand and all.
They finally agreed on $60. But the students felt guilty, given Metropolis' financial jam, and agreed to pay $80.
An art student named Valentin Salazar drove down from Fresno when he heard Metropolis was in trouble. Salazar made a small donation and began painting an elaborate Nick Metropolis mural on the back of the shop, no charge, all because eight years ago, when Salazar couldn't find work, Nick hired him to make a sign.
On Monday, Metropolis got some financial assistance from Ethel Watson, a 94-year-old friend who hangs out at the shop now and then.
"I like his generosity toward people," Watson told me. "Race, color and creed mean nothing to him. He's just a man of love. In his need to help others, I think he hurts himself sometimes. I just couldn't stand to see him go down the drain."
The homeless jeweler came by on Monday. So did Ricky McLemore, also homeless, who brings in found treasures and sometimes does odd jobs.
A reprieve — for now
Metropolis came back from court with good news. The judge approved a deal to keep him in business, as long as he sticks with the payment plan. The property manager told me the lot could bring in much more rent, but the owners would like to see Metropolis find a way to make it work.
"It's a wake-up call," said Metropolis.
As we spoke, a customer bought $700 worth of block letters, recycled from signs, to stage a promotion for a shoe company. And not long after that, Fermin Castellanos pulled up in a pickup truck with a fresh set of letters. The Taco Stop, in Laguna Hills, had just closed, and Castellanos, a sign maker and dismantler, knew where to unload the letters and make a few bucks.
It was a good day for Metropolis, with lots of work ahead and no guarantees, but Nick had enough money in his pocket to get his wife something nice for their anniversary.
Get more of Steve Lopez's work and follow him on Twitter @LATstevelopez
ALSO
Bulldoze first, apologize later: a true L.A. landmark
In Venice, where money meets misery, hoping for an end to homeless camps
Trump may hate California, but he's not shy about asking its residents for donations
Earthquake denial gets a lot harder when you stand on top of the San Andreas fault
---
The stories shaping California
Get up to speed with our Essential California newsletter, sent six days a week.
You may occasionally receive promotional content from the Los Angeles Times.