Nick Metropolis has a serious case of jumble fever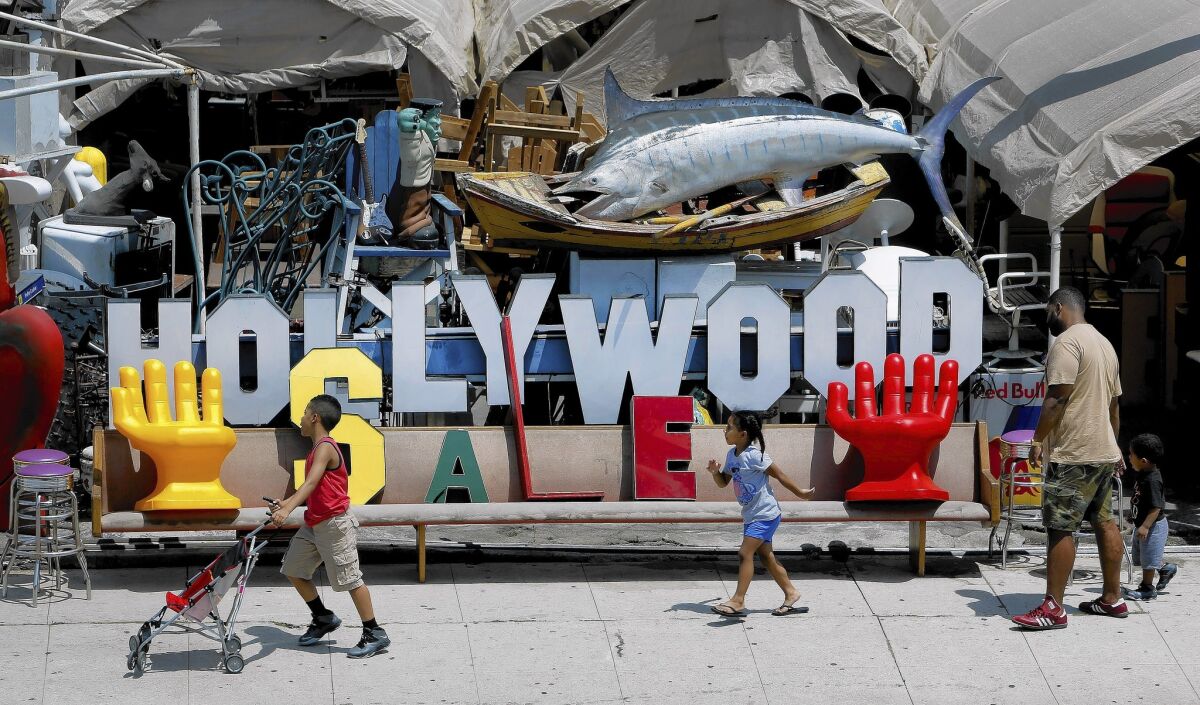 Maybe you've been longing for a life-size figure of Ronald McDonald or a Mamas & Papas anthology on 8-track or a big sign that says Virgil's Autobody. Maybe you'd like to make a statement on your living-room wall out of a rainbow of giant sign letters.
Or maybe, one day driving down South La Brea, you chance upon the cacophony of clutter at the southeast corner of La Brea and 1st — and you stop out of no greater need than to know what it's all about.
Where there should be a storefront is seemingly endless jumble — indoor and outdoor, under tarps, under tents, under sky. An enormous horse of faux stone, a dimpled golf-ball chair, arrows that read "parking enter here" pointing out from a red sleigh on the sidewalk. Red Bull display fridges, painted male torsos, a bow-tied wooden butler smiling serenely at passing cars. What is this place? What is its name? Signs say, but it's easy to miss them.
So you enter on faith, walking through a maze — gnomes, traffic lights, mannequins, mirrors. You wander in deeper, at times dead-ending, not knowing where you're going, corners blind for the stacks and the piles.
You finger something — maybe a porcelain Barack Obama souvenir plate or a copy of "Jonathan Livingston Seagull" or a gas pump — and leave a trail in dust. How much does it cost? How to know? Not one item in the place bears a price tag.
At Nick Metropolis — the name both of this shop and its owner — price, it turns out, isn't predetermined. What's it worth to you? How much do you love it? How much does Nick love it? Will you ask with a smile or a sneer?
Before you can do so, you have to find the big, paper-piled desk far at the back, with its fair-warning sign: "Prices subject to change according to customer attitude."
There, if he's not running to the bank to stave off disaster or standing on the sidewalk surveying offerings piled onto pickups, you might just find the man with the answers.
Nick Metropolis, 68, has spiky hair that, depending on the light, appears black or quite startlingly red. He wears short, fat ties on which Snoopy plays tennis or John, Paul, George and Ringo gaze out. He has rings on his fingers and bracelets on his wrists. He decorates his ties with pins and brooches. Khaki cargo pants, a short-sleeve button-down, suede sneakers with thick white soles. On one ear is a Bluetooth headset. Odds are, he's using it.
He'll have cash by tomorrow, he's telling someone. Or: "Sure we've got letters. Anything in particular you're trying to spell?"
"Can you wait until Monday. It's been really crazy?" he sweet-talks a decorator, who bought a scuffed bench on the optimistic promise that overnight it would be sanded and repainted.
Collectors' hunting ground, prop master's dream, Nick Metropolis the store plays host to a colorful cross section of Los Angeles. Tourists leap off their sightseeing buses to go see it. "Got any Flintstones or Popeye stuff?" a man from Manitoba asked recently.
Desperate people whose L.A. dreams have imploded pull up on the way out, seeking quick cash for a couch or a dresser. The neighborhood's homeless wheel over finds in shopping carts. (Metropolis knows the area's most down and out well. He gathers bottles and boxes for them to take to recycling centers and lets one, whose name is Thomas, sleep in a room in the back.)
Wannabe starlets and fresh-off-the-plane models in short shorts come to swank up their studio apartments with curvy lipstick-red couches and images of Audrey Hepburn. Filmmakers fan out through the jungle on recon — hunting for the perfect battered leather suitcase or 1970s coffee table that will give their cinema verité. (The other day, a crew from the upcoming movie "Straight Outta Compton" wanted a pile of the tattered and crumpled tarps in daily use at the store for scenes set on the streets of South L.A.)
Every day, Metropolis buys things and sells them. He'll rent out almost anything. He'll also consign as a favor or if he can't pay outright.
Here's how it is for Metropolis, who came west from Rochester, N.Y., in the mid-1960s, hoping to be a singer or at least a George Harrison look-alike. (He met Harrison once at a bar. He's a huge Beatles fan. His business cards proclaim "Love is all there is," highlighted by hand in day-glo yellow.) After singing came a little acting, followed by selling on street corners. Then came this shop, which he's managed to keep open for nearly 22 years. But it's always been "hand to mouth, on the edge, miracles at the last moment," says this man who believes in the power of daily affirmation and prayer. A sale is made and so a check doesn't bounce. The guy who's coming to be paid gets stuck in traffic.
Who can resist a treasure? Metropolis can't. Show him one and he'll make it his somehow — even if he knows that he shouldn't.
And so things keep coming in — a coin-operated horse, a bowling ball in its case — faster than they move out. Lately, two employees, Jose Medrano and James Bond (real name, he swears), have the thankless task of trying to make space. They choose a corner. They make a junk pile. Metropolis insists he must personally go through it. If they sneak by him to the dumpster, he finds out and fetches back much of what they've tossed.
Bond, a sarcastic Londoner who says he was a party boy until he kicked his heroin habit, describes working at the shop as a form of penance, to help him get over himself and practice humility.
"Let go and let God in," he tells Metropolis. "I'm not a Christian, but really!"
Metropolis' wife, Rita, tries the subtle approach, leaving an article, "The Problem With Clutter," on top of the sea of receipts on the desk. His part-time bookkeeper, Mitra Malek, calls him a hoarder to his face.
"You have issues. You have big-time issues!" she says sternly, standing, hands on her hips.
But as she's talking, Metropolis is walking off to see what's just arrived at the curb. Maybe if he buys it, you'll wander in and see it. Maybe you'll ask him the price. Play your cards right, it could be yours for a song.
Follow City Beat @latimescitybeat on Twitter and at Los Angeles Times City Beat on Facebook.
---
The stories shaping California
Get up to speed with our Essential California newsletter, sent six days a week.
You may occasionally receive promotional content from the Los Angeles Times.