Who they were: The victims of the Montecito mudslides
Santa Barbara County officials have identified 20 people who were killed in the mudslides that swept through Montecito.
The oldest victim was 89. Four victims were children. The youngest was 3 years old.
These are their names and stories.
Josephine Gower, 69
Around 3 a.m. Tuesday, Gower woke up to the sound of rain thundering on the roof of her home on East Valley Road. She walked downstairs, where her boyfriend had been keeping an eye on the storm.
Together, they opened the front door and looked outside. A wall of mud, debris and boulders as big as pickup trucks suddenly struck the house, sweeping the couple out the front door.
Gower clung to the door frame. Her boyfriend reached for her hand. Neither could hold on.
He was thrown against a fence and pinned there, buried in mud up to his neck. She was swept away.
"He was in the mud calling her name for hours," said Alastair Haigh, 37, Gower's son-in-law.
Gower, who went by Josie, was born in Santa Barbara and had lived in Montecito for more than 20 years. She was a familiar sight, zipping around in her red Mazda Miata convertible, and knew almost everyone in town — especially the other longtime residents who had embraced the area's laid-back lifestyle, Haigh said.
While the Thomas fire burned in the hills near her home, Gower and her boyfriend sat at an Italian restaurant and watched the flames, sharing a pizza with the firefighters.
"She was like the life of the party," Haigh said. "Very funny, very charismatic, just radiated energy."
Gower's father had worked as a gardener at the Lotusland Botanical Garden, he said, and had purchased several small houses decades ago. Gower continued to work as a landlady after her father's death. Her tenants were used to seeing her show up with supplies from Home Depot, ready to fix anything around the house.
"She was a very hands-on, independent woman," Haigh said.
Gower is survived by two children and two grandchildren.
— Laura J. Nelson
Peter Fleurat, 73
Fleurat loved the outdoors — and he loved an audience. He frequently invited friends to his home on Hot Springs Road for dinner and a dose of comic relief.
Fleurat was a devoted member of the Ventura County Koi Society, and he kept his friends laughing, said society president Mary Oxman of Thousand Oaks.
He showed up to meetings wearing bright colors or silly sunglasses, or a name tag so far askew that people would tilt their heads to read it. He sometimes hired musicians to play when the club met at his house.
"He liked to do silly, off-the-wall things just to see how people would react," Oxman said.
An avid naturalist, Fleurat spent hours outside tending to his bees, his koi fish and a big garden. The tall trees, flowers and the miniature creek running through the sprawling property made the home feel like a forest, friends and relatives said.
His longtime partner, Lalo Barajas, ran a restaurant in Santa Barbara and turned their homegrown produce into delicious salads.
Fleurat was generous, Oxman said, helping club members when they needed to catch a wriggling fish or fix their ponds. He shared his plants willingly, and once arrived to a meeting in a truck, the flatbed stacked with greenery. "Help yourself!" he told his friends.
Fleurat and Barajas were at home together Tuesday when the storm swept through the area. Barajas, his partner of 20 years, survived with a sprained neck and cuts and bruises.
Fleurat and Barajas spent every Thanksgiving with their niece Angelique Barajas, 33, at her home in Santa Barbara. All the kids loved Fleurat, she said, in part because his energy made him feel like a kid himself.
"The community was absolutely amazing in trying to find him," Angelique Barajas said. "So many people loved him. Despite what's happened, we feel kind of at peace knowing how much everyone cares."
Fleurat loved to hike and ride his bicycle, particularly when the monarch butterflies migrated through the area.
One nephew who often rode bicycles with Fleurat took a solo ride Thursday to honor his uncle.
— Laura J. Nelson
Mark Montgomery, 54
Caroline Montgomery, 22
When physician Mark Montgomery wasn't seeing patients, he loved to chat and joke with the nurses and scrub technicians at Associated Hand Surgeons, a small practice in Santa Barbara.
The office had just three doctors, and the atmosphere was friendly and intimate, said Robert Ruth, a surgeon who had worked with Montgomery since 2003.
"He was good at teasing the staff just a little bit, talking about the funny things that happened that day," Ruth said. "We're a small family, and everybody was very connected to him."
Montgomery cheered for the New York Yankees, and Ruth cheered for the Dodgers. "Come October, we'd have our little rivalries," Ruth said.
Montgomery lived for his three children, Ruth said, going to their water polo games and cheering the loudest from the stands, "even though he was a busy surgeon who was always on call." Montgomery was also a member of the Santa Barbara Cottage Hospital staff.
Montgomery and his daughter Caroline were killed at home during Tuesday's storm, Ruth said. Montgomery's son, who was upstairs, sustained only minor injuries. His wife and eldest daughter were traveling.
The family took an international trip together every year and had recently returned from Brazil, Ruth said. They had also visited Sri Lanka and Morocco.
Caroline Montgomery, 22, graduated from the Cate School in Carpinteria and was attending Barnard College, where she was pursuing a career in fashion.
— Laura J. Nelson
Alice Mitchell, 78
James Mitchell, 89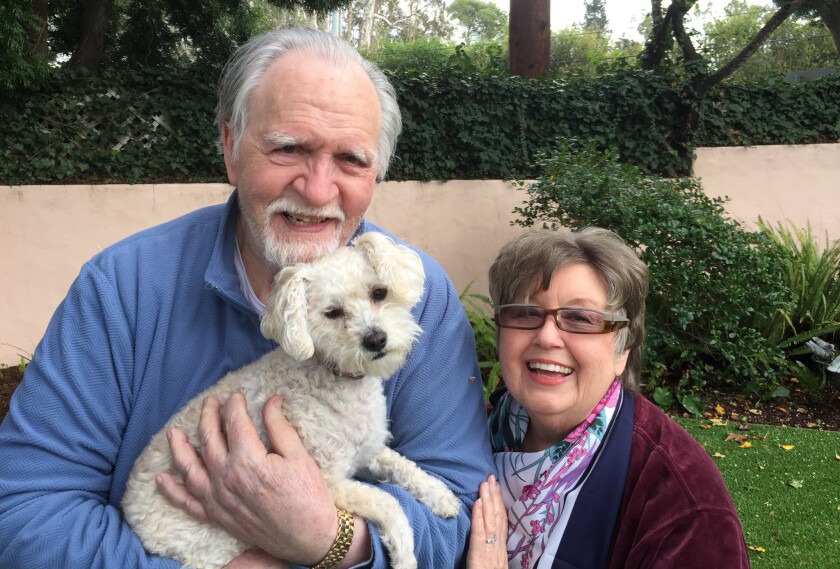 Retiring to Montecito had always been a dream for Jim and Alice Mitchell.
Jim worked in labor relations and Alice was a teacher. After raising their two children in Orange County, the couple retired and moved to Montecito in 1995, the Associated Press reported.
They bought a three-bedroom, Spanish-style house on Hot Springs Road. The home was filled with Alice's artwork, with the phrase "Casa de Contenta" — the house of contentment — painted on the outside, their granddaughter Megan Mitchell told NBC News.
When officials issued a voluntary evacuation order Monday, the couple chose to stay at home to celebrate James' 89th birthday with a quiet dinner, their daughter Kelly Weimer told the AP.
"They're an adorable couple, and they were in love with their house," Weimer said. "That's their forever home."
— Laura J. Nelson
Roy Rohter, 84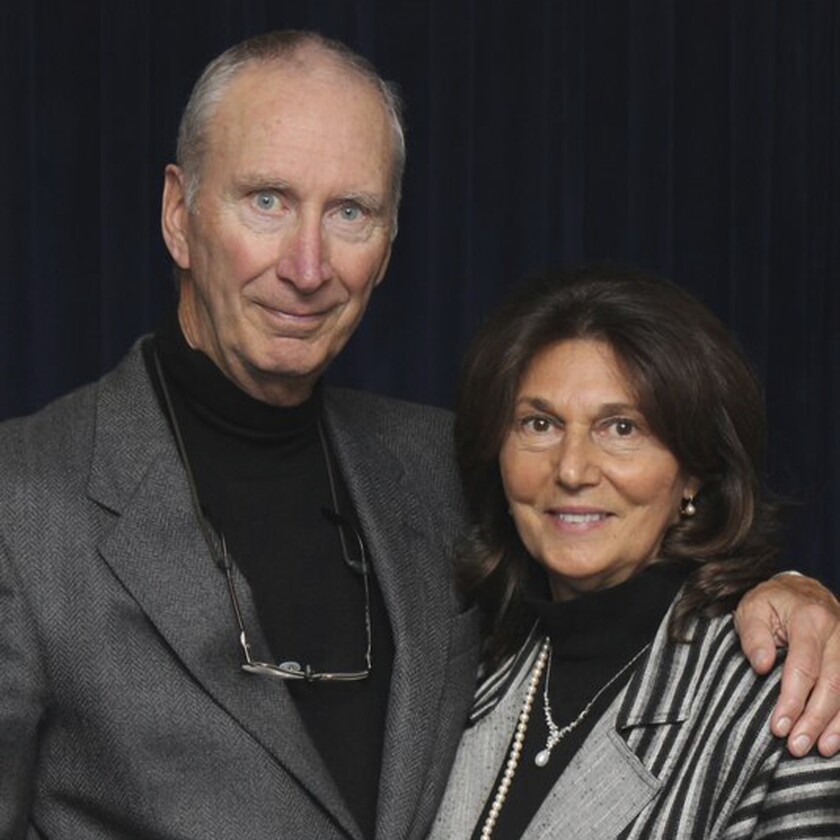 Rohter, a retired real estate broker, founded St. Augustine Academy, a Catholic school in Ventura, in 1994. He lived in Montecito with his wife, Theresa.
Rohter supported education programs and anti-abortion causes that "animate the ideals of the Catholic intellectual tradition," said Michael Van Hecke, the St. Augustine headmaster and a longtime friend.
In a statement, Van Hecke said he would miss Rohter's "infectious love of the faith and of life, and for all things true, good and beautiful."
— Laura J. Nelson
Rebecca Riskin, 61
As a girl in Los Angeles, Riskin dreamed of becoming a professional ballerina. She landed a role dancing with the American Ballet Theatre in New York in the 1970s, but an injury cut her career short.
She moved back to Los Angeles in 1979 and turned her sights to real estate, selling high-end homes on the Westside. A decade later, she moved to Montecito.
"I remember when I first moved here, people would say, 'You should work for the Chamber of Commerce,' " Riskin said in a video produced by her company, Riskin Partners. "And I'm like, 'I love it here so much. I'm just telling you what it's like living here.' "
During nearly three decades in the beachside town, Riskin brokered more than $2 billion in real estate deals for high-profile clients, her co-workers said. Her colleagues called her "the first lady of luxury real estate."
"We intend to carry out her life's work with the same strength, grace and elegance that wholly defined Rebecca," said Dina Landi, the firm's managing partner.
Riskin is survived by her husband, Ken Grand, children Robert and Julia, and five grandchildren.
— Laura J. Nelson
David Cantin, 49
Cantin was vice president of sales for NDS Surgical Imaging, a company that develops and sells operating room technology.
He was scoutmaster of Boy Scout Troop 33 in Santa Barbara. After leading his troop on a January hike and campout in the hills above Montecito, he wrote in a post on the Noozhawk website, "The splendor of our backcountry is right out the back door."
His daughter Lauren, 14, was pulled from the wreckage of the family home early Wednesday. The family's teenage son Jack is still missing, relatives confirmed.
"I'm so worried," Cantin's mother, Kathleen, said by phone, her voice breaking.
— Laura J. Nelson
Peerawat Sutthithepa, 6
Pinit Sutthithepa, 30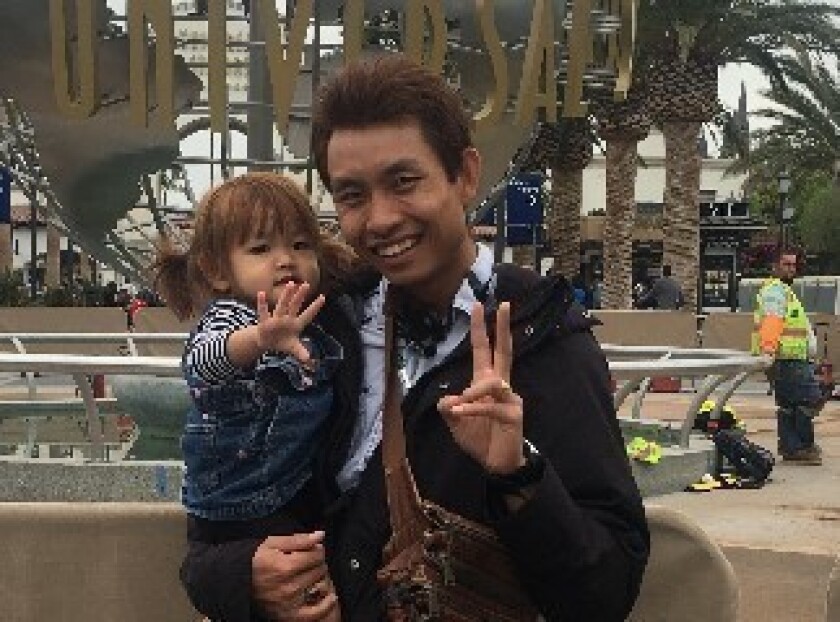 When the Thomas fire ravaged Santa Barbara County in December, Peerawat, 6, fled home with his family and took shelter at a Red Cross evacuation center.
"Fire coming closer and closer every minute from my house," reads a post from the Facebook account of his father, Pinit Sutthithepa.
The family was able to stay safe during that terrifying time. But this week, they could not escape the mudslides that followed.
Peerawat, a boy with big brown eyes and a toothy grin who was known as Pasta, was killed. His father, Pinit Sutthithepa, was also killed and his 2-year-old sister, Lydia, is still the missing. Richard Taylor, Peerawat's 79-year-old stepfather, also died.
The family's house was destroyed by mud, boulders, debris and rushing water, said Mike Caldwell, general manager of Toyota of Santa Barbara, where Pinit Sutthithepa was an employee, in a GoFundMe page to raise funds for the family. "Literally nothing is left."
The boy's mother and grandmother were working when the mudslide hit and are safe, Caldwell said.
"We're just heartbroken," said Kevin Touly, 34, of Eastvale, a family friend. "That a rainstorm like this would wipe people out like this is inconceivable to me."
Peerawat adored trains, Touly recalled. In a photo posted on social media by his family in November, the boy has his arm wrapped around his younger sister as they pose on the beach, the two of them smiling. In another, they are cuddled together in their father's arms. Their mother sits next to them. "Happy Family," it reads.
Pinit Sutthithepa, whose body was found Saturday, was an "exceptional employee, a great husband and loving father," Caldwell wrote. "His family means everything to him."
Anneliese Place, 50, worked with Sutthithepa at the Toyota dealership. He often talked about his family and his beautiful wife, she said.
"That was always the phrase he used: my beautiful wife, my beautiful wife," Place said. Sometimes, his wife would join Sutthithepa at work, bringing their two children.
Peerawat would run around Place's desk and giggle, she said.
— Paloma Esquivel
Richard Taylor, 79
Taylor — known as "Loring" by his family and friends — was an avid reader, storyteller and traveler.
He graduated from Santa Barbara High School and earned three degrees from UC Santa Barbara before embarking on a career as an English literature professor. He spent many years teaching abroad in Romania, Jordan, Yemen and Oman.
When Taylor came home for visits, his young nephew's friends would hang around the house so they could hear stories about the Middle East from the "legendary Uncle Loring."
"His personality was so warm and outgoing that he was always the center of the action," said his nephew, Matthew Taylor, in a statement.
Richard Taylor bought a home in Montecito in the 1960s and retired there nearly two decades ago. Taylor sometimes hosted relatives for extended periods. He loved to talk about politics, literature, history or traveling with friends and strangers.
"My dad lived a life full of curiosity and generosity," his daughter, Freya Taylor, 38, said in a statement. "There wasn't a book he wouldn't read or a person he wouldn't help in any way he could."
In a 1979 photo, Richard Taylor is shown in bed, reading a book on archaeological digs in Mesopotamia, as his infant daughter slumbered next to him.
Later in life, Taylor married Bunphoem "Perm" Taylor and embraced her family as his own, relatives said. He doted on Perm's two grandchildren, taking them out for pizza and telling neighbors about their escapades.
Taylor was at home on East Valley Road with his family when the storm hit. He was killed, as were his stepson and his 6-year-old grandson. His 2-year-old granddaughter, Lydia, is still listed as missing.
Taylor's wife and daughter-in-law were at work at a grocery store and survived the deluge.
— Laura J. Nelson
Jonathan Benitez, 10
Marilyn Ramos, 27
Kailly Benitez, 3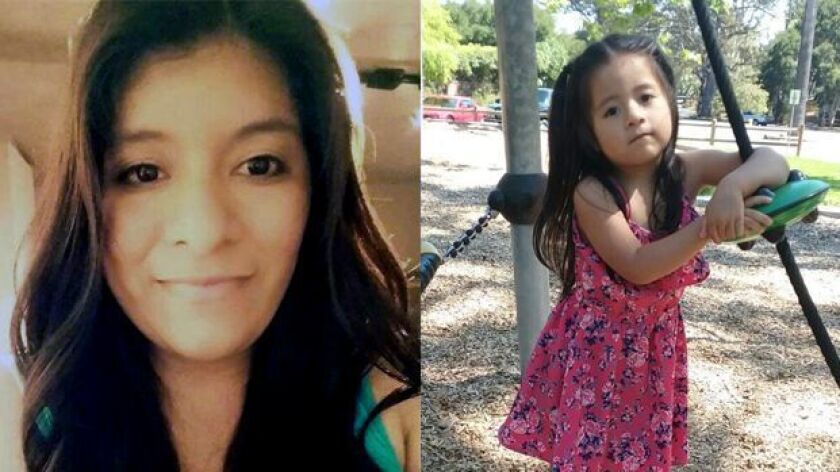 Jonathan was a fourth-grade student at Cleveland Elementary School in Santa Barbara.
He loved sports and played on the school's flag football, soccer and basketball teams, said Angelique Barajas, 33, who used to work as an aide at his after-school program.
"He was a really sweet kid," Barajas said. "He was always willing to help, and was a friend to everyone."
Jonathan's aunt Marilyn Ramos and her 3-year-old daughter Kailly Benitez also died.
His mother, Faviola Benitez Calderon, 28, is still missing. She worked as a housekeeper, according to a fundraising page set up for the family. His father and uncle work as gardeners.
His baby brother Ian was found covered in mud, but alive.
— Laura J. Nelson
John McManigal, 61
McManigal was the father of six sons. He launched his own equipment financing company based in Santa Barbara and had previously worked for IBM.
"I cannot tell you how devastated we are for the loss of our beloved, amazing brother," McManigal's brother wrote on Facebook. Another relative added, "I only ask that you all hug your loved ones tighter, don't sweat the small stuff, and live in the moment."
McManigal's son Tyler, stationed in Hawaii with the U.S. Navy, said his brother Connor was also caught up in the storm. He was carried three-quarters of a mile away from their home on Hot Springs Road but survived.
— Laura J. Nelson
Martin Cabrera-Munoz, 48
Martín Cabrera Munoz was a landscaper who spent his days caring for the lawns, flower beds and hedges of the area's hilltop mansions. At night, he repaired to his boss's home on East Valley Road, where he had a room.
He was there Tuesday when a torrent of mud ripped down the San Ysidro Creek. His youngest sister, Diana Montero, said the family was told that he died from traumatic injuries.
Munoz grew up in Guanajuato, Mexico and came to the U.S. to join his mother in 1998. He was the second of eight siblings, most of whom live in Southern California.
"He was a jokester, a calm person and hard-working," Montero said.
He loved family and music.
"He listened to music all day long – any type of Mexican music, rock and KISS," Montero recalled.
Although he worked long days, "he never complained," she said. He sent money back to Guanajuato where his two sons, aged 26 and 12, and 19-year-old daughter live.
"Overall, he wanted to give his kids a better life," Montero said.
Munoz's family has started a GoFundMe page to cover funeral arrangements.
— Harriet Ryan
Joseph Francis Bleckel, 87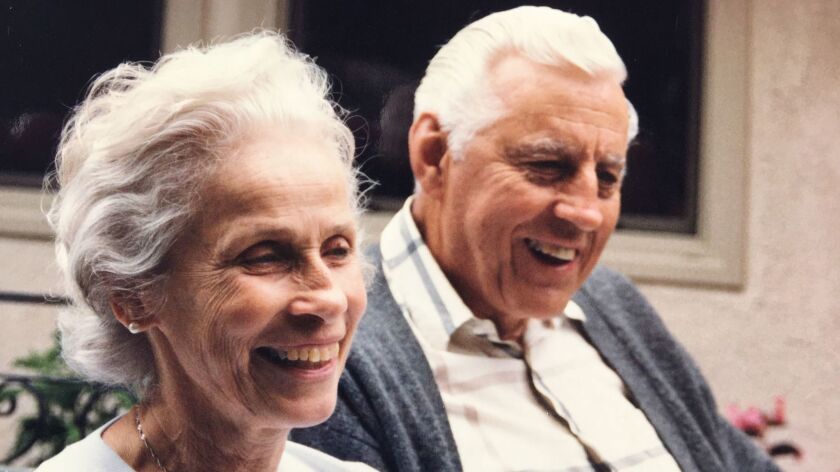 Joseph Bleckel never had children of his own, but he and his wife, Margaret, were devoted to their nieces and nephews.
"They had an incredible sense of love for us," said nephew Jerry Bleckel, 56. "They adopted us and we adopted them."
When Margaret died of cancer 12 years ago, Bleckel was left to live alone in their Montecito home, a Spanish house full of avocado trees and a stream out back.
The couple bought the house 40 years ago, drawn by the beauty of the area.
Bleckel, who was raised in Danbury, Connecticut, came west after the Navy and worked as an electrical engineer.
"He worked hard and one of his major passions was going down to the beach," Jerry said. "He'd grab a lawn chair and just lounge."
He also enjoyed going to church and driving around town.
"He was a very serious guy," said Jerry, who lives in Hawaii, but stayed in contact by phone.
Growing up, life was not easy for Bleckel.
He and his two siblings came to America during the Great Depression.
His father died when he was a baby and his mother had to raise the children alone.
The wealth of Montecito never fazed him much.
He remained fiercely independent and frugal, raking leaves out back in his 30-year-old Navy peacoat.
During the Thomas fire, the flames came within a quarter mile from Bleckel's home, though at his age, he was not aware of the danger.
"It's pretty cloudy outside," he told Jerry.
"Those aren't clouds," his nephew told him.
Bleckel declined to leave his home, telling Jerry: "Where am I going to go?"
When the storm hit, his neighbors on Winding Creek Lane evacuated, but Bleckel remained.
The mud swept away his garage and piled five feet high on his walls. When officials finally reached him days later, they found him in his bedroom.
Sawyer Corey, 12
Morgan Corey, 25
Please email laura.nelson@latimes.com if you would like to share any information or photographs of one of the victims.
FOR THE RECORD
Jan. 13, 8:54 a.m.: An earlier version of this article stated that Riskin had one grandchild. She has five grandchildren.
---
The stories shaping California
Get up to speed with our Essential California newsletter, sent six days a week.
You may occasionally receive promotional content from the Los Angeles Times.