Sudden, unstoppable and deadly: Mudslides bring destruction with nowhere to hide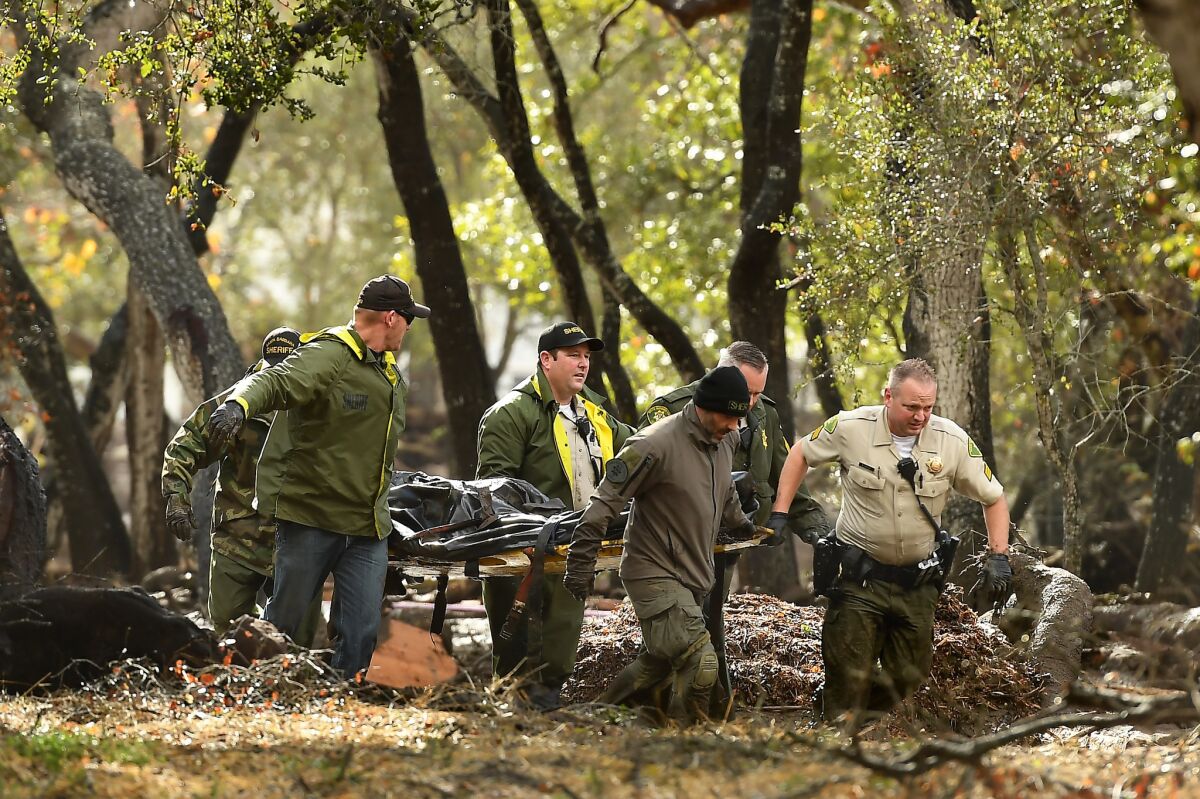 In a place so dry for so much of the year, it's hard to imagine how a sudden downpour can drown whole communities in a sea of mud, water and debris.
But that's what happened early Tuesday. Just weeks after the largest wildlife on record in California burned to the edge of Montecito, an intense downpour turned the charred ground to liquid and raced downhill, destroying everything in its path.
It's part of a grimly familiar pattern that is a central aspect of the Southern California drought-deluge cycle: Fall fires followed by winter flooding.
Destructive debris flows occur only every few years during periods of intense rain. But they come with such ferocity and speed that humans rarely have time to get out of harm's way.
'Boulders bigger than cars'
"Boulders bigger than cars ride long distances in debris flows," author John McPhee wrote in his classic "Los Angeles Against the Mountain." One flow "was so full of automobiles it was like bread dough mixed with raisins."
The conditions Tuesday morning set the stage for the disaster. The Thomas fire had left the hills above Montecito, a tony community along the Santa Barbara County coast, bare.
Soil in a burned area can be repellent to water, creating a flood-like flow on the ground that picks up rock and debris.
In an area that has not burned, soil can become saturated. Pressure builds up underground, and soil starts moving and begins picking up mud and debris as it starts flowing downhill.
Too much rain too quickly
Experts say it doesn't take a lot of rain to trigger mud flows. But Tuesday morning, the area was hit by what officials described as unprecedented rain. A rain gauge in neighboring Carpinteria recorded 0.54 inches in five minutes and 0.86 inches in less than 15 minutes.
The area of Montecito that saw the most destruction was south of the burn zone. Mud and debris from above flowed down Montecito Creek and slammed into the community, destroying homes, trapping residents and killing an unknown number of people.
It all happened in a matter of minutes.
It was about 3:30 a.m when Montecito resident Susan Moe and her husband woke up to loud noises.
"We look at out at our frontyard and there was a river," she said. "We look at our backyard and it was a river."
By daybreak, the level of destruction was clear.
"Other people's trees were in our yard," Moe said. "Our mailbox was gone. Our neighbor's house has a big crack. Homes were red tagged…. It feels like this was way worse than the fire."
A history of destruction
Flood control measures built over the last century have reduced the destruction and death toll from flooding and mudslides, which once plagued Southern California during wet years.
In 1934, a 20-foot-high wall of rocks and mud swept over La Crescenta and Montrose, killing 49 people on New Year's Day.
Four years later, a series of major storms destroyed more than 5,000 homes, collapsed bridges and killed more than 200 people. In 1969, an estimated 91 people died when a pair of powerful storms barreled through. El Nino-fueled storms in 1997 and 1998 brought more damage and death from Tijuana to Santa Barbara.
In fall 2003, fire ravaged the San Bernardino Mountains. It rained that Christmas Day, causing mudflows that swept into the St. Sophia Camp and Retreat Center in Waterman Canyon as a group was celebrating the holiday. Mud and debris buried the camp, killing 14 people.
In 2005, 400,000 tons of mud slid down the bluff behind La Conchita, southeast of Montecito, killing seven adults and three children. Many believe the landslides were caused by heavy rains combined with poor water management.
Experts said some slides are easy to predict. Wildfires tend to burn away roots of trees and vegetation that had kept soil in place, making the land susceptible to slides. Forecasters can also predict how much rain storms will dump.
Fire officials issued mandatory evacuation orders for thousands in the burn zones of Southern California on Monday. But the Montecito area that saw some of the most destruction was under only a voluntary evacuation order.
After the 2010 Station fire, a 10-ton boulder clogged a crucial basin in La Cañada Flintridge's northernmost neighborhood, plugging up the drain like a giant stopper. That caused a slide that damaged more than 40 homes. No evacuations had been ordered because forecasters believed the storm would move through faster than it did.
The 'surreal' power of nature
Although Montecito saw the most disastrous mudslides Tuesday, other burn areas also were hit hard.
Allie Vonnacher, 17, and her mother, Heidi Donato-Fennell, 42, have lived in their home on Country Club Drive in Burbank for three years. Residents hadn't been ordered to evacuate but were told to move their cars off the street. At about 6 a.m., the earth began to move.
"I woke up and there was a huge, super-fast-moving mudslide. As fast as a waterfall," Donato-Fennell said.
Her daughter woke up at the sound of a car alarm.
"I looked outside and the car was coming really fast down the street," Allie said. "I was like, 'What the hell?' "
They witnessed a horrifying scene: several cars flowing down the street, along with power lines, trees and mailboxes.
"It's just surreal how powerful nature is," Donato-Fennell said.
Mejia and Times Staff Writer Michael Livingston reported from Montecito. Serna, Vives and Queally reported from Los Angeles. Rong-Gong Lin II and Cary Schneider contributed to this report.
---
The stories shaping California
Get up to speed with our Essential California newsletter, sent six days a week.
You may occasionally receive promotional content from the Los Angeles Times.