Native Americans mark Thanksgiving with mixed feelings, and a meal for those in need
Michael Reifel was 10 years old when his parents' complicated relationship with Thanksgiving started trickling into conversations during the holiday feast. They were grateful for what they had, they would say, "but at the expense of our land." His father would recount tales of when Thanksgiving meals came from the hunt. Deer instead of turkey. Wild turnips instead of sweet potatoes.
"I see them say that with a sense of loss," said Reifel, an Apache. "I was kind of blown away. I never really knew they felt this way."
Thanksgiving has long carried a distinct resonance for Native Americans, who see the holiday as more than an embellished story of Pilgrims and Indians looking past their differences to break bread. For some, it is a "national day of mourning."
Interested in the stories shaping California? Sign up for the free Essential California newsletter >>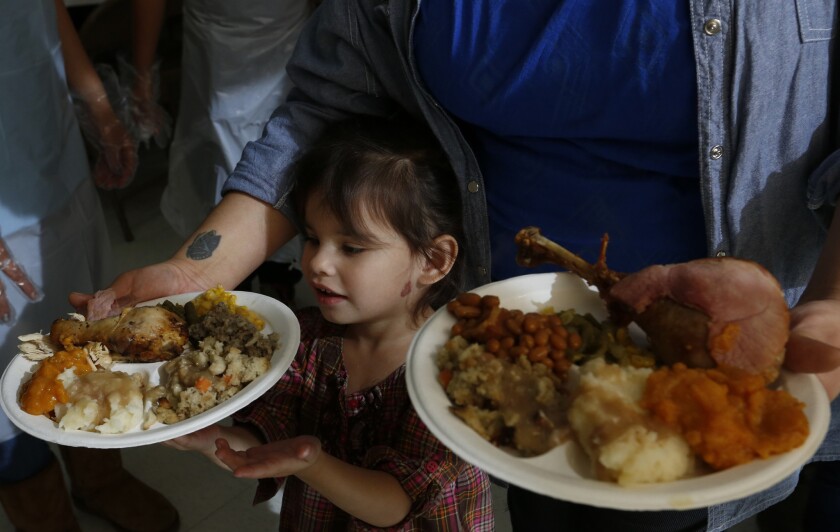 For Reifel, along with members of other tribes in the group United American Indian Involvement, the holiday's meaning is twofold. Serving a holiday dinner to those in need presents an opportunity for the community to get together, pass on history and give thanks the way their ancestors did long before settlers arrived.
It also offers a chance to move past the anger and discuss the challenges the community faces today — issues such as the push to recognize Indigenous Peoples' Day on Columbus Day, or efforts to eliminate team mascot names they see as offensive, like the Redskins.
"There are mixed feelings about it," Reifel said of Thanksgiving. "But we are family, and it is a holiday that has to do with being together."
Beginning in 1970, the group began serving Thanksgiving meals on Los Angeles' skid row as a way to care for homeless Native Americans on Winston Street, also known as "Indian Alley." At the time, the organization fed 200 people. Wednesday's Thanksgiving meal drew more than 300 — some were homeless, others had once lived on the streets or wanted to share a meal with those who found themselves there.
The attendees lined up in the halls outside a downtown L.A. community room before noon, waiting for their lunch of turkey, mashed potatoes and tamales, among other fixings. A pile of Egg McMuffins greeted those with more unconventional Thanksgiving palates.
"We have no Pilgrims, just Indians," Douglas Cyrette laughed.
Cyrette, who has attended the group's Thanksgiving meals since 1975, says he doesn't appreciate the way Thanksgiving is portrayed but attends the celebration because "it's about getting everyone together."
"I live in a convalescent home. This is a big deal for me, to be around other Indians," said Cyrette, 67. "If I wasn't here I'd be eating in my room alone."
A spirit plate was left for those who passed during the year, an offering to show gratitude and acknowledge that all generations are present, even if not physically. Volunteers piled food onto paper plates and served elders at their tables.
See the most-read stories this hour >>
"Either I can wake up angry, or I can wake up positive," Chief Executive Jerimy Billy said before the crowd dug into their meals. Billy emphasized the importance of moving on from the pain of the past and the mourning once reserved for the holiday. Grief has given way to spiritual and physical togetherness, he said.
"We have this holiday. We have a few days off. Use this time with your family," he said. "That's why we do this Thanksgiving feast. I know it started as giving to the less fortunate, but now it's about a time to gather."
Many tribes have celebrations year-round that correspond with the seasons, said Joseph Quintana, the group's development director. The idea, he said, is that those "who have the most give to those with the least." In a sense, he said, the Thanksgiving celebration is consistent with tribal traditions that call for gratitude, reflection and giving back.
"It's a time to come together," Peter John Running Horse said. "We don't look at this as what happened in Pilgrim times, but as a family celebration."
He clutched his granddaughter in his lap while his grandson made a plastic fork and knife dance on the red tablecloth. Life is like a river, he explained as he looked at his family.
"A river gives water to creatures, to travelers passing by," he said. "This is what this gathering does. And it makes sure you are not forgotten."
Twitter: @sarahparvini
ALSO
What does that Thanksgiving meal cost?
Why Thanksgiving dinner tastes so good, according to science
Thanksgiving travelers will face snow-blanketed roadways in Northern California
---
The stories shaping California
Get up to speed with our Essential California newsletter, sent six days a week.
You may occasionally receive promotional content from the Los Angeles Times.