Erin Brockovich appeals to Porter Ranch residents as law firms push gas leak suits
Movie-famous activist Erin Brockovich stood in front of 400 Porter Ranch residents on a recent weeknight and told a disturbing personal story.
"When I first came to Porter Ranch I couldn't believe it," she said of her visit to the community closest to Southern California Gas Co.'s leaking well. "I was in somebody's house and within 10 minutes, I started feeling kind of dizzy."
She said she saw a doctor who told her she "had what they called a chemically induced kind of bronchitis."
The message was clear. If Brockovich, 55, became ill after just 10 minutes, Southern California Gas Co.'s ruptured well must be harming anyone who breathes the fumes even for a short time — and for that, the victims should get compensation. Brockovich and the law firm she was advocating for, Weitz & Luxenberg, invited the residents to join their lawsuits against the gas company.
Across the region, other law firms are holding similar meetings and running advertising campaigns using a mix of dire warnings about health risks and reduced property values, promises of money and practical advice to try to persuade aggrieved Porter Ranch families to join lawsuits.
See more of our top stories on Facebook >>
Since the leak began at the Aliso Canyon well nearly three months ago, at least 25 lawsuits have been filed seeking damages from the utility and its parent firm, Sempra Energy. The attorneys say their take could range from almost nothing to more than one-third of the awards, depending on the outcome of the cases.
A majority of the lawsuits have been filed by residents of Porter Ranch, a community of 30,000 people in the rolling hills of the north San Fernando Valley. The legal actions claim negligence, hazardous activity, nuisance and trespass and seek compensation for emotional and physical injuries, as well as for diminished property values.
So far, the possible long-term health affects of the chemical compounds in the leaking natural gas remain unknown, and real estate agents say the troubled well's effect on property values won't become clear for several months.
But the law firms aren't waiting for answers. They are rounding up clients, and as evidenced by the hundreds of smartphone photos snapped as Brockovich spoke, the appearance of legal celebrities at these events is an effective way to boost turnout.
At a gathering last month, the attraction was environmental attorney Robert F. Kennedy Jr., the 62-year-old son of the slain U.S. senator. Although it was billed by attorneys as a "town hall meeting," the real reason for gathering at a Porter Ranch church was to find clients.
Interested in the stories shaping California? Sign up for the free Essential California newsletter >>
"I don't need the money," Kennedy said at the event, which was organized by four law firms, led by Kennedy & Madonna of Hurley, N.Y. "If I win a case, the money goes to the clients."
That might have been a relief for some in the crowd of 1,800, but many had hoped to use the occasion to ask about more immediate needs.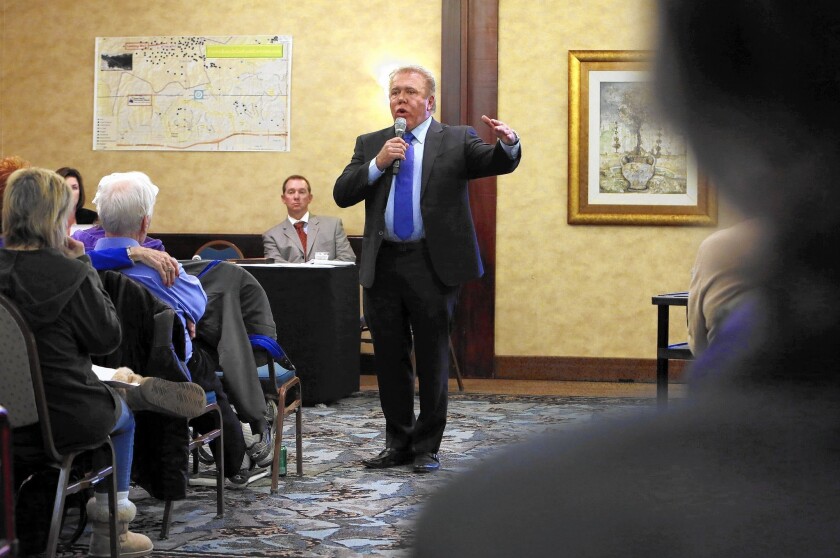 Skeptical of the answers they were getting from the gas company and state and local authorities, they sought information about how best to deal with issues involving their health, local schools and businesses and plans to sell their homes, or temporarily relocate elsewhere.
As they filed in and out of the Shepherd of the Hills Church auditorium, each was asked to fill out an application for representation in a class-action lawsuit.
Southern California Gas, which is insured for more than $1 billion, has retained the law firm of Latham & Watkins, a blue-chip international firm with more than 2,000 lawyers.
NEWSLETTER: Get the day's top headlines from Times Editor Davan Maharaj >>
In a separate case that raised eyebrows last year, Latham & Watkins billed the Water Replenishment District of Southern California more than $5 million in legal fees for just 10 months' work.
Robert G. Bea, a co-founder of the Center for Catastrophic Risk Management at UC Berkeley who has studied more than 600 disasters over the last 50 years, said jousting among powerful legal firms comes with the territory. He said it serves an important role in sorting out the cost and range of claims and insurance coverage.
In the aftermath of Hurricane Katrina in 2005, the deadly Pacific Gas & Electric explosion in San Bruno, Calif., in 2010 and the Deepwater Horizon oil spill in the Gulf of Mexico in 2010, "the legal processes were very effective in exposing documentation that filled out the picture puzzle of these disasters," Bea said.
Gregory Keating, a professor of law and philosophy at USC's Gould School of Law, said that simple math is behind the drive for large numbers of clients.
"When it comes to the race for plaintiffs, well, plaintiffs' lawyers like to be paid," Keating said. "They also like to make more money, not less, so the more good, competent plaintiffs with good stories to tell the better."
When it comes to attracting clients, few legal celebrities can match Brockovich, who nearly two decades ago made chromium 6 a household word after leading an underdog battle against Pacific Gas & Electric that led to a $333-million settlement and the Oscar-winning film "Erin Brockovich."
Her voice filled with defiance, urgency and indignation, Brockovich is a master at stepping into scenes of confusion, uncertainty and fear surrounding environmental disasters.
"When we have information, I want to share it right away," Brockovich said, standing beside a sign emblazoned with the law firm's new website dedicated to Porter Ranch. "If you don't have information — and information that is truthful — you cannot protect what's most valuable and important to you — that is your health and the welfare of your families and your safety."
In an interview that evening, Porter Ranch resident Alcy Montesquieu felt compelled to temper expectations.
"We don't want to exaggerate the effects and we don't want to get caught up with craziness," Montesquieu said. "But at the same time we don't want to not move and not do something we should."
The rally sponsored by Weitz & Luxenberg was the second such gathering that Montesquieu had attended in as many weeks. He and his wife and two children have yet to decide on a firm to represent them in a lawsuit.
The suit Brockovich helped develop against PG&E generated animosity that split the high desert town of Hinkley, Calif., as homeowners grappled with a plume of pollution she said was causing cancer.
In 2010, a state survey did not find a disproportionately high number of cancers in Hinkley, which had become a symbol of public fears about exposure to groundwater tainted with chromium 6.
By 2013, PG&E, which was responsible for the pollution, had bought out hundreds of homeowners who lived within a mile of the plume of tainted groundwater, leaving the ranching community all but a ghost town.
As for the "chemically induced bronchitis" Brockovich told Porter Ranch residents that she picked up during her brief visit to their community, the activist declined requests from The Times to disclose medical records supporting the diagnosis.
MORE ON PORTER RANCH GAS LEAK
Porter Ranch gas leak is affecting animals too, pet owners fear
Benzene risk from Porter Ranch gas leak is the same as rest of region, study finds
SoCal Gas abandons plans to capture and burn gas at Porter Ranch leak, citing safety concerns
---
The stories shaping California
Get up to speed with our Essential California newsletter, sent six days a week.
You may occasionally receive promotional content from the Los Angeles Times.