Protesters gather in East L.A. to demand that Sheriff McDonnell support 'sanctuary state' bill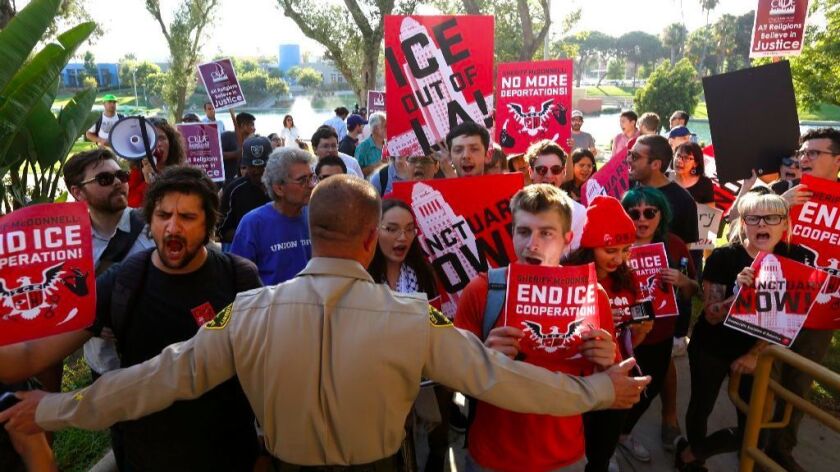 Dozens of protesters gathered in front of the Los Angeles County Sheriff's Department's East L.A. station Thursday evening to demand that the sheriff support the so-called sanctuary state bill, which would block local and state law enforcement from using resources to help federal immigration agents.
About 40 activists chanted in Spanish and English, some holding up signs that read "Sanctuary Now!", while a handful of vocal demonstrators sat, arms linked, on the floor of the station's lobby.
Among those outside was David Abud, a sanctuary bill supporter who immigrated to the U.S. from Mexico when he was 10 years old.
"Sanctuary policies make our city safer; they make our community safer," he said.
The protest was organized by the Democratic Socialists of America, along with local immigration groups.
Senate Bill 54, commonly called the sanctuary state bill, was introduced by state Senate President Pro Tem Kevin de León (D-Los Angeles) in December in response to the Trump administration's broadened deportation orders. It would limit the information that U.S. Immigration and Customs Enforcement agents receive about county jail inmates and forbid local law enforcement agencies from sharing databases with immigration officials or providing information about immigrants' release dates, with the exception of inmates who have committed violent crimes.
Los Angeles County Sheriff Jim McDonnell, who heads the largest jail system in the country, has said that the bill would hinder law enforcement's ability to transfer inmates from county jails to immigration officials. In a March 9 letter to De León, McDonnell said the bill could hurt immigrant communities by forcing immigration agents to go into communities to arrest people instead of going through the jail system.
"While doing this, they will most surely cast a wide net over our communities, apprehending and detaining those not originally the target of the enforcement actions," he wrote.
An order adopted in 1979 prohibits Los Angeles Police Department officials from approaching people to ask about their immigration status. Though sheriff's deputies follow a similar protocol, the Sheriff's Department can still share with immigration officials the names of inmates in custody, as well as people who are due to be released soon. This allows immigration officials to decide who to pick up from county jails.
In 2016, Los Angeles County jail officials turned over about 1,000 inmates to immigration agents, a small percentage of the more than 300,000 inmates released from county jails that year.
SB 54 also would bar hold requests, through which immigration officials can ask that inmates be detained for 48 hours beyond their release dates.
It has gone through various amendments in recent months, including a provision that would require the state parole board or corrections department to supply ICE with 60 days' notice of the release of inmates in the U.S. illegally who were convicted of violent crimes.
The bill has been opposed by the California State Sheriffs' Assn. as well as lawmakers who say that it could protect violent criminals.
Bill Brown, president of the sheriffs' association, said SB 54 would hinder cooperation between immigration officials and law enforcement in investigations that involve transnational crime.
"The bill provides sanctuary for criminals, and it endangers the public," he said. "It would extremely limit or in many cases prohibit our ability to communicate with the federal government in response to their request for information when someone is released from our jail."
Because the Trump administration has threatened to cut federal funding of sanctuary cities, critics of the bill say that it could hurt the state's finances.
In a January letter to Sen. Nancy Skinner (D-Berkeley), chairwoman of the Senate Committee on Public Safety, Los Angeles Mayor Eric Garcetti expressed his support for SB 54.
"Immigrant members of our community have rights, and they must be able to engage with law enforcement without fear when they are victims of and witnesses to crimes, seeking basic and other health services, or attending school," Garcetti wrote.
Some in the crowd of demonstrators Thursday knew people who had been deported for minor offenses.
Cristina Felipe, who drove to the protest from her home in Pasadena, said her son was deported to Guatemala about six years ago after being arrested for drinking in her front yard.
"I don't want what happened to my son to happen to anyone else," she said.
Twitter: @leilamillersays
ALSO
Sacramento's sheriff asked Trump's immigration chief for help fighting California's 'sanctuary state' bill
L.A. Police Chief Charlie Beck endorses 'sanctuary state' bill that Eric Holder hails as 'constitutional'
George Skelton: How far left can California's legislative Democrats go before Republicans benefit at the ballot box?
---
The stories shaping California
Get up to speed with our Essential California newsletter, sent six days a week.
You may occasionally receive promotional content from the Los Angeles Times.